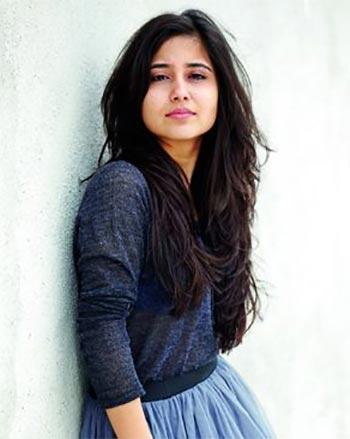 'Masaan went to Cannes, got a standing ovation, won awards. I want the people of India to watch my film. Finally, it is happening!'
Shweta Tripathi is all set to make waves.
Shweta Tripathi may not ring a bell, but she has achieved which few Indian actors have done -- won high acclaim at Cannes, the world's most prestigious film festival.
Shweta worked as a photo editor at a women's magazine before she became an actress.
When she decided to be an actress, she started a theatre company.
She tells Sonil Dedhia/Rediff.com about Masaan, which releases July 24, how she was nervous about her parents watching the kissing scene in the film, and more.
Did you always want to be an actor?
After finishing my graduation from NIFT (the National Institute of Fashion Technology, Delhi), I came to Mumbai and started working for Femina.
That's when I realised I wanted to do theatre. I changed my job and started a theatre company (AllMyTea Productions).
I also did a voiceover for an animated film, Bird Idol.
I was sitting at Prithvi theatre one day and a girl approached me for a series on the Disney channel. I had my reservations about doing television, but I went for the auditions and got selected.
I played a tomboyish kid in Kya Mast Hai Life, which was very successful.
Did your parents object to your taking up acting?
I thought my father (who is an IAS officer) would say no, but he was very supportive. He asked me to enroll at the NSD (the National School of Drama). I decided to attend workshops instead of getting a degree from the NSD.
When I landed a role in Kya Mast Hai Life, my parents were really happy. Since it was a Disney show for kids, they felt I was in safe hands.
Growing up, were you fascinated by the movies?
My parents have always been culturally inclined and give a lot of importance to art. They would often watch plays and I would accompany them.
They are not the kind of parents who want their kids to focus only on studies.
I learnt Bharata Natyam and Kathak and also joined Shiamak Davar's dance school. From playing a cloud to a tiny mouse, I have done it all. (Laughs.) I was born to be on stage.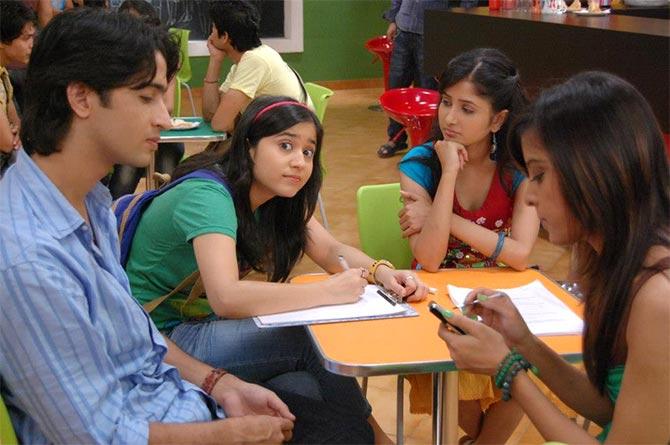 Image: Shweta Tripathi, centre, in Kya Mast Hai Life.
When did you play a cloud?
I was seven, had to stand in the background and dance.
Woh time pe itna make up ka concept nahi hota tha (we didn't have the concept of make-up). Instead of using blush, my mother would rub her lipstick on my cheeks to make them red.
When I was in class 8, I remember preparing for a play which was about a priest and a wife, who didn't have kids. They prayed to God to give them a girl, so God turns a mouse into a girl.
What made you start a theatre group?
Theatre helped me learn what happens backstage. It made me understand simple things about acting -- where to stand, where one makes the maximum impact...
I learnt the craft of acting all because of my theatre experience. I love theatre.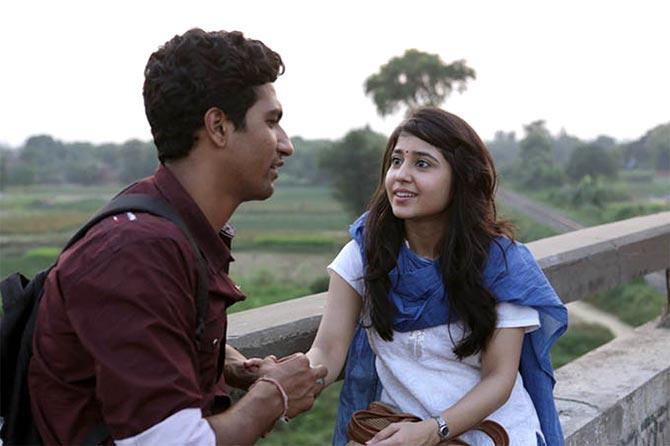 Image: Vicky Kaushal and Shweta Tripathi in Masaan.
How did Masaan happen?
Before Masaan, I did Haramkhor (with Nawazuddin Siddiqui).
The film has been to several festivals and will soon release in India. Neeraj Ghaywan (Masaan's director) saw Haramkhor and offered me Masaan.
He later told me he had written a role especially for me. That was such a huge compliment!
How did Haramkhor happen?
I had worked as an assistant director on Freida Pinto's Trishna. Anurag Kashyap (co-producer, Masaan) was the line producer for Trishna and Vasan Bala (who directed Peddlers) was assisting on the film. I met director Sholk Sharma through them.
Sholk cast me in a short film and then offered me Haramkhor.
I met Vicky Kaushal (her co-star in Masaan) on the sets of Trishna. Not many people know that he has done an item song in it!
Are you happy that Masaan is getting a proper release in India?
Masaan went to Cannes, got a standing ovation and won awards. I want the people of India to watch my film. Finally, it is happening!
How did you prepare for your character in Masaan?
It was shot at real locations in Benaras and allowed all of us to pick up the characteristics of the local people.
My character Shalu likes to hear a lot of shayaris, so I would hear and read a lot of it. In real life, I cannot read Hindi very fast, but I had to do it in the film and for that I made a conscious effort to read a lot of Hindi books. I stopped watching English movies, stopped listening to English music.
I deleted Whatsapp from my phone. I started talking to my friends, who live in Benaras, so that I could pick up the dialect. I did not pack any Western clothes.
Neeraj gave us some films as reference points.
What did your parents think of Masaan?
They really loved it (smiles).
I was really excited and worried about my parents' reaction.
There is a kissing scene in the film. I remember discussing the film with my mother a week before they were to watch it, and casually told her that there was a kissing scene.
She was like, 'Kya bol rahe ho?'
My parents saw the film at the Jagran Film Festival. I was sitting ahead of them at the screening. Richa (Chadda, her Masaan co-star) was sitting next to me and just before the scene, I grabbed Richa's hand and she started laughing. Looking at her, I started laughing.
The kissing scene is a sweet, cheesy, moment, and the entire audience was laughing. I glanced at my parents and they were laughing too. So it went off well.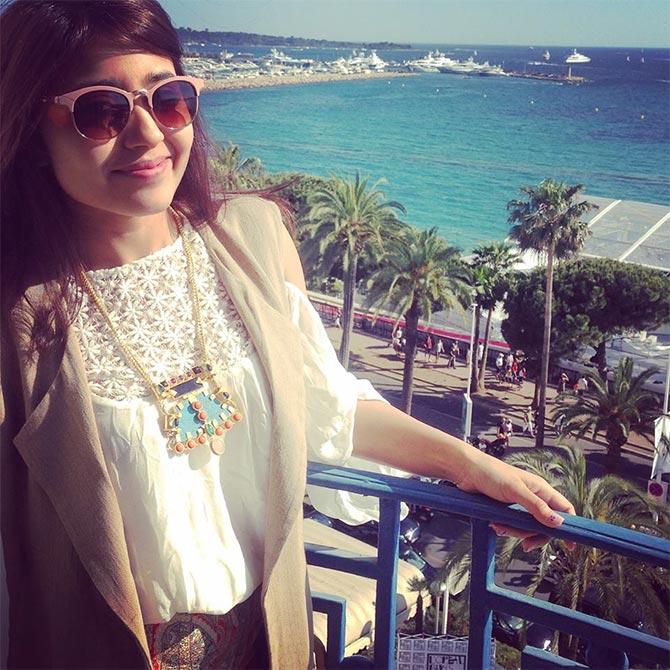 Image: Shweta Tripathi at Cannes. Photograph: Shweta Tripathi/Facebook
Tell us about the Cannes experience.
Cannes were the best days of my life. The atmosphere, the people, the place itself make you feel so nice.
I met director Walter Salles and he was discussing the background music of his film The Motorcycle Diaries. I was thinking, 'Wow! I am standing next to this highly acclaimed director and discussing the background music of his film!'
I also met Paolo Sorrentino (director of the Michael Caine starrer Youth) and some fantastic actors like Michael Caine, Paul Dano and Zeo Kazan.
You play a school student in Haramkhor. Was it tough?
I have done a lot of workshops with children for Teach For India. During that time, I interacted with students from different economic backgrounds.
I like to observe kids, as their reactions are unplanned.
I had to think like a 14-year-old girl, who doesn't have a mother, for my character in Haramkhor.
If you see the film, you will realise that my character needed affection. She doesn't know the meaning of lust or sex. She falls in love with her married teacher (played by Nawazuddin Siddiqui).
I was thrilled when I learnt that I was doing a film with Nawazuddin Siddiqui. I met him during the costume trials and that's when it finally sunk in that I was going to work with him.
What kind of films are you looking forward to doing?
I don't want to do random acting. But I am open to a full-fledged commercial film.
Which actor would you like to work with?
Amitabh Bachchan. No other actor comes close to him. And just like me, his daughter's name is Shweta too (laughs).
I'd love to play his daughter in a film before he retires.