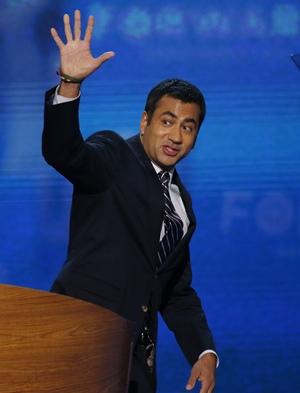 'I'd like to star in everything Tabu and Irrfan are a part of. I love those guys! They're such fine actors.'

Indian-American actor Kal Penn shares his Bollywood dreams.

When Kal Penn made a two-day visit to India to promote his new film Bhopal: A Prayer for Rain, he admitted to be terribly jet-lagged.

But much like the likeable characters he's played on screen over the years, he had a sense of easy charm about him that belied exhaustion and charmed journalists who waxed eloquent about how much they loved him in the Harold and Kumar movies.

At the press meet that followed, Penn was grilled about his first Hindi film, Bhopal: A Prayer For Rain, his knowledge of Bollywood and its workings and what kind of a Hindi film he'd like to star in.

Nishi Tiwari/Rediff.com listens in.
Tell us about your character in Bhopal: A Prayer for Rain.
My character is a guy named Motwani who is loosely based on a real life journalist in Bhopal named Keswani.
We have obviously taken some liberties in etching out the character. Motwani comes across as this slightly ridiculous, larger-than-life character in the beginning of the film, who is mostly on the lookout for the most salacious headlines, news stories that will sell.
As the film progresses, you'll realise that despite that weird aspect of his personality he cares very much about the community he lives in.
So he has some inside information on possible dangers inside the carbide factory but since he usually writes rubbish, no on believes him as first. It's an interesting arc in a character to play.
What kind of challenges did you initially face when you learnt that you had to speak in Hindi in the film?
I prepared a lot with the help of my cousins in India and with some Hindi lessons. Then I got on the sets with Rajpal Yadav (fun fact: Even though Kal Penn didn't know how to speak Hindi and Rajpal didn't speak English, the duo hit it off instantly).
He looked at me and asked, 'You look scared, why are you scared?'
I told him that it was such a serious subject matter, my character was so complex, I didn't want people to be distracted by the way he speaks.
He asked me if I was confident in the character aside from the accent and I said of course I am!
He advised me to have that confidence in the character and that 'the rest will follow.'
I think I pulled it off.
Before you signed on for Bhopal: A Prayer For Rain, what was your knowledge about the tragedy?
I had some basic knowledge of it.
Of course it made news the world over and then our parents told us about it too. In college, I learnt that this was the worst industrial disaster in the world.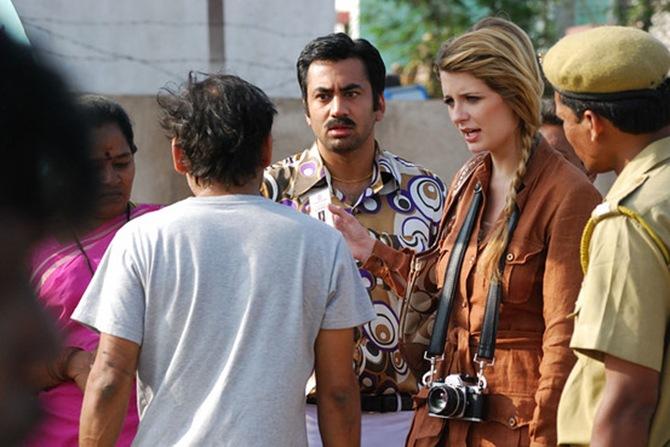 Image: Kal Penn with Mischa Barton in Bhopal: A Prayer For Rain
What made you sign on this film?
One of the big draws, aside from the content and the script, was the fact that Martin Sheen was in it.
He's really an incredibly talented, very classy, very grounded actor. We didn't have many scenes together but I learnt so much by just watching him how to craft a character, among other things.
I have been a fan of his for a while, obviously. The West Wing (where Sheen plays the President) was one of my favourite shows. And his tremendous work before that.
Do you keep up with what's happening in the Hindi film industry?
Not as much as I'd like to but now it's easier because Netflix has a decent Bollywood collection.
Which was the last Hindi film you watched?
Last I saw, was D-Day, Rajpal was in that one too, along with Irrfan (his The Namesake costar). Then I saw Gunday on the plane (chuckles). It was pretty good.
Given a chance to work in a Hindi film, what kind of a project would you like to be associated with?
Can I pick two? It'll have to be like a mix of Kuch Kuch Hota Hai and The Lunchbox.

Also, I'd like to star in everything Tabu and Irrfan are a part of. I love those guys! They're such fine actors.
There was a time in Hollywood when Indian actors were cast in stereotypical roles like that of cab drivers and suchlike. But now, they don't just recognise India as a market, there are also diverse opportunities for an Indian actor in Hollywood. What do you feel about this transformation?
Yeah, things are constantly changing. I always say that acceptance doesn't come in a day and after all, who gets to decide what acceptance looks like?
It's just that people got tired of watching stock characters and stories.
Even in India a film like The Lunchbox wouldn't have come five or 10 years ago and gained such widespread approval.
Similarly, in the US, people like Mindy Kaling and Aziz Ansari are creating and starring in their own shows. They are supremely talented and insanely funny people and studios have acknowledged that.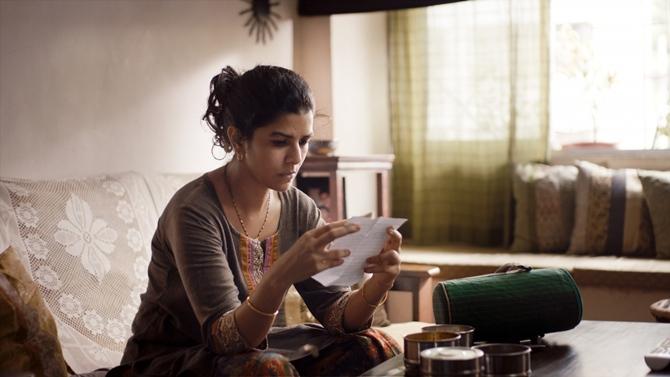 Image: A scene from The Lunchbox
How different is it to work in an Indian production?
I was just discussing this with my producer, on a Hollywood project, everything is regulated by several check and balances -- there are several technical aspects and unions for screenwriters and actors etc so everything happens in a structured manner.
I was shocked and kind of enamoured after talking to some Indian actors here.

They'd be like, "Yeah, I'm shooting for five films right now," and I'd go, 'Oh my god! They're shooting for five films at a time! Like, simultaneously?'
Then they'd tell me, "No. Monday I shoot this one, then Tuesday another one... and so on." It seemed incredible to me.
They don't let you do that kind of stuff in Hollywood but I'd LOVE to shoot five Bollywood movies simultaneously.
Were there any offers from Bollywood after The Namesake?
Not really. But I'd also like to add that dancing isn't one of my stronger suits. Maybe with more films like The Lunchbox being made, I'll have a better shot at it now and something will come my way.