'When you love someone, you have to love him, without looking at his past. Everyone has a past.'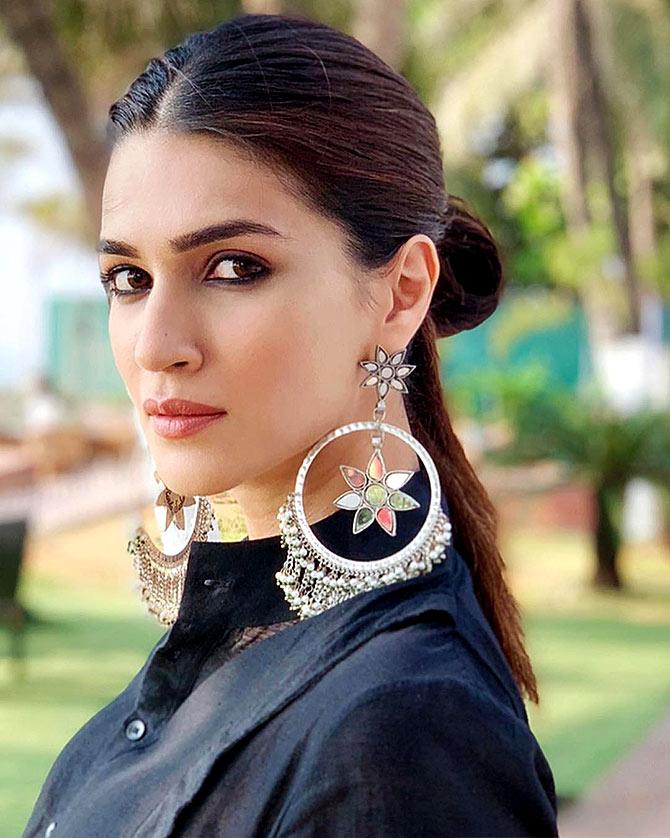 After Bareilly Ki Barfi, Kriti Sanon plays yet another small town girl in Luka Chuppi.
But this film, co-starring Kartik Aryan, has a twist.
The couple is in a live-up relationship, but end up living-in with the entire family!
Kriti looks back at the laughs she has had while making this film and tells Rediff.com Contributor Ramesh S, "I liked the fact that it has a live-in concept in a place like Mathura, where such things don't happen."
How was your shooting experience for Luka Chuppi?
It's been a great journey.
Luka Chuppi is actually my fastest film, which I completed in just 40 days.
We started shooting just one-and-a-half or two months after I came on board.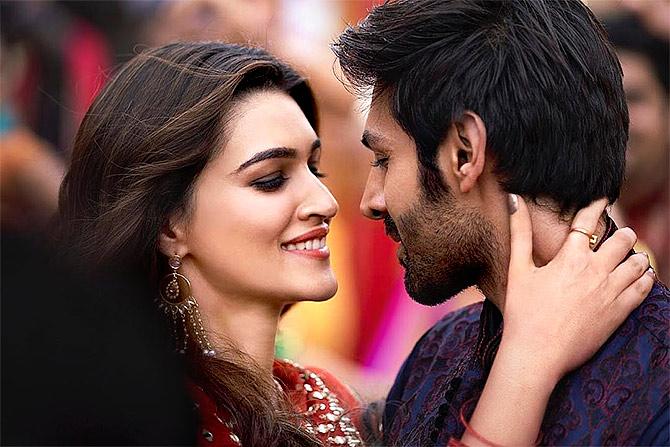 What prompted you to take up this film?
I am instinctive with the films I choose.
When I heard the narration, I couldn't stop laughing as it's hilarious!
I liked the fact that it has a live-in concept in a place like Mathura, where such things don't happen.
Because of the situation in the film, it ends up being a live-in with the whole family!
It's fresh, it's funny and for a change, the guy asks the girl to marry him, but she says, not yet.
It usually does not happen like that.
Here, the girl wants to be sure and that's why she wants to be in a live-in relationship to know him better.
My character Rashmi Trivedi is relatable, modern and yet, rooted.
She has studied in Delhi and had a boyfriend earlier, but things hadn't worked out well for them. So she doesn't want to make a mistake again.
How was your working experience with Director Laxman Utekar?
He is an amazing director and a fabulous actor as well.
He looks like Nana Patekar and imitates him very well!
When he was narrating the script to me, I was rolling with laughing because of his expressions!
I felt this director really knows what he wants and knows how he wants his scene to look. That gave me confidence.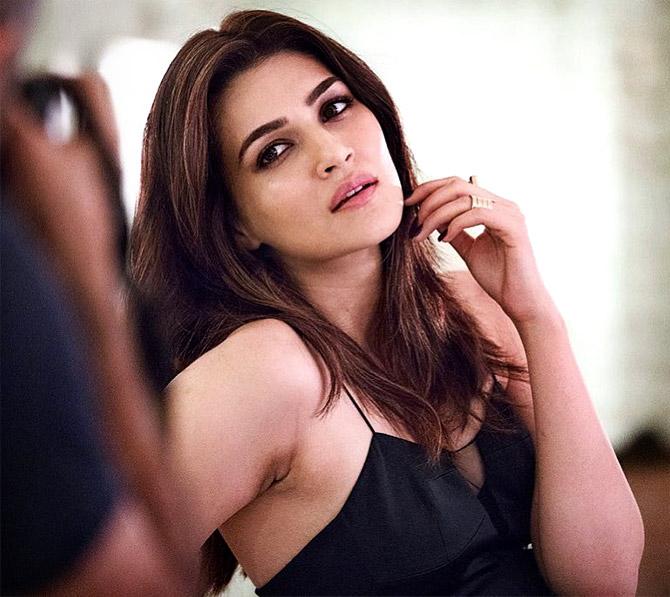 What's your idea of a live-in relationship?
I think it's okay and should not be judged.
Everyone has the right to marry when it feels right.
If you want to see if your partner is compatible enough and if a live-in helps with that, it's completely fine.
Are you okay to be in a live-in relationship?
I am not sure if my parents would be okay with it.
But my parents have given me the freedom to marry when I want to, who I want to, and take my time.
I have told my parents that I will never have an arranged marriage.
I need to fall in love and want to know a person really well.
It has to come from within that 'this is *the* person'. And they are okay with it.
And when you love someone, you have to love him or who they are, without looking at their past.
Everyone has a past.
I won't judge someone based on that because even I have a past.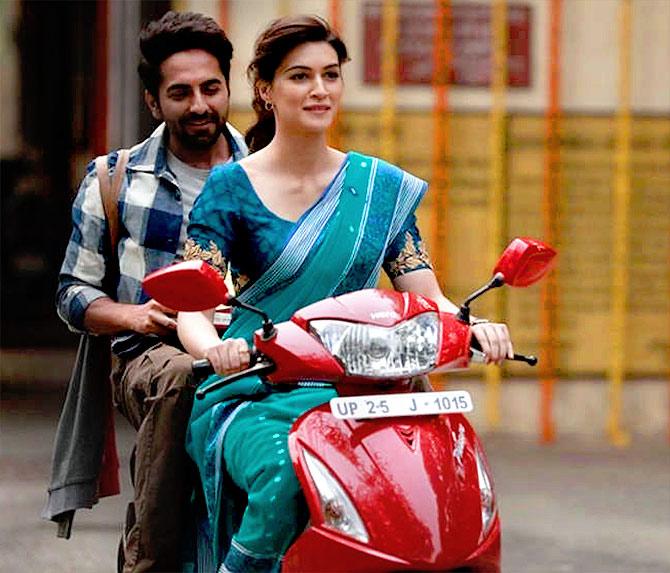 You played a small town girl in Bareilly Ki Barfi, which everyone loved. Now, you are seen as a small town girl in Luka Chuppi as well. Do you feel this small town flavour is lucky for you?
I hope so!
Small town flavours are relatable, where you feel that certain things may have happened in your life.
You can relate to certain characters.
Was Bareilly Ki Barfi a game changer for your career?
I consider it a milestone and it changed the way people look at me.
It did break that image of an urban and glamorous heroine.
I don't know how that image got formed in just two films, but it did.
Sometimes when you do a de-glam role, people see your performance more than your look.
I am glad that happened because after Bareilly Ki Barfi, I started getting a lot of small town roles.
In fact, 90 percent of the scripts which I got were based in small towns and villages.
So yes, Bareilly Ki Barfi changed that perception and opened doors.
But it's not that I choose to do only small town roles.
It's not like Bareilly Ki Barfi worked well and so now, I will do the same (in my other films).
I balance things out.
For instance, I am doing films like Panipat and Housefull 4, which do not have small town characters.
Also, Luka Chuppi and Arjun Patiala have small town roles, but they are very different from each other.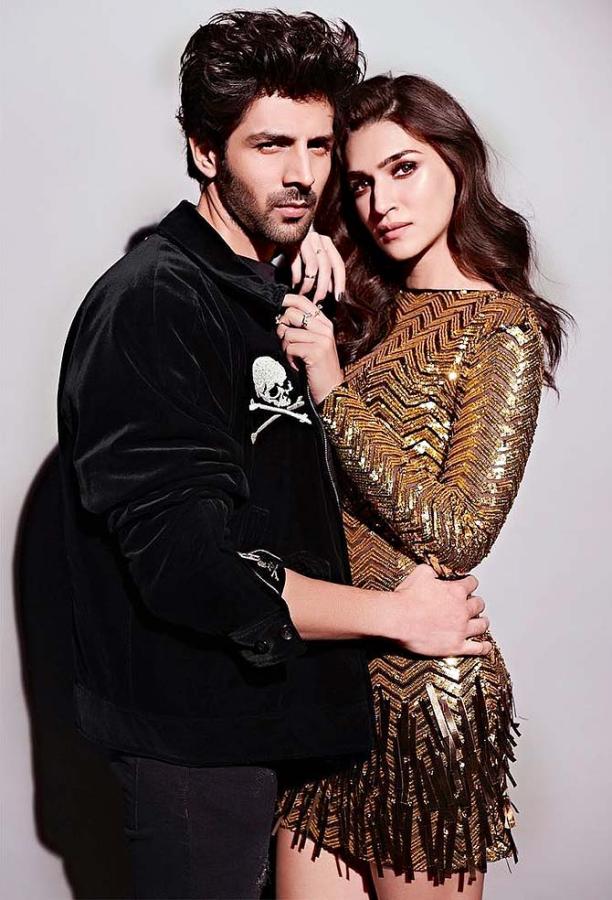 Kartik Aryan has a strong female following. Did you sign the film because he was in it?
Not at all!
I heard the script before Kartik was on board.
I had liked it, but did not sign due to date issues since I was also doing Housefull 4.
After that, Kartik came on board and coincidentally, I got free too.
I signed the dotted line and we started the shoot.
But I would not judge a film on the basis of its cast.
It's always the film and the characters that first connect with you.
Of course, he is apt for the role and that is a great advantage for the film.
Kartik Aryan claims he played a good host, when the film was being shot in his hometown, Gwalior.
I am a foodie, and so Kartik treated us to ras malai every day!
There's also something called Bahadur ka laddoo, which I never had before. It's like boondi ka laddoo, but very soft and melts when you pick it up.
Thankfully, he was working with a heroine, who was not on a diet (laughs).
During the shoot also, I had tikki, kachori and other things.
One day, we were really hungry after the shoot and were craving for junk food.
Kartik introduced us to aloo patties, which is filled with butter and melts in your mouth.
We were 8, 10 of us, we squeezed in a car and roamed around trying to find aloo patties. Finally, we found it!
In Mumbai, after shooting the song Cola Cola, we went to Lokhandwala (Complex, north west Mumbai) and had pani puri.
It's nice to behave like a normal person.
Sometimes I wear a cap or cover my face with my hair when I step out in public.
When I go for a movie, I become Stree (laughs).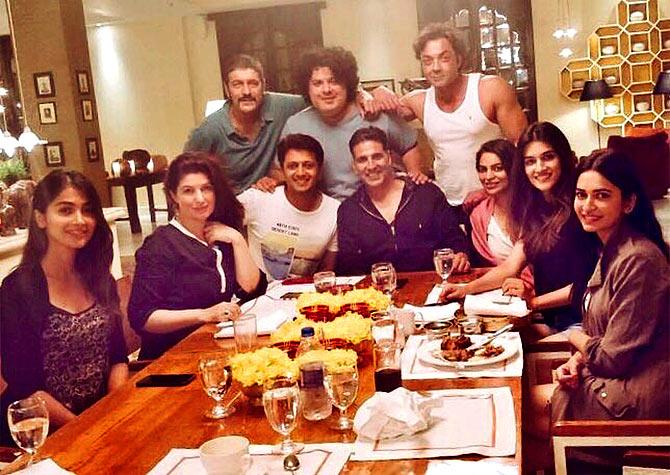 What's your comfort food? And how do you manage your weight?
I am very finicky about food, but my comfort food is rajma chawal.
I have a great metabolism, so usually, I don't have to watch my weight.
But exercise is very important and every type of body needs a different workout.
For me, I need to put on muscles.
I am not a cardio person and can't be on a treadmill because I lose weight in two days.
Tell us about Housefull 4.
It is too soon to talk about it. All I can say is that it has two eras, and so all of us are playing two characters.
As a result, there's a lot of confusion, madness and funny scenes.
How would you look back at your career so far?
I want to grow with every film.
I am very critical about my performance. I am usually never satisfied because then you become stagnant.
I have learnt on every set, including the technicalities of film-making.
Raabta opened me up as an actor. There were two characters in it and both were so layered and complicated. Dinesh (Vijan, director) helped me approach the scenes.
Also, I prepped for a role for the first time here.
Bareilly helped me grow a lot because it was a completely different world with a different kind of actors like Ayushmann Khurrana, Pankaj Triptahi and Seema Pahwa. Working with brilliant actors helps you grow; you feed off their energy.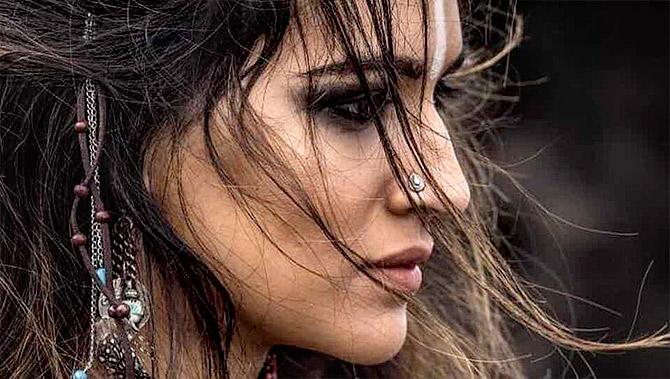 What is your take on nepotism?
Performance and talent really matters in today's times.
But I still think it is very difficult for an outsider to break through into mainstream cinema.
On the other hand, people are welcoming new faces in the industry.
When you see so many outsiders in the industry, doing good work, it motivates you and gives you confidence -- even to the film-makers -- to give you a chance.
What are your views on #MeToo?
Thankfully, it got this fear in everyone's head, not only in this industry, but in general as well.
In any office, people will now think many times before doing something wrong because no one will shut their mouth and the truth will be out.
People should be aware that you cannot do something wrong and get away with it.
I really hope this fear continues because unfortunately, not many conclusions were brought out.