'Today, moviegoers are in the 13 to 33 age bracket.'
'If people like us have to remain relevant, we have to make movies that cater to them,' Akshay Kumar tells Raghavendra Kamath and Dev Chatterjee.
Illustration: Dominic Xavier/Rediff.com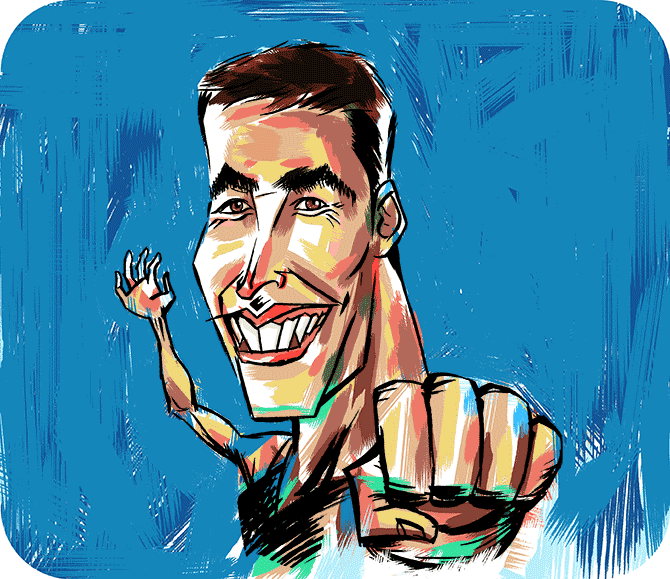 We are early for lunch at Yash Raj Studios in Mumbai where the winner of the 64th National Film Awards, Akshay Kumar, is shooting for his movie, Padman.
The movie is based on the life of an innovator from Tamil Nadu who took on multinational companies charging Rs 55 for sanitary napkins by selling them to rural women for just Rs 3.
It is a classic David versus Goliath story and attracted the attention of his wife Twinkle Khanna, who decided to make a film on him with Kumar as the protagonist.
As Kumar shoots a song sequence directed by R Balki, we are ushered in by his team and urged to sit near the director's unit.
Kumar, towering over the rest of the unit, finishes the shot in one go and walks out to greet us.
He requests us to wait "just five minutes" so that he can complete the full sequence before the unit breaks for lunch.
With the song out of the way, we are taken to Kumar's green room where three lunch plates are waiting for us.
The room has three comfortable chairs, a couch and a huge mirror with lights on all four sides, giving it the look of a typically filmi make-up room.
As we settle down, Kumar walks in wearing a brown casual shirt, white trousers and slippers, and immediately briefs us about the home-made food.
"There is paalak paneer, dal, jeera rice, dahi, alu gobhi and bakhri roti and normal chapattis... all of it is made at home, so please help yourself," he says, adding that he prefers vegetarian food.
Kumar, who had hosted the television show MasterChef India, picks up a few spoonfuls of rice, dal and paalak paneer and says that unlike other stars he does not believe in dieting, though, of course, he watches what he eats to stay fit.
This is apart from participating in a lot of outdoor sports.
We follow his lead and pick up a few spoonfuls of rice, dal and alu gobhi and ask him about the National Film Award he recently won.
Kumar says it is a big honour and gives credit to the team of Rustom for all the hard work it had put into the film.
Rustom is based on a real story set in the 1950s about an Indian Navy officer who allegedly killed his wife's lover but got away after a courtroom drama that had the entire nation on tenterhooks.
Several recent movies of Kumar are based on real-life stories and have thrust unsung heroes into the limelight.
Kumar's 2016 film Airlift was based on the 1991 airlift of thousands of Indians by Air India from the Gulf when Kuwait was invaded by Iraq. The movie was a hit with the masses who want different content.
Kumar says his next movie will highlight farmer suicides in the country, again based on a real-life story.
The need for fresh content is important. Indian cinema, Kumar says, is under threat from Hollywood movies that are making fast inroads into both urban and rural markets, dubbed in local languages.
"The population demographics are changing fast. Today, moviegoers are in the 13 to 33 age bracket. If people like us have to remain relevant, we have to make movies that cater to them."
Kumar, 49, says he takes continuous feedback from his 14-year-old son to understand the content needs of the new generation.
Now in his 26th year in Bollywood, Kumar says the industry has changed rapidly, especially in the last four to five years, thanks mainly to technology.
"Film-making technology is changing very fast, which makes movies visually far better and less costly," says Kumar as his wife Twinkle, producer of Padman, walks in to enquire whether we would like to have some dessert.
The last time Kumar had ice cream, she cautions, he caught a cold. Nevertheless, she sends us butterscotch ice cream and some cupcakes.
Kumar, who has more than 17.5 million followers on Twitter, says social media is "very good to give direct messages to our fans and listen to their views. But I ignore trolls."
Propelled to stardom with his 1992 hit Khiladi, Kumar, born Rajiv Bhatia, counts himself fortunate, having stepped into Bollywood just when the economy was opening up.
The 1991 economic reforms set into motion by then finance minister Manmohan Singh opened up the Indian economy bringing new products, services and money to the industry.
That, apart from well-funded movies, bought endorsement deals for stars, adding to their incomes.
In 2016, Kumar earned $31.5 million as per the Forbes India Celebrity List and was ranked fourth among Indian celebrities.
A stickler for time, Kumar says he learnt early that punctuality especially helps producers keep costs under control, which is a must in Hollywood studios.
Professionalism is important as it brings discipline into the whole process.
"I do not work more than eight hours a day and make it a point to come to the set on time so that those eight hours are well utilised. I take Sundays as weekly holidays like any other executive, apart from taking national holidays."
"Besides, after I complete a movie in 30, 35 days, I take seven days off. I take another 45 days off during the summer. So my holidays in a year would be like any other office-goer like you."
We broach the contentious issue of gender inequality in the world of films.
Even in Hollywood, many women actors complain that the fees offered to them are much lower than those of their male counterparts.
Kumar says the Indian movie industry is evolving fast and leading ladies are now offered far better compensation than a few years ago.
"Today, after every five movies, you can see a women-oriented movie that is doing very well at the box office. The ladies are doing a fantastic job and can carry an entire movie on their shoulders. I would say, we are just getting there."
Considered among India's most bankable actors, Kumar says he is fortunate that he has friends in India's corporate world who taught him the science of "outsourcing."
"Vikas Oberoi of Oberoi Builders is a close friend. Surendra Hiranandani is my brother-in-law and Vijay Raheja is my neighbour. The way the real estate industry has outsourced construction to outsiders, I have outsourced production of my movies to outsiders."
"That takes a lot of burden off my back," he says and picks up an ice cream cup despite his wife's warning.
As we approach the end of our time, we ask Kumar whether he would ever step into politics like several other film stars before him have done.
He is absolutely clear he wants to stick to the film industry because that way he can "contribute more to nation-building."
"A lot of work needs to be done in the infrastructure sector. We have made a lot of progress in the last three years under Prime Minister Modi, but the work is not over. I think I can contribute with my movies in the same way you contribute with your pen," says the actor.
We notice the film unit is ready for the post-lunch shoot. As we bid goodbye, Kumar offers to take a selfie with us.
Now that's something we can brag about.