'I don't feel like I have to reach anywhere.'
'I'm doing work for the joy of it.'
Mission Mangal celebrates women power, thanks to its ensemble cast, but it is Akshay Kumar who puts the show together.
Vidya Balan views it maturely, as only she can, and tells Rediff.com Contributor Mohnish Singh, "That's the business of cinema and Akshay Kumar is the biggest star amongst us all. So it makes sense, having him prominently on the poster.
"I know that we have prominent roles but let's not forget that I will use Akshay Kumar's stardom to my advantage."
Tell us about your character in Mission Mangal.
Tara Shinde is the project director for Mangalyaan, the Mars mission.
She is like any other professional woman in India, who is handling home and work.
She is passionate about her work. Her work is her identity; it gives her great joy.
She is fully committed to it but she handles her home with as much dedication.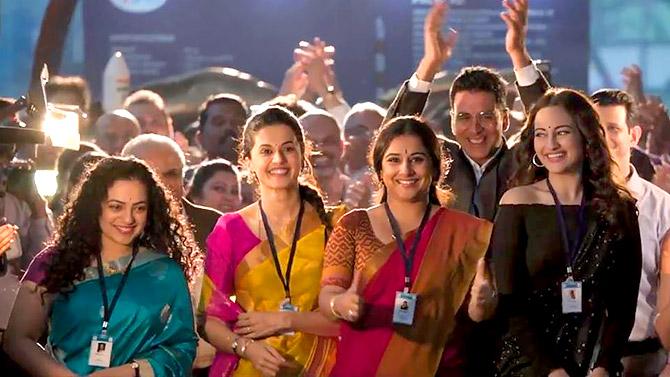 What drew you to this character?
Tara Shinde's balancing act between home and work appealed to me because I see women striving to achieve all around me.
So many women are living their life like this.
Sometimes, they are told that, if something in the house goes wrong, it's their fault.
It's almost like you are expected to be a superwoman.
The fantastic thing about Tara Shinde is that she is not trying to be a superwoman; she is beyond it.
Mission Mangal was possible because of your home science theories.
There is a theory on which this mission was based.
Tara Shinde is a homemaker too.
She handles the kitchen.
She makes sure there are groceries at home, even if she is working late.
So it strikes her how one can use the hot oil or the slingshot theory.
This is about Indians; we are known for our jugaad (hacks). We don't just follow the rules, we think out of the box.
So she is there thinking that this mission is impossible, there are so many obstacles... and that's when it hits her.
And what a simple way of telling the audience what the theory is.
I am not a science student and I don't clearly understand these theories. But when (producer) R Balki narrated it to me, I got it instantly because it was so simplified.
The film was not compromising the science; it was simplifying it. That's what appealed to me.
The script has everything.
There is science, every aspect of the mission, as well as the lives of these scientists after work and what they have to deal with.
Things like the gas supply has been cut in your home but you still have to reach (office) for the mission on time.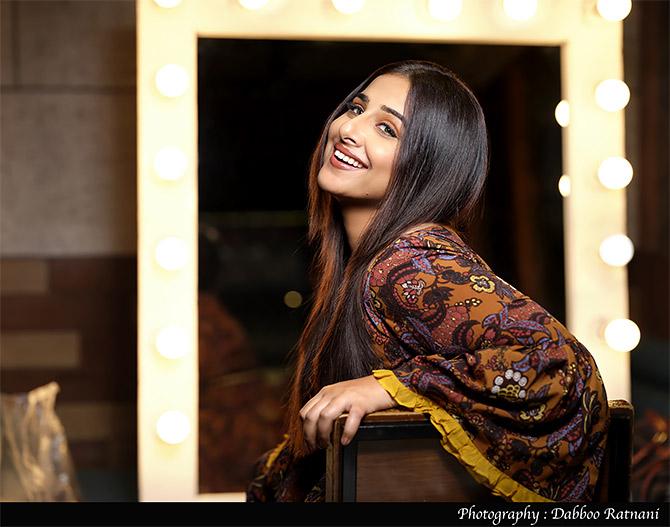 How did you prepare for your role?
Jagan Shakti, the director of the film, gave me a docket, which had all the information.
His sister is a scientist at ISRO and her life is quite similar to the character that I play.
She has two kids and her husband is away on the ship most of the time. So she runs the house and takes care of the kids.
At the same time, she has a very demanding job as a scientist.
I spoke to her and it gave me a sense of how she juggles all this.
Most importantly, I had to look like I knew the subject very well because I am the project director. So when I speak scientific terms, it shouldn't sound like I am parroting information.
That required some hard work too.
What was one thing you learnt while researching for the film?
That scientists are not geeks.
You think they don't smile or laugh or they only speak scientific terms.
It's like when you think of an actor, you only think of the glamorous part of their life. You don't think of the personal side.
With scientists, it's difficult to imagine what their work life must be like because it's so far removed from our reality. For example, I don't know really what a scientist does.
So, for me, the revelation was that they are not like robots.
They aren't very serious all the time and it's not just equations and theories that they talk about all the time.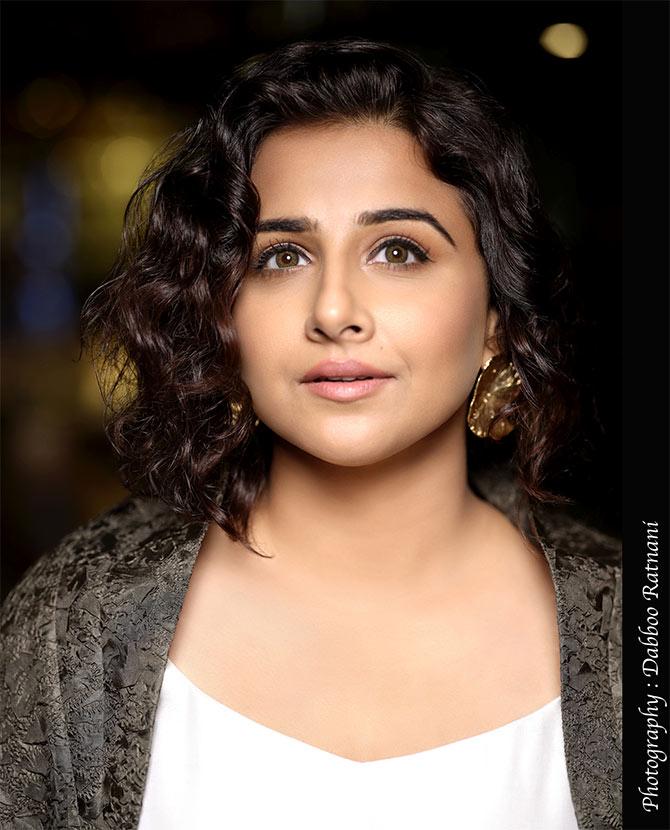 Do you think the perspective of how a woman should behave has changed over the years?
Firstly, girls around us are not keeping quiet anymore.
They are very outspoken.
I remember once, while meeting someone's grandmother, I laughed loudly and she looked at me in a very strange way. I asked the girl if she was upset with me.
She said, 'No, she just believes that a girl should be seen, not heard.'
I think we have all have been inculcated with that... that a girl should look beautiful but should not be heard.
I think that's changing.
We are out there, leading tough lives, trying to accomplish the impossible and finding our voices.
Our anger is finding expression now.
When I speak to women, I feel that anger is coming out after years of frustration.
Some people say that it almost seems like now if you say 'Hi' to a woman, it will be a problem. And I'm like, 'No, you don't realise where it's coming from.'
Mission Mangal celebrates an unprecedented achievement by a bevy of women. But when we see its poster, we find the women are overshadowed by Akshay Kumar.
Because that's the business of cinema and Akshay Kumar is the biggest star amongst us all.
It makes sense having him prominently on the poster, and I'm fine about it.
As we get on with our careers, as we see more successes, maybe someday our faces will be equal.
I didn't feel bad about it at all.
I know that we have prominent roles but let's not forget that I will use Akshay Kumar's stardom to my advantage.
It's like, when The Dirty Picture happened, they said, 'You're using sex to sell the film'.
I said, 'I'll use sex to sell the film as long as you come to the theatre and realise that it's not about sex, it's not about her body. There is a person beneath that.'
And look at the numbers it did.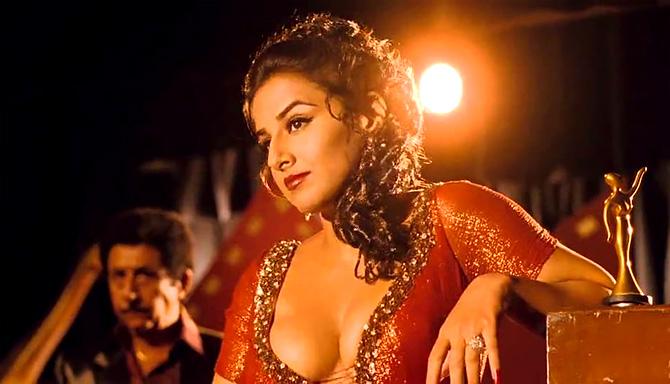 Ageism exists in the industry. Are you bothered by it?
I have always been open about my age because I entered the film industry at 26.
Who cares how the industry treats us?
I think it's more about how you treat yourself.
If I don't feel that my life is ending at 30, 35, 40... it's not going to end.
I believe I am here to stay.
Someone said that I took a two-year break after Tumhari Sulu to do Mission Mangal.
But I have done some work in Telugu though not many people have heard of it.
That's not the point, though.
I don't feel like I have to reach anywhere.
I'm doing work for the joy of it.
Earlier, women got married at an early age, like 15-16. By the time, they reached 30, their kids would be teenagers and they would feel like their lives were ending.
But that's not the case anymore.
Would you like to share details about your web series on Indira Gandhi?
The Indira Gandhi web series is taking longer than I had expected, unfortunately.
I have no understanding of how a web series works but Ronnie Screwvala is producing it and we are working on the script.
I don't write or get involved in those processes.
All I can do is wait until they tell me it's ready to go on floors.
What other projects are you working on?
I start the Shakuntala Devi biopic two weeks after the release of Mission Mangal.
I am nervous because I have not had much time to prepare for it.
Shakuntala Devi is a very interesting character to play because she is a woman I like. She was known as a human computer and she had a wicked sense of humour.
I identify with her.