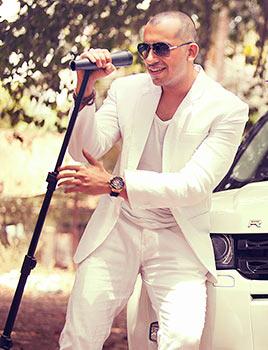 'I hope to reduce the stress in the house with my songs and funniness,' Ali Quli Mirza tells Rajul Hegde.
Singer-actor Ali Quli Mirza will be the first wild card entry on Bigg Boss 8.
Known for his Arabic songs, Ali is popular in Dubai, the UK and some parts of the Indian sub-continent.
"I am an entertainer, a complete package and I hope to reduce the stress in the house with my songs and funniness," Ali tells us before he entered the house.
"I am a straightforward person. I plan to take off the masks that a lot of housemates are wearing in the house," he added.
He said his aim was to settle disputes among the fighting inmates.
"There is no game plan, but jo jaisa ball phekega main waisa batting karunga," (I will bat according to how the ball is thrown).
He is keen to stay in the contest for as long as possible.
"I come from a very small village in Uttar Pradesh, which has electricity for only a few hours. I went all the way to Manhattan to shoot for Kabir Khan's New York. Today, I have made a name for myself in the music industry.
"Bachpan se maine impossible ko possible kiya hai (Since my childhood I have made the impossible possible). So far no wild card entry has ever won Bigg Boss. I hope to change that," he smiles.
Besides New York, Ali has acted in Jail and in Kamal Sadanah's forthcoming film Roar Tigers Of The Sundarbans.
He hopes the controversial reality show will "give me the platform to establish myself."
"I dreamt of becoming a star. I wanted to sing and act. And I got to do both. My songs are very popular in Dubai and other countries. Since I am going inside the house I can promote my film too," he says.
Interestingly, he has already been made the captain of the house, says a source.
Ali knows some of his Bigg Boss housemates.
"I have interacted with Sonali Raut, Karishma Tanna, and Minisha Lamba, partied with Upen Patel, worked out with Puneet Isaar and shared screen space with Arya Babbar," he says.
He admits to being nervous about how things will work out for him.
"While it is true that I am familiar with some of the contestants, they have an edge over me since they have already been living in the house for over three weeks now," he says.
Will Ali woo the girls with his singing?
"I know there are pretty girls and I am ready to mingle," he chuckles. "I will romance each and every girl there so that no one feels left out!"