'For the last ten years they have approached me every single year.'
'There was a year when I was really looking forward to going.'
'I wanted to see how interesting it is to spend 60 days with random people.'
'But as time progressed the dirt kept becoming bigger and bigger and personalities kept becoming smaller and smaller.'
In the first part of his interview with Rediff.com's Patcy N, Rohit Roy revealed that he has signed on to direct a film for Sanjay Leela Bhansali.
Rohit is equally candid in the final part of the interview.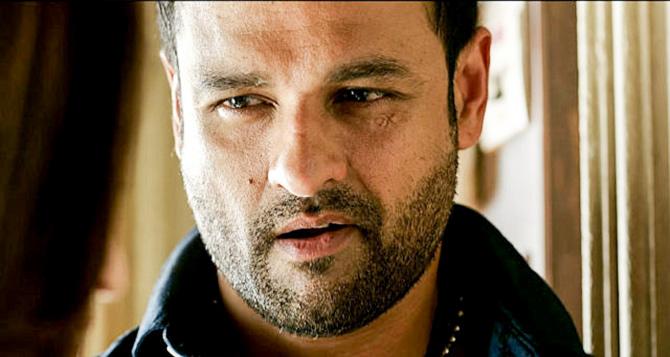 IMAGE: Rohit Roy in Kaabil.
Your work in Kaabil was appreciated. Tell us about your relationship with Sanjay Gupta. You have been part of many of his films, like that special song in Kaante?
After being in industry for 20 years I deserve one success at least.
Sanjay Gupta is the only one who believes in me and my talent.
I will tell you how I got associated with him. I was a television actor. I was not doing any films after my two flops at the beginning of my career.
They (Sanjay Gupta and his crew) had just come back from LA after shooting the film (Kaante). It was the first film to be produced by a company in LA.
After the stars came back they wanted to do a press conference. A friend of mine, who was doing the PR for Kaante, told Sanjay Gupta about me and my hosting skills. I was called to host the event.
I met Sanjay Gupta and asked him about the film and some pointers about the shoot, about the actors and their characters. He gave me 6 to 7 lines.
On the day of the press conference I went with the whole script -- about how I would host the event -- and that is what impressed him. That he had given me just a few lines and I created an entire show floor.
He called me to his office the next week and told me about Plan. He said he wanted me to do one of the main leads.
And since then there has been mutual respect and love for each other; today we are like brothers.
There are times when if I don't get a role in his film I feel bad and fight with him, but he tells me if he can't give me something like Shootout At Lokhandwala, I am not going to give you something lesser.
Now after Kaabil, I don't know what he will give me.
You have hosted many shows. What attracts you to those? Is it because they are less demanding and you get paid?
Jhalak Dikhla Jaa, The Bachelorette India, Dil Jeetegi Desi Girl, Khooni Saaya...
Yes, it is easy money, compared to shooting an entire day in the heat and doing action, but that is not the reason why I do it.
I do it because it is an extension of my real life character. I get to be myself. I am not playing a character and sometimes it is a good break.
I did a show, Inside Bollywood with Rohit Roy on Zoom. It had all the top actors of Bollywood. They appeared on the show on my personal call. I did not have any PR agency calling the actors.
I enjoy talking to people when I am hosting a show like Jhalak. I am learning from other actors who are dancing there. I love that; for me that is second nature.
I love writing. It helps me when I am hosting my shows.
I have done chat shows, game shows, dance shows, singing shows. I have pretty much done everything.
It is something I enjoy; it is a break from what I do.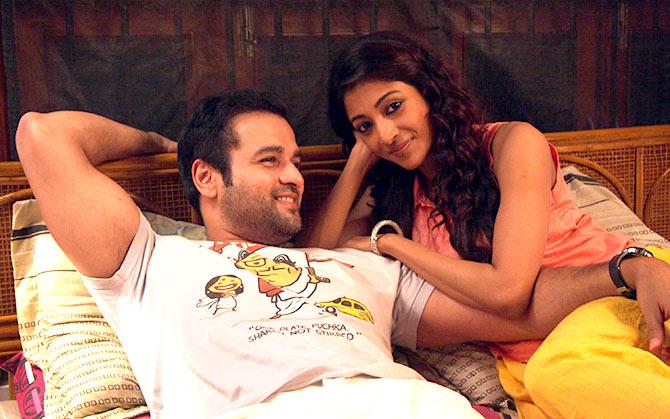 IMAGE: Rohit and Paoli Dam in the Bengali film Sada Canvas.
You participated in Nach Baliye and Jhalak as a contestant. Do you ever plan to go into the Bigg Boss house?
I will never go to the Bigg Boss house.
For the last ten years they have approached me every single year.
I know there are 27 cameras looking at me.
I know that my daughter is sitting at home. I know my mother is watching me on television. There is no way in hell that I am going to fight with anybody.
There was a year when I was really looking forward to going. I think that was in the second year.
I really wanted to see how interesting it is to spend 60 days with random people.
It would have been a challenge, but as time progressed the dirt kept becoming bigger and bigger and personalities kept becoming smaller and smaller, so now there is no chance.
You have done two Bengali films. Now you have worked on a Web series Bouma Detective.
I have done four Bengali films.
The reason I am doing Bengali films is to do some content driven films that we keep talking about.
Kolkata has a treasure trove of actors, technicians, scripts and culture.
I am a Bengali, so I love going to Kolkata.
I have just finished shooting Bouma Detective. That is the reason I am doing this interview, that is going to be my first Web series in Kolkata.
I am very excited because it makes my mother very happy.
Web series, which is in a nascent stage right now, is the future according to me. It is going to be huge.
There is nothing bigger than the digital platform; every phone is a platform.
In Bouma Detective, I am not the protagonist. I am between the protagonist and the antagonist; I have grey shades.
I play a Bengali superstar and I believe this character is loosely modelled on somebody there. It has got a realness to it.
Also, this gave me opportunity to work with Apardi (actress Aparajita Adhya) who plays my wife.
She brings nuances in every single scene -- that too in a wWeb series where you are shooting really fast.
When she comes for the shoot it is magic to see how she performs.
Bouma Detective can be seen on the Hoichoi app.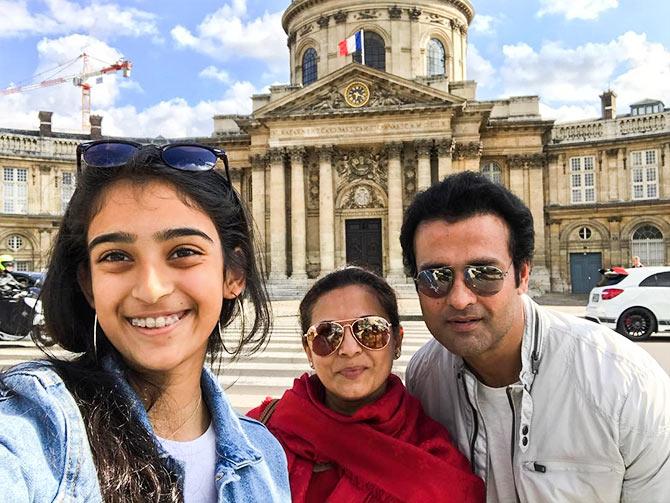 IMAGE: 'Not only me, Manasi and Kiara are also travel enthusiasts.' Photograph: Kind courtesy Rohit Roy/Instagram
Your wife Manasi has started working again. She had taken a long sabbatical from acting.
Ten years! I am glad Manasi is back at work. She is by far the best actress I have seen on television and I am not saying that because she is my wife.
With her background in theatre and having grown up with her father (theatre personality Arvind Joshi) and her brother (actor Sharman Joshi), (it is like) cinema and theatre is in her blood.
Every scene that I saw on her comeback show Dhhai Kilo Prem I use to marvel; she is just fantastic to see on the television screen.
We have not sacrificed anything to be with Kiara. There were times when I would shoot for a couple of months in another city. I would make sure that Kiara would fly down or I fly down on every possible occasion.
There is not a single annual day of hers that I have missed; I have lost out on work and I have made enemies because I had to go for her annual day.
They could not understand why it is so important for me. That lady in question has never cast me again. Even though I had told her in advance before the schedule that I would leave on those days.
She is 15 now. My mom stays with me and takes care of her when we are not there. My mommy is my biggest support; she will always be there. Kiara doesn't need her mother 24x7.
Manasi has been getting offers all these 10 years, but she didn't even listen to them. Finally, our dear friend Sandeep Sikand, the producer of the show, convinced Manasi to do it. She said no five times and finally agreed.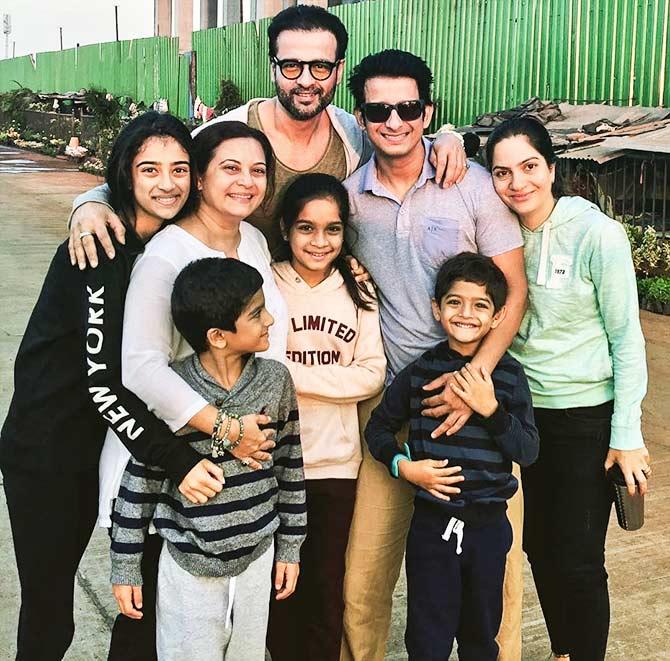 IMAGE: Rohit and family with Sharman Joshi, his wife Prerana Chopra, daughter Khyana, twins Vaaryan and Vihaan in Goa. Photograph: Kind courtesy Rohit Roy/Instagram
Your father-in-law is a theatre personality. Your brother-in-law does films. Your brother is an actor. What would be a get together at your house be like?
It is madness. Plus Sharman's father-in-law is Prem Chopra. It is crazy.
When Sharman, Ronit and I and our respective families come together we don't need anybody. It is a mad house. Of course, the maddest is my older brother.
All of you must be thinking he is like Ram bhagwan or he is like sarkar. He is a mad cap and he is like that only when family is around.
Otherwise, he is extremely controlled and the venting that he needs happens with Sharman and me.
It is lovely we have such a great legacy that has come to us from Prem (Chopra) uncle and from Arvindbhai. He has been one of the pillars of Gujarati films and theatre.
Sharman and Manasi have got those genes. You can see how well Sharman performed in 3 Idiots and Rang De Basanti and stood up to the best actor (Aamir Khan) in the country.
When we get together we obviously speak about cinema, but not about our own work. We hardly ever discuss that.
Sharman is an extremely mature person. He is somebody I speak to when I have a problem.
His point of view is always very precise; he gives it proper thought before he gives you an answer.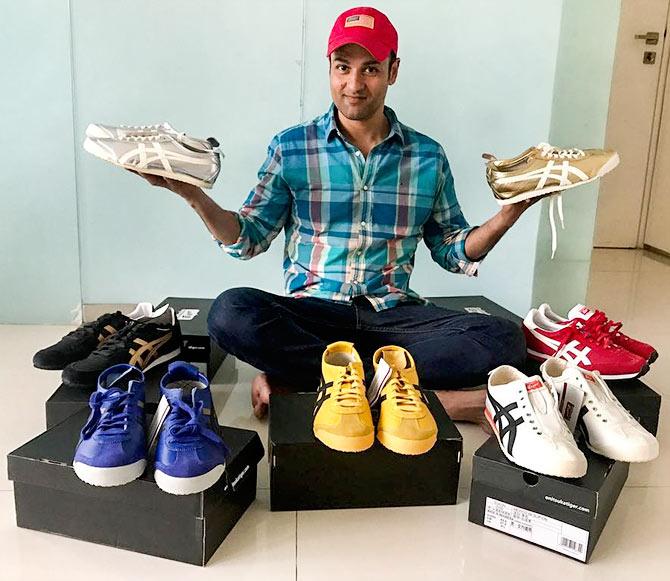 IMAGE: 'They say God is in the small things .... well..... they are right !!! Lots of small things' Photograph: Kind courtesy Rohit Roy/Instagram
You post lots of pictures of your travels and shoes on Instagram. Do you have a shoe fetish?
Not only me, Manasi and Kiara are also travel enthusiasts.
Kiara is 15 and in 15 years we have taken her out of the country every single year so that she can see the world.
We do one minor vacation in India. She doesn't like to travel in India so much because she is so used to the way we travel there.
I want her to travel by train -- all those things we are not able to do, but we are trying.
I wanted to take her to Kerala and Pondicherry. I have taken her to Srinagar and Gulmarg, but she hasn't seen much of India.
Her birthday is on June 29 and my anniversary is on the 23rd; so every June during these 20 to 25 days we take off and we have such a good time.
This time for the first time we stayed in an AirBnB in Paris. That was a great experience because as actors we are used to doing nothing. Staying there I would walk down to the café, get the bread. Making it at home was a great experience.
Kiara has promised us even when she is away at college she will dedicate one month to us for travel.
About my shoes, I think I am very close to getting a divorce because of my shoes. I have about 160 pairs of shoes and seven more than what you saw on Instagram.
There is no excuse. Men have nothing other than watches, shoes and sunglasses. How many clothes can you buy?