'People think Saif and I have a lot of issues but actually, there are none. When we met, we realised the so-called issues were only in the newspapers.'
Shahid Kapoor discusses Rangoon and box office numbers.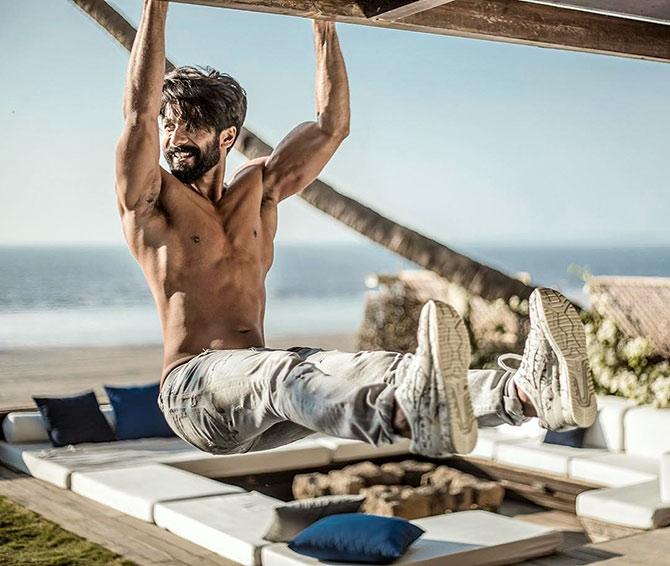 Photograph: Shahid Kapoor/ Instagram
Shahid Kapoor is ready with Rangoon, directed by Vishal Bhardwaj, where he plays a soldier in the British Indian army.
The film, releasing on February 22, co-stars Saif Ali Khan and Kangana Ranaut.
This is Shahid's first period film, after which he will head to the next one: Sanjay Leela Bhansali's Padmavati.
Shahid talks to Rediff.com contributor Rajul Hegde about his movies and more.
You re-unite with director Vishal Bhardwaj after Kaminey and Haider.

Vishal Bhardwaj is the most relevant filmmaker I have worked with in my acting career. He has given me opportunities to showcase my acting talent in a way that probably even I didn't know.
Everybody in the industry wants to work with him but the fact that he considers me is a huge compliment.
I want to give him more than he expects.
After a couple of films with a filmmaker, I guess they know more about you and it becomes difficult to surprise them.
Rangoon is a different film for us and I think it will be a different experience for the audiences as well. Audiences want to watch good content these days and that is what I have been focusing on.
This film can be watched by a larger audience in comparison to Haider and Udta Punjab because it isn't a dark film. it's about a love triangle, about war and human relationships.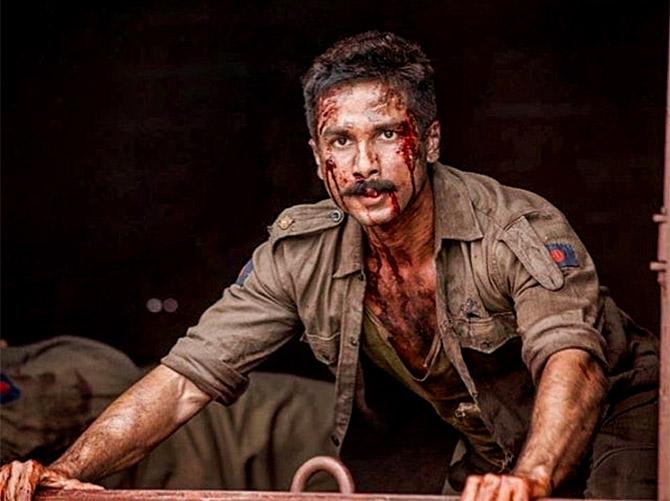 IMAGE: Shahid Kapoor in Rangoon
The film is set in a different era. How difficult was it for you to get into the character of Nawab Malik?
Rangoon is my first period film but the last few films that I have done have been very different. For instance, I had no access to Tommy Singh of Udta Punjab. I had no access to what Haider must have gone through in Haider.
Rangoon is another film which is far away from my reality. But I play a man in uniform, a patriot, a jawan (soldier). I play a man, who fights to save his country.
Nawab is as unique a character as Haider or Guddu and Charlie in Kaminey. He is the most heroic character I have ever played.
The film is set in an interesting period, at a time when India was going to become independent but hadn't yet achieved independence. Nawab was in the British Indian army.
Video: Watch the Rangoon trailer.
Rangoon has an interesting star cast. How was the experience working with Saif Ali Khan and Kangana Ranaut for the first time?

Both are great co-stars to work with.
It was interesting to work with Kangana.
People think Saif and I have a lot of issues but actually, there are none. When we met, we realised the so-called issues were only in the newspapers.
Saif has the personality which the film needed.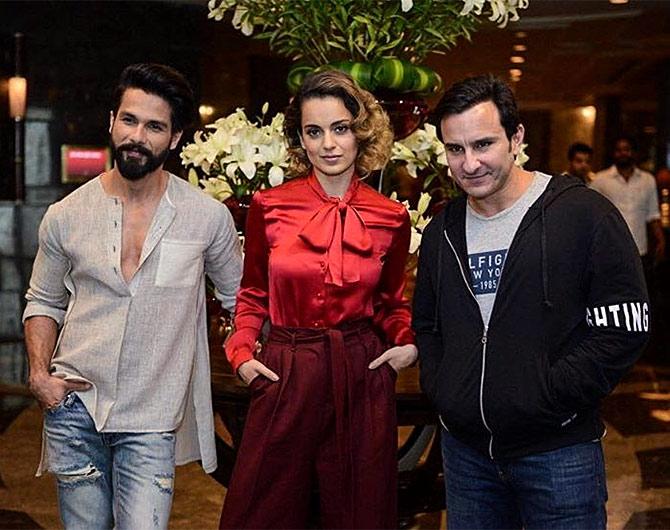 IMAGE: Shahid Kapoor, Kangana Ranaut and Saif Ali Khan at a Rangoon promotional event. Photograph: Shahid Kapoor/ Instagram
Apparently, your father Pankaj Kapur has watched and liked Rangoon.
Yes, he told Vishal sir that he could not recognise his son in the film!
'He is playing Nawab Malik and I don't see Shahid in there,' he had said.
For me, this is a huge compliment as my father doesn't say such things very often. He is very honest to the art.
Is it a conscious attempt to sign films that are strongly backed by content, be it Rangoon or Padmavati especially after the debacle of Shandaar?
I feel a little liberated now with the choices I am making. I don't feel the weight of too many thoughts.
I am doing what I want to do instinctively, and am very lucky that there is Vishal Bhardwaj and Sanjay Leela Bhansali coming to me today. It is a great space to be in.
The industry is going through a change. I feel it very strongly as somebody who has been here for 14 years as an actor and before that, for five-six years as a struggler. I have seen the nature of this industry for the last two decades. What we thought was commercial in the past will not work anymore.
Today, content is king. That will drive the viewer into the theatre.
I don't think films are the only medium anymore. Television and digital content is growing very fast. Therefore, whoever offers you a better experience is the person you will choose. We have to give people something that is exciting, different and new. You have to be able to tell stories which will surprise the audience.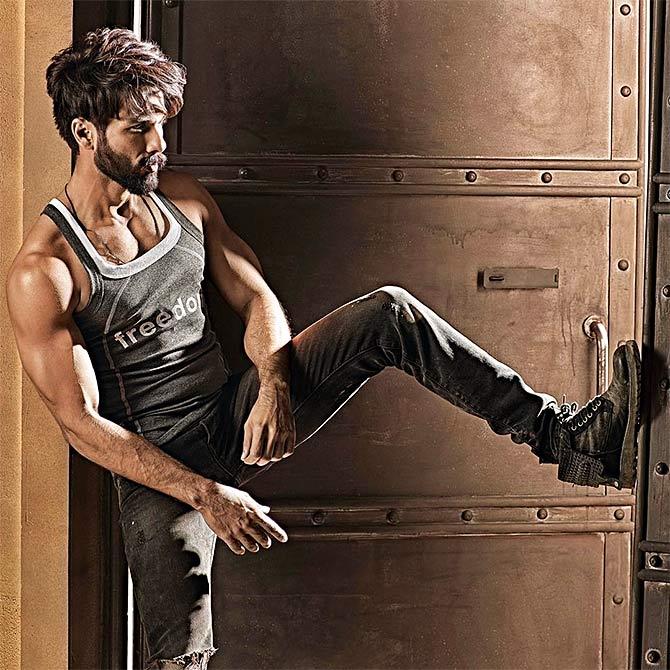 Photograph: Shahid Kapoor/ Instagram
How much do box office numbers matter to you?
It is very important for a film to be successful, and the only way to define a film's success is if it has recovered its cost. Obviously, you don't want to be part of a film that loses money.
At the same time, I find these box office numbers weird. The way it works is very unpredictable. You cannot survive if you are part of unsuccessful films but you can't run after it because you don't know what you are running after!
Also, if you run after numbers, you lose your credibility, focus and purpose.
You must only run after a good movie because only that will make money. How much money, who knows? Every day we see these numbers and predictions but the final performance is very different. You can't predict it anymore.
There were rumours that Ranveer Singh was opposing your entry into Padmavati while leading lady Deepika Padukone and director Sanjay Leela Bhansali wanted you. There were also reports that you replaced Vicky Kaushal, who apparently Deepika did not want to be paired with?
Everyday I would get up to read a new controversy about the film and myself. I told Sanjay sir that this is the first film of my career which I have not even begun shooting and it is already in the news.
Don't ask me unofficial questions (about replacing Vicky Kaushal) officially. I don't want to get into it.
What next?
I will be unemployed (laughs).
Padmavati will take 200 days to make; we have shot only 25 days. I have been approached for a lot of films but haven't said yes to any. I am focusing on Rangoon and then Padmavati.