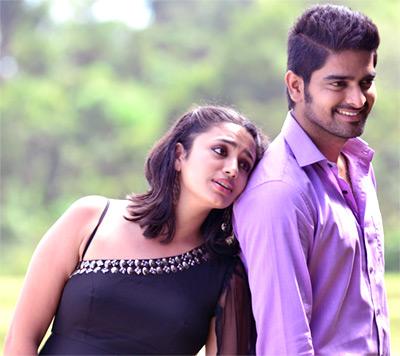 'I enjoy playing different characters, playing people who are different from me, enjoying getting under the skin of a different mindset.'
Malavikaa Nair gets candid about her latest film Kalyana Vaibhogame.
Child actor Malavikaa Nair, who worked in Malayalam cinema, will be seen in the Telugu film, Kalyana Vaibhogame.
Directed by Nandini Reddy, it will release on March 4.
Even though Malavikaa is busy with her Standard 12 examinations, she took some time off to discuss her film with Rediff.com contributor Radhika Rajamani.
How did you get into acting at such a young age?
I had done some child artist roles in Malayalam films. Those decisions were mostly taken by my parents. I wasn't keen about acting then but did it anyway.
I was also doing print ads. It was a matter of routine, I did not particularly like or dislike it.
What about acting do you like?
Now that I am more aware of what I am doing, I enjoy playing different characters, playing people who are different from me, enjoying getting under the skin of a different mindset.
At the same time, playing characters that I relate to is fun as well, as I draw on my own set of experiences.
Is it tough to balance a career with studies?
Of course it's tough. Every time I miss school, I have a huge backlog. I have to start from scratch to cover the portion and catch up. I am a science student, so with practicals as well, it's a huge task.
With each year, it gets tougher. That's why for my Standard 12, I decided not to do any films. I made an exception with Kalyana Vaibhogame.
How did Kalyana Vaibhogame happen?
I had decided not to do films for a year after Yevade Subrahmaniam because of my Standard 12 examinations. But (director) Nandini Reddy happened to see me at Yevade's audio function and contacted my dad through her casting director.
We initially said we weren't interested, so they requested my dad to listen to the story on the phone and take a call. Nandini narrated the story briefly to my dad on the phone and he was very impressed.
This was actually the first film that I picked by myself. I listened to a narration on the phone as well and the 45-minute narration convinced me that I just had to do this film. It was instinctive.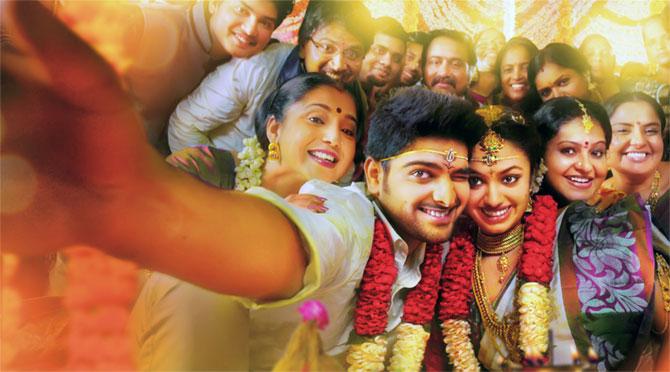 Have you watched Nandini Reddy's films before?
I had seen Ala Modalaindi. It is a really cute film. My brother loves it.
Could you tell us about the character you play in Kalyana Vaibhogame?
I play a medical intern named Divya. She is pretty much today's girl, spunky, fun, mischievous and ambitious.
She has two sides -- her fun self in front of her mother and friends and a subdued and restrained side, in front of her authoritarian father. I guess most girls are like Divya.
How was it being directed by Nandini?
She was very specific about everything -- every little detail, clothes and colours. I learnt how to read her expressions and figure out if she was happy with the shot or not.
How was Naga Shourya as a co-star?
It was really cool working with him. We became buddies and would listen to music and joke around a lot on the sets. He is a really fab actor. I would be in splits watching him do the comedy scenes.