'I'm not jealous anymore. But sometimes I am, when I'm not part of that project.'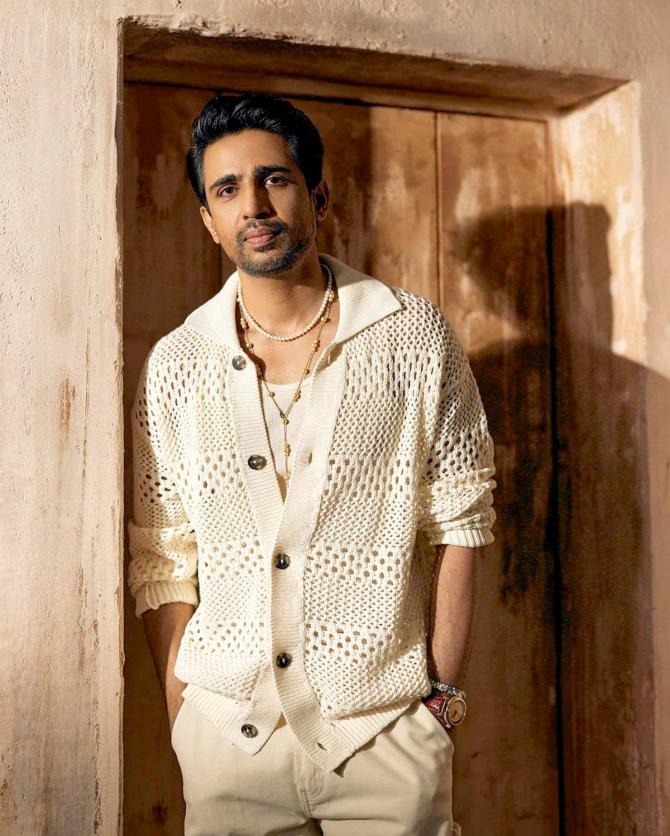 Gulshan Devaiah was sure of making it as a movie actor even when he started out his acting career in theatre.
After all, he was once a "young boy fantasising about being in films", and when the opportunity came, he caught it and didn't let go.
The year was 2010 and the film was Anurag Kashyap's That Girl in Yellow Boots.
Gulshan played the supporting role of a small-time gangster, which got him into the limelight.
His acting prowess received its due with films like Shaitan, Hunterrr, A Death In The Gunj, Mard Ko Dard Nahi Hota.
Currently, he is among the many actors who are riding high on the OTT wave after making lasting impacts in Dahaad and Guns and Gulaabs.
"You find truth by acceptance, only then you're able to be truthful with the illusions that we create," Gulshan tells Mayur Sanap/Rediff.com.
This is your second collaboration with Raj & DK after Unpaused. What was your kick about Guns And Gulaabs?
When I read the script, I liked how all the characters are quirky with a distinct sense of humour.
My character 4 Cut Atmaram was a short but whacky one.
It was also very interesting that the show is set in the '90s, and draws inspiration from the pop culture of that time.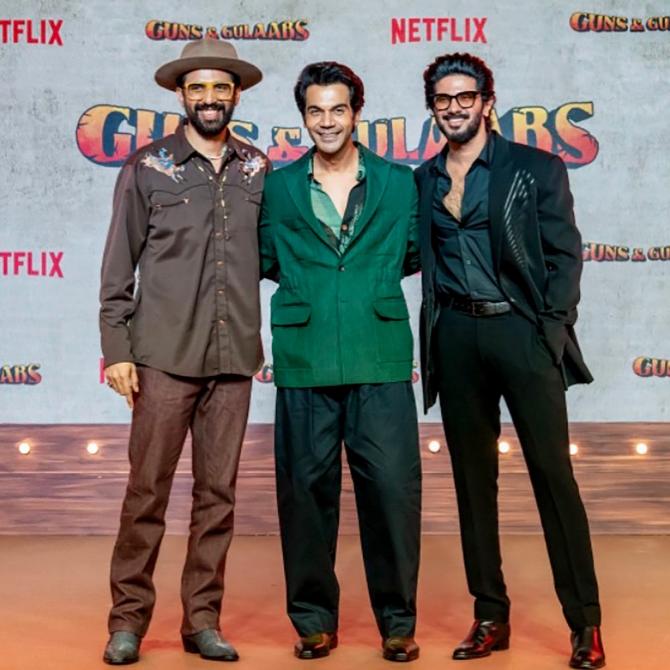 What did the '90s mean to you?
I remember it as a fascinating era because for example, none of us had imagined how a Pepsi would taste. I had no idea. (Laughs)
I think I was 14 years old when I had my first Pepsi.
I know it's a simple thing, but it was a big deal back then.
It used to be quite expensive. Actually, I couldn't afford more, so we used to buy one bottle and share it with five people.
Which is your favourite scene from the series and why?
When Jugnu is eating food with his friend and his newly married wife. I really like that scene.
It seems a certain way but it completely changes your understanding once you get to the end.
I thought Adarsh (Gourav) was excellent because you don't know what he's doing. You probably think this man was really powerful, and he's crazy and he's intimidating these two people. But you look at it very differently once you learn about who he is in the end.
What's your process to get into the skin of a character?
Firstly, accepting the reality. You find truth by acceptance, only then you're able to be truthful with the illusions that we create.
I know it sounds contradictory.
The writing is most important.
In the case of 4 Cut Atmaram, he kills people, but I have to accept and submit to that reality, and then build from there.
If I cannot accept it, the process will be insincere and fake.
Then, of course, references or ideas that I have or the directors have or workshops or there can be so many things and but a lot of imagination goes into constructing, imagining or visualising how these characters behave in different situations.
Which was the most difficult role to pull off?
Ghost Stories.
Because it was full body prosthetics, and incredibly tough.
Not only physically tough but mentally very challenging.
I was in so much pain. It used to take nearly four hours to get ready and about one-and-a-half to two hours to get out of it. Then you have wash off with so much alcohol to remove everything, which really dries your skin.
I was smothering myself in moisturiser. It felt dry and burning, and really uncomfortable.
But I'm extremely proud of that role because it was difficult and I somehow pulled it off. There is a pride that I attached to it.
Theatre was a crucial part when you started out your career. While many actors manage to do both things, you chose to focus on films.
That's because I love films.
As a young boy, I fell in love with films. That's what I really wanted to do.
I felt that the child inside me would be upset if I wasn't honest about the dreams that I had.
Which is why I'll always keep doing feature films. That's my first love.
You once described yourself as 'cinema purist' who likes the magic of big screen. Do you feel conflicted with the opportunities and the success you are finding on OTT?
Not at all. I am doing cinema also. And OTT is long format storytelling, so I like and I enjoy doing both. I will continue to do both.
To succeed in the theatrical business is more difficult because of the old profit sharing, and how the business works.
But that's something that I love. I fell in love with when I was a young boy fantasising about being in films.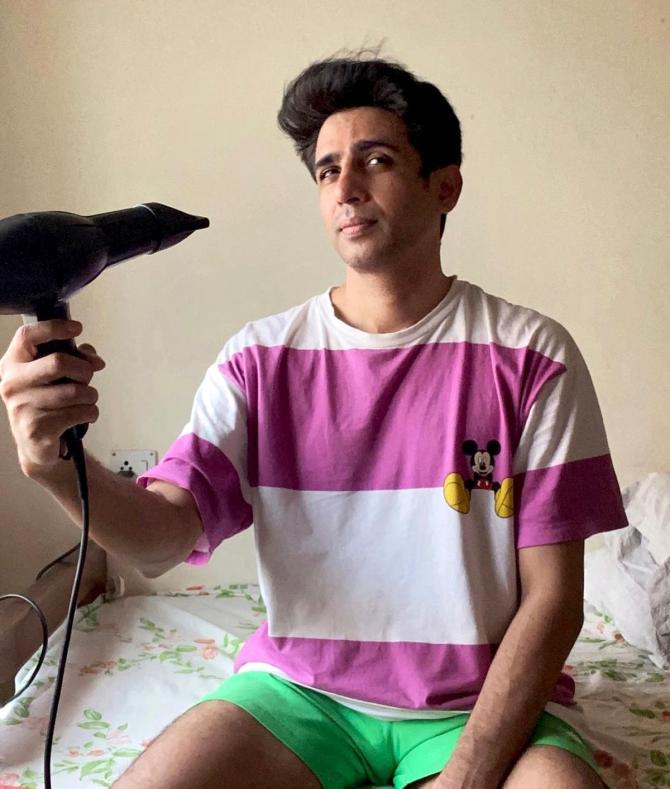 How do you look at the stiff competition within the OTT space?
I don't particularly understand the competition. I don't think actors are competing with each other.
I have worked with the same people while doing a feature film and the same set of people on the series formats as well.
There's definitely more work for everybody, not just actors, but also for storytellers, technicians, publicists, PR people... And also for people in the media because you're doing more interviews now. (Laughs)
You once said that good performances from your contemporaries make you feel jealous. What are some recent performances that you really liked?
I liked Vijay Varma in Dahaad. That was a terrific, terrific, portrayal.
I liked what Adarsh did in Guns And Gulaabs. I was talking to him and told him it's like a concept album. You can't just listen to one song, you have to listen to the entire album to get make sense of what it is.
I think it was really interesting, very stimulating. I had been thinking about his performance.
I'm really looking forward to spending more time in picking and having more conversations with him about his approach and some of the choices that he made.
I'm not jealous anymore. But sometimes I am, when I'm not part of that project.
Like in the case of Badlapur. I wish I was a part of (that film). I was very jealous of Varun (Dhawan). Then I was very jealous of Ayushmann (Khurrana) for Andhadhun.
You are a self-professed Sai Pallavi fan. Does she know about it? Are you actively trying for a film with her?
(Laughs) I think she knows.
Some time ago, I tweeted, like, please, somebody put us in a movie together.
She had commented on it also, like, 'Gulshan, you're very sweet' or something like that.
I've been crushing on her. I've not seen everything that she's done but I think she's terrific.
For some reason, I have an instinct that we will be really good together on screen.
I hope that before either one of us retire, we get to do something substantial. A nice big, juicy part with each other -- that would be really nice.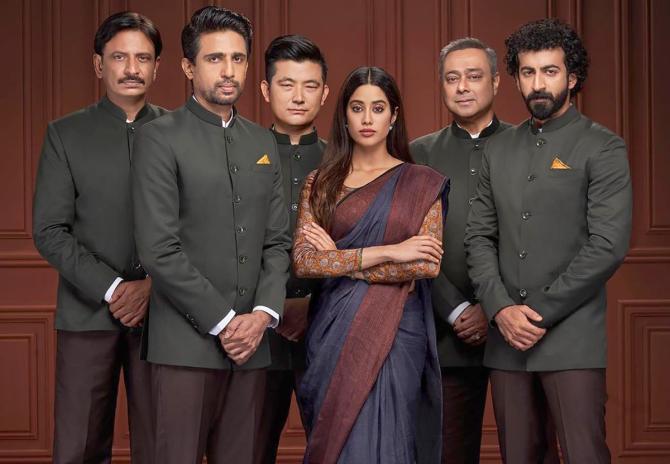 What can you share about your next film Ulajh with Janhvi Kapoor?
That it is with Janhvi Kapoor. (Laughs)
Well, we shot for it in London, and we still have a little bit left. I'm looking forward to completing it.
I don't want to say too much because there is a surprise in it. I don't want to spoil it by talking too much about it.