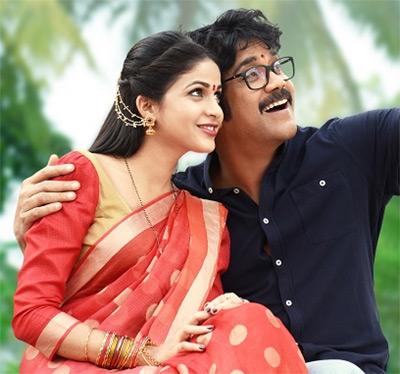 'Nag Sir is so chilled out. I did not see him get angry,' Lavanya Tripathi tells Radhika Rajamani.
Lavanya Tripathi, who was last seen in the 2015 blockbuster Bhale Bhale Magadivoy, is ready for her next big release Soggade Chinni Nayana.
Co-starring superstar Nagarjuna and Ramya Krishna, the fantasy film is directed by Kalyan Krishna.
In this chat with Rediff.com contributor Radhika Rajamani, the young actress talks about her experience with Nagarjuna and Ramya.
How did you bag Soggade Chinni Nayana?
I was in Hyderabad for some work. The director saw my picture in a white sari and spoke to my manager.
Later, we met at Annapoorna Studios, and he told me that he saw Seeta (her character in the film) like this.
When he narrated the character, I loved it even though I was skeptical about playing a married woman at this stage. But I realised that playing a character like that did not mean I was old.
Ramya Krishna and Nag Sir are in the film and I am lucky for that.
What is the film about?
Bangararaju (the older character played by Nagarjuna) belongs to a village. Ramu (Nagarjuna, in a double role) and I come from the US for an important reason. That is where the story starts.
The film has everything -- socio-fantasy, romance, laughter, suspense...
What was it like acting with Nagarjuna in the grandfather's role?
I don't have scenes with him (in that look). Only Ramya does. I saw him in a dhoti and people used to say how good he was looking in it.
Was it a dream-come-true to act with Nagarjuna?
Yes. He is known in North India too. My friends wanted to come and meet him since I was acting with him! My sister came with her son and met him!
It was a nice experience working with him. Nag Sir makes you comfortable. He is so chilled out. He takes care of everyone on the set. I did not see him get angry. He never tried to teach me anything. He used to calm me down and say, 'Just chill. Don't worry.'
I felt I was working in a family. There used to be discussions about cinema and I would be a part of it.
How was it acting with Ramya?
On the first day, I had a long dialogue with Ramya and Nag Sir. I was nervous but the scene came out well, so I felt encouraged. She is down-to-earth and a friend. She laughs openly and is honest and straight-forward.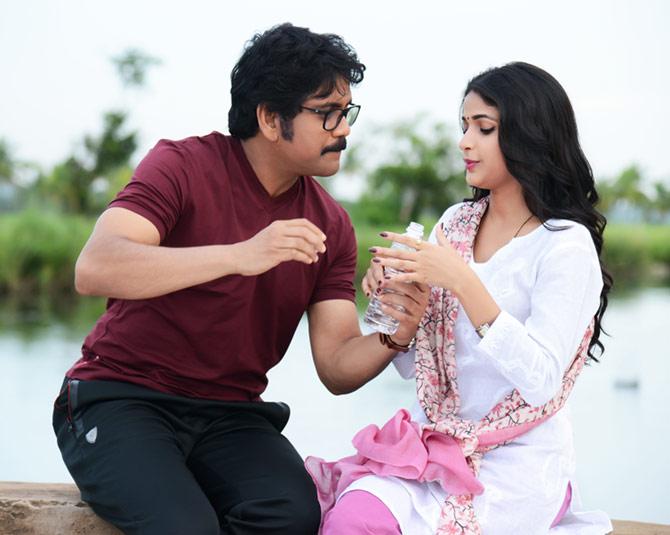 This film is produced by Nagarjuna's Annapoorna Studios. How did was it acting under his banner?
I am doing a film with Geetha Arts (Allu Aravind's banner) as well. They are all different. At Annapoorna, I saw a lot of girls on the sets since Supriya (Nag's niece) was there. At times, the girls would get together and have pizza. It was a cute environment.
What was it like working with debutant director Kalyan Krishna?
Debutant directors come up with different ideas -- new ideas and the best ones! They give their best to a project. Kalyan Krishna's presentation of my character was good and I loved it.
Would you rate this as one of your biggest releases so far?
Yes, in terms of money. The set-up is huge. Big or small doesn't matter to me. It is the role. The kinds of scripts I am getting are nice.
What is the status of your film with Allu Sirish?
The shoot is 70 per cent over. It is a refreshing script. I am having a nice time shooting for the film.