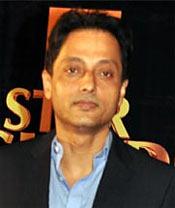 Sujoy Ghosh got the best of actors like Vidya Balan and Nawazuddin Siddiqui in his hit film Kahaani but when he reached the sets of his acting debut, he got an actor's block.

"I was petrified of facing the camera," says Sujoy, who will play the famous fictional Bengali detective Byomkesh Bakshi in his new film. "But that's exactly what I was made to do in Siliguri. It wasn't that tough, thanks to the homework my director Rituparno Ghosh did. I envy him as a filmmaker. I can't hope to match his detailing. As a filmmaker, I know where to put my characters and how but I seldom know why. Why an orange shirt and not a green one? I am clueless. Rituda has all the answers. He made my job very easy."

Sujoy says the characters of Byomkesh in the 1930s had to think according to the rhythms of the times. "They had no Google. Behaviour was dictated by references derived from personal character traits and social interaction. Google was in their head."

Director Rituparno Ghosh held many workshops to help Sujoy get into his character but the latter was still uncertain.
"I was scared to death I'd get it wrong," Sujoy adds. "It's one thing to tell actors how to do their scenes. But to be standing in front of the camera and following the director's instructions is the scariest thing I've done in my life."
Sujoy says it helps to have a director-turned-actor helming the project. "Ritu has been doing serious acting, so he knows what a director feels like when he has to act. He prepared me extensively for the part."
Ritu wants to make the next Byomkesh film with Sujoy as well but Sujoy is not sure. "I don't know if I am cut out for acting," he explains.
Incidentally, Bengali cinema is going through a resurgence of detective fiction. Prosenjit Chatterjee is currently playing another well-known fictional detective character called Kakababu in a film directed by Srijit Mukherjee. Last year, Anjan Dutta directed Abir Chatterjee in the role of Byomkesh Bakshi in another film on the famous detective.