'I felt Meri Pyaari Bindu was my life story.'
'I have songs for everything -- I have songs attached to people, relationships, family, friends or some song that I have sung at a picnic...'
'If you think of your life, there's always a song attached somewhere.'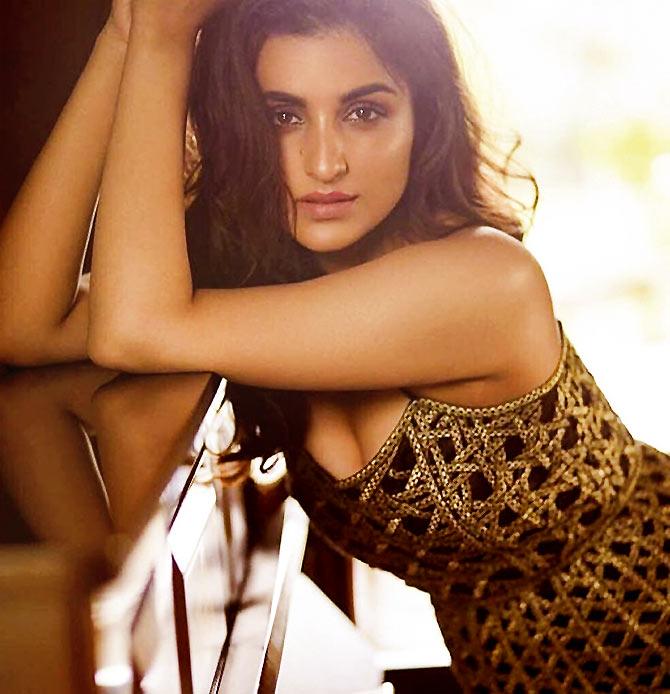 IMAGE: She has such expressive eyes! Photograph: Kind courtesy Parineeti Chopra/Instagram
Parineeti Chopra enters a room at Yash Raj Films where the media awaits her.
"Aisa kya naya puchenge? (what new stuff will you ask?)," she asks.
Without waiting for a reply, she goes on, "Main pehle se hi rules bata deti hu. Role ke baare mein nahi puch sakte, film ke bare mein nahi puch sakte (Let me explain the rules. You cannot ask about the role or the film)."
Then she says with a laugh, "Main mazaak kar rahi hoon (I am joking)."
Parineeti's interview had to be postponed after she lost her voice -- she posted a video on Twitter to prove it.
"I am still struggling with my throat," she explains.
Midway through the interview, the actress gets annoyed when a journalist calls her 'bubbly'
"This 'bubbly' word, I am personally going to take it up as an agenda to ban it," she says. "Colas are bubbly, champagne is bubbly. I am not bubbly!"
The word she prefers is 'spunky.'
"I think directors look at me because I am an energetic person with a strong personality and always like to make people laugh," she says, explaining her personality.
Parineeti will be seen in Meri Pyaari Bindu, opposite Ayushmann Khurrana.
She explains why the film has a personal connect with her. Rediff.com's Jahnavi Patel listens in.
Do you relate to Bindu?
Bindu is a very irresponsible girl. I call her that because she is a bird.
She wants to try something new all the time. She doesn't complete her relationships, she keeps moving cities...
She's very spunky and energetic and fills up a room with light when she enters.
I am not that person at all. I am a responsible person, I plan a lot, I am disciplined.
I am more in control than Bindu is.
What I share with Bindu is the passion for music.
She's obsessed with singing and music and so am I.
The retro songs in the film make us nostalgic. Did that happen to you too?
Yeah, absolutely!
That's what attracted me to it the most.
I felt it was my life story. I have songs for everything -- I have songs attached to people, relationships, family, friends or some song that I have sung at a picnic...
If you think of your life, there's always a song attached somewhere.
The good thing was that I got to sing all the songs. So it was fun.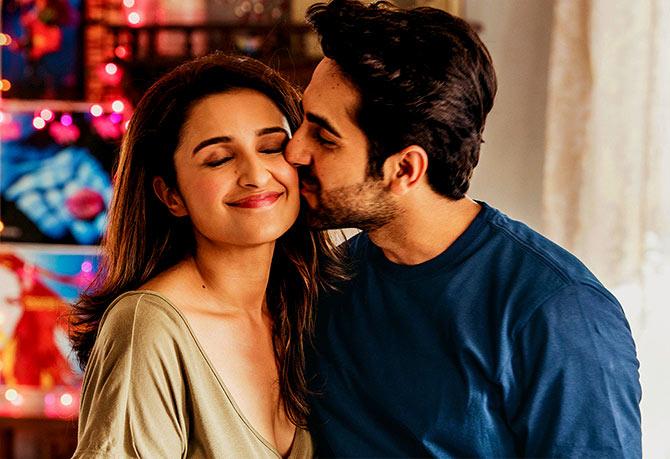 IMAGE: Parineeti and Ayushmann Khurrana in Meri Pyaari Bindu.
Were you waiting for a film like Meri Pyaari Bindu to make your singing debut, since you play a singer?
No. I did not have a plan of launching myself as a singer in a film.
If a single had come my way before, I would have done it.
The point is to release a good song. Mana Ke, thankfully, is in a film which was absolutely apt. But there was no plan as such.
Since you are a trained classical singer, was there pressure on you during that song?
I have to sound like myself; that was my only concern.
Because I am classically trained, I feel like I owe it to myself to sing perfectly. I have no excuses of making mistakes.
Singing is something that I have learnt. I have given exams for it.
Also, I did not want any machines to be used; nothing in the studio to fix my voice.
It had to be my raw voice. And that's what happened.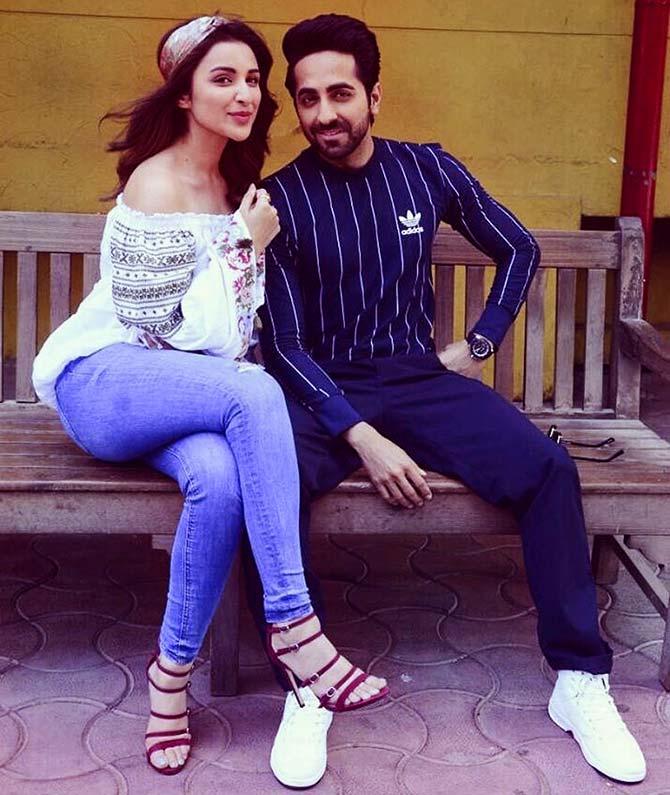 IMAGE: Parineeti's Bindu with Ayushmann's Abhimanyu. Photograph: Kind courtesy Parineeti Chopra/Instagram
Why was the Meri Pyaari Bindu trailer released in five chapters?
In this age when there is so much content out there, we thought it was a really innovative way of presenting a trailer.
I think it was the genius of Maneesh (Sharma, producer), Akshay (Roy, director) and the marketing team at Yash Raj Films to think of this new way.
The film is also like that. It is like chapters of the different times in their lives. So it was true to how the narrative of our film unfolds.
Also, we wanted to give you glimpses of what we're doing in the film. If people liked the chapters, they will like the film.
Your last release was Kill Dil in 2014. There were reports that you were not getting roles.
There was no reason for me not to get roles. I was getting very good roles. It's just that I was going through some health issues.
I invested a lot of time in my health, which I had neglected for a long time.
Plus, I had bought a new house and had to work on making it the way I wanted it to look. That took nine months.
So my break was only 10 months.
I signed Bindu after that. Obviously, from shooting to release, another year passes.
It's not like I was sitting at home for two years, doing nothing.
I was always shooting for my ads and endorsements.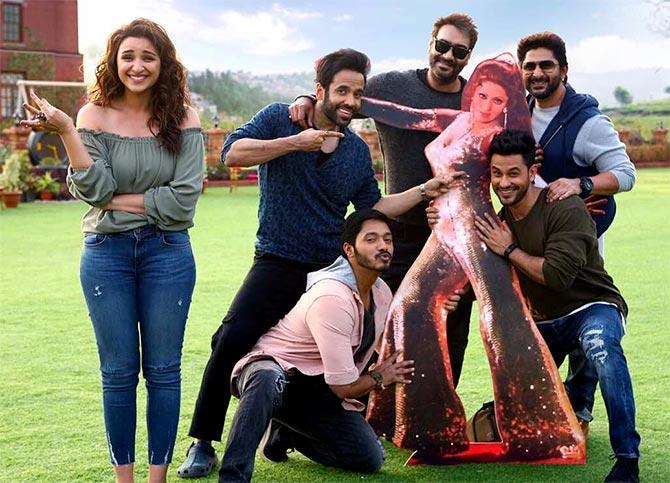 IMAGE: Parineeti wonders what her 'gang of boys' (Tusshar Kapoor, Ajay Devgn, Arshad Warsi, Kunal Kemmu and Shreyas Talpade) are up to. Photograph: Kind courtesy Parineeti Chopra/Instagram
Your Golmaal team is also promoting Meri Pyaar Bindu...
The Golmaal team is genuinely the most selfless team.
Whenever I have had mad concerns about the film, I am always talking to Rohit (Shetty) sir or Ajay (Devgn) sir, Kunal (Kemmu) and Arshad (Warsi).
They are like my gang of boys now. I love shooting with them.
I miss them when I am not shooting with them. They really made me feel like family.
I am always hanging out with them, even between shots.
They came up with this idea (of promoting Bindu).
There is no war. It's not like one film is promoting another film.
It's just that I am their friend, my film is coming out and so they are supporting me.
Do you enjoy comedy?
I love making people laugh even in real life, sometimes at the risk of making fun of myself.
Right from my first film Ladies vs Ricky Bahl, I was a comedian. I did a lot of comedy in Hasee Toh Phasee.
That's why Golmaal was the perfect film for me.
I wanted to do a big commercial film and wanted to work with Rohit sir and Golmaal happened.
I love the franchise.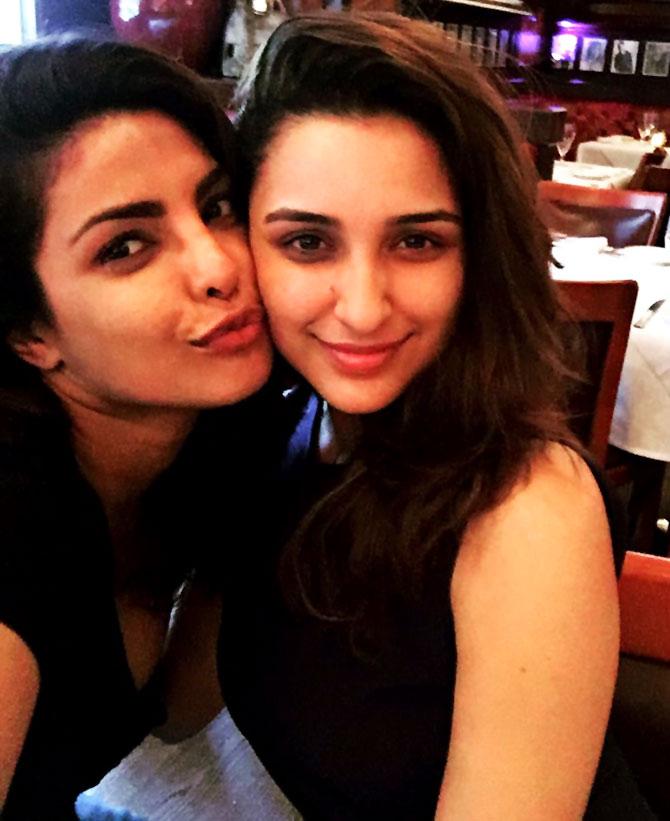 IMAGE: When the cousins meet up, they make sure they click a selfie. Photograph: Kind courtesy Parineeti Chopra/Twitter
What do you have to say about comparisons with your cousin Priyanka Chopra?
There is no comparison with my sister! She is way ahead. She is doing it at the international level.
Also, she is 17 years ahead of me in the career. There can't be any comparison.
Have you ever felt the stress of being Priyanka Chopra's cousin?
In the first film, of course!
People had to explain who I was, that I was Priyanka Chopra's cousin, but I had to hold my own. That happened from my second film, Ishaqzaade.
She's an inspiration to me and an inspiration to every girl in the world.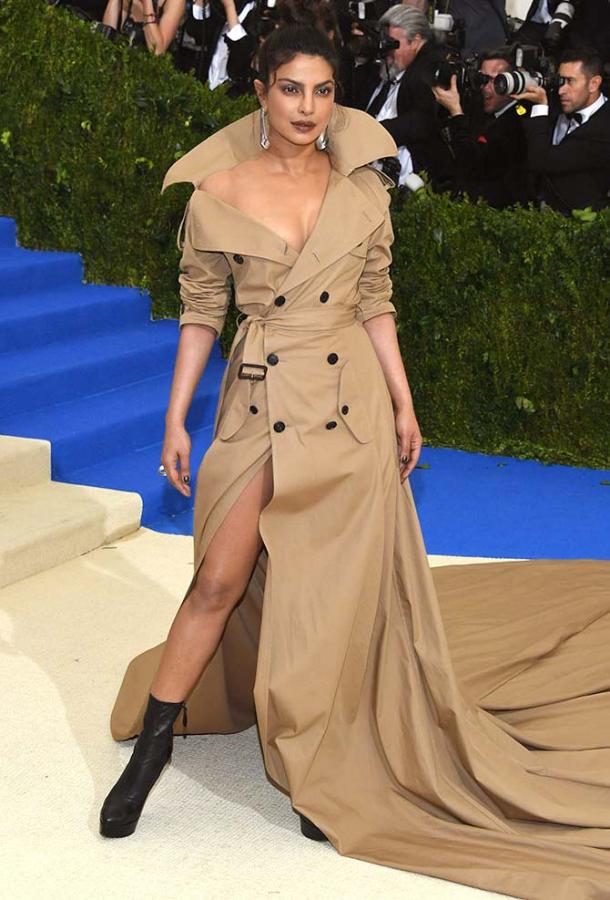 IMAGE: PeeCee opted for a trench coat gown with a train for the MET Gala 2017 event. Photograph: Dia Dipasupil/Getty Images
What did you think of Priyanka's Met Gala look?
It was brilliant!
I love sporty looks on the red carpet. So that trench coat... you know, the Met Gala is meant for drama, it is meant to make a statement and she did it brilliantly.
Would you like to go to Hollywood?
Yes, why not? If I get a good platform and a good role, why not?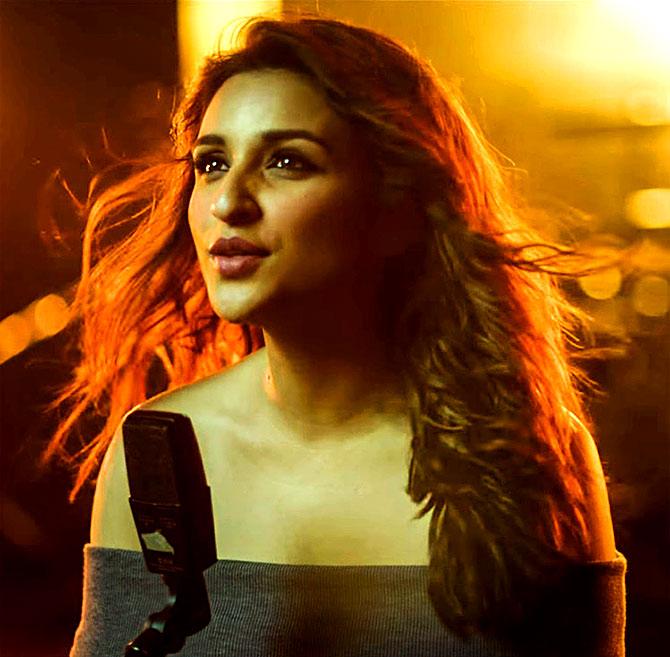 IMAGE: Parineeti sings Mana Ke Hum Yaar Nahin from Meri Pyaari Bindu.
Kailash Kher recently expressed displeasure about Sonakshi Sinha opening the Justin Bieber concert. Singer Armaan Mallik agreed with him, and Sonakshi and Armaan got into a Twitter battle. What is your take on this?
Since I am an entertainer, I will entertain in all sorts of ways.
When I act, other actors should not feel offended.
When I sing, other singers should not get offended.
When I dance, other dancers should not be offended.
When I do my own stunts in films, other action directors should not get offended.
When I do comedy -- and I will do a lot of it in Golmaal -- other comedians should not feel offended.
I will be wearing good clothes, so fashion designers should not feel offended.
The list goes on.
It's all a part of entertainment. You can't pick and choose which part of the entertainment I will do and which I won't.
Everybody should co-exist in the business of entertainment.
Singer Sona Mohapatra said when an international artist performs in India, professional singers should be present alongside him on stage, not actors-turned-singers because they are amateurs...
I am classically trained!
We have released songs which have become hits, that means that our songs and music are accepted. Nobody can decide who is an amateur.
Even if somebody is not trained, like Ayushmann (Khurrana) -- he isn't trained, but he has so many hit songs -- you can't call him an amateur either.
This debate is actually going in circles. There is no right answer.
If a singer wants to do a music video, they are acting.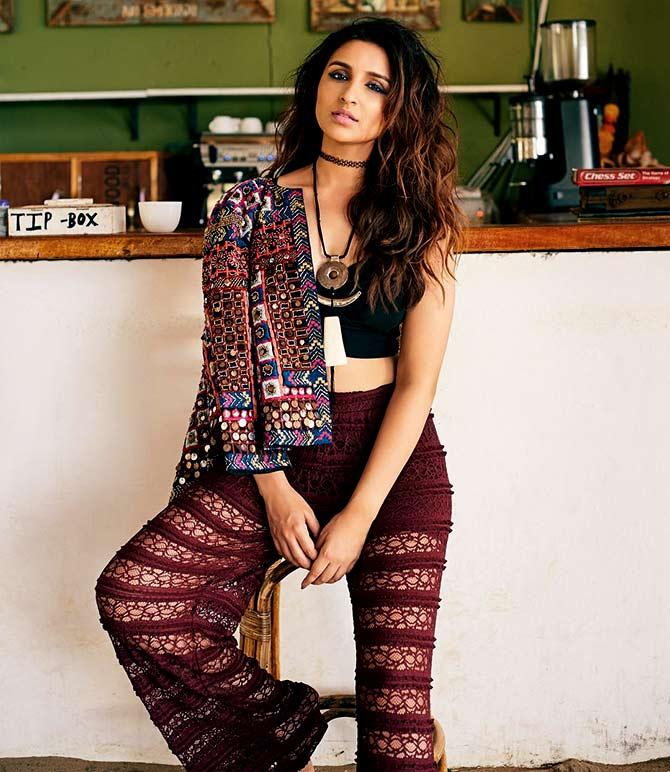 IMAGE: Hot, isn't she? Photograph: Kind courtesy Parineeti Chopra/Instagram
Any genre you would like to try?
I want to do an action film now.