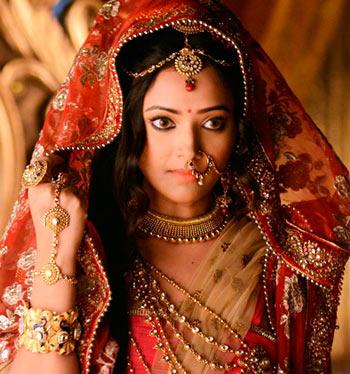 'Who wouldn't want to dress up like a princess every morning?'
Shweta Prasad Basu gets ready to play one in her new TV show.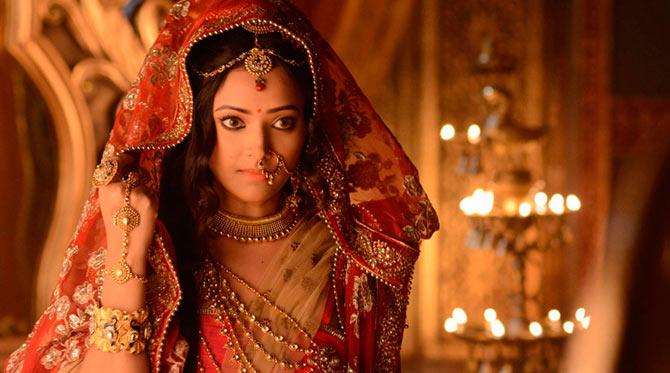 IMAGE: Shweta Prasad Basu in Chandra-Nandini
Shweta Prasad Basu makes a comeback to television with Star Plus' historical show Chandra-Nandini.
The show tells the story of Mauryan king Chandragupta Maurya and Princess Nandini, and will premiere on October 10.
Shweta, who started her acting career as a child actor is films like Makdee and Iqbal, went on to become a popular south actress. Unfortunately, she got caught up in a prostitution racket in Hyderabad in 2014. The actress has moved on now, and is looking forward to her new innings in television and Hindi movies.
She chats with Rediff.com contributor Rajul Hegde about her life so far.
You are making a comeback on television after a long time. Was it a conscious decision to stay away?
Yes, it's a comeback but I was never out of work.
I didn't act out of choice and have come back out of choice as well.
I acted in Iqbal and Makdee as a child actor. I got offers from filmmakers like Raj Kumar Santoshi and Madhur Bhandarkar but my parents prioritized my education. So I did my graduation in journalism.
As a child actor, I have not done much work but I have done quality work.
Acting has been my comfort level, so I wanted to push that and go behind the camera. I made a documentary on Indian classical music, which features A R Rahman, Shivkumar Sharma, Gulzar, Dr L Subramanium and Shubha Mudgal. I produced and acted in a short film called Interior Cafe Night with Naseeruddin Shah and Shehnaz Patel.
What made you get back to acting?
I worked with Phantom Films as a script consultant for a year and a half. I was enjoying my work behind the camera so I was really contemplating whether I should act again.
I have been resisting television shows for the last five-six years because of my studies and my documentary but this year I got two offers: Chandra-Nandini (with Balaji Telefilms) and Badrinath Ki Dulhania (with Dharma Productions).
So I quit my job at Phantom Films. I think it takes a lot to quit your secure salary job because acting is a risk, like a freelance job. I always wanted to be in front of the camera and was waiting for the right project.
What attracted you to Chandra-Nandini?
Princess Nandini is not a Miss Goody Two Shoes. She is fierce, bold and speaks her mind.
She challenges Chandragupta Maurya and tells him that she will devastate his kingdom. I liked that boldness.
I have played twin sisters in Makdee, learnt sign language for Iqbal and done South films, which were a challenge in itself to learn different languages.
I have never done a historical or costume drama. Who wouldn't want to dress up like a princess every morning? (laughs).
I did Kahaani Ghar Ghar Ki 14 long years ago, so working with Balaji again was like homecoming for me.
What's been your equation with Ekta Kapoor?
Ekta has never been a buddy to me. I have known her as a kid. She's been warm and welcoming.
I have met her socially because we share common friends.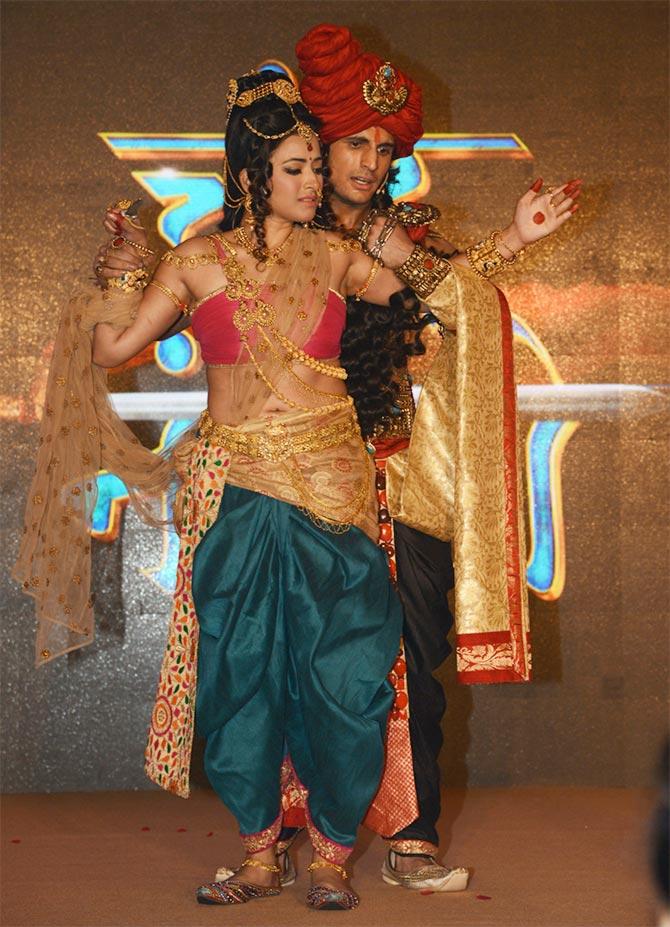 IMAGE: Shweta Prasad Basu and Rahat Tokas at the launch of Chandra Nandini

Are you getting trained for sword fighting?
Yes, there has been an informal training on sword fighting and horse riding.
I am acquainted with horse riding but sword fighting is new.
Rajat (Tokas, who played Prithviraj Chauhan in Dharti Ka Veer Yodha and stars opposite her in Chandra-Nandini), being a veteran, has been giving tips. He has done historical shows before and it's inspiring to take tips from him.
Was it easy to warm up with him because he is perceived as an arrogant person?
It looks like we hate each other on screen but off screen, we share a good camaraderie.
I love reading and he is a focused actor. He's very articulate.
He is perceived as arrogant but that is not true. He's a sweet person. There are times when Rajat, his wife Shrishti (Nayyar) and I sit together and joke. I think he just takes time to open up.
Shrishti and I get along very well; you know how girls bond differently.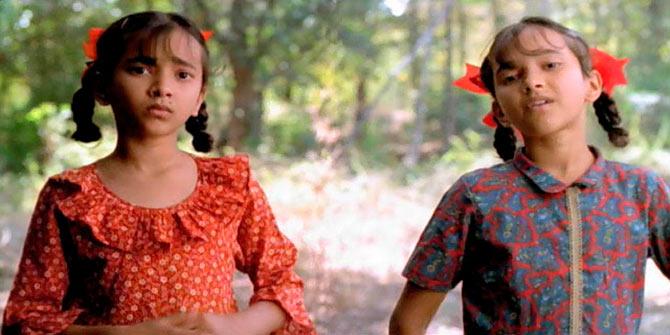 IMAGE: Shweta Prasad Basu in a double role in Makdee.
You are doing a TV show and a film. How will you balance them?
I did Makdee and Kahaani at that same time, and people remember me for both roles.
I don't think medium matters these days because web series and short films are on your phone. What's a bigger or a smaller screen? You just need to associate yourself with the right projects, right teams and the right people.
Do you watch television?
The last TV show that I loved and really miss is Sarabhai v/s Sarabhai.
I like historical shows. I watched Jodha Akbar to an extent. I loved Rajat and Paridhi Sharma as a pair, they were wonderful.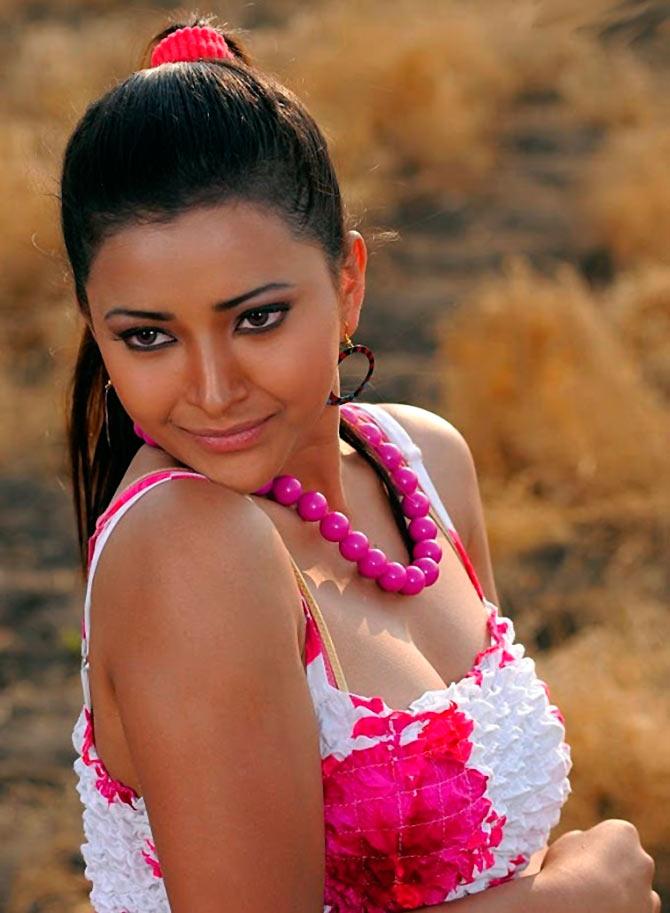 IMAGE: Shweta Prasad Basu in the Telugu film Ride.
How painful was that period for you when you made headlines for the wrong reasons?
Not at all!
For me, it was a crazy adventure. It was so futile and insignificant. Knowing the Indian judiciary, a verdict takes years but I was given clean cheat within weeks. That itself shows how insignificant and small that incident was.
It was blown out of proportion because as a journalist, I understand how important eye-catching stories are. Honestly, if I was a journalist, I would grab that story. I don't think anybody went against me, you guys were doing your job. And the media was the one who presented my open letter as well
I think we all have one adventure to look back to, and this was mine.
How supportive is your family?
I have the coolest parents ever.
When I meet child actors, it breaks my heart because at times, they really get exploited by their parents if they taste success. I have met child actors, who have done 300 ad films and five television shows!
I feel lucky that my parents even after two major successes, gave studies priority.
Are you dating anyone?
Yes, his name is Rohit Mittal. He is filmmaker. I met him at Phantom Films. We've been together for two years and we're happy.