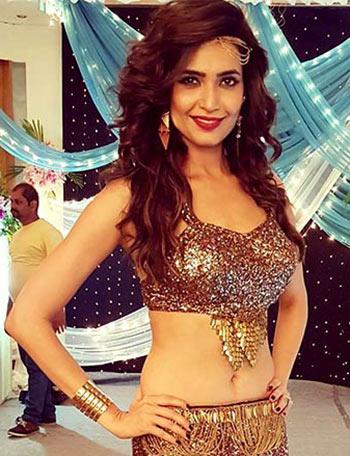 'I do feel I have all the qualities of a film star, then why didn't I make it that big?'
'I blame it on my destiny. I was not there at the right place at the right time.'
Karishma Tanna opens up about her regrets.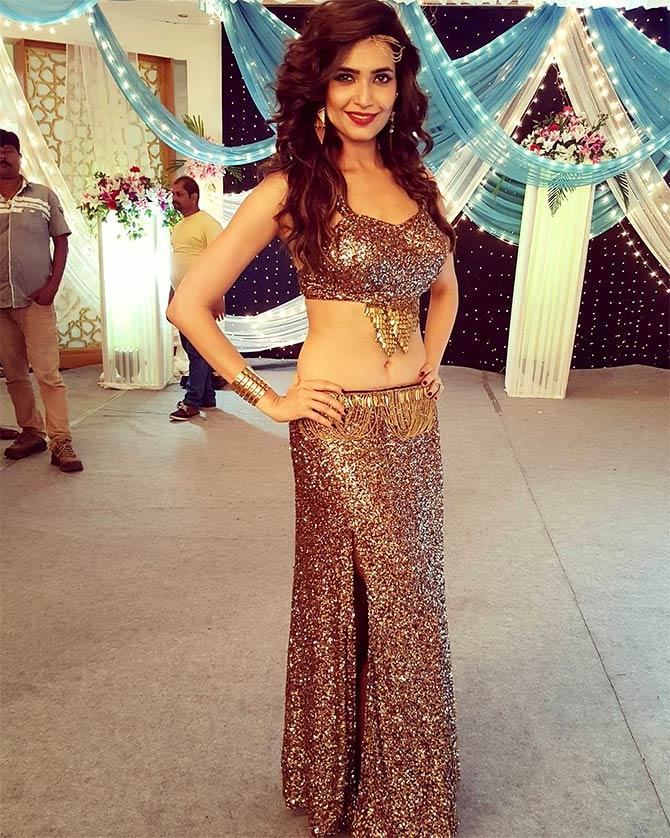 Photograph: Karishma Tanna/ Instagram
The gorgeous Karishma Tanna was busy rehearsing for dance reality show Jhalak Dikhhla Jaa Season 9, when she met Rediff.com contributor Rajul Hegde for an interview.
Karishma started her acting career with the hit show Kyunki Saas... Bhi Kabhi Bahu Thi.
After a few shows, she took a break from television to try her luck in Bollywood. When things didn't work out, she returned to TV.
Karishma gets refreshingly candid about her struggles in the entertainment industry.
Do you think you have an edge over the other contestants, since you have been part of a reality dance show -- Nach Baliye -- before?
In Nach Baliye, you are dancing with your partner who is a non-professional dancer like me. So judging doesn't happen on that level.
But in Jhalak, you are dancing with a professional choreographer, so the level is difficult. Also, if you do not perform technically, the choreographer is at the receiving end from the judges, and you lose out in the bargain as well.
I attract only the difficult seasons of reality shows -- be it Bigg Boss, which is usually three and a half months but it was pushed to four and a half months during my stint. Nach Baliye was a pure dance concept, but the Bigg Boss idea was introduced to it when I took part.
All the contestants in this season have a dancing rhythm, so this is the most difficult season, as all the contestants know how to dance.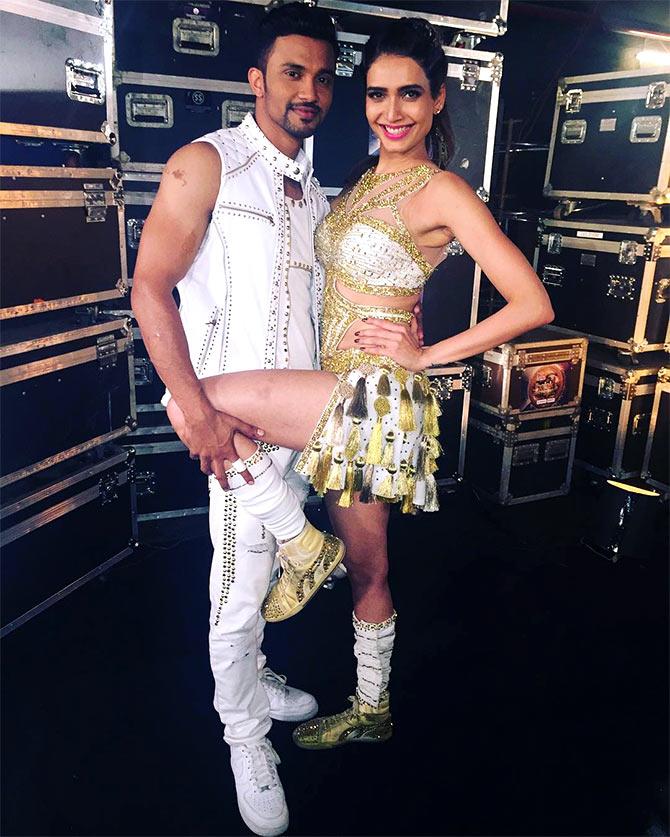 Image: Karishma Tanna with her partner Rajit on Jhalak Dhikhhla Jaa
There is also no public voting like in the previous seasons. Would that be a disadvantage for popular actor contestants?
It's a big disadvantage for every actor because I believe that we have certain fan following that really helps. Fans are generally loyal to an artist. If only the judges and studio audience vote, it's unfair and a disadvantage for everybody, who have been working for many years in the industry.
Madhuri Dixit has not been judging Jhalak for the last two seasons. Will you miss her?
Yes. I really wanted her to judge me because she understands expressions.
I am sure Jacqueline Fernandez (one of the judges on the show) is also good. I have seen her dance. But she is new to a reality show, and may warm up during this season.
I was offered Jhalak earlier as well, when Madhuri was the judge but I couldn't take it up as I was doing a film then.
I am happy that Karan Johar is a part of the show. He's my favourite judge because he talks sense. I take his advice seriously.
For that matter, even (choreographer) Ganesh Hegde is a good judge, as he is technically sound.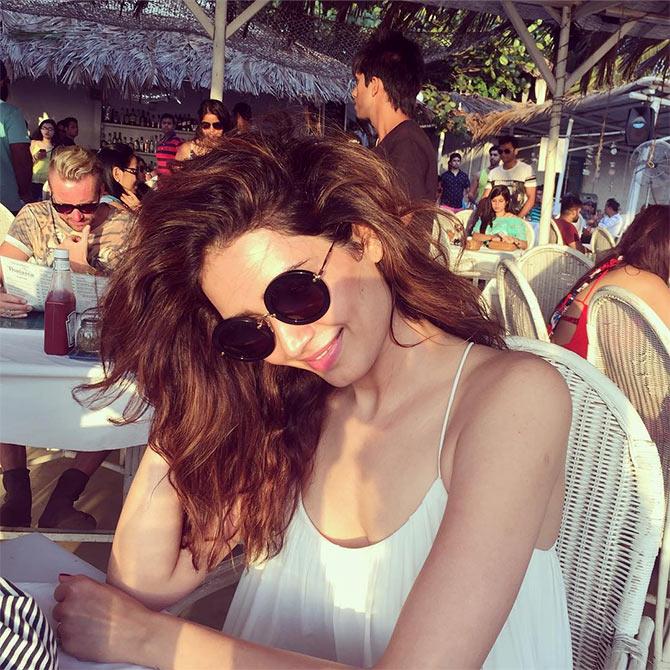 Photograph: Karishma Tanna/ Instagram
You have really groomed yourself over the years, and people look up to you as a style diva. How much of hard work has gone into it?
I have matured with time.
Initially, you don't have that kind of money and exposure so you cannot afford hi-end brands. Even when I was young, with a limited amount of money and exposure, I tried to look my best. I like to follow trends and stand out. I have always had that fashion sense. But with the time, age, money and experience, I have made a conscious effort to stand out.
I hardly shop in Mumbai -- I do it only if it's an SOS -- because everybody wears similar stuff. I can't wear the same stuff, as a lot of fans follow me. I want to stand out and look different.
I shop abroad -- Paris, Dubai... -- wherever I go.
Who is your style icon?
I like Victoria Beckham's fashion sense.
In Bollywood, Kangana Ranaut is really out-of-the-box
and quirky.
What keeps you going in this industry?
I thank God for giving me some work or the other.
Five-six years ago, there was a trend that if you were seen too much on television, people would not take you in films. So I consciously made an effort to withdrawn from the television industry. I stopped doing reality shows. I wanted to enter films as a heroine but it didn't happen that way.
During that time, I missed out on good work on television. I was out-of-sight and out-of-mind for two-three years. But I wanted to do films, and had taken it as a challenge.
Then I realised if it had to happen, it would happen.
Comedy Circus was a comeback for me. People started knowing me as Karishma Tanna, and I started doing television again.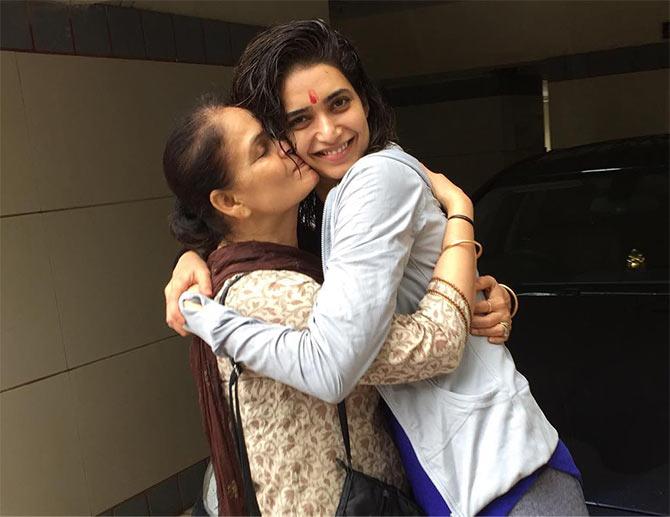 Image: Karishma with her mother. Photograph: Karishma Tanna/ Instagram
Why do you think your film career did not take off?
I do feel I have all the qualities of a film star but then why didn't I make it that big?
I blame it on my destiny. I was not there at the right place at the right time.
I feel bad but my mom always says that if you see people below you, you will feel better.
I did give auditions to big banner production houses like Yash Raj and Dharma Productions. If I had to click, someone would have spotted me and taken me in a film. If that did not happen, it means I am meant to be on television.
I don't regret being on television, I just regret the fact that I wanted to be in the movies, and that didn't happen.
I don't look down upon TV. Whatever I am today is because of television. It's just that everybody wants to move forward in life, and that didn't happen to me. If people call me for movie auditions, I will never stop going. I will try till the end.
Have you faced the casting couch?
I have not faced the casting couch, like (people saying) 'sleep with me.'
People have hinted, but I haven't taken it. Maybe things would have been different if I did. But I don't believe in that. If I have the talent and the face, the director *will* take me in the film.
You are quite tall. Was that ever a reason for your rejection?
Yes, I was either rejected for my height or for being a television face.
Television actors are so talented, I don't know whether they were looking down on me.
Recently, I read an interview of Rajeev Khandelwal, where he said that a film actor can entertain the crowd for only five days, but a TV star entertains them for all seven days. Still, why are TV stars looked down upon? I fail to understand that. Have we ever seen Bollywood stars compete among themselves on a platform like Jhalak? It's always TV stars who compete amongst themselves and are judged by Bollywood stars. And it's aired on television. So why look down upon that medium? I hope the scenario changes.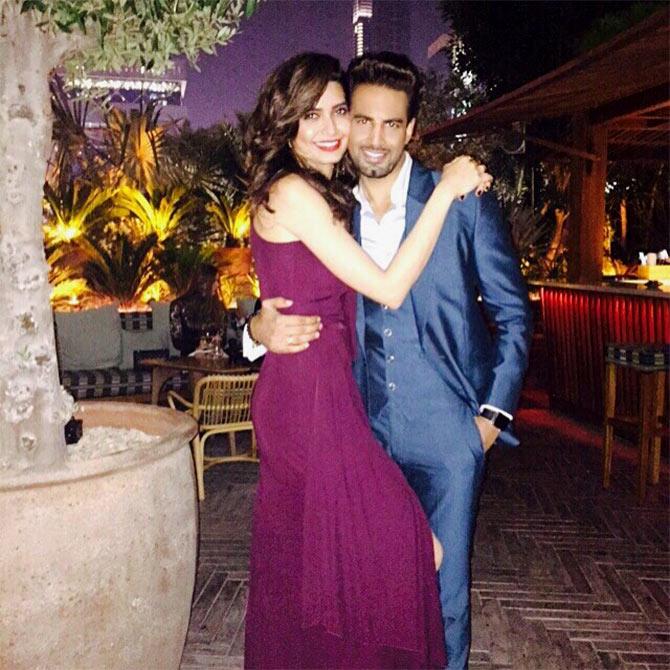 Image: Karishma with Upen Patel. Photograph: Karishma Tanna/ Instagram
Your relationship with Upen Patel seemed strong even after Bigg Boss. What went wrong?
Sometimes there is no answer to what went wrong. Sometimes two wonderful people are not meant be together. That's what happened to us.
Upen is a wonderful soul. We connected strongly, but things did not move the way we wanted it to. It's not that I don't want to settle down or that I am jumping from one relationship to another. Both of us want to settle down, but if we don't see our future together, it's better to part ways.
Are you still on talking terms with him?
Yes I am.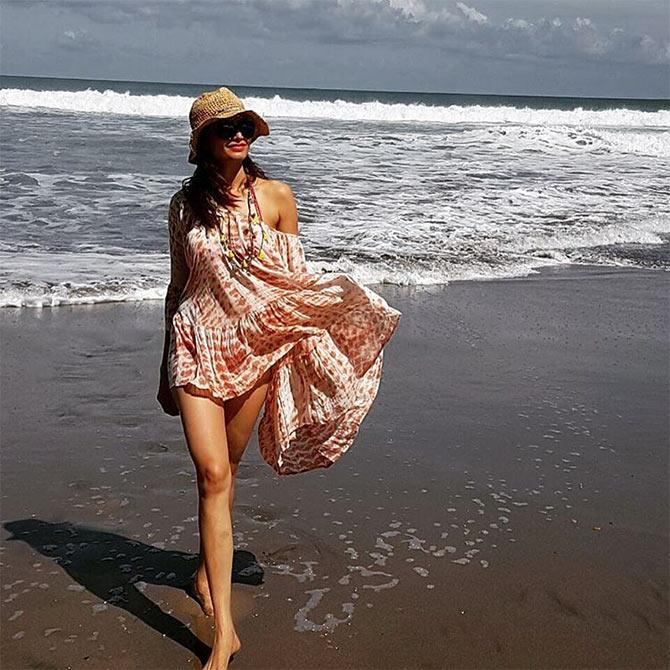 Photograph: Karishma Tanna/ Instagram
Any pressure from the family to get married?
My parents have never pressurised me to get married.
Generally, in Gujarati families, people get married early. All my friends are married with two kids. My late father had told me if you do not find the right partner, do not get married. So I will never compromise on my marriage.
These days, everybody is breaking up. Marriage is like a big gamble. Even if I touch 40 and don't get the right partner, I will never compromise on marriage. I will not compromise at the cost of being unhappy.