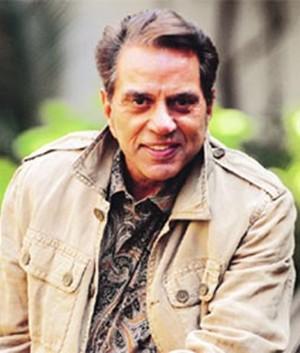 Happy birthday, Dharam paaji!

One of Indian cinema's most beloved stars Dharmendra celebrates his 81st birthday on December 8. It's a quiet birthday with only close family members around him.
"I've never liked shor sharaaba," Dharam Paaji told Subhash K Jha. "I don't attend parties and don't throw any. I am a simple man with simple needs. What keeps me going is not fame, fortune or success but the love of the people.
"I've no hesitation in saying I am loved by one and all. That is my greatest achievement and the only birthday gift every year," the affable actor adds.
"I don't know about legendary," he laughs uncomfortably. "When I came to Bombay I only had my dreams. I was an untutored villager, with no idea of acting. I wasn't even aware I was good looking until I began receiving movie offers for my good looks."
"I'll always be thankful to filmmakers Arjun Hingorani and O P Ralhan who saw something in me. Now when I look back I consider myself so fortunate to have worked with the best filmmakers and the most beautiful heroines in the film industry."
"For a boy from the village in Punjab it was a dream come true."
Among the directors Dharmendra worked with he singles out Bimal Roy, Dulal Guha, Asit Sen and Hrishikesh Mukherjee as his gurus.
"With Bimalda I got to work in one of his finest films, Bandini where my co-star was Nutan. We did a few films together. But Bandini is our high point. If, as you say, I was a natural performer with no mannerisms or stylising, it was because I learnt from masters like Bimalda and Hrishida to not 'ACT' in front of the camera, just react."
With Hrishikesh Mukherjee, Dharmendra was an absolute favourite and part of some of his best works including the classic Satyakam.
At one point of time in the 1970s Dharmendra was shooting for two Hrishikesh Mukherjee films on two floors of the same studio.
Laughs Dharmendra, "I remember that. We were shooting for Chupke Chupke and Chaitali. I'd do a shot with Sharmila Tagore for one, change my clothes and rush for another shot with Sairaji for the other film."
"Hrishida was very fond of me. Satyakam was a favourite for both of us. Its theme of corruption in our society remains more relevant today than ever before. I think the reason why Satyakam is such a favourite with everyone is the hero's idealism. No matter what the pressures my character wouldn't compromise on his principles."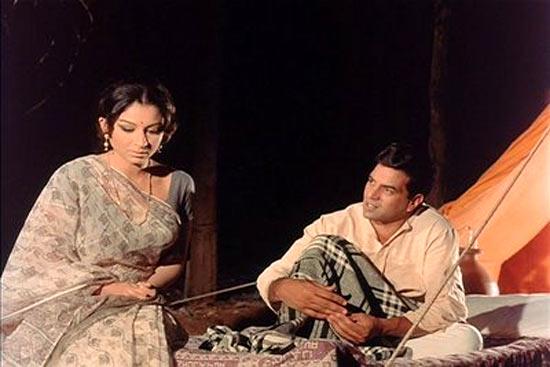 IMAGE: Sharmila Tagore and Dharmendra in Satyakam.
Dharmendra's own favourite scene is from Satyakam.
"My character, who is suffering from cancer, has lost his ability to talk. I had to convey Satyapriya's anguish wordlessly, through my eyes only. At some point, my spiritual guru, portrayed by Dadamoni (Ashok Kumar) walks into my room and says, 'Now I can berate you to my heart's content without any retaliation from you.' The words are bitter but they convey his love for me."
"I had to express I understood what my guru was saying, and that it was out of sheer love he was admonishing me. Next, my wife, essayed by Sharmila Tagore, who has been a silent witness to my uncompromising life, walks into the room with incriminating papers for me to sign that could relieve my family of poverty in the event of my death."
"For the sake of my wife and son, I agree, for the first and last time in my life, to sign the papers. But before I can actually do it, Sharmila snatches the papers out of my hand and tears them up."
"My character had to convey his deep undying love and gratitude for the woman who has stood by his side, through thick and thin, helping him uphold his lofty ideals."
"It was a very tough scene to do. I thank Hrishida for the faith he reposed in me. When I look back at the scene, I wonder how I managed it!"
"I believe Hrishida later said no other actor could have played Satyapriya in Satyakam."