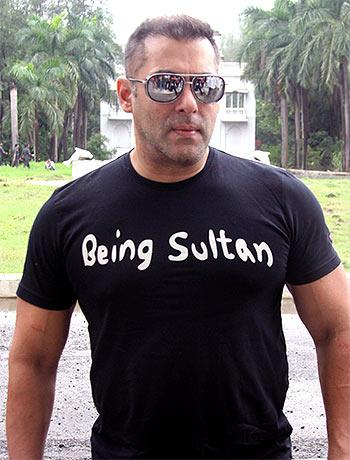 'I have been there at the right place at the right time, choosing the right film, working with people, who are working more on me. They take an average person and turn him into Sultan. So I have just been lucky.'
Salman Khan talks Sultan.
Salman Khan's Sultan is having a phenomenal run at the box office, and it's a superhit already.
The superstar -- along with his leading lady Anushka Sharma and director Ali Abbas Zafar -- celebrated the film's success with a press conference on the sets of his other big hit, Prem Ratan Dhan Payo, in a farmhouse in Panvel (a city near Mumbai).
Salman was obviously in a good mood, and spent a while chatting with the media, on literally *everything*.
We bring you the highlights: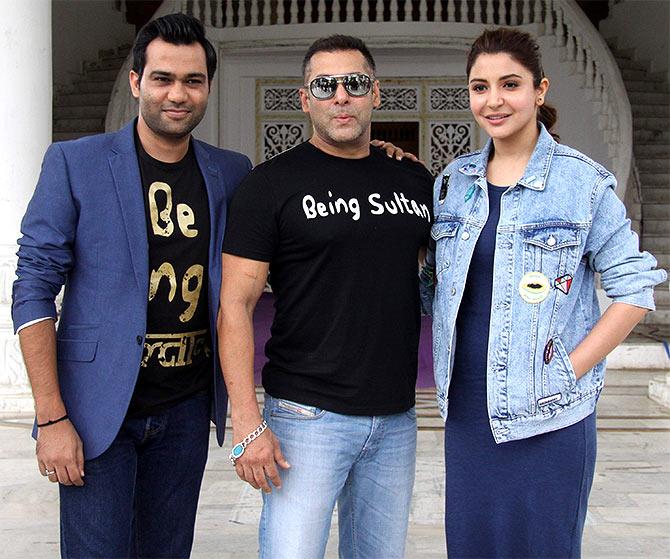 IMAGE: Ali Abbas Zafar, Salman Khan and Anushka Sharma pose for the cameras. Photograph: Pradeep Bandekar
Salman said he was lucky that his films continue to exceed box office expectations.
"I have been there at the right place at the right time, choosing the right film, working with people, who are working more on me. They take an average person and turn him into Sultan. So I have just been lucky," he said modestly. "When my luck runs out, I will have to really start working hard on myself."
Salman admits the box office numbers are very important but says that he doesn't follow them closely.
"I do not keep a tab on the box office collections but, yes, the first weekend determines if the film is doing well or not," he said. "That's important to me."
Asked if he had managed to lose the weight he gained during Sultan, he replied that he hadn't.
"Earlier, it was difficult to gain weight. Now, it is difficult to lose weight. Earlier, it was difficult to compete with the seniors now it's difficult to compete with your juniors," he laughed.
His life may be very interesting but Salman does not want a biopic to be made on his life.
"My life is very boring aur boring life par koi biopic banti nahin hai. Meri biopic ke andar bahut sare log mar jaayenge yaar (Nobody makes a biopic of a boring life. Many people will die in a biopic made on me). I will never give permission to anyone to make a biopic on me because for that, one will have to write it down and the only one who can write it down is me or my brothers or my sisters...that too some bits. They don't know everything either. Also, no actor can play my role," he added.
He may not want a biopic to be made on him, but he claims that Sanjay Dutt's biopic -- to be directed by Rajkumar Hirani and starring Ranbir Kapoor -- "will not be complete without him."
After doing a cameo in Lai Bhaari, Salman will be seen in another Marathi film called Shivaji, with Riteish Deshmukh.
"After Lai Bhaari, I told him (Riteish) that I wanted to do another film in the language. I literally forced myself into this film," Salman laughed.
Salman clarified that it would not be a cameo -- he would be shooting for five or six days.
Salman, in fact, wants to produce a Marathi film as well but wasn't getting the right script.
A few days ago, Aamir Khan had commented that Salman Khan and Shah Rukh Khan were bigger stars than him. Asked what he thought of about it, Salman replied with a straight face, "Yes, Aamir doesn't lie. Whatever he says is right."
But he showered praise on Aamir, and his upcoming film, Dangal. "I have seen it...it's very nice. Wait till you see his bare-chested body in the film," he said. "I advised him not to make six pack abs as it's the role of a wrestler. He said Sushil Kumar has it but I told him, you don't do it."
When Ranveer Singh watched Sultan in Paris, he and some members of the audience danced in front of the screen when the song Baby Ko Bass Pasand Hai was playing.
Salman's reaction to Ranveer's way of expressing his appreciation was: "I wanted to break a chair on his head."
"Watch the film, don't do stunts. They aren't watching Sultan; he is making people watch him. We should charge money from him." he added with a smile.
Talking about piracy in the industry, the star exclaimed, "Chor hai! They are people who don't want to work hard and instead make money off somebody else's hard work.
"A minister was telling me the other day that they should put TADA (Terrorist and Disruptive Activities Act) on these things. I agree. Apply TADA to both buyer and seller. We pay heavy taxes in Maharashtra, so the government needs to put a stop to such practices," he said. "Even if two people are sent to jail, it can be controlled. In the south industries, this doesn't happen."

Salman's father Salim Khan is his best critic, he feels.
"There are times when he says 'forget about this film (meaning a bad film), focus on the next one. And there are times, when he likes it. He liked Sultan. He keeps screenings for Waheeda Rehman, Prem Chopra's wife, Hiroo Johar (Karan Johar's mother) and Asha Parekh. They watch every film," he said.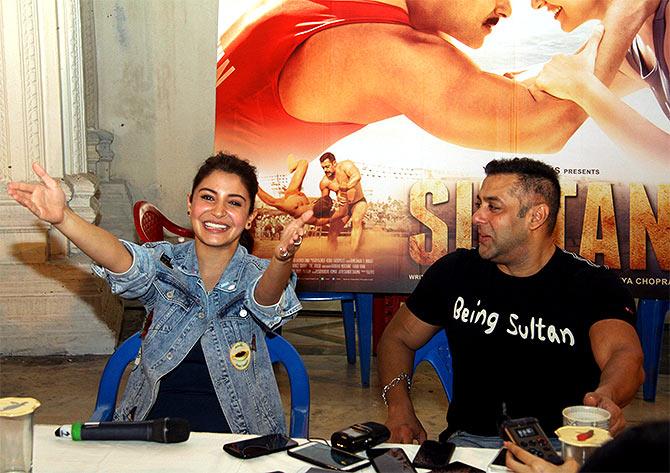 IMAGE: Anushka Sharma and Salman Khan have some fun while interacting with the media. Photograph: Pradeep Bandekar
Anushka Sharma may have performed well but her character in the film -- Aarfa -- was mostly slammed and called regressive, as she gave up her dream for the sake of motherhood.
This went against the equality issue that the film was boasting of.
But Anushka doesn't agree.
"Most people, who feel this, did not sit through the end credits, where my character goes back to doing what she does best -- wrestling and training our daughter too," she said. "Everyone's entitled to their opinion and it's fine. But I don't agree with it. It was, in fact, progressive because she made the decision herself.
"Salman's character or anyone else did not force her to give up her career because of her pregnancy. Whether to have a child or not was a choice she made herself. She eventually went back to wrestling. But something so big happens in their life, which completely changes her world. People need to understand that as well," Anushka explained.