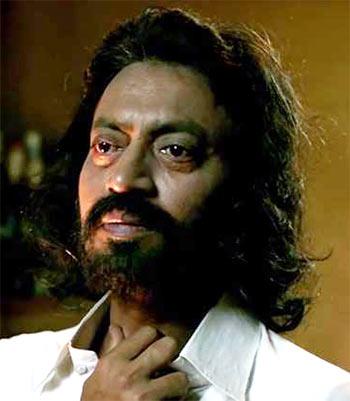 'Madaari is a very strong film for the younger generation. If they understand this film correctly, it would be great fun.'
'It is serious cinema and our youth want to see that too; they don't just want entertainment.'
Madaari director Nishikant Kamat discusses his new film.
Promoting a film is more difficult an making one, feels Nishikant Kamat, director of films like Dombivli Fast, Mumbai Meri Jaan, Force, Lai Bhari, Drishyam and now, Madaari.
But the job needs to be done, and Nishikant submits himself to it.
Directing is his passion, and acting is his hobby.
"Cinema is celebration, it's so beautiful. Meri dukaan mein sab milta hai," (you get everything in my shop) he says.
His latest film Madaari has Irrfan play a central role, along with Jimmy Sheirgil.
He tells us about his movies, Irrfan Khan, and why he was disappointed with the response to his earlier film, Rocky Handsome.
Madaari is said to be based on a true event: the Mumbai Metro bridge collapse. Is that true?
It is inspired by a true event definitely, but the story is not about the event. It is about the aftermath.
If you've seen Mumbai Meri Jaan, there is a railway blast but the film is not about that. It is about human emotions, and the effects on society.
Madaari..Shh Desh So Raha Hai: Why this title and tagline?
'Madaari' because, in life, either we are someone's puppets or we are the puppeteers.
The film is about the day a common man decides that he will take things in his control and from a puppet, he becomes a puppeteer.
We got the tagline very late. We shouldn't take the literal meaning of desh so raha hai (the country is sleeping). We are unaware about what rights we have, and it's in that context I say desh so raha hai. You should be aware about your rights.
Did you always have Irrfan in mind for the lead actor?
For a change, Irrfan called me and said, 'I have a script, why don't you read it.'
When I read the script, I realised why he wanted to play this role. It is tailor-made for him.
Irrfan knew that the script was my type and he wanted me to direct it.
Madaari was first going to release on June 10 then July 15. Now, it's releasing on July 22. Why the delay?
I don't know, maybe the luck of the film.
The film has been ready for ages.
On June 10, three films were to be released so I felt let's not go on an ego trip, let everybody do some business.
July 15 was a good date for us. Unfortunately, Great Grand Masti was leaked online and they felt they could save some money if they released a week earlier.
I think we should do at least that much; they are facing a bad time. I don't have any problem with that.

But now, Madaari will release with Rajinikanth's Kabali, a huge film. The language may be different but don't you feel the pressure?
Kabali is a Tamil film, ours is a Hindi film, so no worries.
Had I been clashing with Sultan, it would have been an issue.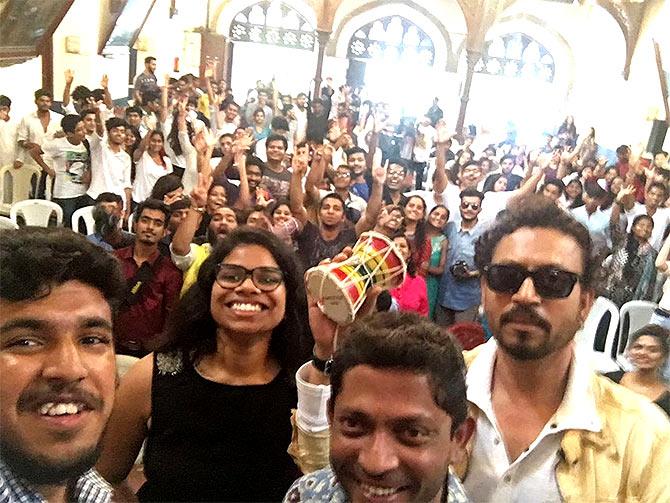 IMAGE: Nishikant Kamat and Irrfan Khan at Wilson College. Photograph: Madaari The Film/Twitter
You took Irrfan to your college, Wilson College, and he also visited Mithibai College. Why did you visit colleges?
I want the youth to see this film. It's a very strong film for the younger generation.
If they understand this film correctly, it would be great fun.
It is serious cinema and our youth want to see that too; they don't just want entertainment.
Even though it's serious cinema, it's a thriller, a commercial film and a father-son story.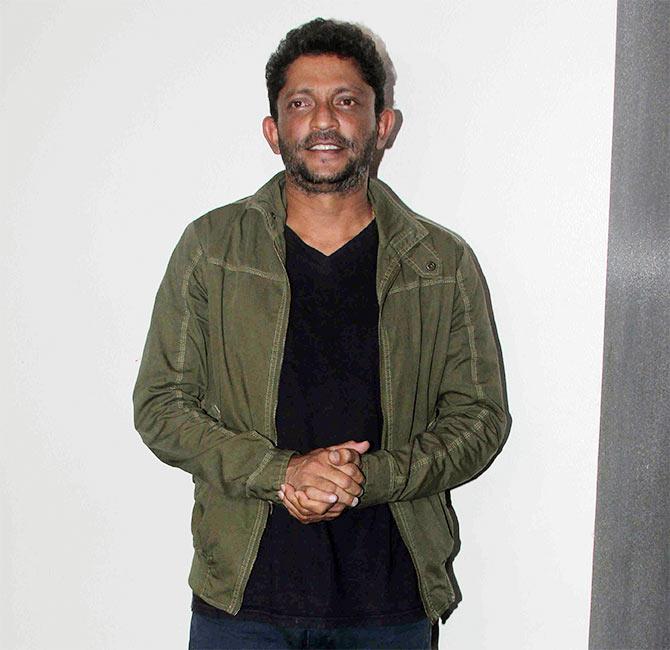 IMAGE: Nishikant Kamat. Photograph: Pradeep Bandekar
Tell us about your life before you became a director. How did you become one?
I came into this profession in 1990.
I was an assistant director, then worked as an editor for three years. Then, I directed some television shows, and then I became a writer.
Finally, in 2005, after 15 years, I made my first film called Dombivli Fast.
God has been kind. Since then, it has been film after film.
Were you disappointed that your previous film Rocky Handsome didn't work?
I was definitely disappointed because I had put in my 200 per cent into it.
After six films, this was the first one that did not work.
John (Abraham) and I both felt bad because we had worked really hard on it. I thought we had made a decent film but the audience didn't like it.
There are other things also, like it had an A certificate, and another film (Kapoor & Sons) was doing very well.
There was a long Holi weekend but people go out and celebrate then. I didn't realise that. I lost on many grounds.
Probably the film was not magical, but I don't think it was a bad at all. In fact, it is receiving rave reviews on TV.
I don't know why it didn't work.
But my producer doob nahi gaya (did not sink). He took a hit, but a small one.
My point of view has always been to recover the money that was invested. When someone is putting so much money on me, it is my duty to see to it that the money is recovered.
I never look at numbers.
I do small films, big films, medium budget films, so there's no point in getting into that place.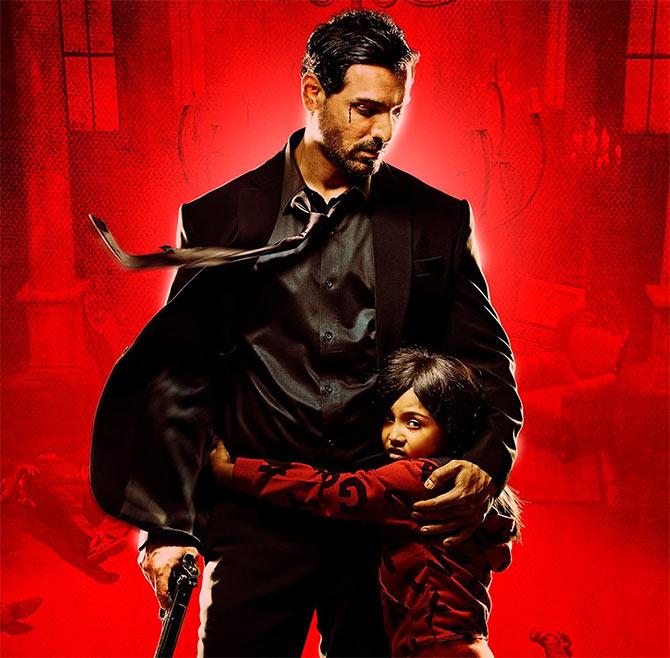 IMAGE: John Abraham and Diya Chalwad in Rocky Handsome
How difficult was it to make Drishyam, which was very similar to the original Malayalam film?
It wasn't. My producers showed me the original and asked me to make this. I told them I'd do it.
The idea was to take it to the national level, so the film had to be more generic, whereas that (the original) was very Mallu (Malayalam).
The placement and style came in and small things have changed.
You have to see those scenes and then you'll understand how much and why I've changed.
For example, there's an ATM scene in the film, where Ajay Devgn looks into the camera, that isn't there in the original.
Tabu's entry, where she takes a walk in the corridor, isn't there In the original.
Your Marathi film Lai Bhaari did really well at the box office. Do you think that gave a boost to Marathi cinema?
Who am I to say that? I can't blow my own trumpet.
But it definitely made a road for a lot of films to become commercially good. It had started a long time back but Lai Bhaari became very big. It made everyone realise that Marathi cinema is a huge market.
It was Riteish Deshmukh's first Marathi film. It had Pandharpur, the mother-son relationship, and there was the size of the film -- I made it like a proper Hindi commercial film. I didn't compromise anywhere.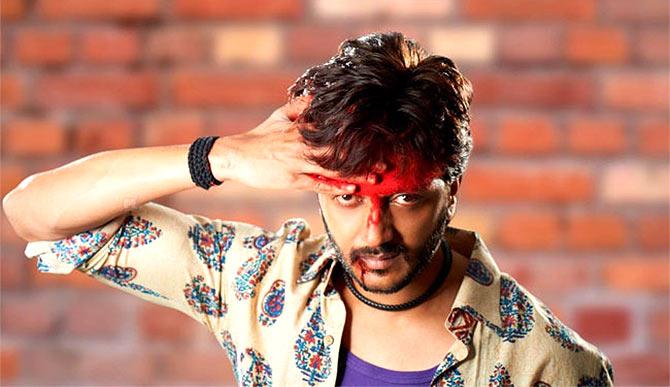 IMAGE: Riteish Deshmukh in Lai Bhaari

You're doing another Marathi movie called Mauli with Riteish Deshmukh. There will be high expectations from that film.
Yes, we're doing that next year.
Every time people are asking me is Mauli a pressure.
John (Abraham) keeps on saying let's do a film together. Is that pressure?
Ajay (Devgn) says he wants to do a film with me. Is that pressure?
I feel not the pressure, but the challenge. I have set a few benchmarks for myself.
Apart from anything else, I feel I have to make Mauli credible. When I look back, I shouldn't be ashamed that I made this film.
Which film was the toughest to make?
Mumbai Meri Jaan, Rocky Handsome and Madaari.
Some films take an emotional toll. Mumbai Meri Jaan was a very emotional film. I am too sensitive at times. I have a tendency to cry on the sets ke shot accha hogaya (because the shot has gone well).
If you make serious cinema, it really takes a toll on you. It becomes pressure in a different form altogether.