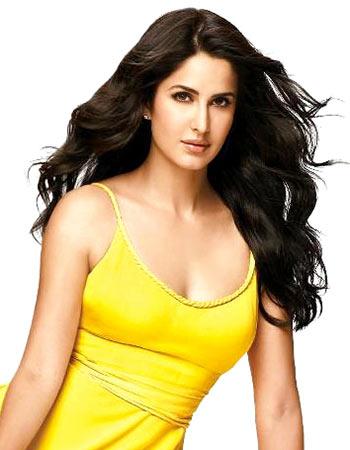 'Human beings are voyeuristic by nature. We love to imagine some things. Like Salman and Katrina were ex-lovers, and are now working in Ek Tha Tiger. Oh my God, what must be going on between them...? We, as an audience -- and I include myself in that -- talk like that.'
'If Salman and I announce a film tomorrow, I'm presumptuous enough to say there will be interest in it.'
Katrina Kaif on life and love.
Katrina Kaif recently met up with the media, and provided a lot of insights into her life.
The actress spoke about the men in her life, Salman Khan and Ranbir Kapoor, and also revealed that she wanted her wedding to be a big event.
Katrina will be seen in Phantom next, and she had a lot of good things to say about its director Kabir Khan. Patcy N / Rediff.com listens in.

Did you watch Brothers?
Yes, I liked Brothers. The first half is very emotional. But the cage fight between Akshay (Kumar) and Sid (Sidharth Malhotra) in the second half is amazing.
Akshay did not look like a 47-year old. He is unbelievable and a good looking guy.
Have you watched Baahubali and Bajrangi Bhaijaan?
Baahubali was visually great. You get so absorbed when you watch the film, you don't even realise when its over. The VFX is also good.
I was very happy when I saw Bajrangi Bhaijaan. I was really worried that Kabir's (Khan, director) voice may get diluted or lost, as he was doing a film with Salman.
He is unique. I have done two films with him, Ek Tha Tiger and New York. Even though Tiger was a commercial film and a Yash Raj film, it had Kabir's voice.
When I saw the first trailer of Bajrangi, Salman's look was different and there was an edge to his role.
I was really surprised, shocked! I had expected it to be a good film but not this great!
Bajrangi is a really beautiful film; the little girl is so beautiful. I think you have not see Salman like this since Hum Dil De Chuke Sanam.
Do you think Bajrangi Bhaijaan's success will boost Phantom?
I believe so. It helps when you reaffirm and refresh the audience's mind (with your work) and Bajrangi is the best refresher!
But Phantom would have come into its own as well because Kabir, as a director, has got strong credibility.
Why was Phantom's release delayed?
Phantom was delayed because of (Katrina's earlier film) Bang Bang. In the industry, there is an unspoken rule that whichever film goes on the floor first should be released first.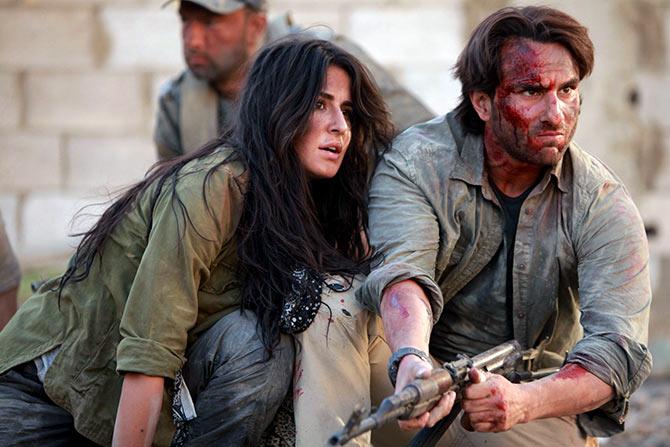 Image: Katrina Kaif and Saif Ali Khan in Phantom
You loved the action in Brothers and you are doing action scenes in Phantom...

Phantom is an action-based film but it has situational action like The Bourne Identity. It's different from Brothers, where you are preparing yourself for the action.
I have not done such stunts before, maybe a bit in Dhoom 3 -- the acrobatics in the Malang and Kamali songs. A lot of training went into that as well, even though it appears in the film for a short time.
Would like to do a complete action film like Mardaani or NH 10?
You have to find a character that you connect with, and these films are probably not the ones I would be able to connect with.
Every actor wants a role that will make them come across as wow! I'm in search for such a role everyday.
Right now, my choices are based on what comes to me and the films that excite me. Like after Dhoom 3, Fitoor really excited me. I fell in love with the script. It's a love story.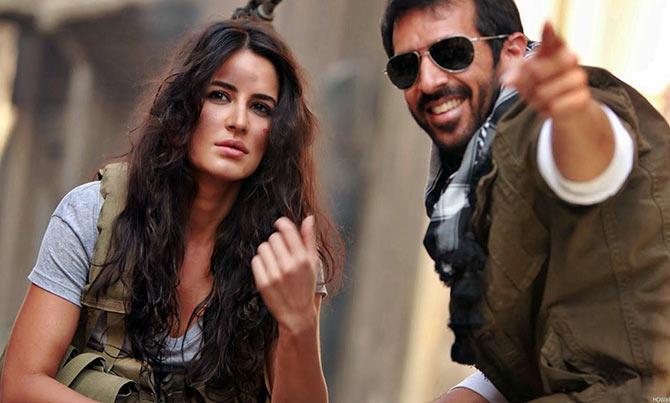 Image: Katrina Kaif and Kabir Khan on the sets of Phantom
Kabir Khan tends to portray strong women characters. Do you think he has tapped into your potential?
Kabir will always portray strong women characters because that's how he sees women. I think a man will always write about women based on his own perception of women.
Kabir sees women as very independent, strong-minded, capable and equal. That's why his women characters are so strong.
Whether Kabir has tapped my potential or not will depend from film to film. New York was extra special for me because everything just fell into place for me. Ek Tha Tiger was a great film too. Phantom was a completely different experience.
We work well together, and have a really good understanding.
Would you say yes to any film that Kabir offers?
Kabir would never offer me just anything. He will never offer me anything that I would say no to.
You are working with Ranbir Kapoor in Jagga Jasoos, after making two hit films with him, Raajneeti and Ajab Prem Ki Gazab Kahaani. Do you think your chemistry in Jagga Jasoos will be better?
The chemistry in Jagga Jasoos will be better if the film is good.
We always attempt to make better and unique films. That's what (director) Anurag Basu is trying with Jagaa Jasoos.
Anurag's has a different way of telling his stories and that's why it is taking time. He is a bohemian artist; he does things at his own pace.
There was news that Anurag Basu was unhappy with your scenes and he got upset with you…
I read that we had got into a fight about dates, but this is one in the long list of random untrue things that gets said.
Honestly, if anyone yelled me on the sets, that wouldn't go down well with me.
Have you met Anurag Basu? Do you think he can yell at anyone?
He is very sweet. If I tell him, 'Dada, I want to go home,' he will ask me to go.
Did you ever imagine you would become such a popular actress?
Yes, I did. Imagination and your dreams is that drives you.
I was very clear about what I wanted and very focused about it. I have gone to Siddhivinayak temple (in South Mumbai) and prayed to god to make my film a success and that I should be loved by everyone. I want the country to accept me as an actress.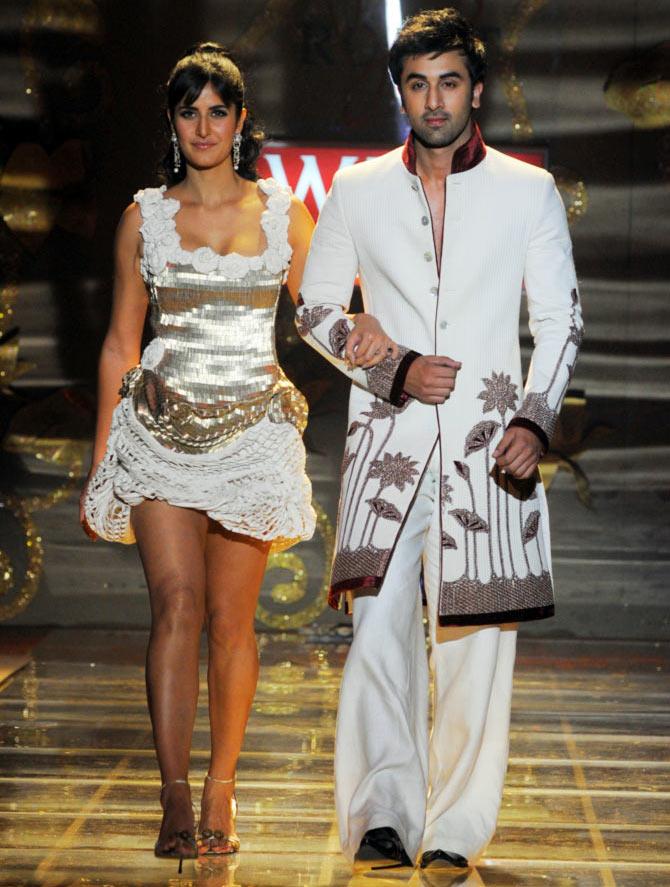 Image:
Katrina Kaif and Ranbir Kapoor at the Wills Lifestyle India Fashion Week in 2009.
Photographs:
Courtesy PR Pundit
How have Ranbir and you grown as actors?
I have grown leaps and bounds; I don't know about Ranbir. (laughs)
Ranbir was superb when we shot Ajab Prem Ki Gazab Kahaani. Neither of us can forget the laughter on the sets.
(Director Rajkumar) Santoshi is a supreme actor. He enacts everything and the whole unit would be rolling on the floor with laughter, with tears in their eyes.
Ranbir is a great comic actor. But he was great in that film because the director guided him. Santoshi is a great comic director. I still laugh when I watch the film today.
Ranbir has come into the industry with a lot of professional training (Ranbir learned filmmaking from the School of Visual Arts and method acting at the Lee Strasberg Theatre and Film Institute in New York). A lot of people forget that.
Ranbir's last hit was Yeh Jawaani Hai Deewani with Deepika Padukone, and audiences are looking forward to their next film together, Tamasha. Do you think Ranbir's chemistry with Deepika is better than with you?
Raajneeti and Ajab... were very successful films, so on what basis can you say this?
I may be wrong but I feel this is untrue because the audiences loved Raajneeti and Ajab... Yeh Jawaani came after that, so I don't think comparisons can be made.
I hope Tamasha is a great film because Ranbir deserves everything that he wants. I pray that Tamaasha is a great film, not just for Ranbir, but for Imtiaz (Ali, director) everybody...
As an actor, it can be discouraging, even devastating, if your films don't work.
Kareena Kapoor said Ranbir will rise like the phoenix.
Yes, Kareena is right. Every human being sees struggles, and ups and down. Only then will you appreciate what you have and that will make you a better person.
Flops happen in everyone's career, whether it is Aamir Khan, Shah Rukh Khan, and very much in Salman Khan's case.
Your chemistry is very good with Salman Khan...
Human beings are voyeuristic by nature. We love to imagine some things. Like Salman and Katrina were ex-lovers, and are now working in Ek Tha Tiger. Oh my God, what must be going on between them...? We, as an audience, and I include myself in that, talk like that.
If Salman and I announce a film tomorrow, I'm presumptuous enough to say there will be interest in it. But that's not the basis on which films actually run. People will come to theatres to watch nice films.
Everybody keeps writing about your wedding plans with Ranbir. How do you guys react to rumours?
It is okay, as long as it does not get nasty.
Sometimes, the controversy gets very nasty. If this happens, I will fight back; I will not take it lying down.
We are human beings too, so why be nasty? Am I nasty to you?
But most of the time, it doesn't really matter.
There were rumours that you got engaged on your birthday.
That's not malicious, that's sweet and harmless. But not true.
Why can't people understand that nobody will hide an engagement or marriage? Unless, the person is Aditya Chopra.
I don't know when he got engaged. But he's a person who we never see. You don't even know how he looks. I have done three films with him, so I know how he looks.
But that's not like Ranbir or me.
Marriage is a celebration, and celebrations cannot happen in secret. I want my wedding to be a big event.
I was reading about Saif (Ali Khan) and Kareena's wedding two years before they actually got married! Eventually, when it did happen, all of us knew about it.
In our country, it's so important for women to get married. Is every woman's destiny to get married? Is that what we're saying?
At a time when actresses try to look so glamorous in the movies, you're going to look old in your film, Kal Jisne Dekha. How comfortable are you with that?
First of all, actresses are not conscious about how they look on screen or what age they portray.
Secondly, Kala Jisne Dekha is not about an aged women. In Barfi!, Ranbir and Ileana D'Souza are shown older in the film but the film is not about older people. Likewise in Kal Jisne, I have a small part where I have to wear prosthetics and look old.
Normally, when I go for narration, I have a rough idea about the story and certain expectations from it. But this film shocked me because it wasn't what I expected. Director Nithya Mehra's approach is different.
What do you like the most about India?
I like the beautiful chaos that the country has, like the traffic. Also, people's warmth. You will not find a warmer culture anywhere in the world.