'I was attracted to Javed because he was exactly like my father.'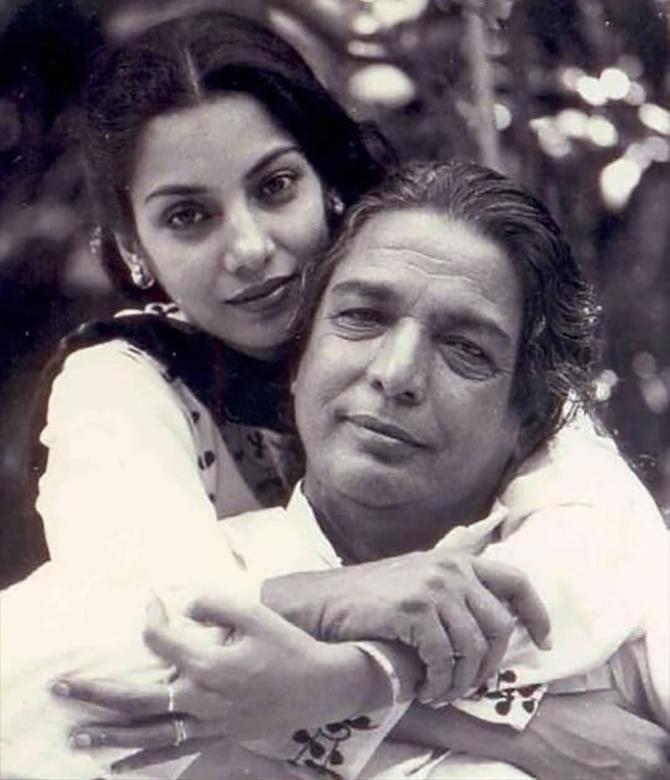 On Kaifi Azmi's 102nd birth anniversary on January 14, his daughter Shabana Azmi goes back in time to celebrate him.
She tells Subhash K Jha, "My father was a gorgeous looking man with this beautiful voice."
Kaifisaab's poetry remains relevant even today.
As a daughter, I have always taken Abba for granted.
But as a lover of poetry, I continue to be overwhelmed by his work as a poet and a lyricist.
His lyrics were for a given character in a given situation, but he gave us immortal songs like Waqt Ne Kiya Kya Haseen Sitam from Kagaz Ke Phool, Kar Chale Hum Fida from Haqeeqat, Tum Itna Jo Muskura Rahe Ho from Arth and many others.
He used to say humorously that in his time, the tune was composed first and then the writer had to fit in the words...
'It's like first digging a grave and then finding a corpse to fit into it. So sometimes, the head would stick out, sometimes the legs. But people started giving me work because they thought '"Main murde achche gaadh leta hoon"!'
In Hindi cinema, along with Sahir (Ludhianvi), Majrooh (Sultanpuri), Jaan Nissar Akhtar and Shailendra, my father raised the standards of film lyrics.
As a film lyricist, he was a mixture of simplicity and poeticality.
Take these lines from Hrishikesh Mukherjee's Satyakam:
Kissi ka na ho jiss pe saaya, mujhe aisi din aisi raat do,
Main manzil to khud dhoond loongi mere haath main zaraa apna haath do
Qadam-do-qadam tum mera saath do.
When Lataji (Mangeshkar) sang these lines, what can be said?
You know what was exceptional about my father?
What?
He never spoke about his work at home.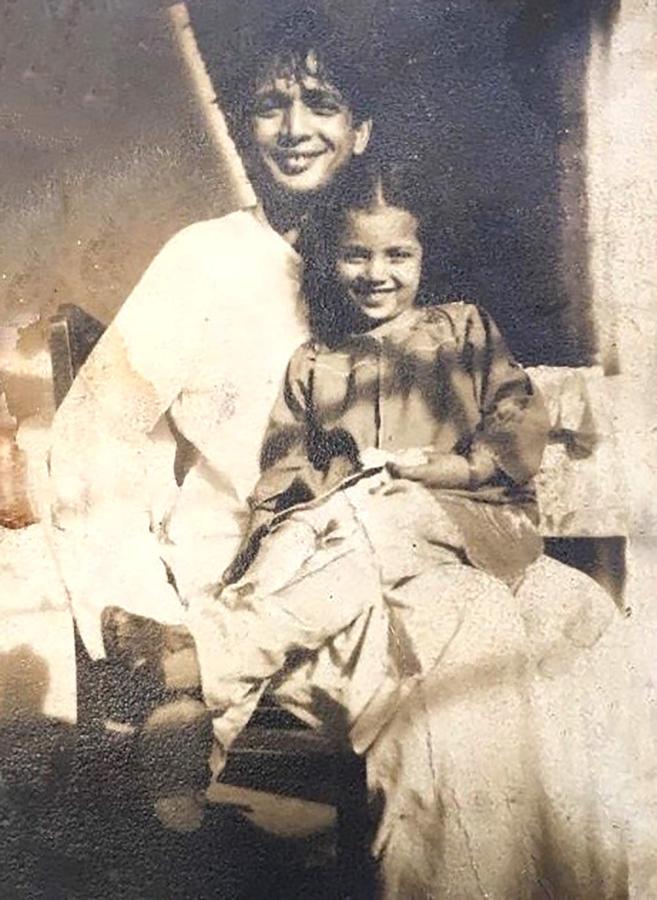 Tell us your earliest memories of your father.
My earliest memory of Abba was him sitting on a writing table in his kurta-pyjama, smoking incessantly, and writing till the wee hours of morning.
As a child, I was convinced a poet was a euphemism for someone who didn't have any work.
Daddies were supposed to put on trousers, shirts and ties and go to work.
In fact, when people would ask me what my father did, I would say that he's a businessman and quickly change the topic...Oh, the follies of innocence!
My father was a gorgeous looking man with this beautiful voice.
Tell us something we don't know about him.
He had a tremendous sense of humour.
I remember once I was putting eye-drops in his eyes, and the drops kept falling all over his face.
He told me about this inept prince, who was taught archery and who broke everything in the house during practice.
Then he said, 'Put the drops in my ears, they'll go in my eyes.'
He said such lines with a poker face.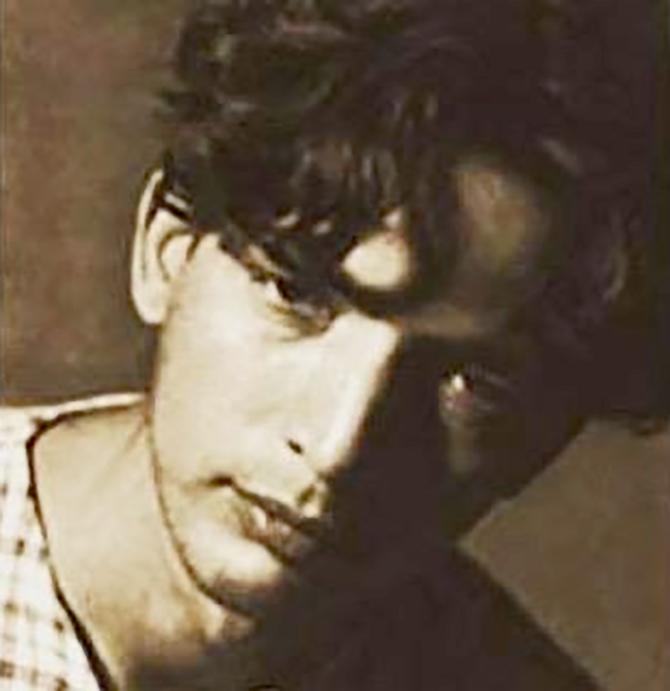 His poetry is extraordinarily progressive.
When I read his poetry, whether it is the iconic Aurat or Makaan or Bekaari or Kisaan, I cannot but marvel at how ahead of his times he was.
He would have been out there in the cold, expressing solidarity with the farmers.
My work with slum dwellers was greatly inspired by his poem Makaa, where he talks about the irony of the construction worker, who puts his blood and sweat into a building. But when its completed, a chowkidar is posted at the gate and he is not allowed to enter that very building.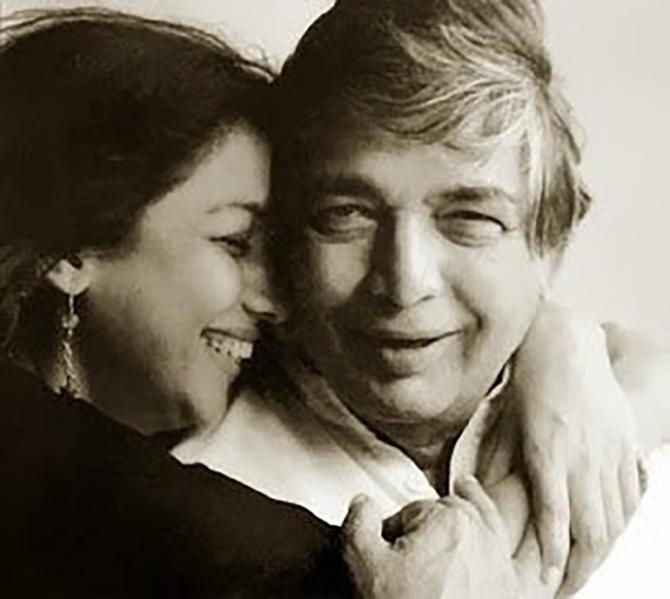 Your favourite Kaifi Azmi lyrics?
Koi kaise yeh bataaye ke woh tanha kyon hai,
Woh jo apna tha woh aur kisika kyon hai,
Yehi duniya hai to phir aisi yeh duniya kyon hai,
Yehi hota hai to aakhir yehi hota kyon hai?
The simplicity of these lines kill me.
Imagine, a woman whose spouse deserts her (in the film Arth) being faced with these lines!
That sense of commitment which artistes of my father's generation had, has been missing. But slowly, it's coming back.
I like it when film people involve themselves with social issues.
I remember meeting him just once at Janki Kutir. I was waiting for you and he came out on the verandah where I was sitting, and asked me about Patna.
I want to share an incident with you.
The last time he ever got out of bed was January 14, 2002, on his birthday.
I had gone down to Mijwan (our village in Azamgarh) to meet him.
I had been waiting for him to finish meeting the villagers since early morning.
Finally, he hauled himself out of bed and asked my mother for money.
No one had the guts to ask this very old and frail man, where he was going off to with his man-Friday.
Forty-five minutes later, he came back, all drained out.
He looked at me and said, 'Mere gaonwale tumhara subah se bheja chaat rahen hai na? Main apne chidiya ke liya khaas taur se woh samose lekar aaya hoon jo ussey bahut pasand hai.'
That was the last time he got out of bed.
When Abba passed away, I realised nothing prepares you for the loss of a parent.
I was completely devastated.
But now, years later, I feel his spirit envelopes me like the air I breathe.
I remember him with celebration.
I do not remember him with sorrow.
My brother Baba, Javed (Akhtar), his poem Ajeeb Aadmi on my father... these have helped me heal.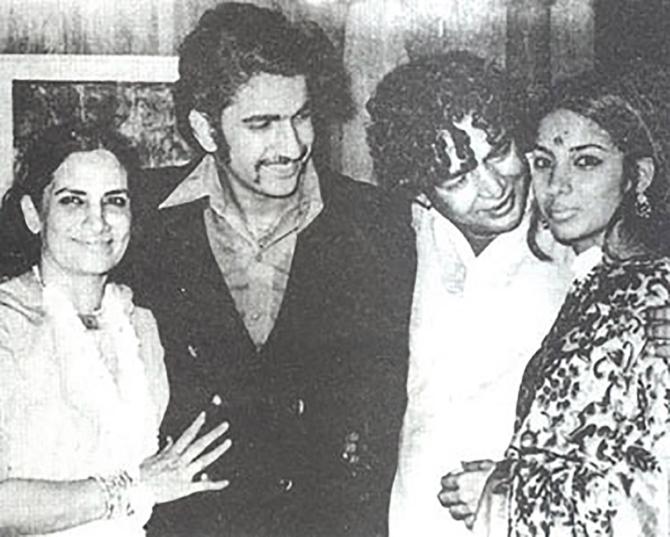 Kaifisaab's relationship with your mother is one of the best love stories I've ever come across.
My mother was a remarkable companion to my father.
It was an amazing relationship.
I was attracted to Javed because he was exactly like my father.
Like Abba, Javed is a feminist.
My father had this complete dependence on domestic matters on my mother.
The tailor, who stitched my father's kurta-pyjamas, never saw his face.
Even I've to buy all the clothes and shoes for Javed.
Neither Abba nor Javed have seen the kitchen in the house.
They can't fix anything around the house. But both can do anything if they set their heart on it.
My brother Baba is an extreme introvert.
He shared an extremely deep relationship with my father.
Baba's wife Tanvi, who is the most talkative person in the world, would run out of the room when Abba and Baba were together. They just shared silences.
Your father was your truest hero?
Abba was everything to me.
I continue with his good work in our village.
He was my comrade.
I remember when I went on my padyatra from Delhi to Meerut, there was so much tension.
But when I went to my father, he caught my face in his hands and said, 'Meri bahadur beti jaa rahi hai? Jao tumhein kuch nahin hoga. Sirf kaamyab hoke lautogi.'
It was like a gust of oxygen pumped into me.
Ours was an open house during Abba. It continues to be so.
My choices in life will always come from him, his poetry, work, life and courage.