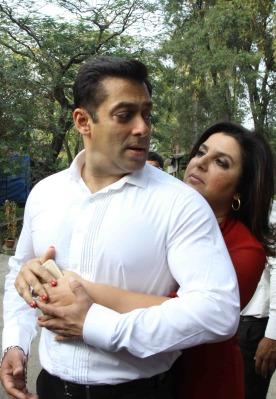 'I want to do more television. I get very good money,' Farah Khan tells Rajul Hegde/ Rediff.com
Farah Khan is all set to take over hosting duties from Salman Khan in Bigg Boss 8.
After engaging viewers for over 15 weeks, the reality TV show will announce its five champions tonight. The special series Bigg Boss Halla Bol will be launched on January 4.
Bigg Boss Halla Bol will also include five contestants from the previous seasons: Rahul Mahajan, Sambhavna Seth, Ajaz Khan, Mahek Chahal and Sana Khan.
Farah Khan tells Rajul Hegde/ Rediff.com what to expect.

(Above image: Salman Khan and Farah Khan. Photograph: Pradeep Bandekar)
What was your first reaction when you were asked to host Bigg Boss, in its extended version?
I was thrilled.
Salman was not available for the show's extension because he will get busy with a film shoot.
He is a fabulous host and I am a big fan of Bigg Boss.
I have watched all seasons. They called me as they wanted some recommendations. But I'm not saying Dolly Bindra and Sambhavna Seth were sent by me!
I am funny, and frank. I will talk well with the contestants. I also know the ins and outs of what they have been doing. Maybe that's why the channel approached me.
Salman is known for his poker-faced humour. How do you plan to incorporate your humour?
My humour is more in your face.
I may not be as strict, but I will convey my message with a twist of humour.
I hope the audience will find me honest and funny.
Who is your favourite contestant in the house?
I am not supposed to talk about favourites, since I am the host.
But as the audience, I thought Gautam (Gulati) had a good chance of winning, as he's very entertaining.
Any person you dislike?
It varies. I don't like boring contestants, who don't do anything.
Sonali (Raut) does nothing but still she has managed to survive in the house.
Maybe the boys are voting for her. She is like a zombie walking around in the house.
Viewers have had contrasting reactions ever since news of you taking over as host was reported.
I know. Even if the prime minister was taking over Salman's place, there would be mixed reactions.
People are going to miss Salman on the show. Do you feel any pressure?
Yes, but I can't take it now. I am excited because I am a Bigg Boss fan. For me, it's like going to Disneyland!
I want to enjoy the process. I am not an actor or a hero. So, I cannot compete with Salman.
Salman has always been accused of being biased toward a few contestants. Will you do the same?
Salman is always being human about it. He does not do it calculatedly. What he says he feels from the heart.
It may look biased because it's a human quality to have favourites.
I used to feel that too, and would call him up to tell him. I think it works in one's favour on Bigg Boss. If you make it personal, it works better.
I have watched all the seasons of Bigg Boss and I throw Bigg Boss parties in my house! I am the biggest audience of Bigg Boss.
How much masala do you think the new entrants will add to the show?
Lots, especially from people like Sambhavna and Mehek, and even Rahul Mahajan! I need to ask him if he plans to give massages to anyone on the show. I remember he used to give Payal Rohatgi massages.
Also, the contestants in the current season may get irritated with the new ones, as they have been there for a long time.
Will there be any changes as a host?
Yes. We are working on a few things, like a segment called Farah Ki Classes.
How did your friends and family react to your joining Bigg Boss?
They are quite shocked. Salman's family has been very open -- from Arbaaz, Sohail and Alvira said it's fabulous, and that I will do a good job.
My brother Sajid (Khan) would have been another good choice to host the show because he is more mufat than me.
My husband Shirish (Kunder) doesn't watch Bigg Boss because he goes to the gym during that time.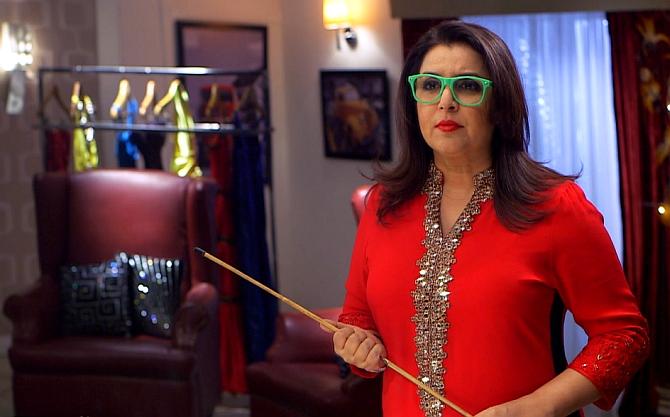 Image: Farah Khan
Are you game to hosting the next season of Bigg Boss?
Is Salman going on a shoot again?
Will you make your good friend Shah Rukh Khan watch Bigg Boss?
I will not force anyone to watch but I will ask him to watch at least once. He doesn't know anything about Bigg Boss. I will get Shah Rukh on another TV show in February, which I will be doing.
Are we going to see more of you on television now?
I want to. I get very good money.
Would you ever go inside the house as a contestant?
No, it must be very difficult. I have been in the house as a guest, and I wanted to leave in an hour!
You are forced to stay with so much negativity, with less food and also share the bathroom. Only a certain type of people go in, those who want the exposure and want to be on television. I don't think I need it any more.
When will you direct a film next?
I was telling Shah Rukh that it's been one of the best years of our careers (after Happy New Year). We were spending time together, making the movie and then went on the SLAM tour. There were so many memories packed into one year.
I don't have a script as yet. I want to take it easy because filmmaking is very tiring. I have lovely children and a house to look after.
Any plans to make a film with Salman?
Not right now. I am happy working with one Khan. I have worked with Salman quite often -- I have done songs with them. But I have no plans to make a film with him.
Some people feel only Farah Khan can bring the Khans together in a film.
Who can afford that movie, I don't know. There will be no money left for me.