'I always wanted to play a negative character, so I was like why not play it with Mr Bhansali?'
'As they say, be careful what you wish for.'
'I wanted to play an antagonist and I got the most evil one ever.'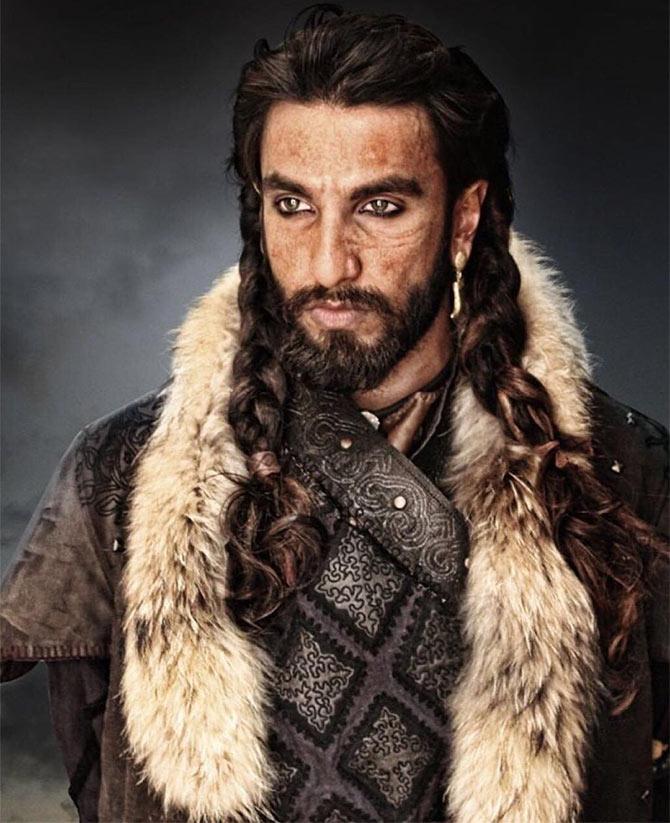 IMAGE: Ranveer Singh as Alauddin Khilji.
The moustache and beard are gone.
The long tresses are missing.
The only thing that remains constant whenever we meet him -- no matter what time of day or night -- is his energy.
The venue for the media interaction is the Yash Raj Studio.
The interview is fixed for 9 pm, but it starts closer to midnight.
Ranveer Singh walks in with his entourage.
The maniac Khilji is out of him now and it's a relief for Ranveer. He swears off dark characters for a while.
"Only because it is really hard," he explains. "I don't think it is healthy to play that part anymore."
Ranveer will be seen next as a street rapper in Zoya Akhtar's Gully Boy, and he's already in that space.
He's been up since 4 am that day, and he says he has a 6 am shift in the morning.
Rediff.com's Jahnavi Patel listens in.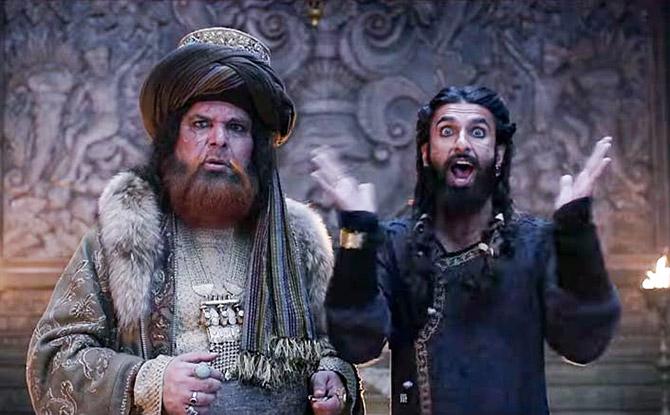 IMAGE: Raza Murad and Ranveer Singh in Padmaavat.
Did you enjoy playing Alauddin Khilji?
I thoroughly enjoyed playing this part.
I like to do different stuff all the time.
I always wanted to play a negative character, so I was like why not play it with Mr Bhansali?
As they say, be careful what you wish for. I wanted to play an antagonist and I got the most evil one ever.
I was very apprehensive at first, but Mr Bhansali convinced me that I should explore this part and I can really never say no to him.
I am glad I did and. Not that it was easy; it was very testing and challenging. I went through a lot playing it.
Because of the way it was shot, it became very difficult for me.
At the end of the day, I have become more evolved in my craft, a bit more mature.
It has taught me a lot about myself, like I can dig deep and deliver under pressure.
Now that appreciation is pouring in, it is sone pe suhaga (riches upon riches.
I was a kid who always had stars in his eyes. He just wanted to be a Hindi film hero. Now, he gets to be a Hindi film hero and a villain also.
What apprehensions did you have?
When I read the script, and I was like if I have to play this character, I would have to visit some very dark place in my own life.
I wasn't prepared for that at that point. I was in a happy space. I didn't want to dwell in so much negativity.
For instance, in my prep process, I do a lot of stuff in those three, four weeks. Like study subjects like the various acts of oppression in history, genocide and mass killings, the lives of tyrannical rulers...
Those are depths of the rabbit hole that one is almost scared to go to.
How did you act out the character's madness?
All the eccentricities and the idiosyncrasies of this character are not there on paper. I added a lot, but more than me, Mr Bhansali added to it.
We added layers, nuances and so many things to the written material, and that makes this character unique, fresh, exciting, unpredictable and eccentric.
Mr Bhansali and I keep feeding off each other.
We did that scene after scene. When you add it up, it creates this very entertaining character with so many layers.
I finished the work (on the film) and many months later, the film is seen.
When I watched it for the first time, even I felt the emotions of the film.
Of course, it helped that I had left it behind and started working on another film.
When I saw it, I was moved to tears.
After all that he (Bhansali) has been through, he made an amazing film.
Sanjay Leela Bhansali and you have worked together in three hit films. Do you think other directors find it difficult to live up to the characterisations Mr Bhansali makes with you?
Currently, I am working with Zoya Akhtar (Gully Boys), Rohit Shetty (Simmba) and Kabir Khan (83). All of them are accomplished film-makers.
I think they will, on the contrary, be excited, hopefully, at the thought of what they could achieve with me.
At the same time, I will tell you that I genuinely believe there is something special between Bhansali Sir and me.
I think we match on many levels.
We are both extremists, we are attracted to heightened emotion and we are both risk takers.
Even Adi Sir (Aditya Chopra) when he saw Padmaavat, he said, "I don't know what it is about you and Bhansali; you are just magic together."
I understand and value what he has done to my career. He has given me my biggest hits.
More than that, he has shaped me into the artist I am today.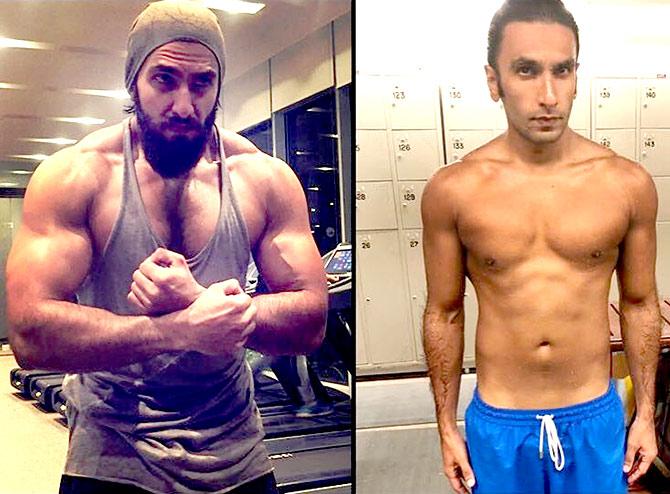 IMAGE: Ranveer during Padmaavat versus Ranveer during Gully Boys. Photograph: Kind courtesy Ranveer Singh/Instagram
Khilji doesn't have a single good bone in his body. When you portray someone like that, how do you build respect for that character?
It wasn't difficult for me because I imagined there to be a great honesty in every decision that he took.
I don't think he is a good person. He is an evil person, despicable.
But when I play Alauddin and get into that mind space and function as him, I am convinced that everything I do is right.
I am convinced that I rule over the world.
He is a narcissist, a megalomaniac and I convince myself of that reality.
A lot of people are talking about the villainy of the character, but he was a great statesman, a great strategist, very astute, very shrewd, had a sense of humour, he was a patron of the arts, he is actually a brilliant man and a very effective ruler.
Sure, this wasn't his life story essentially. This was a very small chapter in his life, but he was a very great man.
Comparisons are being drawn between Shah Rukh Khan and you; that both of you took up anti-hero roles in the initial phase of your careers.
I have been acting in movies for about seven-and-a-half years. From my very first film, people have been drawing comparisons to Shah Rukh Khan.
I don't think there is any basis for it. He is a legend. You can't take even take my name in the same breath as him.
He has achieved so much, contributed so much to Hindi cinema. He is a game changer in so many ways.
Even if I can achieve an iota of his achievements, I will consider it a genuine achievement.
That said, every actor's journey is unique. Why just Mr Shah Rukh Khan and me? You cannot compare anyone to anyone.
Shahid Kapoor was the new addition to the Bhansali-Ranveer-Deepika Padukone team. How did you make him comfortable?
To be honest, I did my best to sort of welcome him and be a supportive co-actor.
I think, if I am not mistaken, it is his first costume drama.
A costume drama has its own unique sets of challenges which I faced during Bajirao Mastani.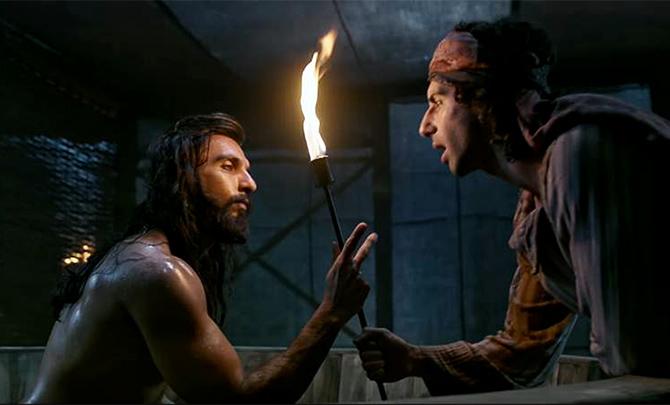 IMAGE: Ranveer and Jim Sarbh in Padmaavat.
How much of a character hangover do you have right now?
I had poured so much into the character, those last 47 days were so difficult, that I was waiting for the 'wrap-up' to be called.
For the first time I think, I let a character go immediately, so that he didn't even stay with me overnight.
The minute they called 'wrap-up', we cut the cake and rejoiced. I wasn't Alauddin for a second after that.
During the shoots -- you shoot from 9 am to 9 pm -- from that time, after that time, there used to be a hangover of the character.
Till 4 or 5 in the morning, I would still be reeling from what I had done.
Those type of thoughts, even when you are chilling at home, those waves of thoughts would suddenly come up and it was hard to snap out.
I had a character hangover to the point that I thought I was losing myself to this character and that was very scary.
I felt like I was going crazy.
A really strange incident happened.
Off camera, on the set, somebody made a mistake and I turned towards that person and was going to physically assault that person as Alauddin Khilji... and I was like wait! This is not something real.
Suddenly, my instinctive reaction was my character's and not mine.
Another really strange incident happened. I was alone at home, and I happened to walk by a mirror.
I had this look on my face and it was really strange. That's when I though I was going crazy.
I had never seen my face look like that.
I thought I was going mad.
I realised it was only because I wasn't doing enough Ranveer things.
So I started by calling my mom and telling her how I felt, and then telling my best friends.
They started coming home, and would be there for three, four hours. That was very helpful.
We would talk about normal things like, 'How's Nani?', what's happening with my cousins, what's happening with Arsenal?
I am happy and blessed that I have a lovely support system to keep me grounded.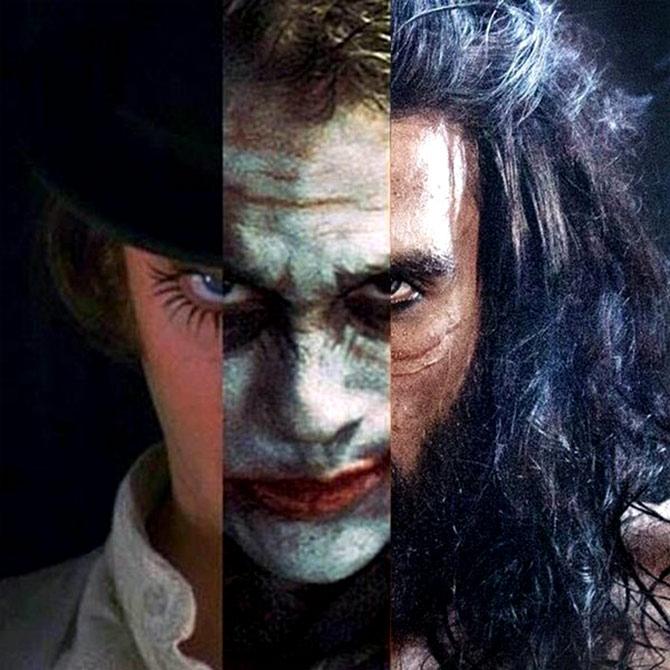 Photograph: Kind courtesy Ranveer Singh/ Instagram
You had shared a collage of Alex DeLarge from Clockwork Orange and Joker from The Dark Knight and your character from Padmaavat. Three characters known for being evil.
I uploaded what I thought was a very interesting collage. But I got massively trolled for it and I was like WTF?!
First of all, I just thought it's a cool looking image, so I spontaneously uploaded it. People started making their own inferences and interpretations.
In no way, will I ever compare myself to cinematic legends like Heath Ledger... the guy lost his life playing that part.
I am mature and understanding enough to know that there is no comparison to that.
Clockwork Orange is a cinematic textbook.
I am a lover and student of cinema. I will never compare myself to these legendary characters.
A fan sent this collage. I thought it was damn cool, so I uploaded but it got badly misinterpreted.
The reason the picture stood out to me was because during the prep process, I studied these two characters very closely.
I think if you are playing a negative character, the character must enjoy it. He must be unabashed about being that, then you are going to have fun.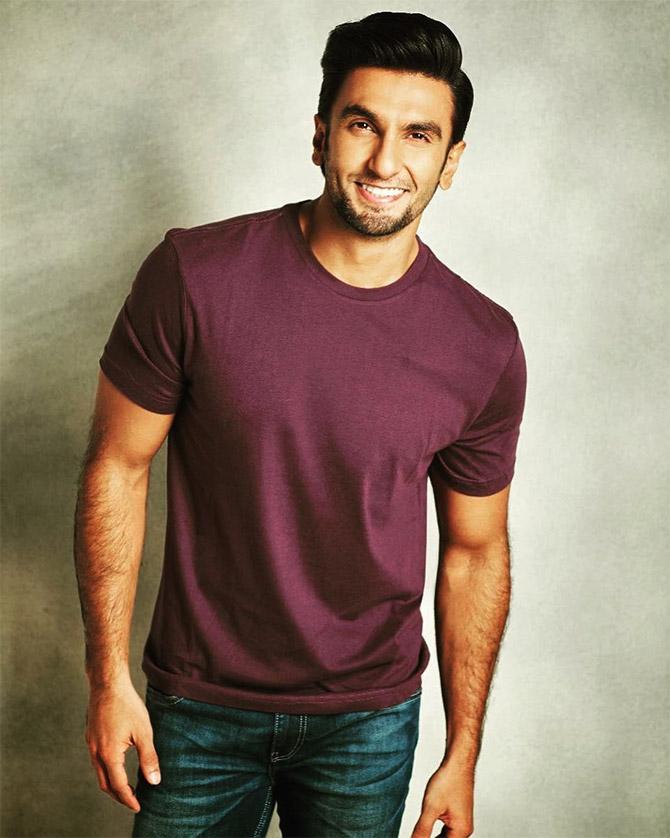 Photograph: Kind courtesy Ranveer Singh/ Instagram
Tell us about Gully Boy.
Gully Boy is a film that is very dear to me.
I strongly feel for these people that the character is based on.
These people are from the lowest strata of society, who have a tough existence. It's a very difficult life and they find their expression as artists.
They have started a music scene that is so unique. You have to read what these kids are writing.
They are 17, 19, in their early 20s, and they are writing social commentary about what's messed up in the system.
They are making such strong observations and comments over the state of affairs.
I believe it will affect social change because thousands of kids listen to their music now.
I want to do what I can to give a platform to this amazing new musical talent.