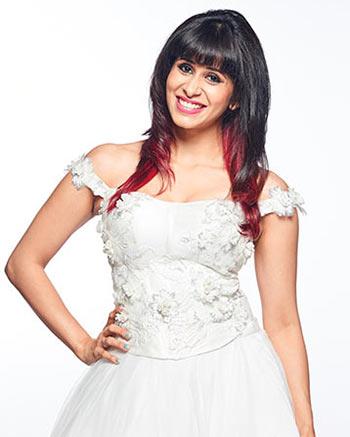 'I do not have any grudge against Mandana. You never know, we might become best of friends when we meet outside!'
'Whatever happens in the house stays there.'
Kishwer Merchant discusses her Bigg Boss stint.
Kishwer Merchant got evicted from Bigg Boss after she lost to Prince Narula in the 'Ticket to Finale' task. She walked out with a prize money of Rs 15 lakh.
She tells Rediff.com contributor Rajul Hegde about her experience in the house.
Why did you decide to leave the house?
With the number of wild card entries showing their love for Prince, I felt I may not stand a chance. Otherwise, I was stronger than him in the house.
Prince thinks his competition was with Keith (Sequeira). I worked so hard for the last 90 days and gave my best to the tasks just to get evicted in the end. Had it been Prince and me in top two, he had better chances of winning because of his fan following -- he has reality shows (Roadies and Spiltsvilla) in the past.
Did Prince offer to leave the house when Bigg Boss made an announcement that one of you had to leave after 32 hours?
No. Prince said that if the task continued for over 30 hours, he would leave. But towards the end, he did not say he wanted to leave. That was disappointing and hurt me a bit.
At the same time, it would be selfish on my part to expect him to go because it was as important for him to be in top five as it was for me.
Did you, at any point during the Ticket to Finale task, think that you would be out?
No. The task itself was unfair.
Mandana (Karimi), Prince and I had won the previous task and qualified for the Ticket to Finale task. We gave our best to reach this level but what were we offered in return? Eviction?
I understand Ticket to Finale is meant for one person but it's unfair to compel the other person to leave. We didn't know we would be punished this way. And at this point, you don't care for the money. You want to be in top five.
Did you regret your decision after coming out?
Yes, I did. I was scared to face my mother and Suyyash. To make me happy I tell myself that I am the second winner of the show, as I have taken Rs 15 lakh of the winning amount.
Do you think since Suyyash was already out, it made an impact on your decision to leave the house?
He would not have allowed me to leave the house.
But I assume that if we hadn't mutually decided, Bigg Boss would have given the right to the housemates to decide. And I didn't want that to happen because it would be cruel.
Prince would have gone out then because he was the competition for most of them.
Anyway, all of them were happy about the situation because Prince and I were stuck. I didn't want to give them more happiness by giving them the opportunity to evict one of us. So I decided to leave.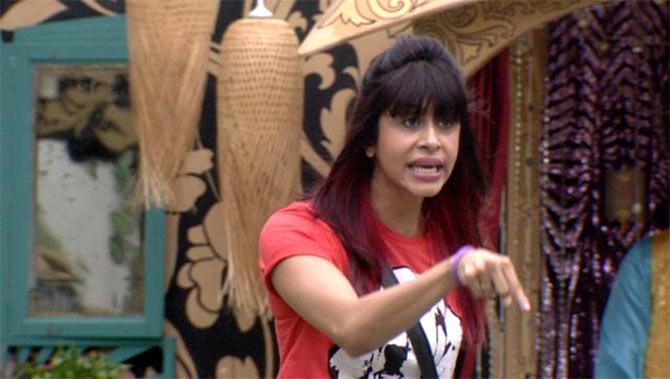 Mandana and you were never on the same page. Will you be friends with her after the show?
Yes. I do not have any grudge against her.
She had told me once that this wasn't her real behaviour; she is very different in real life. You never know, Mandana and I might become best of friends when we meet outside!
Priya (Malik) is involved in a lot of fights but what I like about her is that she takes a stand for herself.
Whatever happens in the house stays there. There isn't anyone in the house whom I will not meet after the show ends.
We have already planned to a get-together on January 25 at Suyyash's place.
But yes, after coming out I have learnt that Aman Varma has problems with us. So he may be the only person I will not make an effort to meet. He said some nasty things on social media.
Who is playing dirty games in the house?
Rishabh (Sinha).
When he entered the house as a wild card, he had told me that he didn't like me because I b****ed about the others.
But when I watched an episode after coming out, I thought he b*****es a lot too.
Everyone did it, so why single me out?
He is over-confident and feels confident that he will win. That's is a bad attitude. I was confident as well but I was not vocal about it. There are more deserving people in the house. He is childish and plays dirty games.
You got a lot of flak for spitting into his glass.
Yes. At that point, we did not think if it was right or wrong. It was done for fun.
Apparently, it looked bad, (host) Salman Khan said. I want to see how it is shown on television. After that day, I decided not to cross the line, and I never did.
Aman Verma said in his interview that he wouldn't be surprised if people joke and ask you, 'khana normal du ya tuukay duu?' when you go to a restaurant.
After looking at my genuine apology and my graph on the show, I doubt people will ask me that. I did not repeat that in the house.
So how would you summarise your journey in the house?
I have become a more patient person, and can control my anger now.
Performing tasks has increased my will power and built my mental strength. I was 60 kilos when I entered the house and I have come out seven kilos lighter.