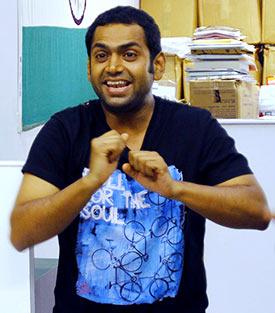 Filmistaan actor Sharib Hashmi is enjoying his time in the limelight, thanks to the critical acclaim the film has received. He has already been signed for Nikhil Advani's next film, a political satire.
But this time will not deal with the Indo-Pak issue.
This time, Sharib will be looking at the politics within the nation and how corruption in official services and the bureaucracy has stymied the growth of the aam junta.
"I look like a common man and I am happy playing the role," says Sharib. "The role in Nikhil Advani's film is far removed from Filmistaan. There's no comic element in my next outing. That's a welcome change. I don't want to be known only as a funny-man."
Sharib wanted to be an actor from the time he was just a child.
"When I wasn't getting anywhere with those dreams, I decided to store away my acting ambitions," he says. "I got busy working on television doing MTV's Bakra and other spoofy stuff but my heart was not in it. I got married and I had a child. My dreams had to be buried alive, only to be exhumed because of my wife's support."
Sharib's wife not only allowed him to give up his job but she also funded his acting aspirations. "She sold all her jewellery, so I could pursue my acting ambitions without worrying about the food on the table. Eventually we even had to sell our house but I didn't give up."
Sharib credits his acting career to two people in his life. "If it wasn't for my wife and my friend Nitin Kakkar (the director of Filmistaan), I would have given up the fight to become an actor long ago. They kept supporting me in my crazy ambitions. When Nitin offered me the lead in Filmistaan, it was as though he was telling my story," he says.
Now, Sharib has made another lifelong friend. "Inaamulhaq, who plays my friend from Pakistan, has become a friend for keeps. Our friendship started while we played friends in Filmistaan and it continues beyond the film," he says.
Like the character that Sharib plays in Filmistaan he too is obsessively attached to Bollywood cinema. And like his character, Sharib also ended up as an assistant director while waiting for acting opportunities to come his way.
Not many know that Sharib played Shah Rukh Khan's best friend in Yash Chopra's Jab Tak Hai Jaan.
"No one remembers me in that film," he says. "How can they, with big stars like Shah Rukh, Katrina Kaif and Anushka Sharma around? I hardly look like a movie star but my passion for acting is all-consuming."
Sharib's idols are Dilip Kumar, Amitabh Bachchan, Kamal Haasan, Dharmendra, Aamir Khan and Naseeruddin Shah.
"I've grown up watching and worshipping them. What you see in Filmistaan has not been faked. Just like my character, I truly worship Hindi cinema and all things Bollywood," Sharib says.
In the picture: Sharib Hashmi. Photograph: Hitesh Harisinghani