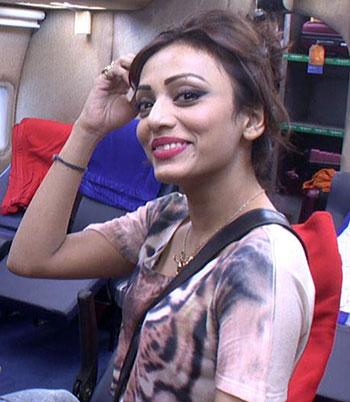 'I want to come out of the house clean. I do not want a negative image,' Soni Singh tells Rajul Hegde/ Rediff.com.
Soni Singh is best known for her portrayal of negative roles on television.
She acted in Saraswatichandra and Veer Shivaji and played Kapil Sharma's secretary in the initial episodes of Comedy Nights with Kapil.
"When I was approached for Bigg Boss, I immediately said yes because Salman Khan is the host of the reality show. I am a huge fan of his. You will not believe this, but I would cut out Madhuri Dixit's picture, and paste my picture next to Salman!" Soni reveals.
"I still fight with my friends if they say anything against Salman!" she laughs.
She is also testing whether she can stay away from her family for the length of the show.
"I am very attached to my family. I am the youngest and overprotected member of my family. I have not stayed away from my family for even a single night. So I thought this is a great opportunity to test myself."
She says she didn't tell her family she was participating until just a few days before the show started.
"They were shocked, but told me to feel free to come out if I am not comfortable in the show."
She hopes the show will bring her recognition.
"Bigg Boss is the most entertaining show I have ever watched. People have seen me planning and plotting in the serials. But with this reality show, I want everyone to know the real Soni Singh," she says.
What will be her strategy inside the house?
"I am a very simple girl. I don't want to get into any controversies and arguments. I will stay calm and not react to people who try to provoke me.
"I am carrying a musical instrument which I can play when I am angry, to calm me down.
"I want to come out of the house clean. I do not want a negative image," she added.
She hopes to stay in the show for a long time.
"I don't know about winning, but I really want to stay for long in the show. I also want to make my stay memorable because it's a once-in-a-lifetime opportunity," she concluded.