'I am no longer a lover, I am love.'
Bollywood's Emperor of Romantic doles out some love gyaan.
Rajul Hegde takes notes.
Photographs: Pradeep Bandekar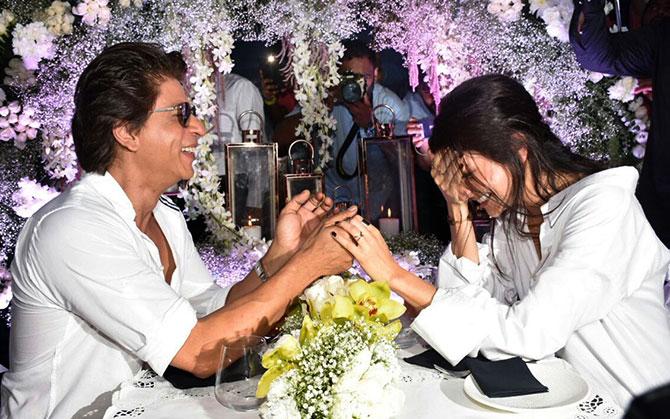 Shah Rukh Khan and Anushka Sharma enjoyed a romantic dinner date, as the media watched, at Estella, a restaurant in Juhu, north west Mumbai.
Composer Pritam provided the music while Imtiaz Ali, the director of their new film Jab Harry Met Sejal, joined in.
The dinner launched the new song from the film, Hawayein, and Anushka seemed to enjoy all the attention from SRK.
Shah Rukh Khan, who plays a tour guide named Harry in the movie, believes there is a Harry in each one of us.
"When you play a character, the space and setting is different, but the feelings are familiar," he explained, a statement whose meaning we have yet to decipher.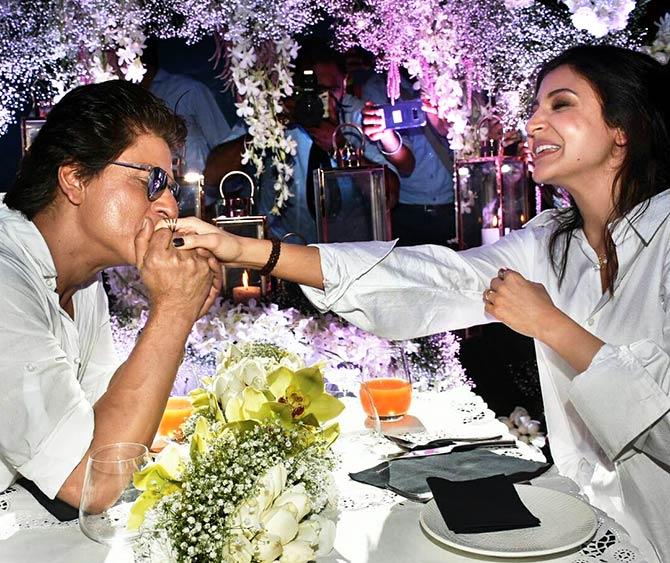 The superstar, who has made a career playing romantics, revealed recently that he is no fan of love stories.
"Ek controversial baat bolun (shall I say something controversial)?. I love making love, but don't like to watch it," he told the assembled media at Estella.
"I don't watch it, I do it!" he declared, twinkling eye, dimples firmly embedded in those famous cheeks, a naughtly smile playing on those celebrated lips.
"It is not like I don't like love stories, but that I am no longer a lover, I am love."
Figured that out? We still haven't.
Then, he quickly added, "No, no, I think that may get misinterpreted. I like love stories, but I like comedy more."
Come to think of it, when was the last time SRK made you laugh in a movie?
Is he a romantic husband, one journalist wanted to know.
Shah Rukh, always a gentleman, didn't ask the scribe to go check with Gauri, only noting that, "I am shy to talk about this, but I am good company."
"I can make you smile, laugh, listen to what you say..."
Gauri, he said, does not feel insecure seeing him romance women on screen.
"After seeing me throw a woman (off the terrace) in Baazigar, she has never asked me anything."
Cue for the twinkle, dimple and mischevious smile.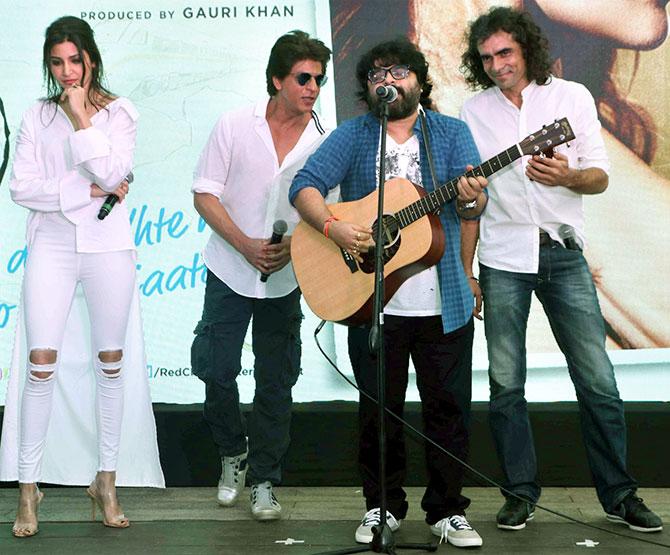 SRK also spoke about that signature style of his -- spreading his arms wide like a human albatross during a song sequence.
"I have done it in a few films. It's become a mannerism of sorts; no director has ever told me to not do it."
"Kabhi kabar mazaak mein (sometimes in jest) I do it in the film, but it also depends on the film. I wouldn't do it in a movie like Raees. I won't do it in every film," SRK said.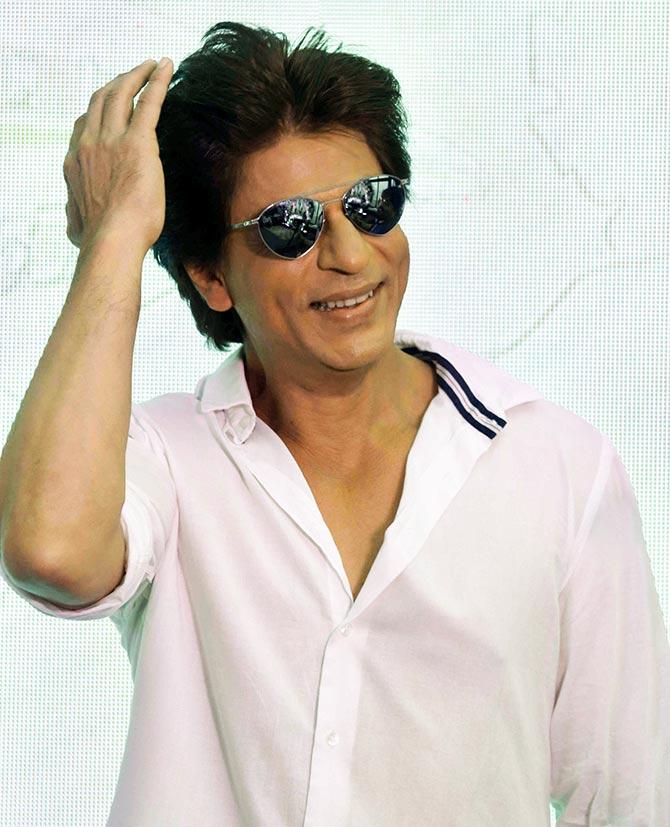 Shah Rukh Khan had a cameo in the Salman Khan starrer Tubelight. Salman has repaid the favour in Aanand L Rai's film with SRK.
"His part is longer than that," Shah Rukh said, referring to his cameo in Tubelight.
"Salman Khan will be seen as Salman Khan in the film. I can't reveal much about his role, but Salman has put in his heart in the character."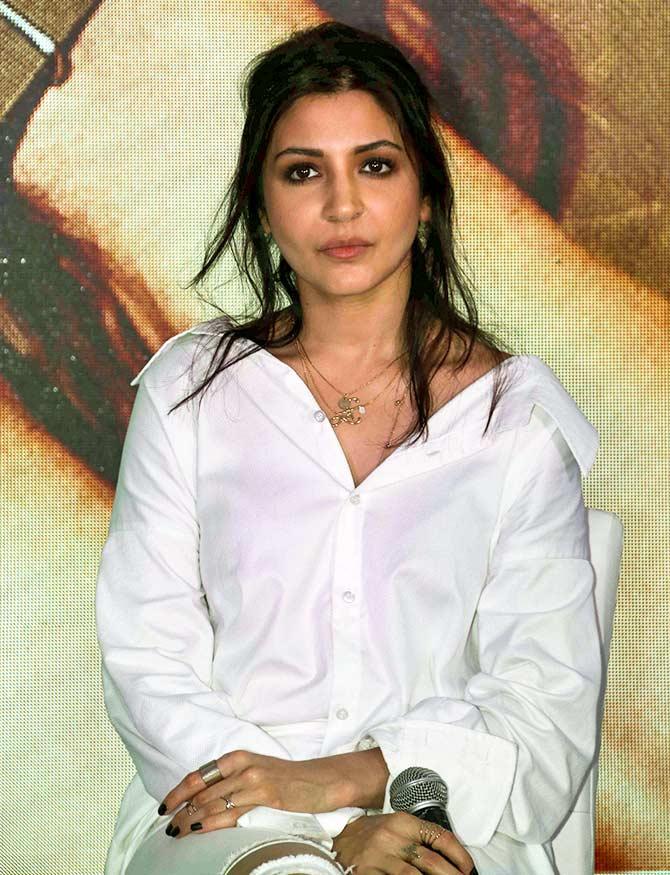 "It feels great to do a romantic film with the King of Romance, and a romantic song with him is beautiful," Anushka added.
Filming romantic scenes with him was "extremely easy," Anushka, who has acted with SRK in three films so far, said.
"There is a genuineness in his eyes that we all can see -- that reflects on screen," she said."
"He can even romance a microphone!" Anushka felt.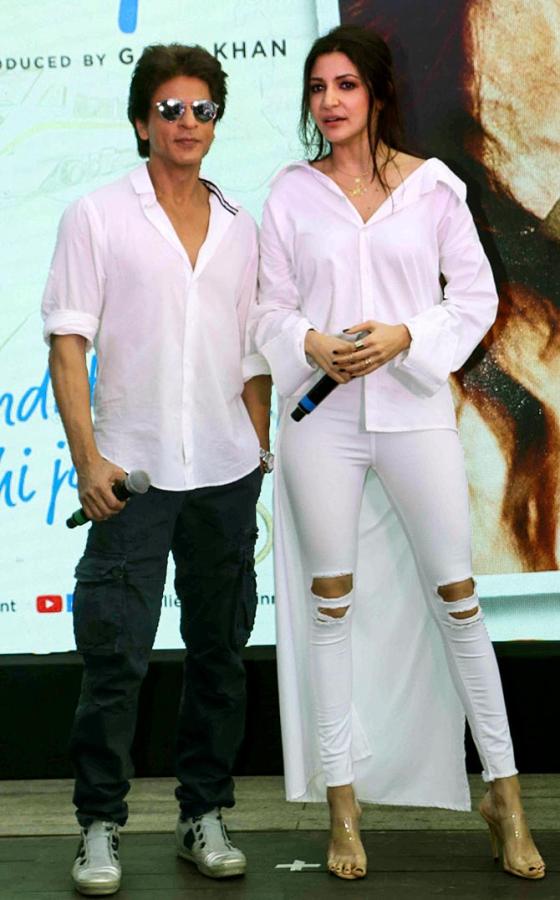 Did she miss anyone while filming the romantic scenes with Shah Rukh, one scribe pointedly asked.
Anushka is way too clever to take such a bait and mention a certain skipper of an international sporting side.
She missed Irshad Kamil, the lyricist who wrote Hawayein, she said.
To which Shah Rukh quipped: "Yeah, I could feel she was missing someone!"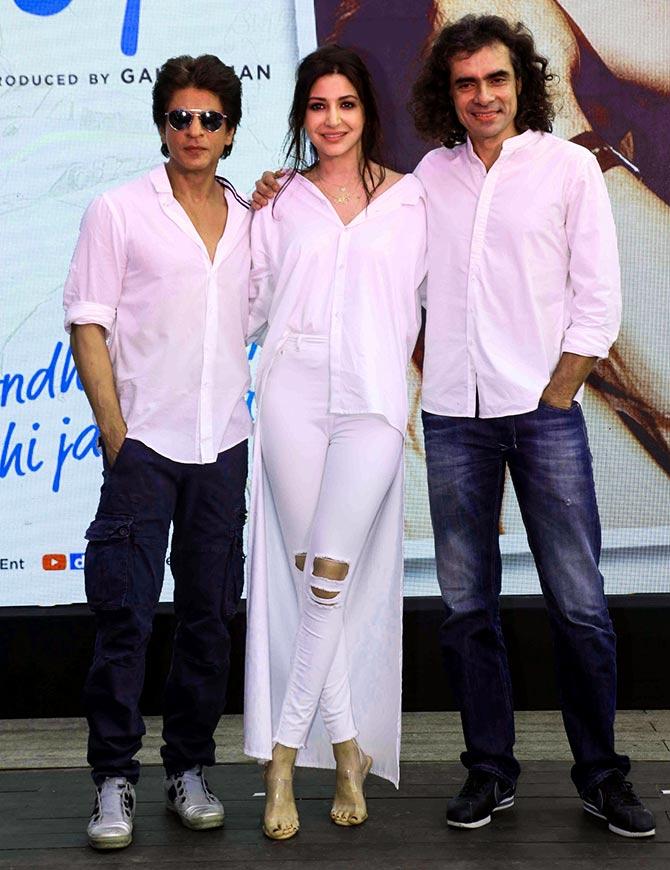 What did Anushka think about Imtiaz's concept of romance?
"Whenever I watch his films, I feel his films are all love stories, but his characters don't know they are in love."
"It's an innate, gradual process. Imtiaz has a deep understanding of a man and a woman's relationship."