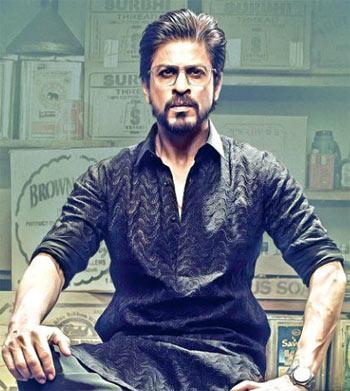 'When you reach a stage where I have reached, you have to assume that people expect a lot more from you, perhaps more than what you can do. And then, you have to live by that.'
'If I have become a star with limited talent, I think of myself in these 25 years. I need to believe that people have given me so much, they expect some of it back.'
Shah Rukh Khan gets reflective.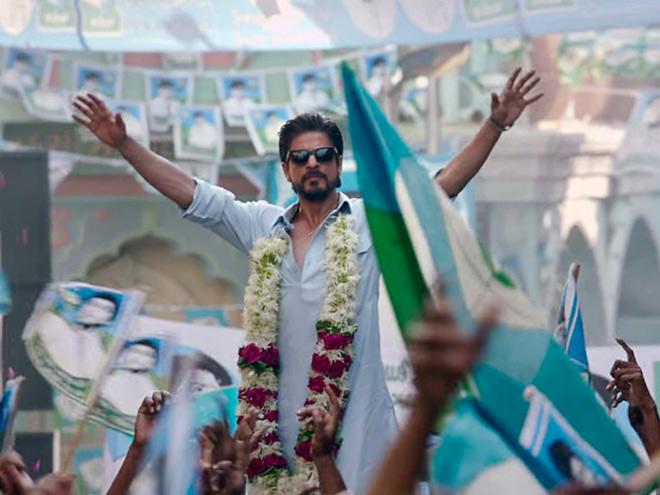 A Shah Rukh Khan interview never happens on time.
The 6 pm interview slot did not start before 10 pm.
But the superstar always makes the wait worth the while.
An interview with Shah Rukh Khan can never be dull. And this time, his toddler AbRam accompanied him to the interview at Mehboob studio, located near his home in Bandra, a posh Mumbai suburb.
Shah Rukh had been giving interviews since morning, promoting his new film Raees, and he looked exhausted. Yet, his humour was all there. Raees has been directed by Rahul Dholakia and will release on January 25.

SRK discusses his movies, and Raees, in this free-wheeling conversation. Jahnavi Patel/ Rediff.com listens in.

What was your state of mind when Raees came to you?

I was either finishing Happy New Year at the time or in the middle of it.

Happy New Year was a happy-go-lucky, over-the-top dance film, which we assumed people would enjoy during the Diwali holidays.
It was meant to be an event film, where everything would be big, the action will be larger-than-life, there will be 10 packs instead of eight packs (smiles). The idea was that everything would be exaggerated because Farah (Khan, director) is that kind of filmmaker.
I was doing a multi-starrer after a long time.

Happy New Year happened after Chennai Express, which was another over-the-top, happy film. So having nearly finished working on Happy New Year, I was in a state of mind where I wanted to do something which is grittier, more realistic. As an actor, I felt I should do a film which is deeper.
Filmmakers like Rahul Dholakia makes movies like that. They make niche, substance-oriented films. But he was very keen to put it on a kind of platform which would be more popular.

He had spoken to Farhan Akhtar and Ritesh Sidhwani and I liked the idea.
I am more of an urban star -- that suits me better -- but as an actor, I think I can play a small-town guy, do realistic cinema.

Honestly, I have never done a completely niche, offbeat film. Perhaps I don't understand them or people haven't offered them to me.

Raees fit the bill for me as an actor. It is not in my comfort zone but very well-written. It's not a typical story where a boy grows up to become a don and then beats up the villain. It's more of a journey of a man from the age seven-eight to 45.

Were the action scenes taxing?

My knee is a problem, the patella is broken. I need to do something about it. It's a big injury and gets painful when I work. I think that's why the film got delayed.

It was difficult to do a roof-top chase sequence.

Usually, I do all the running but in this, I used a body double for a few scenes. I feel really bad about it but I couldn't help it because the set was ready and I had to finish the scenes.

There is a meat factory fight sequence in the film, which I also did after my surgery. That was difficult but they put mattresses on the ground for me to land on.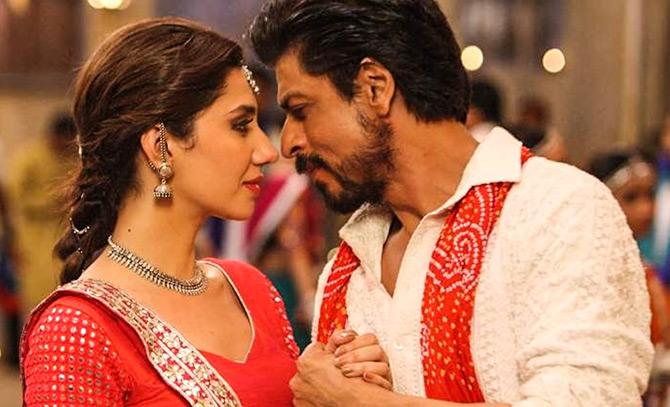 How have you dealt with pressure in these 25 years of your career?
When you reach a stage where I have reached, you have to assume that people expect a lot more from you, perhaps more than what you can do. And then, you have to live by that.
If I have become a star with limited talent, I think of myself in these 25 years. I need to believe that people have given me so much, they expect some of it back.
But I choose the films and sometimes it will not cater to everyone.
Fan may not cater to boys and girls, who want to see a love story or a song-and-dance.
Happy New Year may not cater to someone, who wants to see me in a cerebral film like Chak De! India or Swades.
Dear Zindagi may not cater to someone who expects me to sing and dance with Alia (Bhatt).
So you have to accept the fact that each film will not make everyone happy. Over the years, I have learnt to accept the fact that I will disappoint a certain section of people, who love me, because the film may not cater to them.

As an actor, I need to do a few things to keep myself refreshed and do things that may not cater to the popular audience.
In one of your old interviews, during Baazigar, you had said that posing with actresses makes you conscious. Is it still the same?

I am conscious and shy of posing with girls, I still am. If it is not in a film, I feel awkward because I don't know how to pose.
I don't think people have sensationalised anything about my life. More or less, everybody has been really nice to me.
I think somewhere people also understand my sense of humour.
I felt awkward doing film magazine covers with heroines because I feel I am wasting their time. But most of the girls are my friends. If we are just standing and doing a picture, I am happy.

The Raees cast, including Nawazuddin Siddiqui, Mahira Khan and Mohammed Zeeshan Ayyub, looks very interesting.

All the actors, including Mahira, Nawaz and Zeeshan, come from a real world of acting. They have done cinema, which is not as popular as what I have done. They feel the scenes, talk about it, discuss it.
For me, to play Raees, I am not playing a hero-type. I am playing a character. It was very important to be surrounded by people, who approach the scene realistically. That's one of the reasons why I wanted people, who haven't acted with me before.

It was good to have actors, who sit down, rehearse, work out new things. I think their realism reflected in my performance.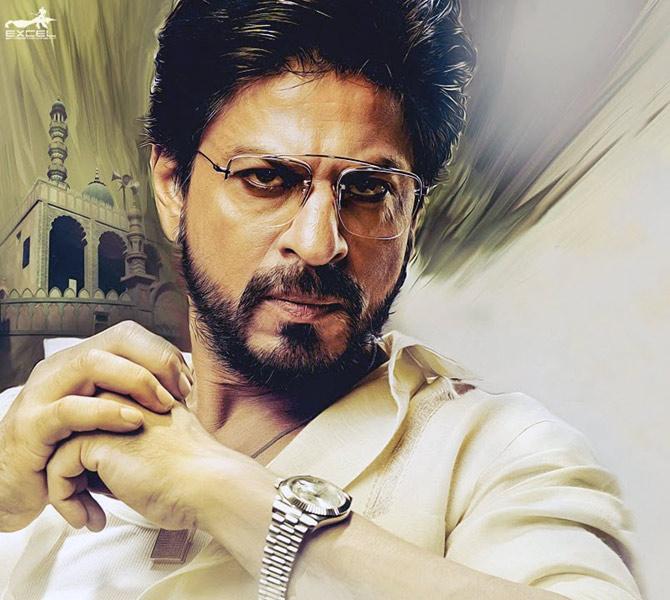 Did you discover anything about yourself during the filming of Raees?

That I look very sexy in a pathani! (smiles)
And not only can I act with Kajol, I can put kajal in my eyes! (laughs)
Nothing yaar, I know a lot of actors talk about discovering things as you're doing roles but I am not like that.

I feel there's so much I know of life -- and I am not being pompous -- but I have lived a very full life. I have read a lot, said a lot through my characters.
I am very glad to be such a big star but sometimes it takes time, being a star, not being able to say anything because there's an entrapment of stardom.
I have a lot more to say in life, as a person, as my experiences, I don't know how good or bad they are. I don't take anything back from characters; I like to give to characters.
Will we see you doing an out-and-out comedy film again like Baadshah?
I think Chennai Express was a comedy and it was a really funny. There is no offer on the table as far as comedies are concerned.
Actually, we were planning the remake Angoor and Rohit (Shetty, director) asked me to hear it out. I thought it was very funny.

Is there any film from your filmography whose sequel you'd like to make?

Don is the only one which perhaps lends itself (to a sequel) because that's how we leave it every time. I don't think Farhan (Akhtar, director) has a story for Don 3 now.
Maybe Ra.One, but I don't think we have a story for that either.
I thought I would make Ra.One into a sequel if it did well but it didn't go where I thought it would.

There were reports about you being offered Sanjay Leela Bhansali's film on Sahir Ludhianvi. How true is that?

I really liked the story. It was offered to me three-four years ago. But we haven't confirmed it.
Sanjay is supposed to meet me now. I'll meet him after Raees, if he's free from Padmavati. He has a couple of stories, one of them is Sahir Ludhianvi's.

Now I want to finish Aanand L Rai's film -- that is heavy on visual effects. I don't want to commit to someone and then postpone it or start another film.