'There is a problem in our culture where people think if you are an actor that you are their property.'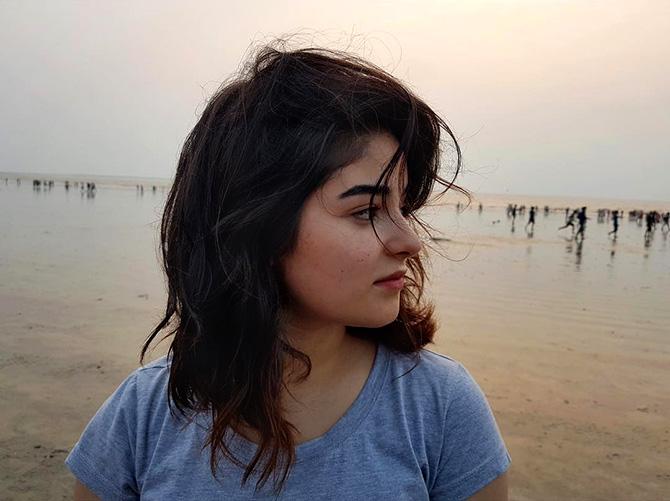 Photograph: Kind courtesy Zaira Wasim/Instagram
Bollywood has condemned the alleged molestation of National Award-winning actress Zaira Wasim.
The 17 year old, known for her roles in Dangal and Secret Superstar, was allegedly molested on a Delhi-Mumbai flight on Saturday, December 9.
Zaira revealed her ordeal on Instagram via a live video.
The teenager was aboard an Air Vistara flight when a co-passenger sitting behind her put his foot on her armrest.
The man was arrested on Sunday evening.
Bhumi Pednekar was shocked to read about the incident, but happy that Zaira had shown courage to speak up about her ordeal.
"I am appalled. She is a child. There is a problem in our culture where people think, especially if you are an actor, that you are their property," Bhumi says, adding, "This is hugely problematic."
"I am very happy she put it out on social media. I am glad she took that step because it needs a lot of courage to speak," Bhumi explains, "to come out and take a stand like that. More power to her."
"We are fighters and whichever situation it is in our life -- personal or professional -- we come out as fighters," says Kareena Kapoor Khan.
"Women are far superior (than men)," she adds. "So they can fight out of every situation."
"I just hope she gets justice," says Taapsee Pannu. "It is good that at least she raised her voice. She deserves to get justice."
"This," says Madhuri Dixit, "should not happen, neither in India nor in any other part of the world."
"What should I say about this country?" asks Mouni Roy. "On one hand we talk about women empowerment, on the other hand we hear about these incidents. I think it is very important not to just talk about it, but also to educate people against this."
"Such incidents keep happening," says Zareen Khan. We need to take action to stop all this."