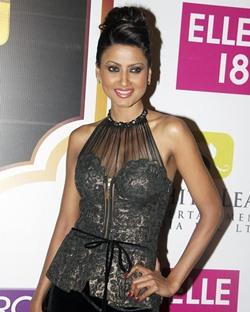 Actress Nigaar Khan, elder sister of last year's Bigg Boss winner Gauahar Khan, is all set to enter the reality show as a wild-card entry.
Right before her grand entrance in the house, Nigaar said, "I am aware how hard it will be considering my sister won last season. I wish people wouldn't compare the two of us though. We are very close but Gauahar and I are different individuals. I might do things differently inside the Bigg Boss house."
The starlet says her arrival as a wild-card entry was very sudden.

"Until Monday last week I had no idea I'd be going in. I had just collected a trophy for my performance in my latest serial and had gone off for an extended holiday in Greece, Abu Dhabi and Dubai. When I got a call from the Bigg Boss people, I was in no mood to return to work."
It was the challenge of doing something unexplored that finally persuaded Nigaar to go for it.

"I am going in there with a clean slate. I haven't been watching this season of Bigg Boss regularly since I was away. So I'm going with no preconceived notions. I have no idea about the kind of contestants I'll encounter in there. I am ready to face anything," she said.
"I won't act in there. I am known as Nigaar Khan. Why would I want to be anyone else?"
But does she think she has a shot at the winning title, considering no wild card entry has won Bigg Boss before?
"I hope I can change that. I am not going in there thinking about wining the trophy. Right now I am just going to go with the flow," Nigaar explains.
Reacting to her sister's Bigg Boss stint, Gauahar said, "I wish her a fun and smooth journey in the house. I know she will be good. I'll be the happiest if she wins."

Photograph: Pradeep Bandekar