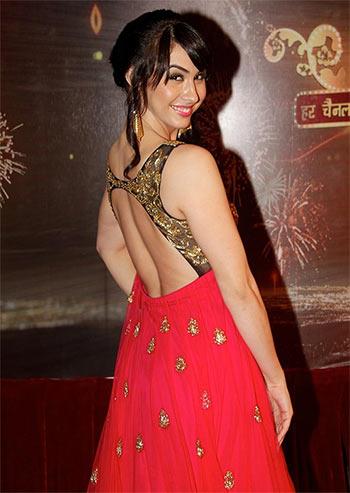 'God had a bigger plan for me. It was never in my mind while growing up that I would end up in Bollywood or India.'

Lauren Gottlieb dances into our lives, yet again.
American dancer-actor Lauren Gottlieb, who we last saw in Remo D'Souza-directed superhit dance film ABCD 2, is returning to Jhalak Dikhhla Jaa in its eighth season -- the reality show that made her popular in India.
Only this time, she'll be a judge instead of a celebrity participant.

Currently trying to establish herself in the Hindi film industry, 27-year-old Lauren is hoping to perfect her Hindi on the dance show.

In conversation with Rediff.com contributor Rajul Hegde, where she endearingly peppers her sentences with broken Hindi, Lauren talks about her new TV show, her Bollywood plans and how she floored everyone -- including Anil Kapoor -- at the recently concluded IIFA.
Though you had a small role, what kind of feedback did you get for your performance in ABCD 2?
ABCD 2 was very nice. I didn't get promoted on the film; Varun (Dhawan) and Shraddha (Kapoor) are the stars.
After everyone saw my performance, I got lots of praise.
Do you regret not being part of the film's promotions?
Honestly, no. God has plans for me, everything happens for a reason.
Jo hotay hai achay kay liye hota hai (Whatever happens, happens for the best).
It was a very good move to do Welcome 2 Karachi (the film starring Jackky Bhagnani and Arshad Warsi).

Welcome 2 Karachi released first and ABCD 2 came three weeks later. So producers, directors and the media got to know who I was before ABCD 2 released. It was kind of a strategic move which I think worked.
Did that help you to be chosen as a judge for Jhalak Dikhhla Jaa?
Recently, I was performing at IIFA and in the middle of my act, the music went off.
Instead of stopping, I just kept dancing because I could feel the music. Dancing is in my blood. When I turned around, my back up dancers were very confused. I just looked at them and said keep going.
So every actor, actress, musician, director, producer, media persons who didn't know who I was, knew who I was right then and there. People like (actor) Anil Kapoor came up to me and said everyone is your fan now.
I was just laughing and having a good time. Big musicians are coming up to me and saying that we were having lunch and we only talked about you.
Raj Nayak (CEO of Colors), who saw this, said, 'I can't do the show without you'.

Judging comes with responsibility. You are young, how will you take it forward?
I am young but I am responsible, smart and dedicated enough.
I feel like I have a big responsibility. The way the judges were with me (when I was competing in Jhalak) on my season, it paved the way for my career and made me a household name in this country.

I have to keep learning the Hindi language. This is the first time that people are going to hear me speak Hindi on camera. The better I get, the better I can perform.
The way you saw me on the show as a dancer, learning different styles of Bollywood dancing and getting acquainted with India, you will see an evolution of me as a judge, which is quite cool.

Do you feel privileged to be judging a reality show in India? It's the dream for a lot of people here.
I am lucky and hard-working.
God had a bigger plan for me. It was never in my mind while growing up that I will go to Bollywood or India. Something other than myself brought me here. I have a responsibility to keep that going.
How good are you as a critic since you are judging the show for the first time?
The first week I was kind of welcoming, everyone was showcasing their best talent.
Once they get into the next week, doing something that they have never done before, you will start seeing the faults. They have spent one month on their first act and now it's going to be quick. So it's not going to be as good as the first one.
As a dancer, I am very critical of myself. I am a perfectionist and I want to see growth. I will be very critical which, hopefully, people won't mind.
What do you think of your co-judges, actor Shahid Kapoor, director producer Karan Johar and choreographer Ganesh Hegde?
Shahid knows a lot about dance; I didn't know he knew this much.
Ganesh is a rockstar, supremely talented.
Karan, if he thinks he doesn't know much about dancing, he is lying. After judging all these shows, he's become an expert.
I am the only woman on the panel. I quite like that and I get a lot of attention (smiles).
What will be your focus now since you are slowly making your presence felt in Bollywood?
It's all about the journey and not the destination. I have been here for only two years and I have done quite a lot.
I have done three films, two television shows and gone from being a contestant to judge. I have got a lot of respect from people.
Not knowing anything about the culture, language and not knowing a single human being here, I still progressed quickly.
After signing on this show, I am working harder on my Hindi. I hope by the end of the show I become fluent.
I have got many episodes ahead to prove myself. I hope with this show the next big film opportunity comes (smiles).