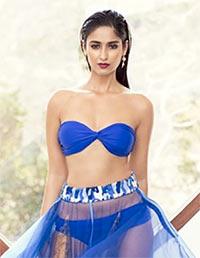 'When I signed this film, I had no confidence that I could pull off such a role. Akshay tells me that I need to have more confidence in myself.'
'After so many films coming to me, that were rubbish, I am shocked that people were actually making good films.'
Ileana D'Cruz opens up about Rustom, and Akshay Kumar.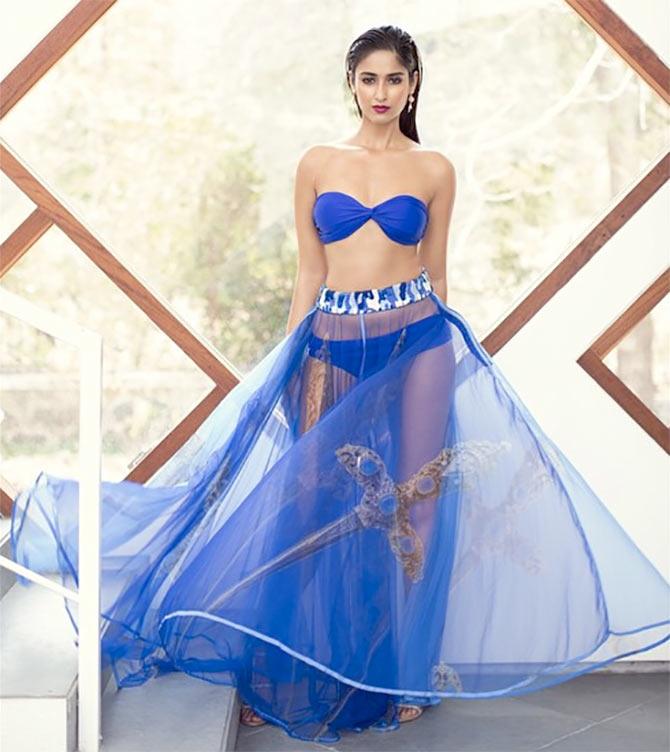 Photograph: Ileana D'Cruz/Instagram
Ileana D'Cruz looked lovely when she arrived for a photoshoot with her Rustom co-stars Akshay Kumar and Esha Gupta.
Wearing a black crop top with a bomber jacket thrown over and culottes (pictured below), she was dressed to kill.
But when she was informed that the interview would not be shot on camera, she immediately got rid of her stilettos.
She settled on a chair, legs tucked under, and got ready for the questions.
In Rustom, she plays Akshay Kumar's cheating wife.
But she says, "I am a sucker for love and love stories."
She's not a sucker for films though. Instead, she prefers watching re-runs of Friends and cooking shows.
"I hate dubbing," she adds. "It's so bizarre, standing in a little room and watching yourself on screen."
Ileana chats with Jahnavi Patel/ Rediff.com about the film, and much more.
What took you so long to sign a film after Happy Ending?
All the offers that I was getting were -- I don't want to say rubbish -- but...
There was a film that I was meant to do but it went to somebody else. I felt weird initially, as I haven't had that experience before, but I like to think that whatever happens, happens for the best.
As luck would have it, the film tanked and I was like 'Yay'!
Happy Ending released in November and a year after that, in September, I ended up meeting Tinu (Suresh Desai, director), for Rustom.
I had already met Neeraj (Pandey, producer) for two films before but they did not work out.
I was expecting disappointment again because he makes amazing films but I never end up doing them.
I did not know what to expect from Rustom. All I knew was that it was a film backed by Neeraj and with Akshay (Kumar) in the lead.
But the script got me hooked right from the beginning. I don't know if it was the way Tinu was narrating but there was this lovely intensity about it.
I was shocked that I was being offered such an amazing film.
It's flattering when someone offers you a film and a role with so much depth and scope to perform. I feel flattered that people believe I can pull it off.
When I signed this film, I had no confidence that I could pull off such a role. Akshay tells me that I need to have more confidence in myself.
I don't care that it took me a year and a half to do this film, I'm just glad I did it.
After so many films coming to me, that were rubbish, I am shocked that people were actually making good films. I felt that even if I don't even get paid for it, I have to do this film, as it is amazing.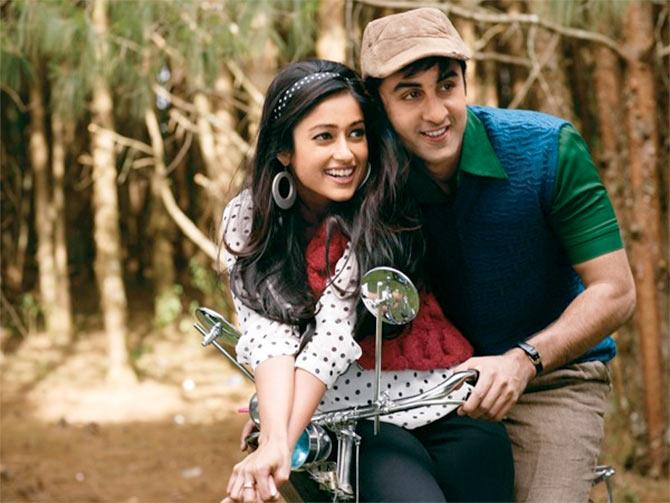 IMAGE: Ileana D'Cruz and Ranbir Kapoor in Barfi!
After Barfi!, people expected to see you in content-driven films.
You can't always do these serious sort of films.
Barfi! could have come across as a heavy film, but it did have a certain fun factor to it.
I was offered serious films after that and some of them did not work out. I ended up doing commercial films.
Honestly, it's a coincidence, I don't have a plan in place about my next film. When Barfi! came my way, it seemed like an interesting film and I had never done something like that in the past. It worked for me.
I think it's the expectations that people have from me. They probably expect me to do films like Main Tera Hero, so we can't really satisfy everyone in one go.
IMAGE: Ileana D'Cruz and Varun Dhawan in Main Tera Hero
After doing a film like Main Tera Hero, were similar roles offered to you?
Yes. Main Tera Hero was one of those easy comedies where you put your brain on standby for a bit.
When you are doing these kinds of films, there has to be a balance because it can be stupidly illogical.
Comedy isn't easy. I had a great actor to bank on. Varun (Dhawan) is a brilliant actor. Then, we had (director) David Dhawan, who is a God of films like that.
Most of your films have been with big stars.
True. You need someone to back the film. I am not sure if I can carry a film on my own right now.
Every film is like a learning experience for me, and I go into it hoping that I can pull it off.
One day I'd like to do a film that banks on me. But for now, it's good to establish yourself as a really strong actress.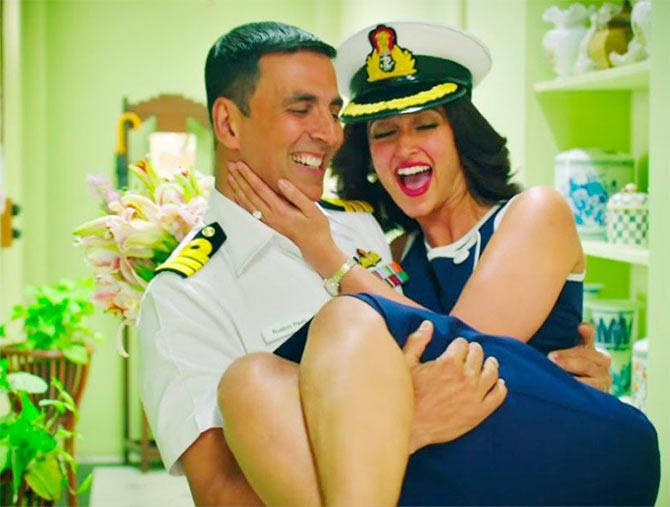 IMAGE: Ileana D'Cruz and Akshay Kumar in Rustom
How was it working with Akshay?
I have never seen Akshay in a role like this -- a devoted husband and a patriot.
He brings something else just the emotional level. I have never seen this man cry before. He can really cry!
I love the fact that there was genuine emotion in it. It isn't like one of those films where you have to fake a tear.
You play a character, who goes astray in her marriage. How difficult is it to relate to a character like that?
I have been cheated on before so I know the feeling on the other side.
But to do the act (of cheating) was a bit tricky.


Photograph: Ileana D'Cruz/Instagram
Weren't you a top choice for Sakshi's role in the M S Dhoni biopic?
Neeraj (Pandey) and I spoke about Dhoni but there was nothing concrete. I don't know anything about that, or (Mahendra Singh) Dhoni, because I am not into cricket.
Neeraj wasn't willing to share a lot about the film, understandably.
After doing a film like Happy Ending, which I expected to work but didn't, I am more particular about knowing what I am getting into.
IMAGE: Esha Gupta, Ileana D'Cruz and Akshay Kumar. Photograph: Ileana D'Cruz/Instagram
What are you working on next?
Baadshaho, I am super excited about it.
Esha (Gupta) and I will star together in a film again.
In Rustom, we do have a fair amount of scenes together.
Excited to work with Ajay Devgn?
I am most excited about Milan (Luthria, director). He is a fantastic director and I always wanted to work with him.
We had a chance meeting on the sets of Rustom and he said he'll call me.
I did not hear from him for three months and one day, out of the blue, he called me up and asked to meet. We met and I told him I was on!