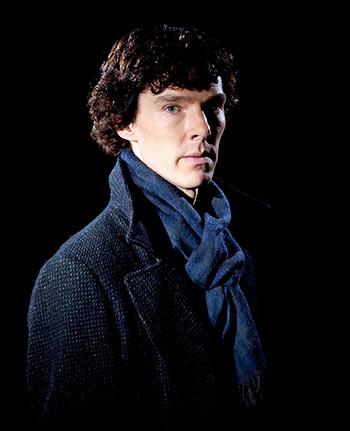 'I was very wary about stepping into the limelight and the populist role like Sherlock Holmes, but the minute I saw who was involved and read the script and the quality of it I thought: I've got to do this.'
Benedict Cumberbatch tells CNN International why he nearly turned down the chance to play Sherlock Homes.

Just like Lady Gaga has her Little Monsters and Dr Who his Whovians, British actor Benedict Cumberbatch has spawned a legion of the self-proclaimed 'Cumberbitches.'
While the actor himself has no Twitter presence, there's a fan club devoted to him which goes by the handle @Cumberbitches and identifies itself with the articulately put, 'The most glorious and elusive society for the appreciation of the high cheekboned, blue eyed sexbomb that is Benedict Timothy Carlton Cumberbatch.'
The 39-year-old star grew to international fame with Steven Moffat and Mark Gatiss's version of Sherlock, and has periodically expressed unease at that term, offering up a sobering 'Cumberbabes' as an alternative.
In a recent interview to CNN International, the actor also admitted to not being completely at ease with the idea of Sherlock being sexy.

But that is not the only Sherlock-related reservation he's had.
In a wide-ranging interview, the Academy Award and BAFTA nominated actor speaks to CNN correspondent Anna Coren on being labelled a sex symbol; his adoring legions of 'super fans', plus the legacy of Alan Turing, the WW2 codebreaker he portrayed in The Imitation Game.
Excerpts:
It's your role as Sherlock Holmes in the movie that has made you a household name, so that you went from being a respected actor to a star. Is that fair?
Yeah hopefully I haven't left being respected actor behind by playing Sherlock but yeah I know what you mean it means that, I was just going from great jobs but they weren't in the limelight.
They weren't in the public eye quite to the extent that I knew that character no matter what we did it was going to garner that kind of attention.
And you know it has been extraordinary -- I've asked some of the people here -- because I'm fascinated why, how a sort of cultural hold globally in the UK, you get it, you kind of grow up on that, but it's just the worldwide appeal of the original.
It's the power of the original stories and how true despite it being modernised we've managed to hold to those original stories.
So, one of the things that threw me was the books that went up in the UK after the first season showed, you know, kids were buying the books and reading the books again and that's a fantastic thing for everyone involved really.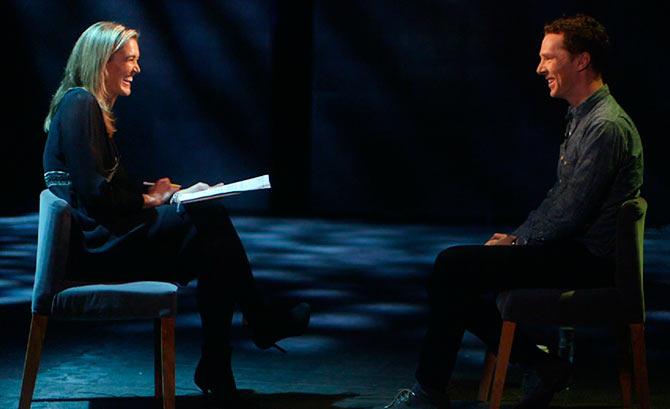 Image: Anna Coren and Benedict Cumberbatch
But you've also made Sherlock Holmes sexy.
Well my parents, maybe it's just genetic you know. I don't know. I always get slightly troubled when people see him as sexy.
I can see it, I mean he's distant and cold and very smart and looks the way he looks, I suppose but yeah I think he would be quite terrifying company. I don't think he'd be all that sexy but anyway.
Where does that sex appeal come from? Because that is what people talk about, Sherlock Holmes being sexy.
Yeah. I feel massively uncomfortable talking about this because, um, I can't even talk about him as a character and I think anything else is just for fans to answer to be honest.
But in brief, he's a brilliant man who's removed from the world and practices his art in a way that is utterly uncompromising and doesn't suffer faults gladly and I think we all get vicariously out of that.

You know he's a master at pretty much everything he attempts.
But like I said, you know, I think there's an awful lot about him that is very dangerous, very distant and again, it's like bonds, everyone wants to sort of put an arm around him but you wouldn't get that near, in reality.

So it always puzzles me slightly.
So you talk about your fan base here in China, Asia, really across the world. This legion of fans I think you call them the Cumberbabes (try to, Cumber-collective, Cumber-people, Cumber anything other than that word).
But yeah it was them having some fun and look, it is all fun and games.

And they've been very supportive of all of my work actually and that's the great thing. It's a fun ride to sort of to be on for them and I guess for me as well.
It's a strange thing, it's an interesting thing you don't really start out doing what I do so I think alright what's the fan base getting involved?

But by and large they're very intelligent, and engaging and supportive bunch of people so it's been fun to go on the road with them.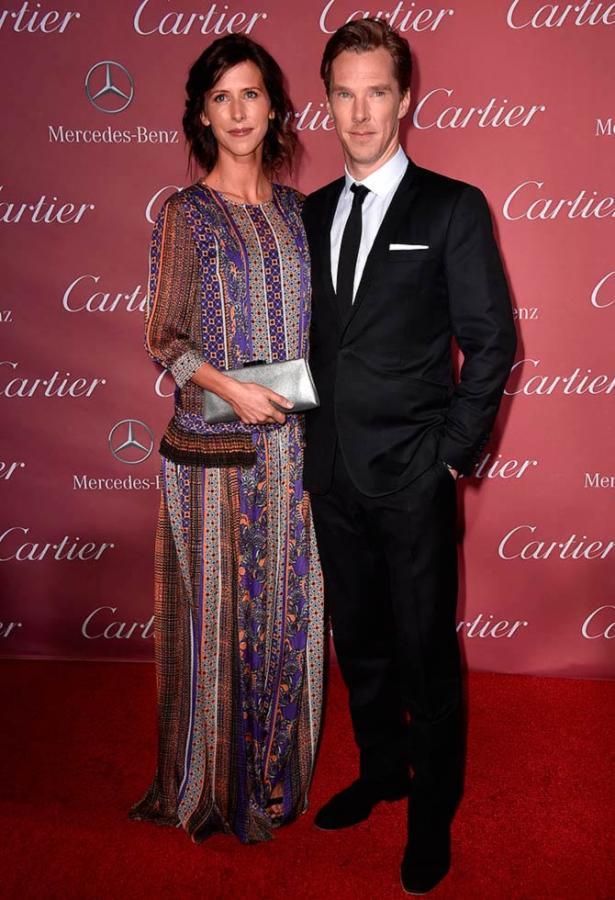 Image: Benedict Cumberbatch, Sophie Hunter. Photograph: Frazer Harrison/Getty Images
Tell me about your involvement in the Sports for Good Foundation.
So Laureus is the sort of forerunner of that.

That's what it is -- it funds the Sports for Good Foundation -- so this award ceremony is fantastic.

Iit brings in sports men and women from all around the world, from all the areas of sport from now and in the past, and celebrates five wins for five categories in the award show but really it's all about bringing attention to a charitable arm called Sports for Good Foundation which is extraordinary.

It's got over 150 projects in over 30 countries it has helped millions of children from deprived backgrounds, and it's this extraordinary thing which Nelson Mandela said in 2000, that sport has the power to change the world And, it really does.

It completely and utterly goes beyond the borders of language, or of politics, and of economic circumstances as well.
You've been involved in numerous charities over the years. Not just this one, after you played Stephen Hawking you got involved in the motion neuone disease Foundation (yes I did) You've also done (the Ice Bucket Challenge, yeah). So this is obviously something that's important to you.

I think so you know, I think you know of course, like anyone does.

I mean I'm in a lucky position where I've got a voice and can draw attention to causes so it's a very healthy aspect of the kind of position I'm in as an actor so yeah, as much as I can.

And I love to help out. This motion neuron disease foundation is very very close to my heart.
I met three extraordinary men who, through their lives, were suffering through various stages of the disease and to observe their behaviour, I had very frank conversations with them about the psychological impact as well as the physical impact -- both on them and their families and care takers -- and try to emulate some of that, absorb some of that into my portrayal of Stephen Hawking.

That got me involved in the charity and I've been an ambassador for that ever since. Very proud to be.
Well, you were born into a theatrical family both your parents were actors. tell us about your childhood, were you dragged to rehearsals?
Not at all. They wanted me to be anything but an actor so I was afforded a very privileged education.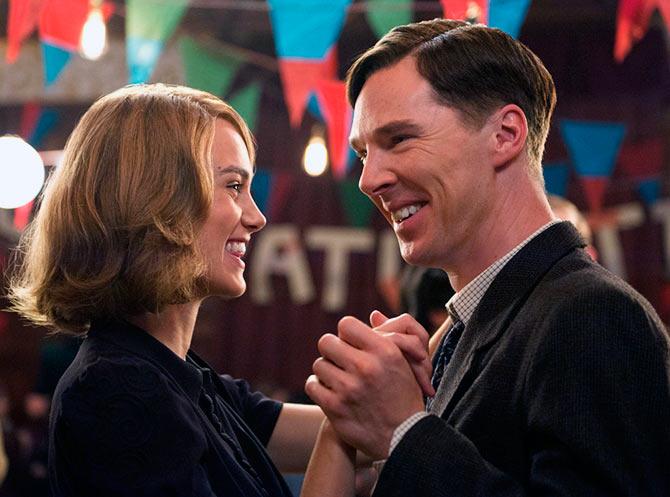 Image: Keira Knightly and Benedict Cumberbatch in Imitation Game
On his character in the Imitation Game.
Well it's sort of, a lot of elements, it definitely ends on that but because I think what you begin with is a film that's quite humorous, there's a lot of compromising and you get this mysterious man who's at the center of trying to solve this mystery so it's a thriller in all kind of sense.
And as they are cracking the code you are understanding more and more about who this complex man is and by the end of the film when you've hopefully warmed up to him by understanding him.

And he really was, he was an exceptional human being, sensitive, caring, brilliant mind but also a very emotional soul so he'd be very engaged in the world around him.

But by the end, when you see how he was treated by the government he helped save, the very democracy he helped saved turned on him, and punishing him for his sexuality in such a barbaric way it's truly heartbreaking.
It is very tragic.

It was an extraordinary privilege to tell that story and bring it to a broader audience. I think people were shocked by how little they knew of this man.

Whether they knew a little bit about what he contributed to modern computing science, he's the forefather of it.

Whether they knew about him as a gay icon, as a man who quietly admitted his nature in a time of intolerance, knowing what the circumstances and the potential outcomes could be from that conversation.
To being someone who, you know, helped crack the German enigma code and bring an early conclusion to World War II which saved millions of lives so, I mean all three of these ingredients but I think very few people are quite aware of how that was one person who accomplished all of those achievements.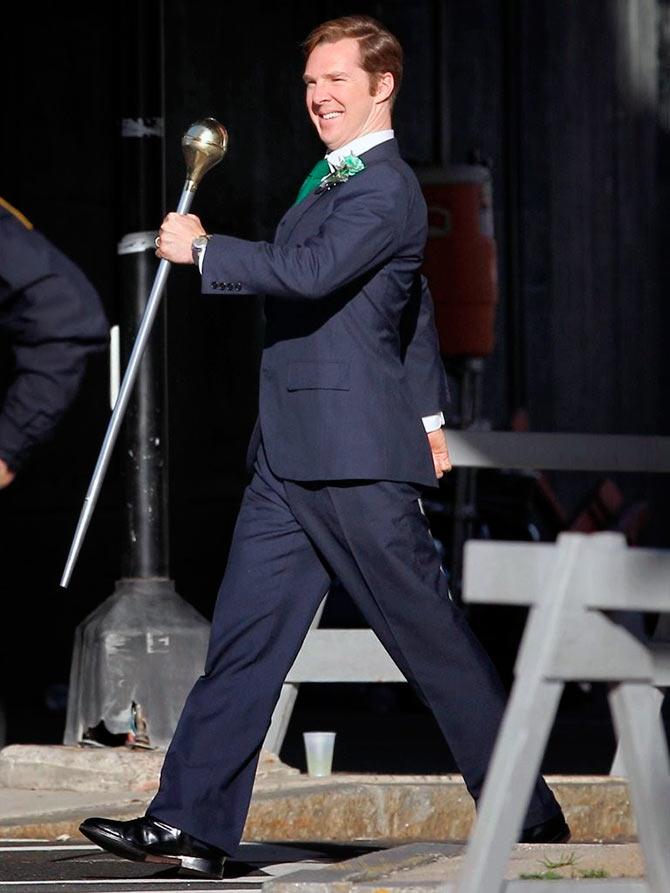 Image: Benedict Cumberbatch in Black Mass
Well there has been these British invasions of Hollywood...

People keep saying that but I think of every year and there's been such a strong content of British performances but also people who've lived part of their lives in the States and part of their lives in the UK where there would be, you know, someone like Christian Bale.

There's just extraordinary work, extraordinary actors across the board and I don't think there's a particular invasion going on at the moment.

I don't think it's particularly tied in with any kind of strata of society but I think there's great work going on at every level.
We know you're working on a number of films. Tell us what is in store for you.

There's a film coming out sometime this year called Black Mass which is an extraordinary project to take part of with Johnny Depp and directed by Scott Cooper which we shot in Boston last Spring and summer, and there's a Christmas Special Show that comes out this Christmas. Very excited about that for the world.