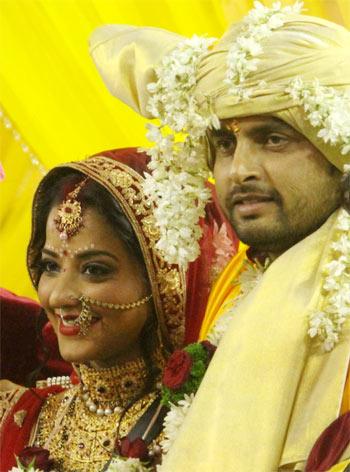 'For any girl, marriage is a big thing. I can never think of faking it for the show. It hurts when people say things like the wedding was scripted or done for TRPs.'
'I am happy to have got married on a TV show with the entire nation witnessing it.'
Mona Lisa talks about her stint on Bigg Boss 10.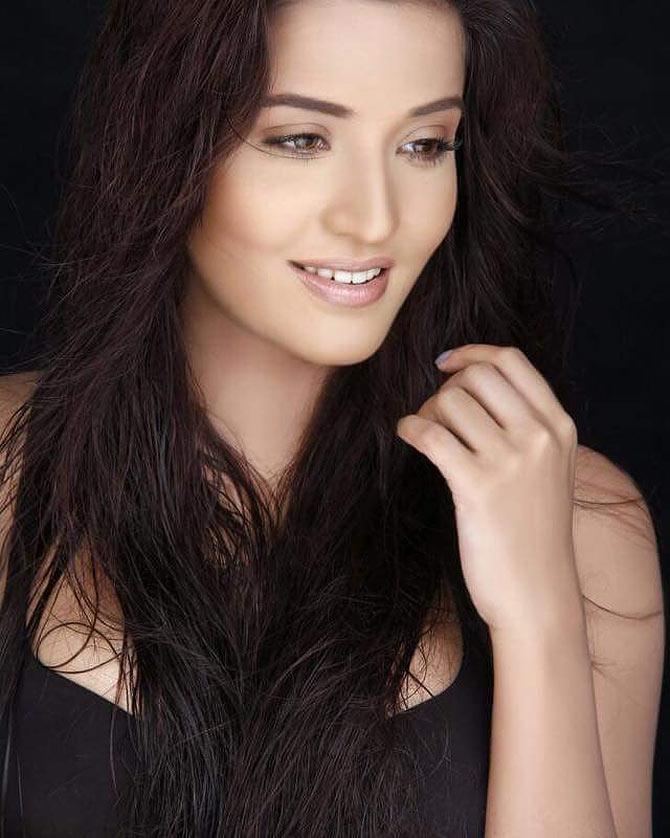 Photograph: Monalisa Antara/Instagram
Bhojpuri actress Mona Lisa aka Antara Biswas is the latest contestant to get evicted from Bigg Boss 10.
One of the most sensitive contestants, Mona would easily break down into tears on the show. In fact, her tears became the joke of the house.
She formed a close bond with Manu Punjabi and Manveer Gurjar and formed the group M3.
Mona got married to boyfriend Vikrant Singh Rajpoot in a grand style inside the house. While many raised eyebrows and called it a publicity stunt, Mona tells Rediff.com contributor Rajul Hegde it was from the heart.
Are you happy to come out of the house just a week before the finale?
Yes. I was thinking that immediately after marriage, meri bidaii ho jayegi but I got to stay for three more days. I am glad I came out because I was always upset inside the house.
None of the housemates cried when I was leaving, as they knew my happiness lay in that.
People have said your marriage to Vikrant was fake and that you were paid Rs 50 lakh to get married on the show.
Vikrant and I have been planning to get married for a long time but some reason, it didn't fall into place. Even our family members were keen that we get married.
The way I got married on the show was a big surprise for me too.
Vikrant consulted my parents and then decided to propose to me on the show. For any girl, marriage is a big thing and it's a special day. I can never think of faking it for the show. It hurts when people say things like the wedding was scripted or done for TRPs.
If I didn't get married on the show, I would have gotten married after four-five months anyway.
I am happy to have got married on a TV show with the entire nation witnessing it.
Go on.
We are in a serious relationship for the past last eight years. We fell in love during a Bhojpuri film in 2008. Since then, we have been living like husband and wife. The only difference was that I was not wearing a mangalsutrra and sindoor before.
If we had to end our relationship, it would have happened by now.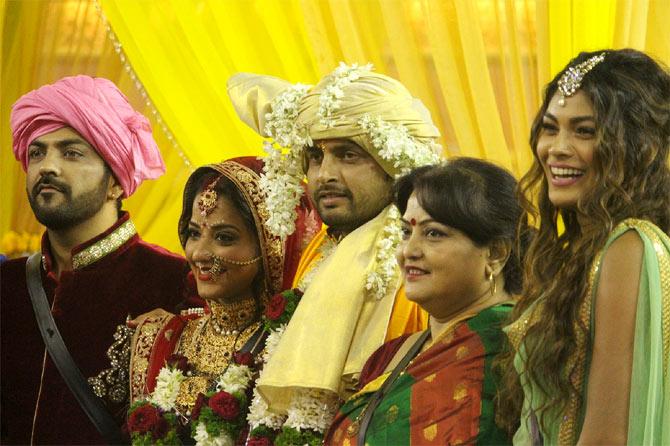 IMAGE: Manu, Mona, Vikrant, Mona's mother and Lopa pose for pictures after the wedding.
Vikrant suspected your friendship with Manu.
I felt bad when I learnt that he suspected me. Now he tells me that when I watch the show, I will understand why he felt that.
I am an actor and go for long outdoor shoots. I do romantic songs and scenes. I hang out with my co-stars.
I wasn't questioned then, so there was no question of Manu and me getting attracted to each other. Both of us knew that we were engaged and in steady relationships. We were sorted from Day One.
Manu, Manveer and I would always be together, crack jokes and pull each other's leg. People watch the edited version of 24 hours. The way it was presented must have given him a wrong impression or he must have misunderstood.
Manu never used me or my friendship. There may have been times when he sacrificed himself to save me from nomination. He had to burn the doll his girlfriend gifted him just to save me. We had mutual admiration and respect for each other.
Video: Watch Mona's wedding here!
Karan Johar, who was a part of the Raees special episode on Bigg Boss, said if he signed a film deal with you, it would last longer than the marriage.
I have not watched the entire episode. I don't know what he actually said.
I just watched the part where he said, 'Lipstick lagane se shaadi thodi hoti hai.'
He may have been joking because everybody was laughing. But I feel bad when people make fun of my marriage. We are from a middle family. We don't take money for such emotional things.
Nithibha Kaul said you were not competitive in the tasks, unlike her.
I don't know why this has been said. I was not competitive in physical tasks but I would give up only after giving my 100 percent.
I thoroughly enjoyed tasks that involved dance and acting. I have been dancing and singing from my childhood. Dance is my passion.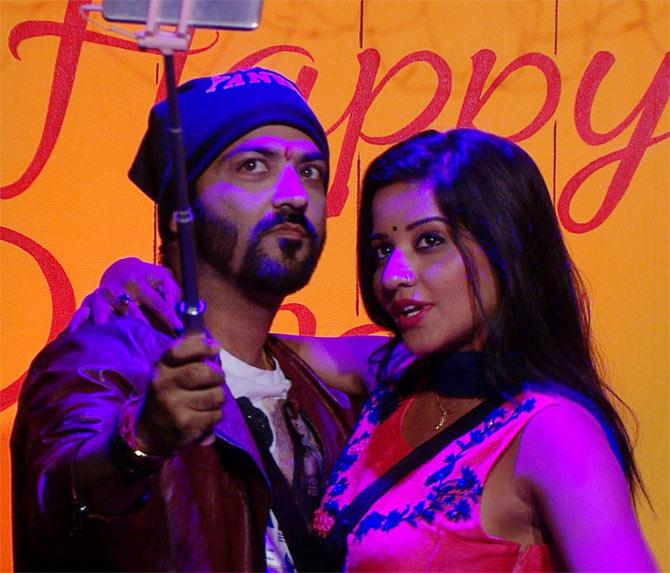 IMAGE: Manu and Mona's selfie moment during a task on Bigg Boss
How would you describe your experience in the house?
The biggest task on the show is to pass time. For me, every minute was like an hour. I used to cry so much with no family and friends.
I didn't understand the game the way others did, so I thought I would never reach this far. It feels like an achievement.
But it was a unique experience. The biggest high was when I got married on the show.
What is the reason for Lopa and Banis conflict?
I think in the first task, Bani tricked Lopa. It may have started from there. It kept increasing and never ended.
You didnt get along with Priyanka Jagga and Swami Om.
I want to delete those two people from my life. They were the most horrible people in the house. I have had major fights with Priyanka. She would often target me, say things about Manu and me.
I never liked Swami Om. He would call us beti. As he was old, we had a soft corner for him, so we would forget everything and chat with him. But what he did with Bani and Rohan (click here to read) was unpardonable.
What do you have to say about the host Salman khan?
I have interacted with him for 14 weeks but I would get tongue-tied during Weekend Ka Vaar.
He congratulated me after I got married on the show.
After my eviction when I went on stage, I was not able to talk again. He is a very nice person.


Photograph: Monalisa Antara/Instagram
What next after the finale?
After the finale, we plan to go on holiday.
Our relatives from Kolkata and Uttar Pradesh are asking us for a reception, so were thinking of having one.
Who do you think will win Bigg Boss 10?
I would want Manu or Manveer to win the title.
Whats up next for you?
I will finish shooting my pending films.
I would like to work in TV if I get interesting roles.
I have done 150 films, in almost all the regional languages, except Marathi. I have done 20 small-budget Hindi films.