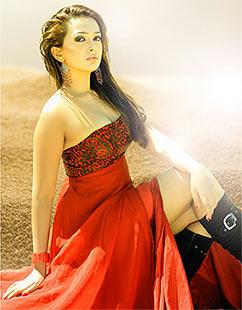 Ester Noronha is on home turf. The Mangalorean actress debuted in the Kannada movie Usiriginta…Neene Hattira that released last Friday.
Her popularity in Telugu cinema zoomed earlier this year with the success of Bheemavaram Bullodu.
Ester did her primary schooling in Bahrain and continued her schooling at St Jerosa Convent in Mangalore. She has a Bachelor's in Political Science and Psychology from St Xavier's College, Mumbai, and is currently pursuing her Master's in Political Science.
Ester is a trained dancer and a Carnatic music vocalist. She has also completed eight grades of classical piano from Trinity College, London. She plays the guitar as well.
In this interview, Ester Noronha talks about her first Kannada release and future films.
What was it like acting in your first Kannada film?
I enjoyed working in my first Kannada film. I wanted to work in a Kannada movie which would allow members of my family see the film and understand what I am saying.
Doing good movies in any language is what matters. I wanted a debut vehicle in Kannada that would portray me as a real person with certain qualities and not just like any other glamour plastic doll.
How convincing was it to play the role of a woman who leaves her lover suddenly?
I play the 'you' (in the title) that the hero is obsessed with. He is obsessively in love with the heroine, her beauty and her nature.
I play the loveable, sacrificial and mature person in this love triangle that goes round and round in circles.
What I liked about this role is that the girl Rashmi steps out of the hero's life for the good of the hero.
How did you get to sign this Kannada film?
I liked the approach of the director. He was professional and the unit was very respectful and positive in treating people.
I liked the way the director narrated the story to me. I look for reasons for me to play a particular role. I found Rashmi's character to be so humane in approach and true to life.
What do you look for in a role?
I look for fresh content. I love working with freshers who are brimming with fresh thoughts and ideas.
I am not jumping at all the offers that come my way. I intend to take up roles that people will remember for a long time.
I don't want to get typecast. I feel people should like me for a reason.
I am still a newcomer and I feel a fresh team is good for me. I don't want a heavy team but I want a good director who can take out the best from me.
Which are your forthcoming projects?
I have worked in about seven films altogether. I have just started work on another Kannada film titled Chinna Chinna Aase, opposite Krishna (of Madarangi fame).
There's a Hindi film Mr Money that is under production in which I am cast opposite Krishna Abhishek.
I am also doing a Telugu film titled Jalsaravyudu, opposite Srikanth.
I am doing a Hindi movie Storyyaan, to be directed by Arshad Siddiqui, opposite Irrfan Khan, which will be a bit later.