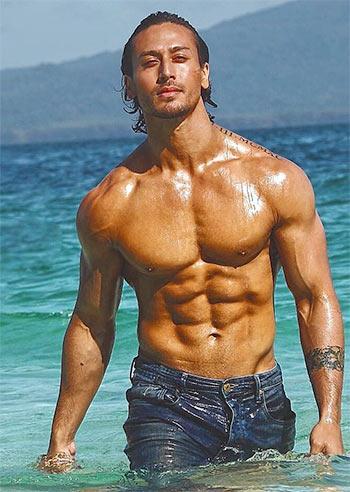 'I wanted to play a superhero in my first film itself. I am perfect for the role.'
'I have a dream of working with Hrithik Roshan one day. Like Batman and Robin, what if we made a film with Flying Jatt and Krrish some day?'
Tiger Shroff is back, this time as a superhero!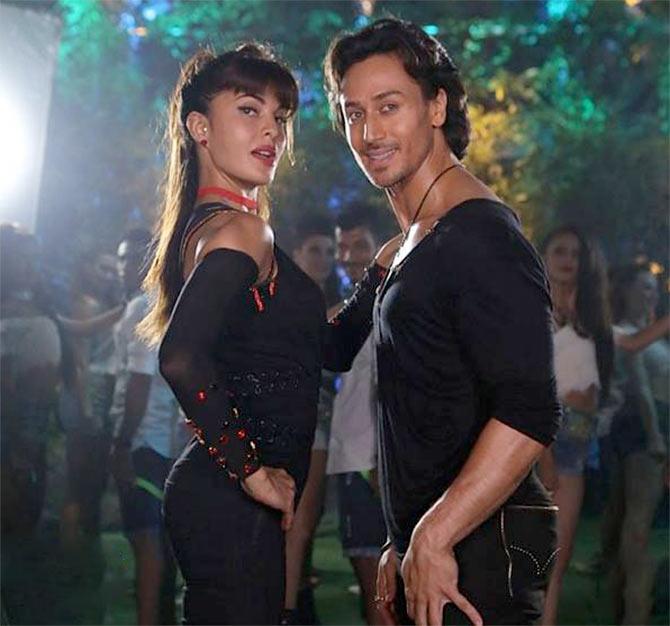 IMAGE: Jacqueline Fernandez and Tiger Shroff in A Flying Jatt
After back-to-back hits in Heropanti and Baaghi, Tiger Shroff will play a superhero in A Flying Jatt.
Tiger's career is looking very bright, thanks to his string of interesting films in his kitty -- from Student Of The Year 2, Baaghi 2 and Munna Michael.
Tiger chats with Jahnavi Patel/ Rediff.com, and tells us what makes him so different from the rest.
How realistic will the fight sequences be in this superhero film?
He is a different kind of a superhero.
I am scared to use the powers that he possesses because I have vertigo and cannot fly at a height.
He is a darpok (coward) sort of a character. He is not a superhero like Krrish, who can take on anybody. He is scared of his mother. But then, even I am scared of my mother!
The mother takes advantage of the fact that her son is a superhero and makes him do the household chores.

Do you do the daily chores at home too?
Only my room. I used to go to buy vegetables but I don't get the time now.
Your father Jackie Shroff has played a superhero in Shiva Ka Insaaf. Do you have any memories of that?
I used to play a (video) cassette before sleeping. When I found Shiva Ka Insaaf, I used to watch that on loop because it was a great joy to watch my father as a superhero!
How do you take criticism?
Criticism is good because I can grow as a performer with each film.
I hope that the critics appreciate Flying Jatt because this is a very different character for me; I have tried something different. This is the first time I have experimented with action and comedy. It was a difficult role for me.
Watch: What would Jacqueline, Tiger and Remo do if they were superheroes for a day?. Video: Afsar Dayatar/Rediff.com
Don't you think you played a superhero too soon?
Honestly, I wanted to play a superhero in my first film itself. I am perfect for the role.
What's the one thing you will never do on screen?
I wouldn't like to take up a role where the character is into drugs, alcohol or smoking.
For now, I don't want to do a dark film.
I want to establish myself, prove that I am like this. After four-five films, I'll do something different.
I am lucky that most of my fan following are kids. I try to choose my films keeping them in mind. They are the future of our country. I want to do clean, noble characters so that I don't influence them in the wrong way through my films.
How important do you think movie promotions are?
They are very important but I hate promotions. It's not fun for me. It's very tiring.
I used to think that after completing the shoot, my job is done, and I had to just wait for the release. But this is the real hard work -- telling people about your film.
You've taken a different route in Bollywood by showcasing your dance and action. Was that a conscious decision?
Yes. I did not have acting experience, so I had to show something different to the public. I wanted to be accepted for my individuality.
Just because I am Jackie Shroff's son, I didn't want people to say that he is like his father or that he got his break because of his father.
I consciously took a different road and did films that allowed me to express my talent.
I can say that not many people can do the things that I can, so I automatically get an identity.
There's so much competition now, you have to be different.
Were there any injuries while shooting for A Flying Jatt?
Yes, as I was fighting with Nathan Jones. He is seven feet tall, and very strong. There was a lot of contact with him and sometimes we had to pack up! Even if he applied 50 percent force and didn't hit hard, it would to hurt.
But he's a wonderful human being and down-to-earth. I got to learn a lot from him.
He has also been a wrestler so the way he would react to my punches, his body language and expressions, it would like it's actually happened.
The action has gone to another level because of him.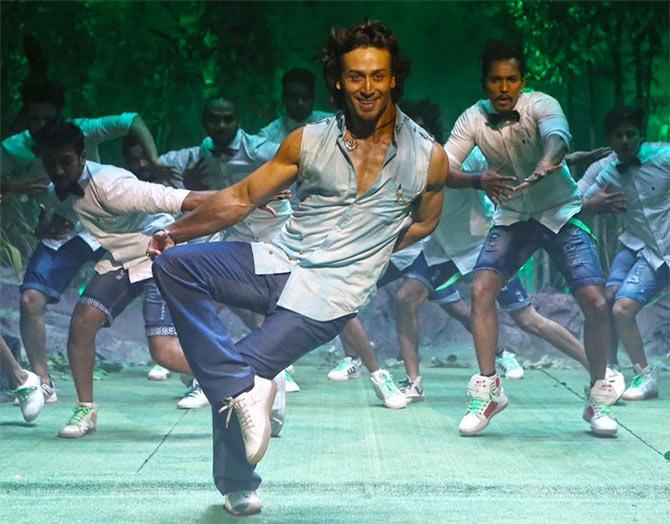 IMAGE: Tiger Shroff in A Flying Jatt
Both your films have become hits, and you have become a star. How do you tackle stardom?
I don't want to call myself a star yet.
When I become a star, I'll know that I have a responsibility on me -- a lot of people look up to you when you're a star. The films you do, the choices you make off screen, the events you attend, what you say off and on camera is very important because a lot of people get influenced by you.
You will now be a part of Student Of The Year 2.
Kismat acchi hain meri (my fortune is good) that he (Karan Johar) chose me for the role and to take the franchise forward.
I will try not to let Karan sir and the original students (Varun Dhawan, Alia Bhatt and Sidharth Malhotra) down.
For now, it's just me in the film. There will be two new girls.
They are still working on the script.
Would you take up a film if there's no dance number in it?
Of course!
After Student Of The Year 2 and Munna Michael, I think I would have expressed most of my talent, so I'd like to do a different kind of a role.
But your fans would expect you to dance...
Definitely. But it would be like an overdose.
What is Munna Michael about?
It's a dance-based film; a story about Michael Jackson's fan.
After SOTY 2 and Munna Michael, I will be doing Baaghi 2.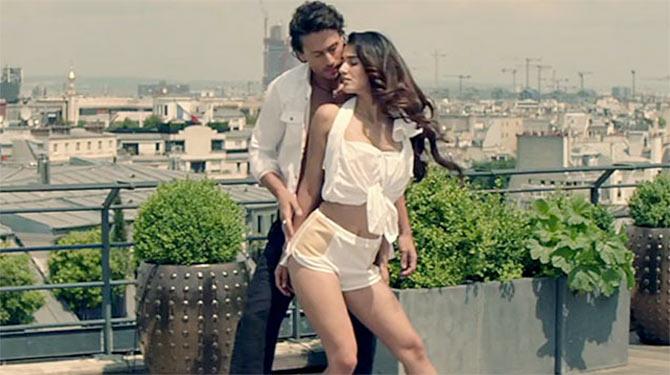 IMAGE: Tiger Shroff and Disha Patani in Befikra
You have done singles like Zindagi Aa Raha Hoon Main, Chal Waha Jaate Hain and Befikra. How did those happen?
Singles are very important, in the middle of films, to give your fans a treat.
Every now and then, I like showing my fans what they like to see.
Thanks to Bhushanji (Bhushan Kumar, T-Series chief), singles have become a platform for a lot of actors to show their talent between films.
It's also good PR. It's better than doing an advertisement. Instead of just posing for a photograph, show some talent or expression on screen.
Would you like to do a multi-starrer film?
It depends on the script.
I have a dream of working with Hrithik Roshan one day.
Like Batman and Robin, what if we made a film with Flying Jatt and Krrish some day?