'I love him (Sidharth Malhotra), there's no stress. I am not nachaoing him, in films or in real life.'
Alia Bhatt gets candid about what she loves.
Alia Bhatt may have just turned 23 -- (she celebrates her birthday today, March 15!) -- but she's full of wise words.
During a promotional interview of her new film Kapoor & Sons, the young actress claims that she wants to balance her mainstream movies with intense films like Highway and Udta Punjab.
She also states that films these days are not only about love, there are 'different movies' happening now, and she wants to be a part of them.
The fashionista chats about her latest film, her co-stars Sidharth Malhotra and Fawad Khan, and much more. Jahnavi Patel/ Rediff.com listens in.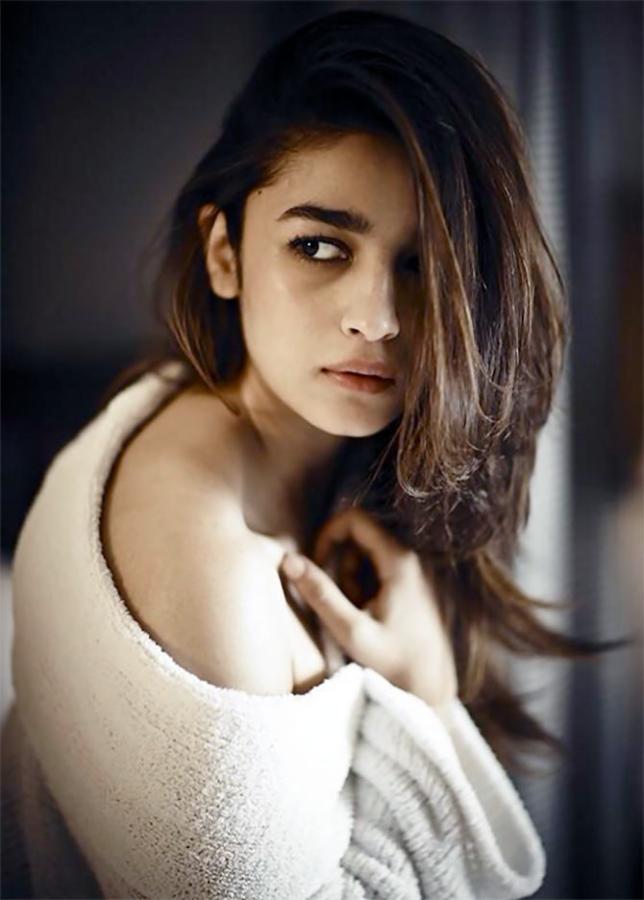 IMAGE: Alia Bhatt. Photograph: Alia Bhatt/Twitter
Kapoor & Sons is a story about a dysfunctional family. Tell us about your character.
My character Tia adds a bit of laughter; she's one of those girls who are randomly happy about everything.
She wants to have fun every moment of her life.
She is constantly playing pranks on people and messing around with them.
She is also hiding something, something that is bothering her. That's why she tries to find goodness in everything. There's is a lot of depth to her but she also has a light side.
How similar are you to your character?
If you see Kar Gayi Chull, the way she dances and parties, I'm like that when I am with the people I love. I can go all out when I'm happy but I can really go down as well. I am a very moody person, a typical Piscean. That works against me sometimes.
There are some differences as well. I am not as vocal and chilled out as Tia is. I am more hyper. Tia has a very simple and normal approach to life.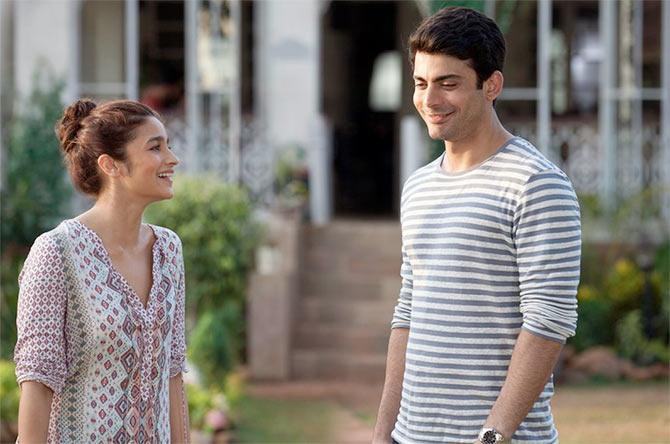 IMAGE: Alia Bhatt and Fawad Khan in Kapoor and Sons
How was it working with Fawad Khan?
I was completely blown away by his performance, the way he delivers as an actor. He completely transports you into another world.
Now I see why women are crazy about him!
He is so mesmerizing and has so much to offer on screen. His presence is so strong, his eyes speak so much. We had a great time.
In Student Of The Year, there was a love triangle between Sidharth Malhotra, Varun Dhawan and you. Now in Kapoor & Sons, there are two actors again, Fawad and Sidharth. How easy was it for you to work this time?
There is never something easy or difficult, in terms of playing characters. Kapoor & Sons is not a love triangle. The film is about a family, and relationships.
Working with them was lovely. We would constantly play cricket, or games like Dumb Charades, Gold Spot... We were only playing games. I don't know when we shot! We had a lot of fun in Coonoor.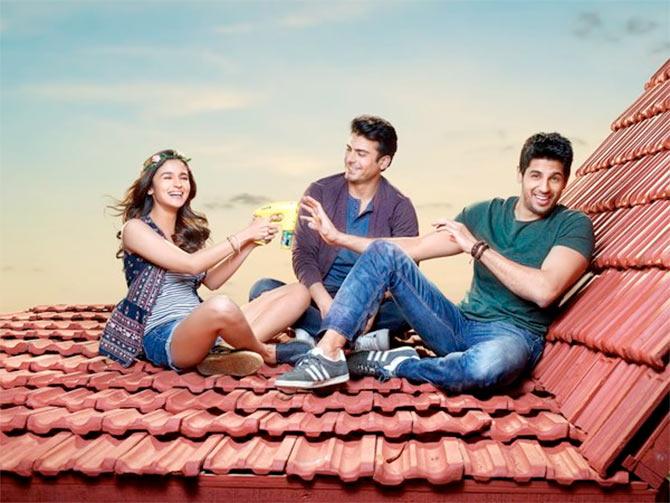 IMAGE: Alia Bhatt, Fawad Khan and Sidharth Malhotra in Kapoor and Sons
After Student Of The Year, you were seen in a serious role in Highway. Now, your upcoming film Udta Punjab has a dark theme. Are you trying to balance the kind of movies that you do?
Honestly, Udta Punjab was not even offered to me. No one, at least not the director, expected me to do the film. He didn't even come to me with it.
Shahid (Kapoor) gave me the film to read, and I fell in love with it. I said I had to do the film, and that's how it happened.
But yes, it is a conscious effort to balance it out. I don't want to be known as a pretty face. That's not why I am here.
So how do you choose your films?
Let me give you an example. In Kapoor & Sons, my screen time is probably the least because the film revolves around the family.
For me, it's the film and then the character. If it's a good film and an average character, I will tell the director to work on my character but if it's a good film and a great character, I tell the director to give me my schedule.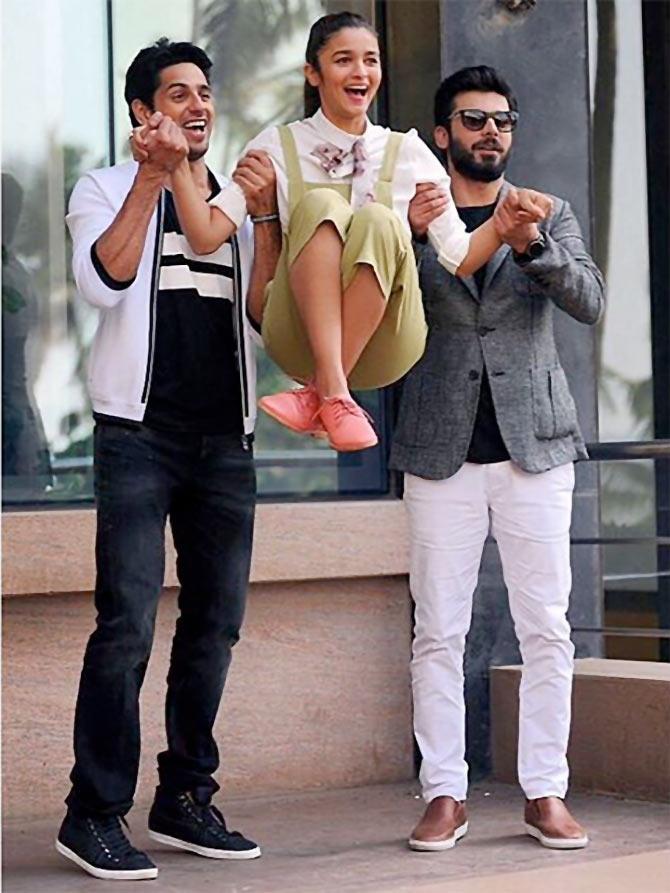 IMAGE: Sidharth Malhotra, Alia Bhatt and Fawad Khan. Photograph: Alia Bhatt/Instagram
Shaandaar did not perform well at the box office. What do you think went wrong?
I would not like to point fingers.
Making a film is a collaborative effort. I just feel that it did not come together -- what we had set out to make and what we finally achieved, we did not have that synergy. That's why the film probably seemed disjointed.
But no hard feelings and no regrets about doing it because I have a lot of pleasant memories and have learnt a lot from it.
After that film, I have actually become calmer as a person. I am not hyperventilating in my head about everything because eventually, it is the film that will do its magic. If it is a good film, it will do well.
Has Shaandaar made you choosy about films?
No, I was choosy anyway. I still choose the films the way I did before. Nothing has changed, except that I have opened my head a little more, and become more aware. Earlier, I would only read the script but now, I ask for a narration as well.
You have worked with some of the best directors in the industry. Which director's sensibilities do you find difficult to match up to?
Shakun Batra, because he is a very particular director. He is not easy to please.
Usually, it takes one or two takes but Shakun will go on and on because he wants to get something out of you. Some magic will come from somewhere and he will play with that.
Shakun is difficult but one of the best directors I have worked with.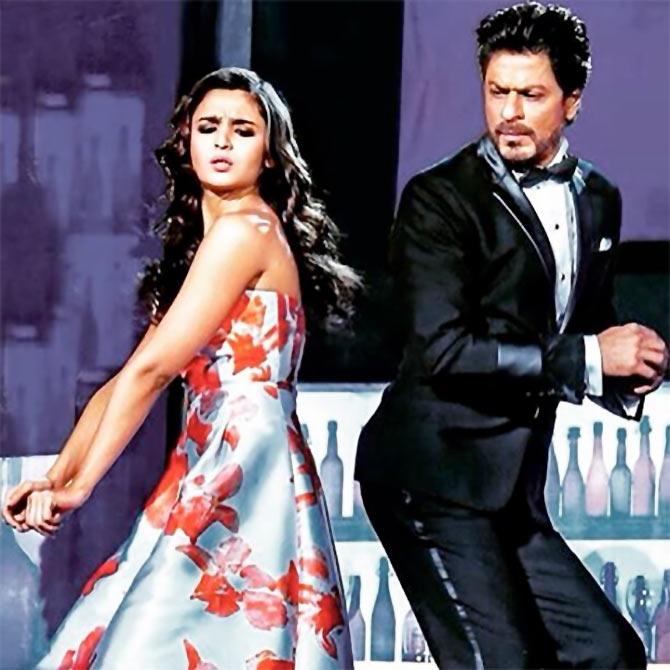 IMAGE: Alia Bhatt and Shah Rukh Khan. Photograph: Alia Bhatt/Instagram
Earlier, nobody would have expected you to do a film with the Khans because of the age gap. But now that you're doing a film with Shah Rukh Khan. Do you think that will open doors for you to work with the other Khans?
I hope so.
I am being offered roles with older men even now because it's not only about love stories any more.
The problem is that we have always had love stories at the forefront. These days, films are not only about love. Yes, there is love, since that is present in everyone's life but that's not the most important thing.
There are different films happening, about different types of relationships and moments.
How was it working with Shah Rukh Khan?
He is fantastic, and my favourite co-star!
He was so lovely, it was easy working with him. He was so obedient that he literally listens to everything that everybody says. I haven't heard one chu from him -- he's never complained on the sets.
It was really hot during the shoot, and I would ask for things. Shah Rukh gifted me a nice portable fan! He has the most amazing energy to work with and I can't wait to go back on sets with him. We start shooting for the film again from March 23.
Also, I got to learn so much! I was just observing him. He does homework for every scene and visualises what would happen before and after. That helps when you are putting a character together.
Were you ever intimated by him?
Yes, for five minutes.
He doesn't make one feel intimated. He makes you feel comfortable. I was very nervous but I have an easy relationship with him.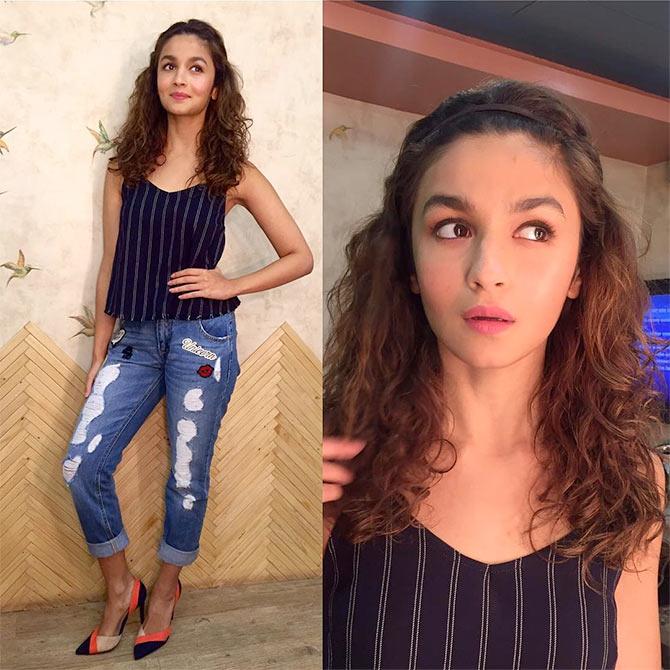 IMAGE: Alia Bhatt. Photograph: Alia Bhatt/Instagram
Do you have any plans of working in international projects?
Oh yes but not now. Let me first do something here.
What kind of films would you like to do there?
I would like to do films like Silver Linings Playbook or Brooklyn -- films that are character-driven and romantic. Also, something intense like Blue Jasmine.
You are doing Ayan Mukerji's superhero film with Ranbir Kapoor. Will you be a damsel in distress or will you do some action scenes?
I am not sure about the action part but it will not be a run-of-the-mill superhero film.
Ayan's head, I think, has a magnificently genius brain. I can't wait to start making it. We will start shooting by the end of the year.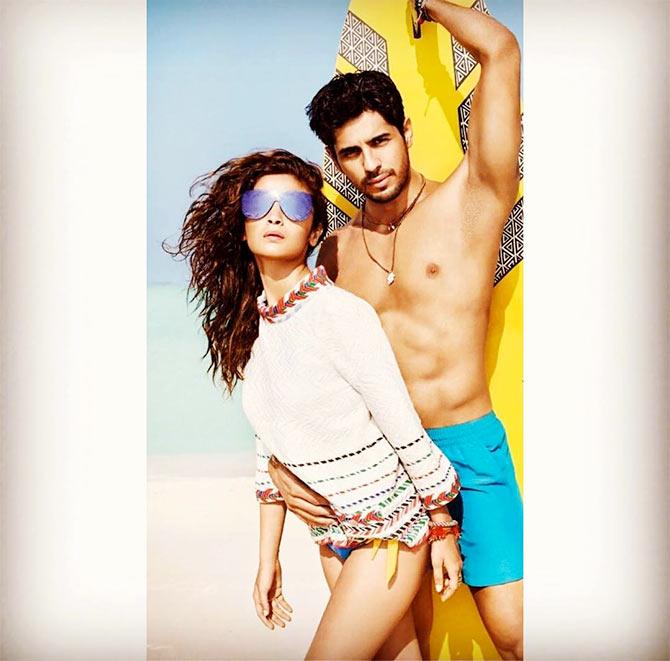 IMAGE: Alia Bhatt and Sidharth Malhotra. Photograph: Alia Bhatt/Instagram
Are you dating Sidharth Malhotra?
I love him, there's no stress. I am not nachaoing (making him dance to my tune) him, in films or in real life.
Which biopic would you like to be a part of?
I would love to do a biopic on Pakistani singer Nazia Hassan because we lost her at a very early age. One of her first songs Disco Deewane was in Student Of The Year. She has a very interesting life story.
Which Bollywood remake would you love to do?
Dil Hai Ki Manta Nahin and Dil Toh Pagal Hai because I love these films.