'I never wanted to be a niche actor; I want to be a commercial star heroine.'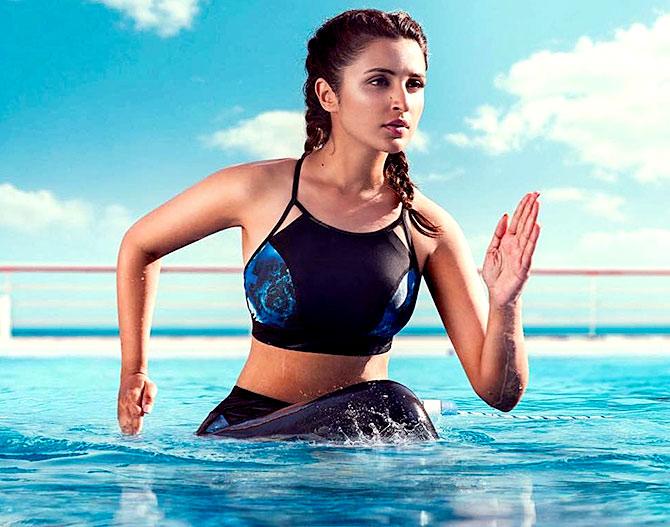 Parineeti Chopra reunites with her Ishaqzaade co-star Arjun Kapoor in the Dussehra release, Namaste England.
Pari and Arjun will also be seen in Yash Raj's Sandeep Aur Pinky Faraar.
"I hope the media and the audience sees the variety I bring to the movies," Parineeti confesses to Rediff.com Contributor Ramesh S.
Tell us about your character in Namaste England.
Jasmeet is married to Arjun Kapoor's Param.
They get separated only to reunite in the climax.
Jasmeet is an ambitious and driven girl who flies away to London.
A love-struck Param is ready to go after her 'legally or illegally'.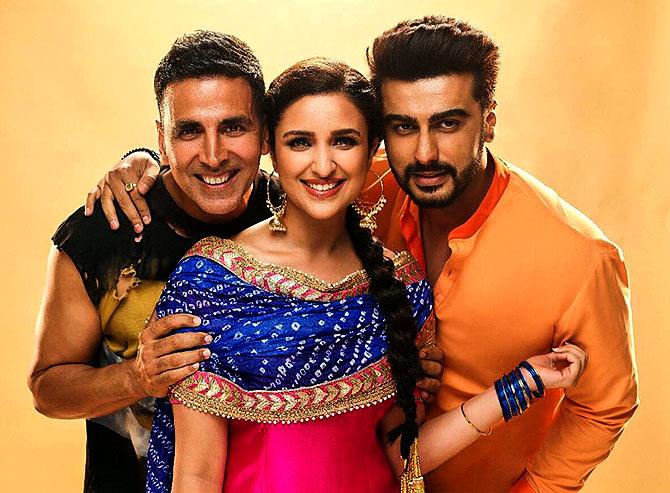 The first trailer of Namaste England was confusing, but the second trailer looked exciting. Were you nervous with the audience reaction after the first promo?
We were surprised with the reactions from the first trailer.
After watching it, we realised that the audience wanted to know a little more about the story. So we decided to release a second trailer that will reveal more twists and turns.
I am happy that it has been done in that way.
Songs like Proper Patola, Bhare Bazaar and Tere Liye have become hits. I am happy there are three hit songs in the album; we thought hardly one or two would become hits.
Tu Meri Main Tera, sung by Rahat Fateh Ali Khan, is also going strong.
I think we are on the right path, thanks to hit songs and a good trailer.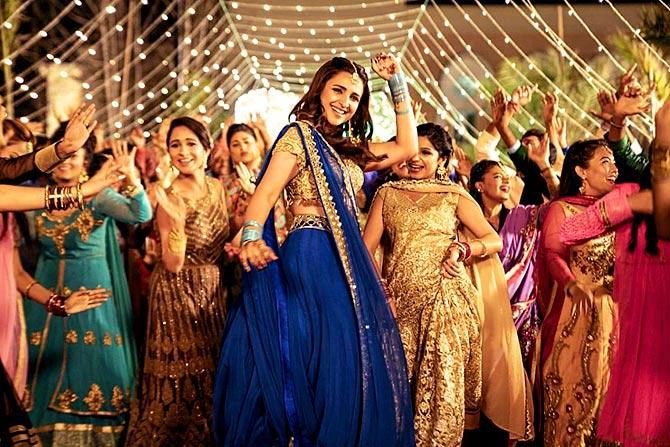 You are reuniting with Arjun Kapoor in Namaste England six years after Ishaqzaade. The two of you will star in Sandeep Aur Pinky Faraar as well. How much has he changed?
Yes, there is a change post Ishaqzaade, but it never affected me because our friendship is beyond that.
I really understand him.
People tend to misunderstand him because he has a very deadpan face. But he is not that kind of person.
He needs a trigger from someone to get energy, and usually, that's me.
People don't make an effort to understand you and often judge from your expressions.
The change that I have seen in him is the effort he puts in now so that people understand him better.
He puts in that effort in front of the media, his fans, and even his friends and family, so that what he feels inside shows on the outside as well.
Hopefully, people will not misunderstand him now.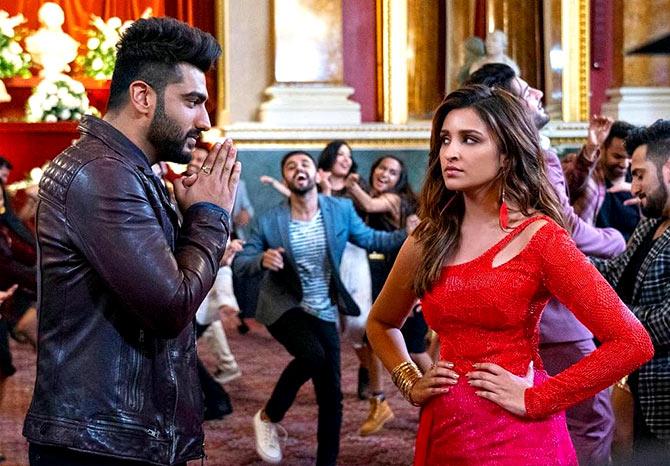 Your character talks about women empowerment in Namaste England. Do you feel marriage in India is somewhat a hindrance for women to achieve their dreams?
I don't think it is marriage, it is our patriarchal society which suppresses dreams from childhood.
Thankfully, I have very cool parents.
My parents did not try to subdue my dreams. They didn't say you are 18 years old now, it's time to settle down with marriage and kids.
They gave me freedom.
So, people know that I was into banking and now, I act and sing in films.
I believe 9 out of 10 women are suffering from this patriarchal society, and so cannot achieve their dreams.
They are being taught from childhood that they are born to get marriage and have kids.
Our patriarchal society only wants to invest their money on boys.
I still remember my father took a huge loan for my studies abroad, and people were surprised with that decision. They wondered why my parents were spending lakhs of rupees on my education and not on my brother's.
I don't understand why our society is so gender-specific because girls are more hard working than boys.
I hope such things change in our society, so that by the time I have my children or grandchildren, we laugh that such things existed.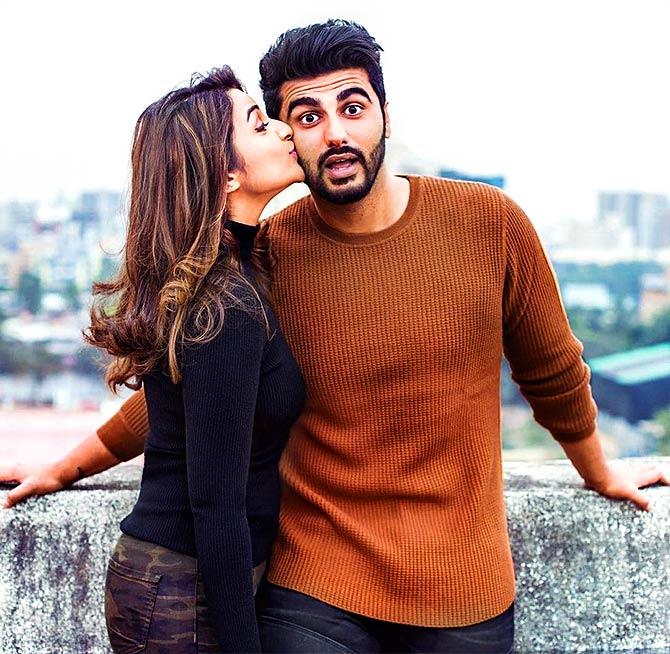 Where did you study abroad?
I studied in Manchester and then moved to London for work.
Manchester and London will always feel like home for me. Whenever I visit these cities, I feel nostalgic.
I have spent some of the most important years of my life in London.
You have had hits and flops. Do you think an actor is constantly judged on the basis of her/his next film?
I think it is hard to break an image in the industry, but I believe that the way my career is getting shaped is correct for me.
I didn't come as a glam doll in my first film Ladies Vs Ricky Bahl. I came as an actor who is serious about acting and that I wanted to prove myself.
I never wanted to be a niche actor; I want to be a commercial star heroine.
So, I want to make those commercial choices.
Hopefully, people will not say that Parineeti performed badly in Golmaal Again and Namaste England.
I want to set the level of my performance in a way that it can never be questioned.
I want to be in that position where actors like Rani Mukerji, Kajol, Anushka Sharma or Deepika Padukone are never questioned.
There are many girls who make their debut as a proper female lead but take years to prove their acting ability.
They are never taken seriously and only considered as a pretty face.
I don't want to be in that position because I am not that kind of person.
I am very glad with the way my career has shaped up.
In the future, I want to do mixed genres. For instance, I would like to do masala movies as well as concept-based films.
So I hope the media and the audience sees the variety I bring to the movies.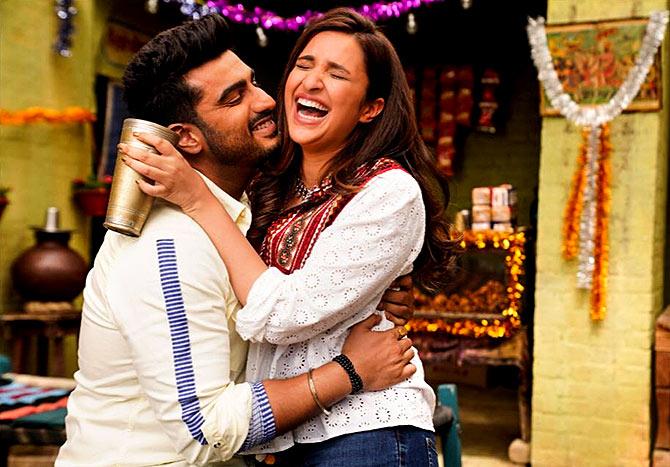 #MeToo has made its way to Bollywood. Do you feel it is fair for films to get punished when people accused of sexual harassment are involved in it?
I am sure that will be avoided because the people who are accused will be removed.
The films will be made because of the respect for the crew members and other actors who have worked on it.
I don't think the work of hundreds of people will go waste.
So the particular offender will be removed and boycotted from the industry.
It happened in AIB, Housefull 4, Super 30, and so on.
First acting, then singing. What next? Any plans to don the hat of producer like your cousin Priyanka?
(Laughs) I hope so!
There are so many things to learn around me, I am trying to learn more and more in terms of film making.
The moment I feel I have some control and enough knowledge, I will make films for sure.