'It's the relationship that is important.'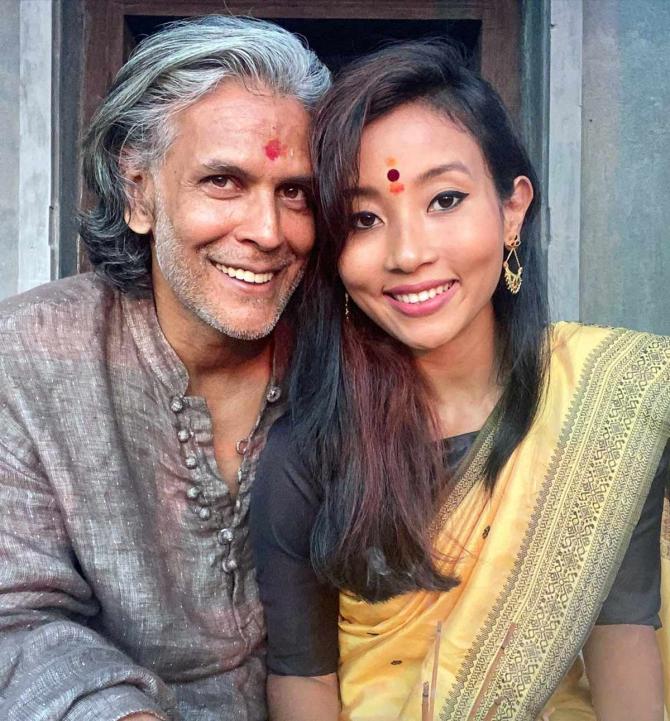 Milind Soman is riding high on the success of his new show, Paurashpur.
He plays a transgender named Boris and his bare body look with long hair, a bindi and a nose pin is drawing more attention than the show itself!
But Milind insists there's more to it.
"Apart from the glamour, sex and violence, there is a social awareness in the series that talks about sexism, gender inequality, discrimination and so on," he tells Rediff.com Contributor Sameena Razzaq.
Your bare body in Paurashpur is giving fitness goals to fans.
We aim to please.
We wanted to create a character that looked special.
I think all the characters have been defined really well.
The casting is quite good from what I read and saw because I didn't know a lot of the actors from before, I haven't seen their work.
After working with them and seeing their scenes, I think the casting is spectacular.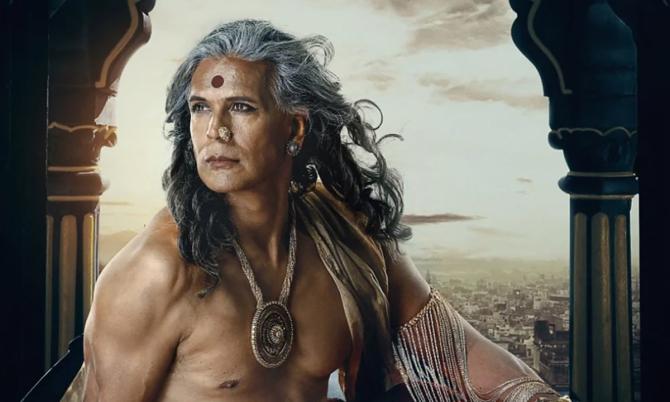 The plot of Paurashpur endorses ending sexism and misogyny, but the show says otherwise with oodles of sex and nearly naked female bodies.
Apart from the glamour, sex and violence, there is a social awareness in the series that talks about sexism, gender inequality, discrimination and so on.
It's interesting to have this conversation.
There are also people who will say that this is not the kind of conversation we want.
People will get distracted by the sex and violence and they won't think about anything else. That's also true but in every story ever told, that is the case.
If you look at Grimms' Fairy Tales, Cinderella... there is an overarching entertainment angle to it.
Inside that story, you will see the levels, the aspects of humanity that make you think.
I know globally, there are so many different genders.
Everybody wants to be recognised for who they are and they don't want to be slotted.
But at that time and even today in India, we recognise three genders, that's it. A man, a woman and a eunuch.
Other countries have more definitions and more explanations.
Other countries have more tolerance as well. Do you agree?
I don't know.
Do they have more tolerance?
I mean look at the United States. You would like to believe but it's not like that.
Homosexuality is illegal in so many countries; there is a death penalty.
Discrimination has definitely not ended yet.
I am not just talking about sexual discrimination -- there's discrimination across so many levels, be it economic, social, religious, race, colour, gender...
It's always us versus them and that is not changed.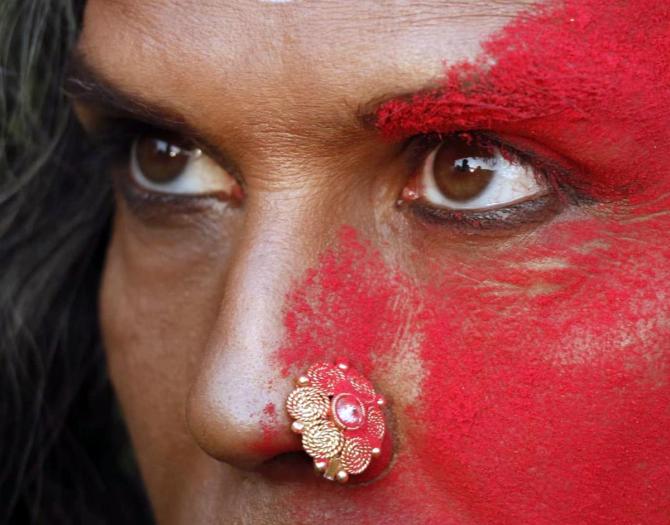 This is the first time you play a transgender. Your look has drawn more attention than the show.
Eunuchs have been portrayed on the Indian screen before and you have seen the look here.
We wanted to get away from the stereotype as much as possible, you know, the behaviour, the language, the attitude.
We wanted to focus more on human aspect of Boris, like who he is as a person rather than the way he behaves.
There are no mannerisms, no loud body language.
Director Sachindra Vats told me that your look is so powerful, you don't need to do anything.
We need to give the character that dignity.
We need to give the character that status by just being real, not over doing it.
As Boris, you are making a strong case for gender equality and for transgenders.
He is not the king and he is not the populace. Still, he will make a difference.
He realises that as the third gender, he is not accepted in society.
He has no standing in society. And that is what he has fought for.
He doesn't even live inside the city.
He helps women who have been outcast.
So when he says I fight against discrimination, he is not fighting for himself anymore. He has fought for himself his whole life and now he is fighting for other people.
He has given up trying to make a point for himself.
He lives the way he wants, dresses the way he wants, says the things he wants without any thought of the consequence.
He feels if you don't accept me as part of your society, then you have no rules for me. You can't punish me. You can't do anything to me.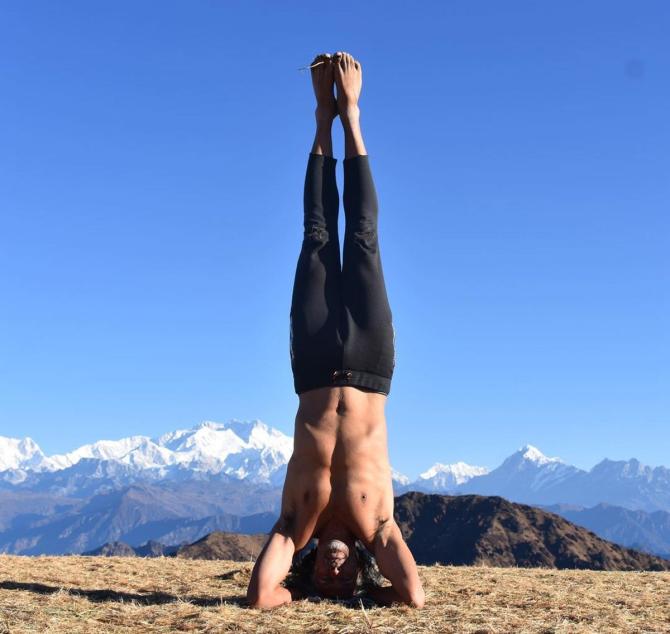 We saw your bare-bodied headstand recently. You are taking fitness to a new level.
These are absolutely ordinary things that I do.
We have forgotten what is normal, what we are normally capable of.
My mother is 81 and she came on the trek with me.
We walked 52 km from a place close to Darjeeling to Phalut, which is at 12,000 feet.
She went to the same place where I did that headstand. It's crazy!
We have forgotten what we used to be able to do. We have become soft.
I see women and men, who are 45-50 and they say, we are old now, let the children do it.
I say you can't tell me that because I am 55, my mother is 81 and she is doing things you don't believe you are capable of doing.
I am sure that very soon we will forget how to climb stairs because we are so used to taking the lift.
We have become so dependent on technology and comforts of modern life that we have forgotten what we are capable of as human beings.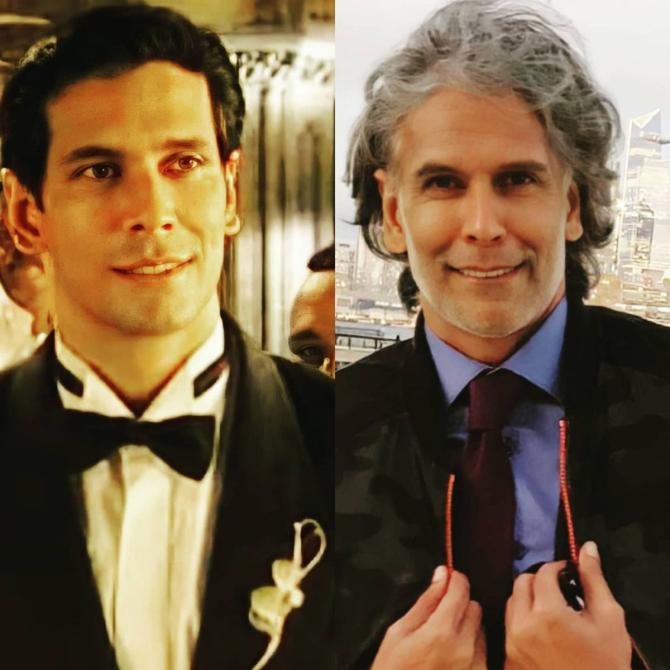 At 55, you make women drool and men envious.
The advantage I have is that I have been doing this my whole life.
I started with competitive swimming at the age of nine. I represented India in swimming and that's a lot of work.
It really gave me an insight and an awareness to what fitness means and what a healthy body and mind is.
People ask me what motivates you, what drives you...you did it as a child but how can you still do it?
The thing is, I never let go of it.
That feeling that you are not afraid of trying something new because you know that physically, mentally and emotionally, you are capable of it and nothing can stop you...
I was fortunate that I had that training when I was a child.
Unfortunately, in India, we don't do that.
We don't give our children that opportunity.
People used to work so much with their hands. Children used to help building the houses and now, they don't. Because now, we have plumbers, electricians and carpenters.
Earlier, everybody did it with their own hands, so that kind of activity and hard work was there as part of our lifestyle. Now, you have to bring it in as part of sports.
Now, people are understanding that we have to bring in that activity, which we call exercise, so that we don't lose the capability of our body.
Does the female attention get overwhelming at times?
How can it overwhelm me after 30 years?
In the beginning, it did overwhelm me.
I was very, very, shy.
When I was offered my first job as a model, at that time I didn't even know that modelling was a profession.
But I was offered a lot of money for a very small ad campaign.
They gave me Rs 50,000 for two hours for standing in a corner and I was like, this is crazy!
I have to do it!
As I started working, I lost that shyness, or rather, I could hide it.
I realised that you have to be a little outgoing.
You have to create a public face.
You have to do certain things if you want to take advantage of being in the limelight.
Of course, I was overwhelmed at that time.
I remember girls coming and kissing my hand.
People touching my feet -- all this, when I was 25-26 years old.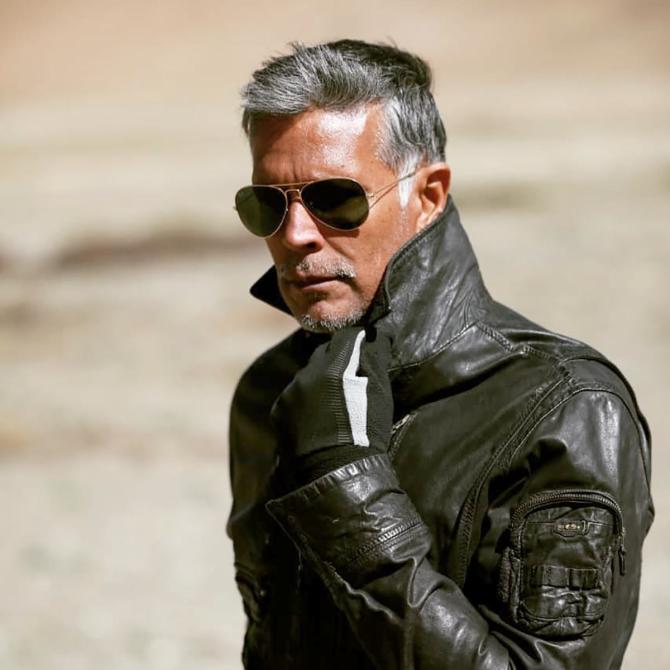 You have been showered with titles like Iron Man, Aquaman and Greek God. Which is the title you love the most?
I like them, why wouldn't I?
But I don't see myself as any of these things.
I know who I am.
The Iron Man title is, of course, because of the challenge I did at the age of 50.
In fact, the first person to do the Iron Man challenge from India was a woman and that too, six years before me, but nobody knows about that.
In fact, these challenges are created in such a way that any average person can do them.
Your birthday landed you in trouble because you sprinted naked on a beach in Goa. What were you thinking?
There was no motivation at all. It was just about my birthday.
It's not that I hadn't appeared naked before.
To me, it was nothing out of the ordinary.
I thought the picture was beautiful and my wife shot it.
I didn't pay much attention to what people had to say but overwhelmingly, people loved the photograph.
I think I looked pretty good.
See, people will always have opinions.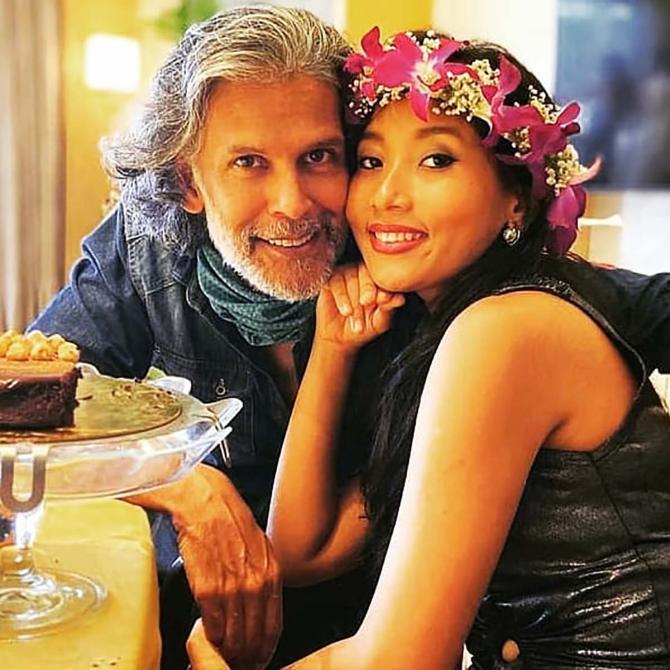 Your loved-up pictures with Ankita look lovely.
That might be a lot of pressure if you think about it.
Again, it's like people who are famous.
There's a lot of attention and it's something you have to deal with.
A lot of people would say nasty things in the beginning. It affected my wife more because she wasn't used to it.
So I kept telling her it doesn't matter. These are bots, not real people.
It's nice, yes, when things are great.
But I can imagine it being a pressure for a couple at some point, when there is so much attention on.
It's difficult to deal with it sometimes.
Are chances of staying loyal stronger when you have a younger partner?
I think it has to do with the person, and what is important to you.
The relationship is not about sex really, it's about the relationship itself.
It is something that is satisfying.
I don't think sex is all that important, it's the relationship that is important.
The closeness is important.
The warmth is important.
The sharing is important.
If you don't have that in a relationship, it's not one.
You might have great sex, but it's not a relationship.
I think people stray when they don't get the emotional support they need to lead their life.