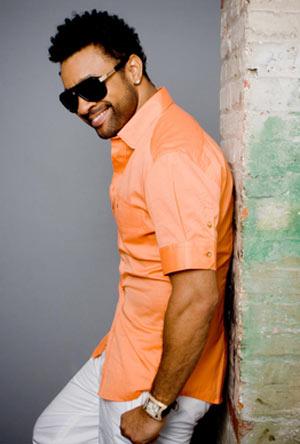 'I am not familiar with Bollywood music but I know it's a big scene.'
'I have done music with artists from Egypt, Latin, Europe... So yeah, an Indian collaboration would be cool.'
Desi talk with Shaggy.
Boombastic singer and rapper Shaggy was recently in India to perform across three cities, Mumbai, Pune and Goa.
He even celebrated his birthday on October 22 while on tour in Pune.
We caught up with the Grammy-winning Jamaican at the Hilton hotel, in suburban Mumbai, on his arrival to the city.
Dressed in a casual tee and pants, Shaggy, despite feeling a little under the weather, was more than happy to answer our questions.
In this exclusive chat with Namrata Thakker/Rediff.com, Shaggy discusses music, Bollywood and his favourite Indian actress Sonam Kapoor!
Today, you cannot be an artist without being a celeb, courtesy the social media boom. Is it tougher to work in the industry now than when you started back in the 1990s?
Back then, there was more physical work. It's easier now because everything is available at a click of a button. You can reach millions of people in just one click.
The difference is that now we have so many mediums. Back then, we had video games, movies and music. That's just three medium of entertainment.
Now there are many more, so people's attention span is all over the place. And it's much shorter.
Now, you can find that it's easy for people to blow up (become overnight stars) with shock value. People go online, create shock value and get numbers of followers. But yes, it still boils down to what you have to offer.
You know, I have seen performances where the record just changes and kids are singing the record but they are not singing with the record. In my days if you did that, they would throw stones at you. But that's how the time has changed.
I can say that I like real music and I am going to sing it for real but nobody cares. Today, they want a nice light show behind them, they don't care if they have a band or proper instrumentation. The kids just want to hear what they know. So you just got to rock with it. I am not going to say, 'I am going to instill my way.' That makes no sense.
You have been in the music industry for over two decades now. How do you keep reinventing yourself? Are there days when you just don't have that hook line for your songs?
You know, when I write, it just comes. I might suck at everything else but I would want to kick up a ball when I am writing. It may come in half hour or three hours. But it comes.
Then it boils down to whether I like it or not.
What I do is I stick to the basic -- the classic song writing. There are some things that never change like great melody, great instrumentation and great delivery.
If you stick to this formula, you will always find something that connects. I am not saying all of them will. And it's harder now than before for me because there is expectation of what to expect. There is a thin line between repeating yourself and coming up with something new.
You don't be that guy who is coming with something new and trying to do what the young kids are doing because then you'll just look stupid.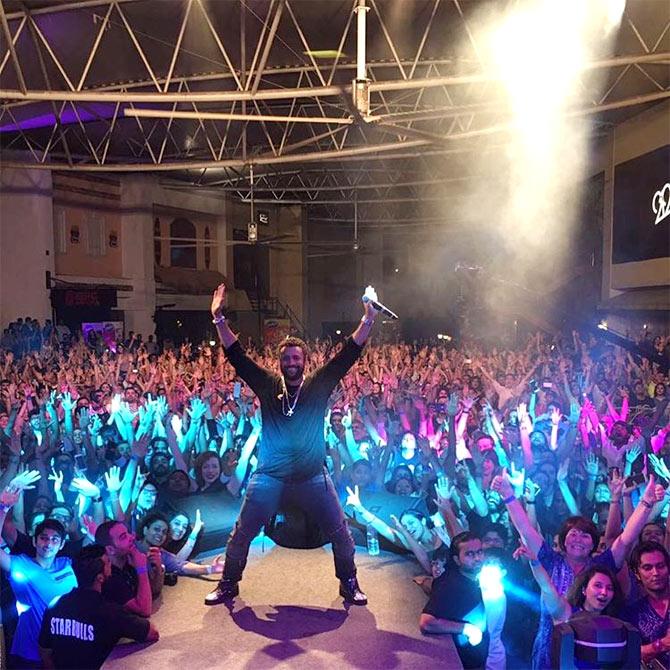 IMAGE: Rapper Shaggy performs in Mumbai at Phoenix Market City, Kurla. Photograph: Shaggy/Instagram
Are you cued into Bollywood music?
No, not at all. But I thought about researching some stuff before coming here (smiles).
Because we would love to hear you in a Bollywood movie...
I am not familiar with Bollywood music but I know it's a big scene.
Am I oppose to doing it? No, I would love to do it. I have done music with artists from Egypt, Latin, Europe... So yeah, an Indian collaboration would be cool.
So are you planning one in the near future?
No no. I am not planning anything but if something comes to me then sure, I would do it.
I read somewhere that Sonam Kapoor is your favourite Bollywood actress.
Well, I have been through a couple of different movies here and there and she's cute (laughs).
Would you like to have her in your video? She appeared in Coldplay's Hymn For The Weekend music video recently.
I don't know... I don't think I can afford her (laughs).
You love butter chicken and garlic naan. Have you had any time to gorge on Indian food?
That's my favourite Indian food. I am sure there are lot more other exciting stuff out there, some might be too spicy for me, but I am good with butter chicken and garlic naan.
But I haven't got any time for food yet.
What's in store for your fans?
We are coming up with this new album and hopefully, will finish it by next year.
I have a single that I just did with Omi. It will come out this year or the next.