'Going to film festivals like the Berlin fest is more fun when your film is officially selected. Otherwise, you are like any tourist,' Nagesh Kukunoor tells Patcy N/ Rediff.com
Nagesh Kukunoor is currently attending the 65th Berlin International Film Festival, where his film Dhanak will be screened at the Generation Kplus programme over the weekend.
Dhanak, which means Rainbow, is about a little girl Pari, who wants to get her blind brother's eyesight back.
"The germ of the idea of a blind boy and his sister living in Rajasthan was suggested by a friend for an ad," Kukunoor explains.
The ad never worked out but years later, when Kukunoor saw a photograph of a boy and his sister walking across a desert landscape, the story idea came to him.
He calls the film a fable, "about a magical journey that these kids take."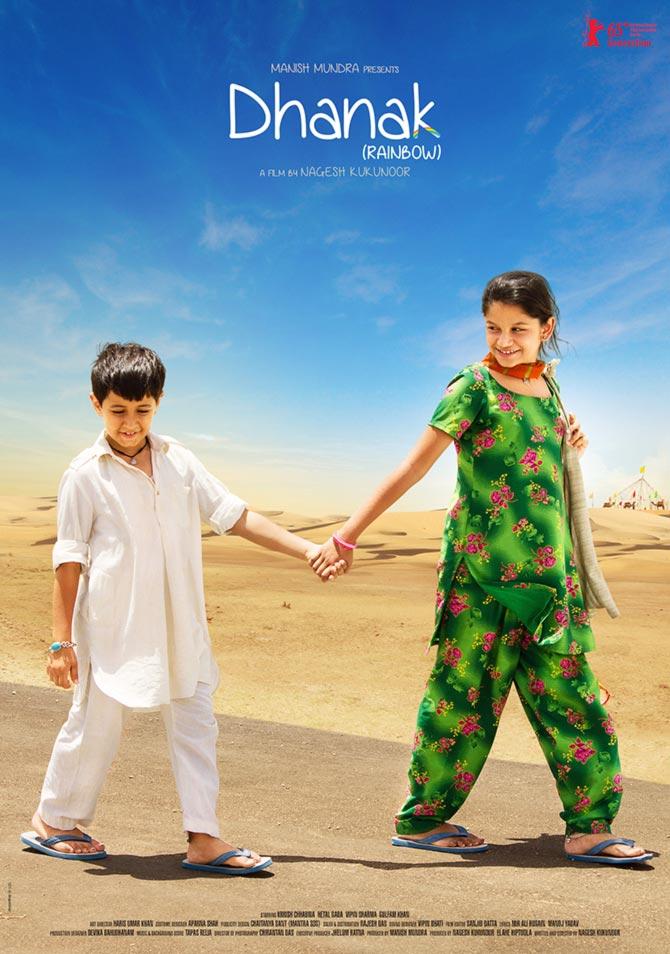 Krrish Chhabria and Hetal Gada on the poster of Dhanak
The 10- year-old sister promises her brother that he will get his eyesight back by the time he turns nine. She said it casually like kids often do, "but as his ninth birthday approaches, she starts panicking. Then, they take this magical journey across Rajasthan," explains Kuknoor.
Shah Rukh Khan plays a huge role in the film even though he does not act in it. The kids look at a poster in which he promises his viewers eyes.
"The mythology of Shah Rukh Khan hangs around the whole film. Pari starts to believe in it. She thinks somehow, magically, he (Shah Rukh) will get Chotu's eyesight back," he says.
The film is about how superstars invade every aspect of our life, especially in smaller towns. "For me, that magic was more critical," Kukunoor says.
Child actors Hetal Gada and Krrish Chhabria play the roles of Pari and Chotu.
"I got Pari and Chotu through auditions, like I do with all the actors. I personally went to people's places and auditioned them. A hundred kids were auditioned. There were two or three different layers of auditions and finally these two kids were selected," he says.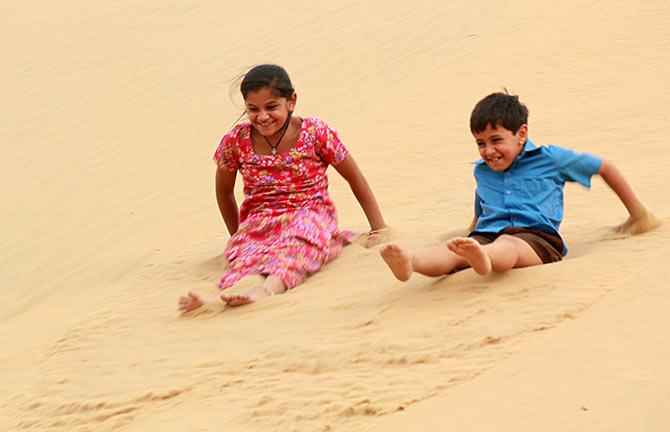 Hetal Gada and Krrish Chhabria in Dhanak
He doesn't find working with children difficult because he says, "I don't treat kids like small children. I treat them like adults.
"They are given a specific call time; there are no mood swings and bad behaviour on the sets. I have conversations with the kids before I go on the sets. If everything is okay, I do the shoot.
"I was blessed with these two great kids; they had the most amazing attitude, absolutely positive."
Nagesh Kukunoor submitted his film for the Berlin Film Festival in the Kplus section. This is the category of films about children and where the protagonists are children.
Kukunoor had promised himself that he would not attend the Berlin film festival if his film hadn't been selected for the screening.
"I did that because going to these large festivals is more fun when your film is officially selected. Otherwise, you are like any tourist, which is not a bad thing either. But I prefer to attend these festivals when my film is selected and then the experience is much richer."
Unfortunately, he did not have money to take his young actors along. "It is an expensive proposition to take the kids as they can't travel alone. That means taking a parent as well," he says.
At the festival, there will be a screening and press conference, and then he will be speaking to sales agents "and hopefully we will be able to close the deal."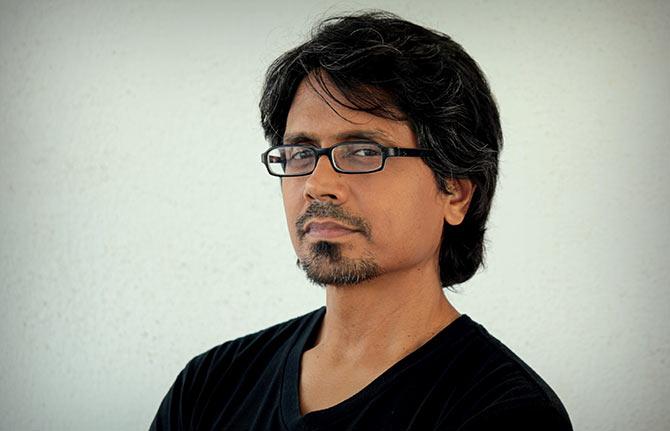 Director Nagesh Kukunoor
Is he disappointed that his last film Lakshmi didn't work?
"Of course it was disappointing that not many people came to the theatre to watch Lakshmi. I am not making movies to watch in my own living room. The idea is to screen it in public places where people come and watch it. But that's part of the process, so you just move on," he says.
He points out that whether a film works or not is not in his control.
"For me, the joy is in filmmaking not in wondering whether people will come and watch it; for me, one must enjoy the process," he says.