'I am the undiscovered Julia Roberts of India. They haven't figured it out yet.'
Kalki Koechlin gets talking.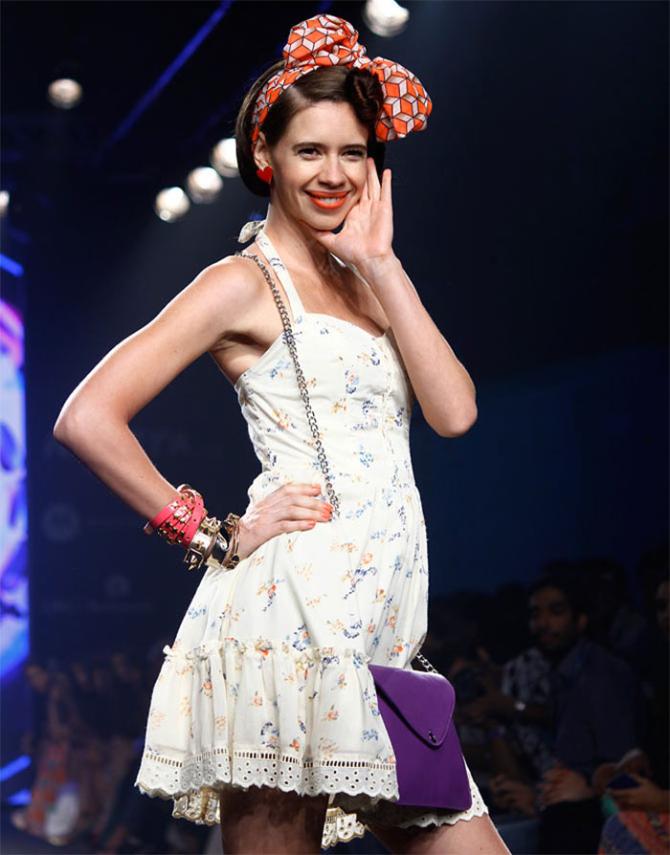 IMAGE: Kalki on the ramp: Hitesh Harisinghani/Rediff.com
"I feel like Akshay Kumar," Kalki Koechlin laughs.
The actress is having two back-to-back releases -- Jia Aur Jia released last week and Ribbon released on November 3 -- and she's clearly not used to it.
As she snacks on ruby-red pomegranate kernels, Kalki enters into an animated discusses about her life and films.
The actress says she tries not to stress on the days her movies release.
"I never follow anything on the day of the release of my films," she says. "I like to be peaceful. Today, I did yoga. And I am working on a spoken word piece that I am performing tomorrow."
Kalki shares her opinions, most of them strong, in her honest answers to the questions posed by Jahnavi Patel/Rediff.com.
Why is the movie titled Ribbon?
We think when we get married, the ribbon is tied, pakka hai, it's fine; but that ribbon keeps unravelling.
It's a symbolic name.
In a relationship, the ribbon keeps getting loose and you have to keep tying it.
That's why the film's tagline is 'Life between Loose Ends'.
There's no happy ending. Love is about constantly tying that ribbon again.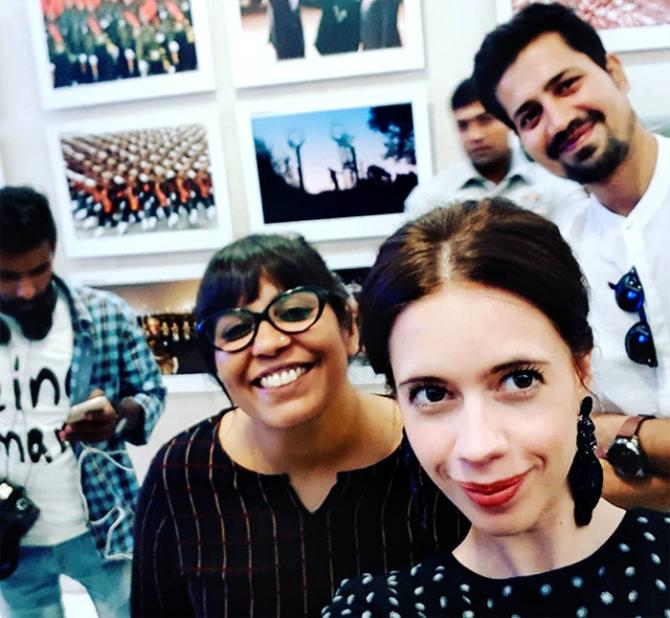 IMAGE: Kalki's selfie with Ribbon director Rakhee Sandilya and co-star Sumeet Vyas. Photograph: Kind courtesy Kalki Koechlin/Instagram
What convinced you to take up the film?
I took time to decide.
When I finished the script, I googled immediately to see if a woman can have sex when she is eight months pregnant because there is such a scene in the film. That was very fascinating (laughs).
By the way, it doesn't harm the baby... just letting you know.
That was the funny reason but the real reason I said yes to the film is that I could see the amount of research Rakhee (Sandilya, the director) had put in the script and how it reflected real-life situations that I didn't know about, like maternity leave and the problems it causes in the corporate industry.
I thought it was very relatable story as far as urban couples today are concerned.
Rakhee is a first-time filmmaker; she had made a documentary earlier called My Baby Not Mine on surrogacy in Gujarat. For me, all this is very important as a director brings out your voice.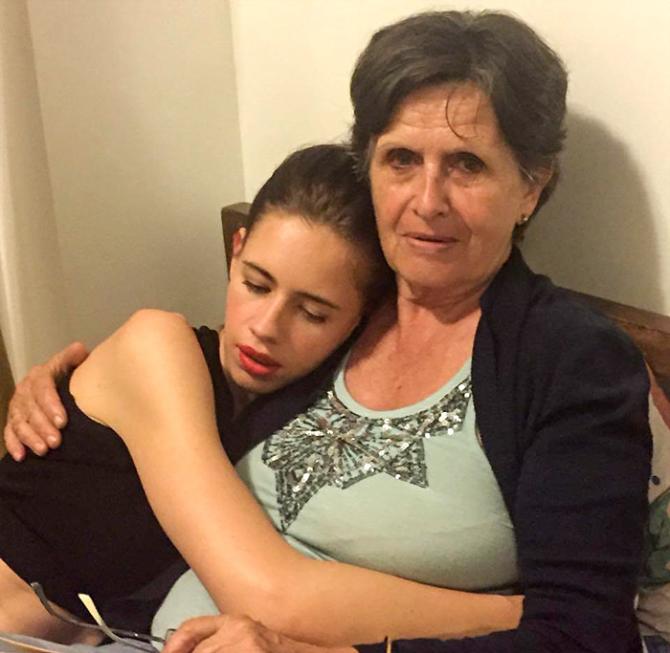 IMAGE: Kalki with her mamma bear. Photograph: Kind courtesy Kalki Koechlin/Instagram
You spoke to your mother to understand motherhood better. What was that conversation like?
My mom has popped three babies out, so she is like 'Ya, whatever'.
I really had to dig.
Three days later, she told me, she had a miscarriage as well. She had used a form of contraception between my brother and me -- we have a 10-year gap -- due to which it became difficult for her to conceive. That's why she had a miscarriage.
And then (when she conceived me), she had to take injections to prevent another miscarriage.
All that was really tough on the body, hormonally.
I think her first pregnancy was even tougher because she had my sister when she was just 17 or 18 years. She said her relationship with my sister was difficult because she hadn't been ready to become a mother.
By the time I was born, she had practice, so she was a pretty good mother (laughs).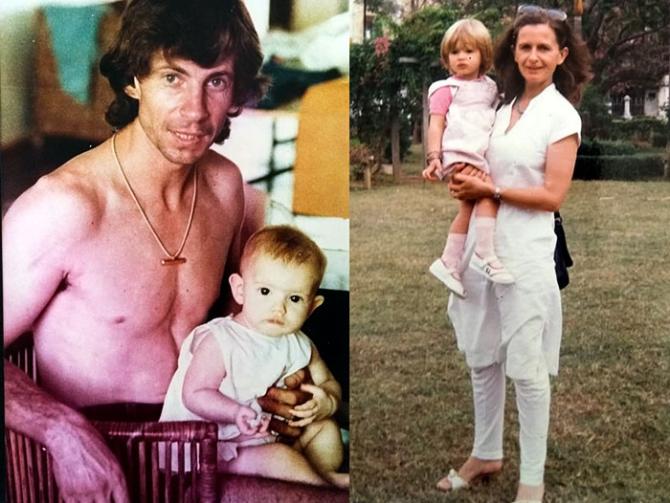 IMAGE: 'I had an unconventional birth and an unconventional upbringing'. Photograph: Kind courtesy Kalki Koechlin/Facebook
You recently wrote a Facebook post about your mother and your childhood. 'I was basically a little female Mowgli,' you had written.

It's really nice to talk to your parents about these things because it's not the kind of conversation one normally has. When you ask them, they get really excited about these things again. It's really nice to bring back those memories.
I have been through therapy where you talk to another person, but it's also important that, at some point, you confront the members of your family about these things.
In our family, at least, we didn't really grow up sharing things. It was only in my adult years that I started opening up again to my parents.
I was in boarding school from the age of six, so I didn't spend that much time with my parents. I had to deal with my parents only when I got in trouble in school or something.
My parents were divorced when I was 13.
I became the quiet, angry teenager and didn't want to talk to anybody. It took a long time for me to open up to my parents. Actually, my work as an actor has helped me because it's about people and understanding people.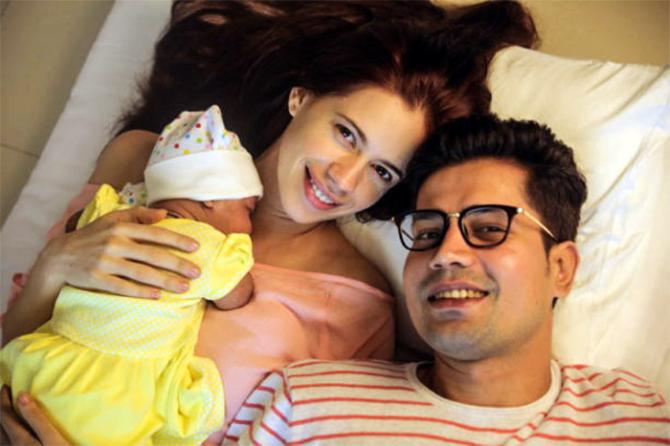 IMAGE: Kalki and Sumeet Vyas in Ribbon.
Did it worry you that you had to work with an infant?
More than one infant, actually.
The film spans four years, so we had different babies playing different ages.
We had a one-month-old, a three-month-old, a six-month-old, a one-year-old and a three-year-old. So I became a professional!
I am prepared for my pregnancy if I ever have babies (smiles) because I have changed nappies, I know how to make a baby smile, sleep...
They love songs, especially French songs for some reason. They just fall asleep with songs.
And they are amazing!
They are more receptive to touch, smell and noise than looking at and recognising (someone).
The one-year-old has just learned the word, 'No', nothing else!
One to two, I think, is the age from hell.
And then, at three, they start becoming their own personality. You can communicate and reason with them.
Were you nervous holding the babies?
I think I am this weirdo... if I wasn't an actor, I'd probably be hanging out in maternity clinics! They are so cute.
I love babies. I don't know why I haven't had a baby yet... small problem of relationships (laughs).
I feel very comfortable around babies. I am not one of those 'Oh my God, I don't know what to do.'
Sumeet (Vyas, her co-star) is like that. He was like, 'This is an egg that can break. Where do I quickly put it down?'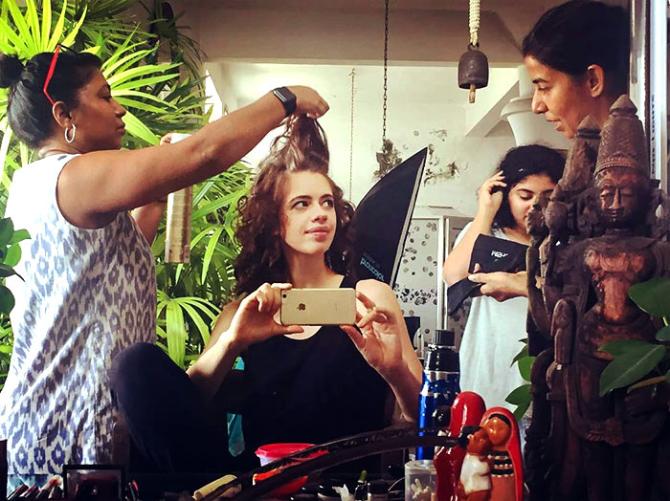 IMAGE: Kalki's 'Devis at work'. Photograph: Kind courtesy Kalki Koechlin/Instagram
Were you nervous about Jia Aur Jia's release?
Everything has become about the weekend opening and the pressure is too much.
It's a very commercial concept.
It's something you don't see NGO actors like me and Richa (Chadha) doing (laughs). We are like the Masaan and Margarita (With A Straw) girls and here we are doing Naach Basanti naach.
I am Basanti and I am naching. It's fun!
It's a different side of me, which I am excited about.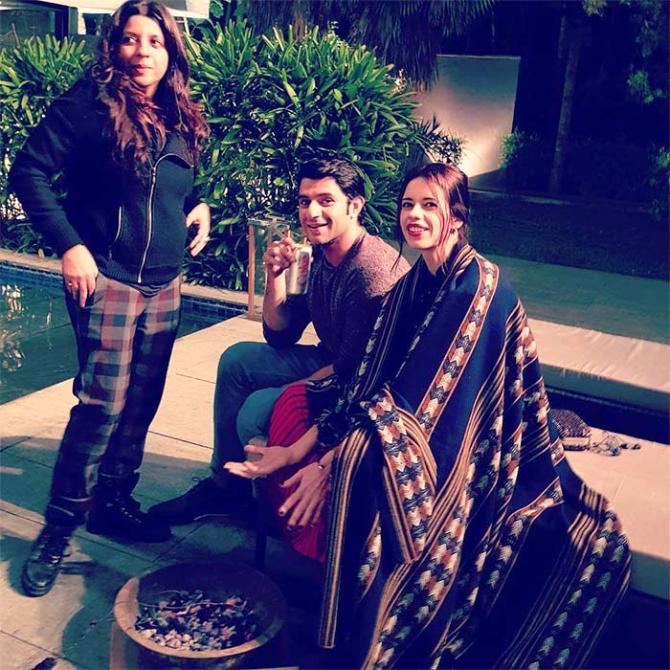 IMAGE: Warm coals, cold nights with Zoya Akhtar and Arjun Mathur. Photograph: Kind courtesy Kalki Koechlin/Instagram
In a recent interview, you had said you don't know if you fit in Bollywood. Are you a misfit in this industry?
I don't know if I said that. A lot of times, I get misquoted.
I think I have a definitive place in Bollywood.
I have just come back from shooting with Zoya Akhtar for this web series and it's so good to see all these familiar faces from Excel (Entertainment) that I worked with (in Zindagi Na Milegi Dobara).
I feel very much part of the family. I don't feel like an ostracised person trying to push my way in.
But yes, I have a different language. I have something that sets me apart and I think that's what you need if you want a long term career.
You have to not try and be like everybody else. Find out what is unique about yourself and stick to that.
The industry supports that because they are looking for something that cuts away from the formula, especially today with the internet and all.
Do you think it's important to find a balance between commercial and art cinema to sustain in the industry?
Always.
In every part of history, you'll see a big artist who did things for money and other things for the love of it.
I love theatre but I can't only do only that because it pays virtually nothing.
I produce my own plays and I have houseful shows because I am a celebrity. But I was just breaking even after paying all my actors.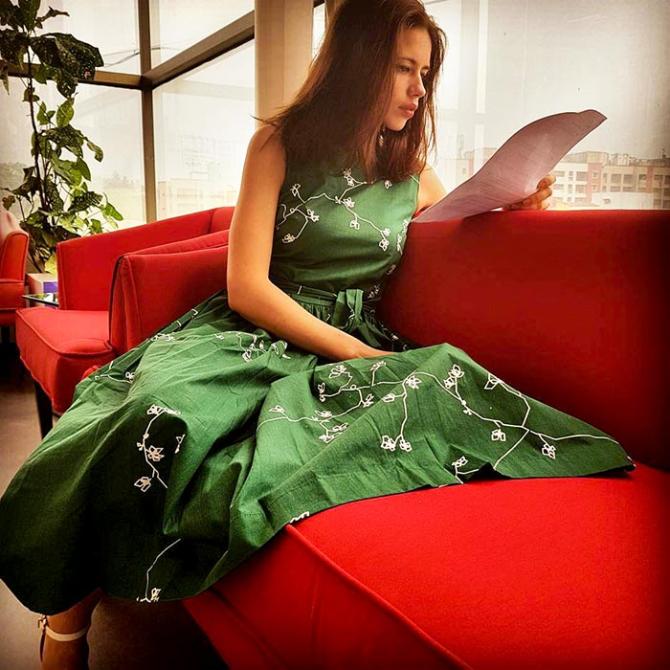 IMAGE: When work gets engrossing... Photograph: Kind courtesy Kalki Koechlin/Instagram
What's the best part about Bollywood?
The good thing about Bollywood is that you're quickly forgiven for making mistakes.
I keep saying this to the newcomers, just keep doing things. It doesn't matter. Don't let one film be your be all.
The definition of success is so vague these days, either it's the crores or just an opening or how much advertising it has been given.
I have seen brilliant films which were out of the theatre in like three days, like Ankhon Dekhi. You can't measure success by that.
So ya, Bollywood lets you have a second chance.
And the worst?

The mediocrity.
Many a time, I have read a script and been like, okay, should I research the accent, where is this person from... They are like, 'It's okay, you don't need to do that much work'.
I think the writing, if I had to be more specific. We don't give enough respect to our writers. Enough money, actually, because respect is a vague word.
Money, so that they can live in an expensive city like Mumbai.
I would say 90 per cent of the scripts I have worked on, I change my lines and improvise.
If you have a good script... you don't change Shakespeare's lines, right? You don't change it because it is so good.
What kind of cinema do you enjoy watching?
I am quite eclectic.
My go-to comfort film is romcom, like the Meg Ryan, Julia Roberts films.
I think I am the undiscovered Julia Roberts of India. They haven't figured it out yet.
I am actually a big fan of documentaries.
I watch mostly documentaries on Netflix.
Yesterday, I watched The Minimalists. I watched this other documentary, Hyper Normalisation, on how we have made the virtual world more normal than the real world. Searching For Sugar Man is one of my favourite documentaries.
I don't mind watching like a Hell Boy or a Marvel comics action movie. I like superhero movies.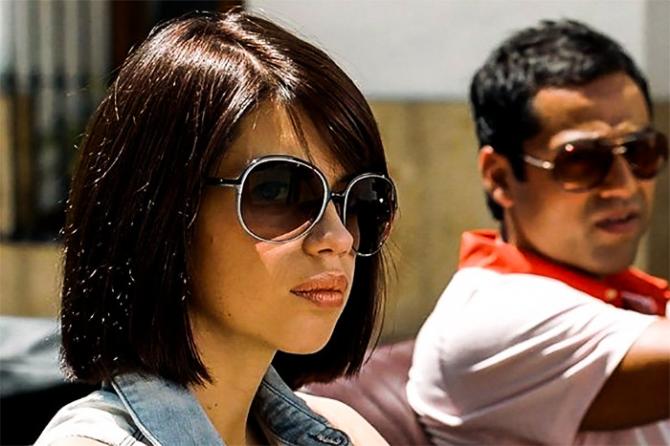 IMAGE: Kalki and Abhay Deol in Zindagi Na Milegi Dobara.
Bollywood tends to sterotype a lot. How difficult is it to get different kinds of roles?
I think you get stereotyped after each role you do. Whatever you do, the latest thing you've done...
After Dev D, I got many offers to play a prostitute.
After Zindagi (Na Milegi Dobara), I got offered the bi**h role.
So you have to keep reining yourself back from doing everything that is repetitive. And that's a choice you make at that moment, you can't plan ahead.
Whatever comes your way, you look at it and are like, 'Wait, I have done something very similar. Can I make this character different?' If I can't, I'll say no.
You do have to break your own stereotypes before asking other people to do so.
How do you unwind?
I have this ritual of burning my script or shredding it.
You live with that script, you take it everywhere, it's like my baby.
I write on it, make notes, sometimes I swear on it, I cry on it, everything...
You are not supposed to throw away your script because somebody can pick it up. So you have to shred it.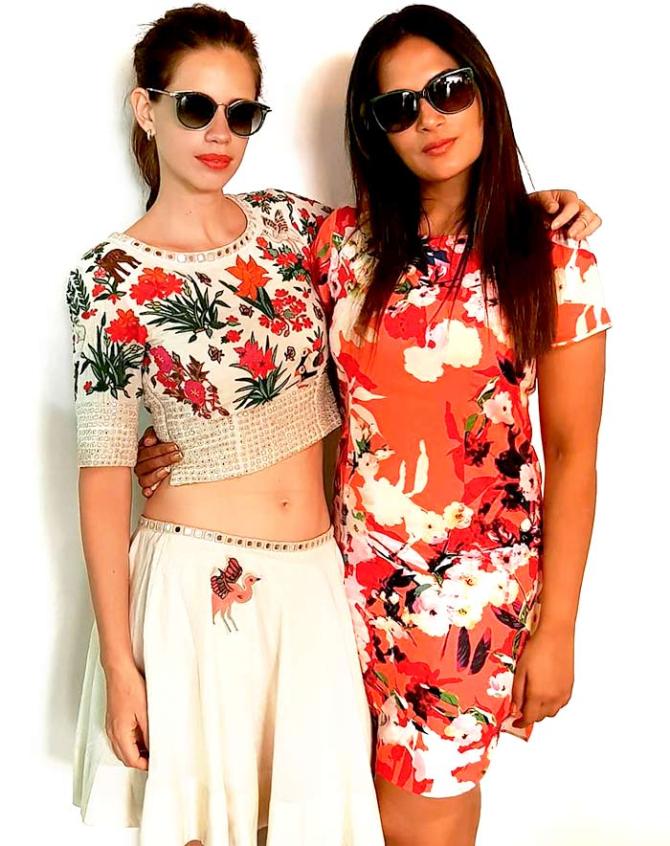 IMAGE: Kalki and Richa's shady kinda day. Photograph: Kind courtesy Kalki Koechlin/Instagram
Can two actresses be friends or is there always a sense of discomfort?
Ya, what to tell you, we can be friends (smiles).
Richa and I have been friends since Wasseypur.
I used to go on set to watch Anurag (Kashyap, director) and I thought she was very good in that role.
I had seen her before in Oye Lucky! Lucky Oye! and I was like, is this the same girl?
She is very spiritual and has a lot of good advice. Even though she is younger than me, she's like the 'wise aunty' for all my troubles.
We are neighbours, we live in the same area in Versova (a western Mumbai suburb).
We don't meet that often because we have busy schedules but, once in a while, we have breakfast together.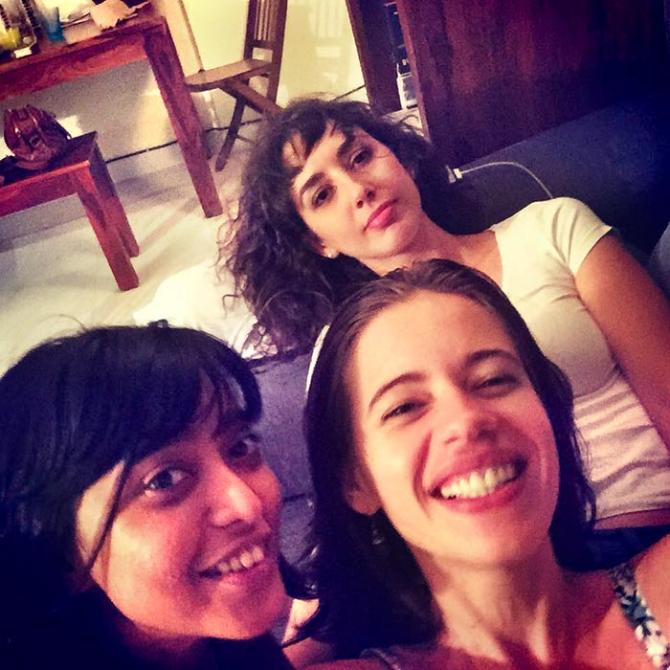 IMAGE: 'Two grown kids and a little lady,' Kalki captions this picture with Sayani Gupta and Kallirroi Tziafeta. Photograph: Kind courtesy Kalki Koechlin/Instagram
Who are your friends from the industry?
Radhika Apte, Sayani (Gupta), Zoya Akhtar... I regularly keep in touch with these guys.
I would like to say that I am friends with Adi (Aditya Chorpa), Ranbir (Kapoor) Deepika (Padukone) and of course, Ayan (Mukerji).
I meet Ayan regularly because he comes to the theatre also. He watches my shows. But, of course, I don't meet these guys regularly.
Do co-stars stay in touch after the film is wrapped up?
It's like 'Happy Birthday' and 'Well done in this film'...
When we meet in public or at a party, then of course it's like a big catch up.
Hollywood movie moghul Harvey Weinstein has been accused of sexual harassment. What is your take on this issue, with respect to Bollywood?
How will we know unless they get reported?
We are so busy talking about Harvey Weinstein, who is in Los Angeles.
Everyone is asking me about that and I am like what about what's happening here...
Unless, we, as the media, prioritise our issues... you can't be comparing yourself to another country.
At some point, we have to become more mature and take responsibility for our society.
I have always been very vocal about my situations.
My first play was called Skeleton Woman, which is based on a feminist book called Women Who Run With The Wolves. At that time, nobody was fascinated with the word 'feminism'.
In the last two years, we have learnt new words in the dictionary -- feminism, nepotism (laughs), sexism... but they have been there for a while.
You will be heard only when you get to a position of power. Before that, nobody listens to you.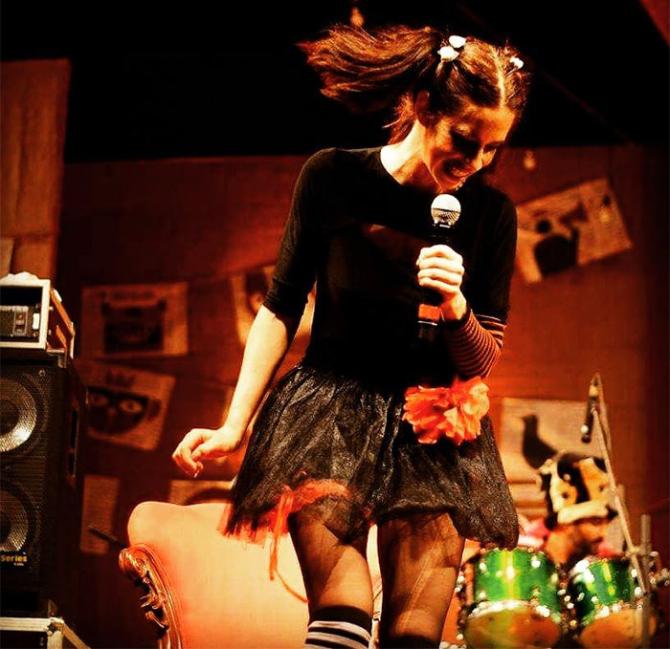 IMAGE: 'An apt moment from a Spoken fest'. Photograph: Kind courtesy Kalki Koechlin/Instagram
Do you think women have become more vocal about being victims and share their experiences?
That has definitely been the case with the #MeToo campaign.
The #MeToo campaign is not about all men. Richa has said something in her blog where she mentions that.
When I spoke about child sexual abuse, I said that because I don't know any girlfriend of mine who has not been touched by a distant relative or someone... It's a ridiculously common problem.
Speak about it, first of all in a safe environment like friends. Talk to a bunch of girls and know that you're not alone. That's the first step.
Of course, that makes you conscious when you are bringing up your child. It's not like, suddenly, everything will be fine.
We were never explained good touch, bad touch as children. But now, every parent I know of my age is teaching their kids these things.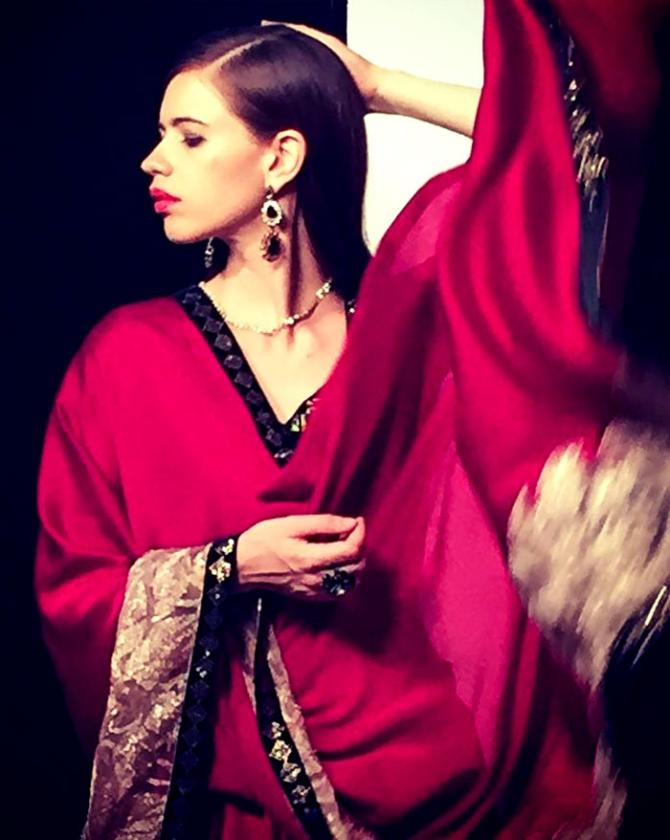 IMAGE: Caught in the moment. Photograph: Kind courtesy, Kalki Koechlin/Instagram.
Are we becoming more regressive as a country?
With any big change, there's a counter to it -- a stamping down on tradition.
I think because we are so open today, in terms of the internet, you get information from everywhere and you get access to everything.
There's a sense of individualism and power for the common man, which is scary to those in authority.
We are getting more empowered.
People are not slaves to other people any more, whether it's the caste system or the gender issue.
People are speaking up and they have a platform where they can speak up.