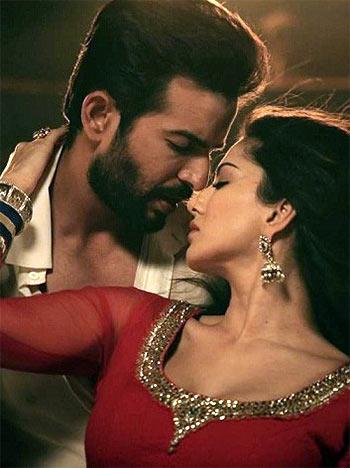 'I don't want to be known just for my kissing,' Jay Bhanushali tells Sonil Dedhia/ Rediff.com
After a successful stint on television, Jay Bhanushali made a transition to films with The Hate Story 2 last year.
The 30-year-old actor will now be seen opposite Sunny Leone in Ek Paheli: Leela, releasing this week.
In conversation with Sonil Dedhia/Rediff.com, Bhanushali tells us why he doesn't want to be typecast as a kissing star, why his wife is not jealous of Sunny Leone and his plans to get back to television.
Are you excited about Ek Paheli: Leela?
I am really excited and nervous about Ek Paheli: Leela.
We have got a positive response to the trailers.
It's a déjà vu feeling as my previous film Hate Story 2 had seen a similar response for the trailers and the film did well at the box office.
I hope this film also becomes a big hit.
Much ado was made of your kissing scenes in Hate Story 2. Ek Paheli: Leela is also a 'bold' film. Have you been typecast very early in your career?
After Hate Story 2, I was offered films of the same genre, with too much sexual content.
I don't want to get typecast, so I am doing different films.
I don't want the audience or directors to start feeling that if Jay Bhanushali is part of the film, it will have an intimate scene. I want to be known as a successful actor.
Ek Paheli: Leela looks similar to Hate Story 2.
I don't have any bold, intimate or kissing scenes with Sunny Leone in this film.
I don't want to be known just for my kissing. I want to be known as an actor.
I am happy that director Bobby Khan thought that I could pull off a romantic scene without being intimate.
Did your wife Mahi Vij have any issues with your intimate scenes in both the films?
If a man doesn't give importance to his wife, then she will feel insecure. But that's not the case with us.
Mahi is not insecure because I give her a lot of importance in my life.
Sunny and Mahi bonded really well on the sets. They were good friends from the very first day. They would talk non-stop for hours. They got along with the other females on the sets and would have kitty parties in their free time.
Is she your biggest critic?
Yes, she is my biggest critic. I remember taking her to one of my dubbing sessions and in one scene she just took my case. She told me I wasn't up to the mark.
If she says I have not done a good job, my confidence level goes for a toss.
She has seen the trailers of Ek Paheli: Leela and hasn't complained so far (laughs).
Did she like you in Hate Story 2?
To be frank, I haven't allowed her to watch the film.
I feel conscious because of my intimate scenes in the film.
In fact, even I haven't seen the entire film as it released on July 18 last year, and on the same day, I had to start shooting for Ek Paheli: Leela.
Does Mahi plan to return to television or maybe work in films?
I don't know. It's been almost three years since she has taken a break. I told her recently that if something that excites her comes up, she should take it.
Mahi is a simple girl, who likes to take care of our home and loves cooking and planning things for me.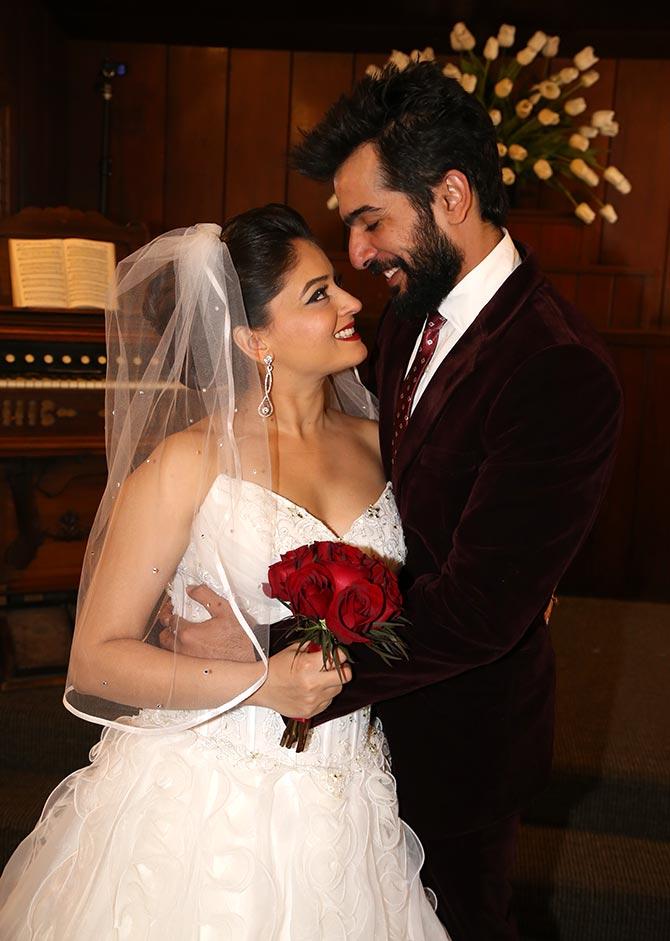 Are you worried that Sunny Leone may get all the limelight?
I'm not insecure of Sunny because my competition is not with her. My competition is with male actors.
I loved working with Sunny. She is a fantastic co-star and very professional on sets. She is extremely hardworking.
But she is the major reason audiences will watch the film.
Yes, that does happen. When a producer or director is casting an actor, they see what kind of fan following the actor enjoys.
At the same time, Ahmed Khan (brother of Bobby Khan, director of Ek Paheli: Leela) told me that any and every film today makes money in its first three days or the first weekend. The real test is the next three days and that is where the story and the content of the film play an important part.
The title of the film is Ek Paheli: Leela. Sunny's character is called Leela and I am the Paheli.
You are not hosting Dance India Dance Super Moms (DID) this year. Have you decided not to do television?
I am happy and proud of my television stint. Whatever offers I am getting in Bollywood are due to my work in television.
I made my debut with Hate Story 2 after the director (Vishal Pandya) spotted me hosting DID.
I got the offer to star in Ek Paheli: Leela after Ahmed Khan (one of the judges on DID) suggested my name to his brother Bobby Khan.
I owe my career in films today to my career on TV.
Right now, my focus is on films as I have already done everything in television. I have acted and hosted reality shows, participated in a dance show and won it.
As of now, there is nothing exciting. But I haven't completely quit. I have promised myself that once a year I will host a reality show as I love to entertain people.