'Kabir Singh will be very special for me, but my goal is to make each character as memorable as Preeti.'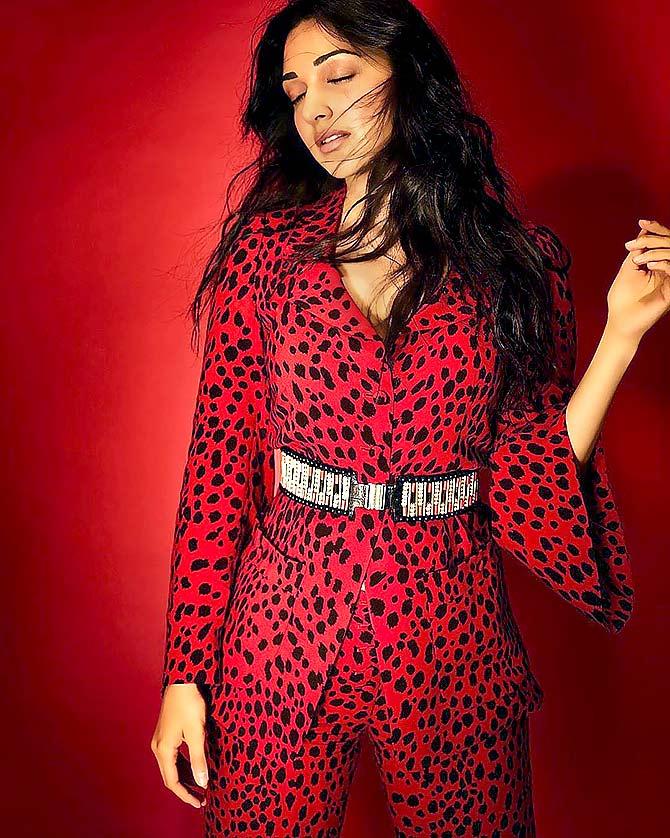 Kiara Advani is enjoying her time in the sun.
After Kabir Singh, she scores another hit with Good Newwz.
"Finally, I am doing the kind of films I am excited about, and that makes me hungrier to do better," she tells Rediff.com Contributor Divya Solgama.
You had said film-makers earlier rejected you, but there is an interesting line-up after the release of your blockbuster Kabir Singh. Do you feel validated in Bollywood?
It feels like finally I am doing the kind of films I am excited about, and that makes me hungrier to do better.
It is motivating when film-makers validate your work, where they dissect your scenes and praise it. When I was doing those scenes, I didn't realise they would create such an impact.
I was waiting for that one opportunity.
There were times when hardships can make you low, but I feel glad for not giving up and for going after my dream.
Because of this, I am getting such opportunities today.
So the moral of the story is don't give up!
If you have talent, nobody can take that away from you.
One should work on your talent and craft. I try to keep working on it, and make it better.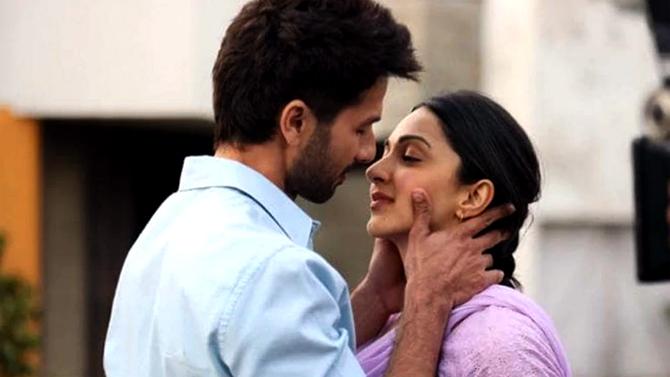 Your character Preeti in Kabir Singh has become well known.
Recently we launched our song from Good Newwz in Chandigarh with a concert in front of an audience of 8,000 people.
When we walked on stage, everyone started chanting 'Preeti-Preeti'.
This kind of love where people remember you and your character is very special to me.
Kabir Singh will be very special for me, but my goal is to make each character as memorable as Preeti.
I hope people shower their love to my other characters as well.
Many felt that the characters Kabir and Preeti are an irresponsible presentation in society. What's your take on that?
I still don't understand how Kabir Singh becomes an irresponsible presentation in society.
I understand the debate about certain scenes and understand that some people felt about it very strongly.
It's actually great to know that the film and the characters impacted people so much that it turned out to be debatable.
It feels nice that people are still talking and thinking about the film after leaving the theatre.
That's a huge thing for any actor and film-maker.
But I don't feel Kabir Singh is an irresponsible film.
For me, Kabir Singh's character is flawed. His biggest weakness was his love for a girl and that made him to do all sorts of immoral things. Eventually, that led to his downfall in life.
I believe there are a lot of Kabirs and Preetis in this world, but our film was always meant to be fictional.
I will have different views as an actor and as a person, in terms of how one should behave in life.
I am very different from Preeti and so it was challenging for me to play that character.
But I connected to the story because it was flawed and imperfect.
If Kiara would have been in Preeti's situation, I would have walked out and not given a second chance to Kabir.
But that's what love makes you to do; you give the other person a second chance.
People give their marriages a second chance.
So such things do happen in real life because we are all imperfect.
People do behave in a wrong way, like Kabir and Preeti.
Kabir becoming violent and slapping Preeti was wrong, but the same thing was done by Preeti also.
So I don't understand why people are not talking about that. Just because she is a girl?
I believe nobody should be violent, whether it's a boy or a girl.
But for me as an actor, I could not judge my character because I had to play her with full honesty.
If I had even the smallest inhibition and allowed my thought to come into my character, then you, as an audience, would not have believed that and we wouldn't have got such reactions.
But everyone is free to have an opinion.
Today, everybody is a critic on social media and has a right to put out their opinions.
That's totally fine, but everything should be done in a limit.
As an actor, I stop reading if it goes beyond a point.
Earlier, I used to read and analyse ever single viewpoint, but now I have realised that somewhere, you have to stop because there are other important topics to read and analyse.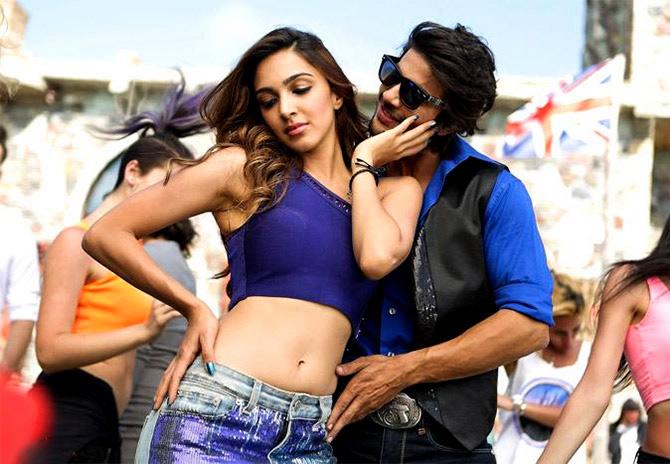 When Machine failed at the box office, did you doubt your film choices?
No. I was very much aware of what I was doing.
When Machine was offered to me, the only thing that came into my mind was to work with Abbas-Mustan sir.
To be honest, I was not getting great opportunities in the film industry and I really wanted to work here.
So when amazing directors like Abbas-Mustan, who have made so many iconic films in Bollywood (came to me), I thought it's the best opportunity at that point.
Though Machine was a bit unrealistic and larger-than-life, Abbas-Mustan sir are known to make films in a cool way.
I have learned a lot from that film, no matter what the outcome was.
I felt bad the film did not do well, but I really believe that work brings work.
Machine gave me a song like Tu Cheez Badi Hai Mast Mast, and that song gave Karan Johar's Web film, Lust Stories.
There's a certain audience for every film. Though Machine may not have been appreciated in urban areas, it worked well in the rural areas and small towns.
Before Kabir Singh, I still remember people did not know me because of my work in MS Dhoni: The Untold Story, they knew me because of my work in Machine.
So I would like to reach that audience in small towns as well as audiences in multiplexes.
I have started doing South films now.
If someone offers me a Korean film, I won't mind doing that also (laughs).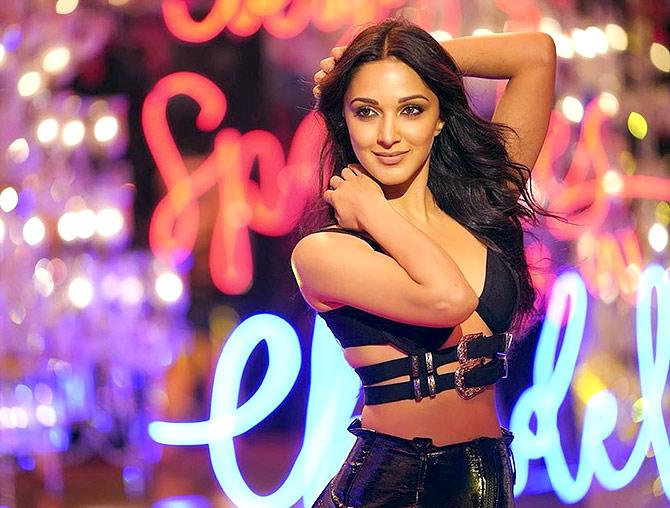 Tell us about Good Newwz.
It's the first time I am doing a comedy, so I am really excited.
As soon as I finished Kabir Singh, I went to shoot for Good Newwz.
Both my characters Preeti and Monika are opposite in every way.
It was a huge opportunity to work with legends like Akshay (Kumar) sir, Diljit (Dosanjh) and Kareena (Kapoor).
Working with Kareena was great because I have always looked up to her.
Akshay sir launched me in the film industry (with his production Fugly) and so working with him feels wonderful.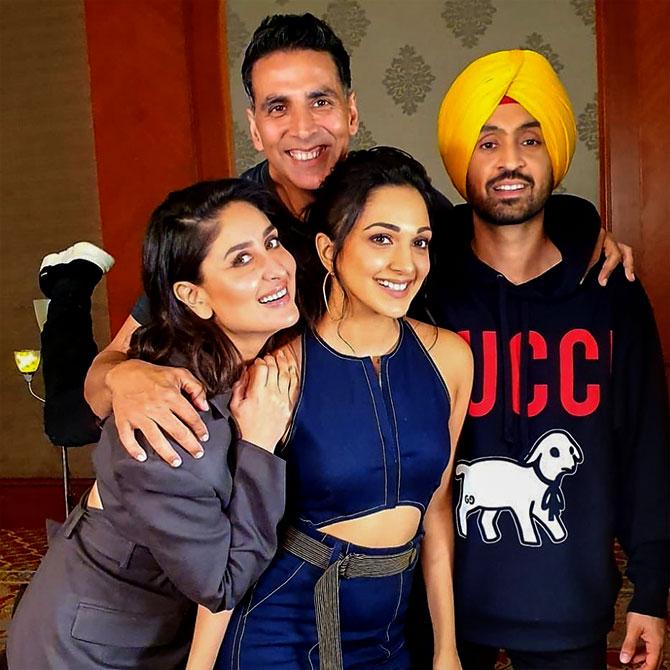 What was the most difficult part about playing a pregnant woman?
I believe most girls have that maternal instinct inside them; it comes naturally to us.
As soon as I wore that belly, my body language automatically took that mother route.
So playing a mother was not challenging for me.
But what happens in the lives of these two couples is a bit emotional. It's a roller-coaster kind of film.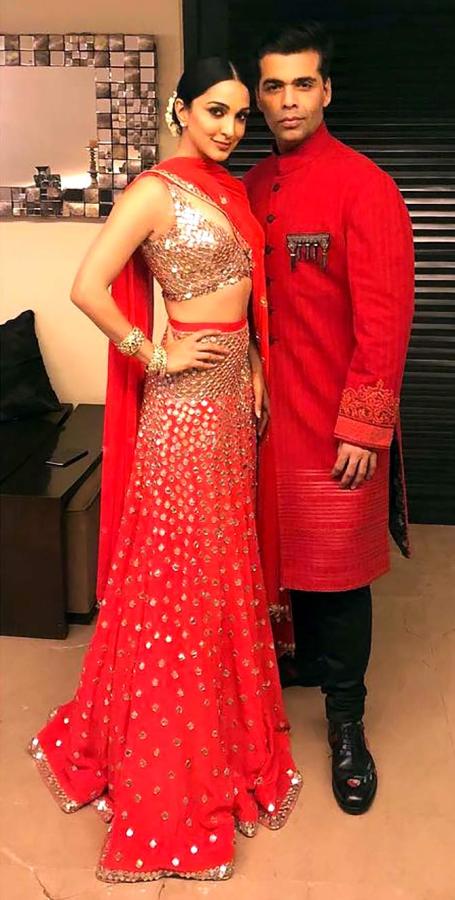 When Karan Johar signs you up back-to-back in his films, do you feel you have finally arrived?
Not at all!
There's a long way to go.
But it gives me confidence when someone like Karan Johar puts so much faith in you.
You feel confident to get into the skin of character that are challenging, different from your personality or outside your comfort zone. Right from Lust Stories, it was very challenging for me to take up a role like that.
But the moment you know that Karan Johar is directing it and has faith in you, it gives confidence to play that character in front of the camera.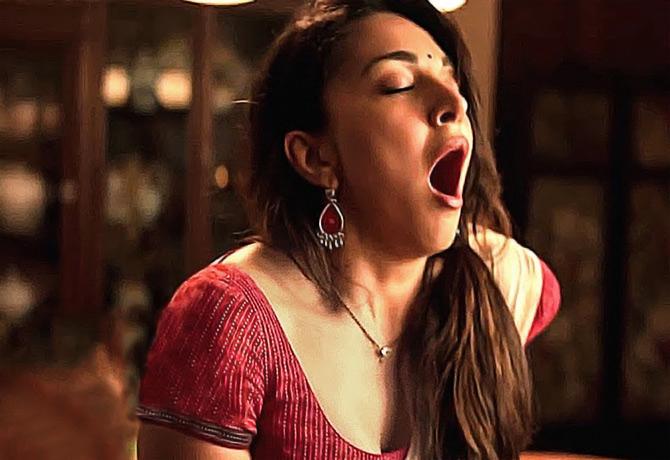 You have four releases in 2020.
2019 was like giving my exams. 2020 is like waiting for my results.
The pressure comes from expectations. Now people do have certain expectation from me.
I am not allowing myself to get bogged down with such pressure.
When you do a film, no one thinks about such things. It's only a week before the film's release when you start getting butterflies in your stomach.
Are you doing anything on the digital platform?
I have done a Web film, Guilty, made under Dharma Productions. It will be aired on Netflix.
I am not keen on doing any Web series.
---
Divya Solgama loves masala entertainers as well as hard-core realistic films. Divya can be contacted at movies@rediff-inc.com
---