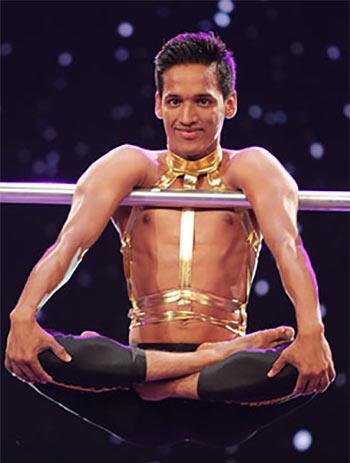 'I was screaming at the top of my voice when my name was announced because I couldn't believe it,' Manik Paul tells Rajul Hegde.
Kolkata boy Manik Paul, 23, has been declared the winner of the sixth season of India's Got Talent in a grand finale on Saturday. He is best known for his breathtaking aerial acts on the show.
A gymnast, Paul beat five finalists -- shadow-artist Prahlad Acharya, Punjabi singers Harmanpreet Kaur and Parry G, Thane-based dance group XIX, Beat Breakers and gymnast Yogeshwari Mistry.
He has been awarded a cash prize of Rs 50 lakh and a Maruti Suzuki Celerio hatchback car.
Paul talks to Rediff.com contributor Rajul Hegde about his big win.
What was it like holding the trophy?
It feels like a dream. I was screaming at the top of my voice when my name was announced because I couldn't believe it.
I didn't sleep the entire night after my win. I was just jumping in my room!
I had worked hard and practised day and night. People used to call me crazy but I never let go of my positive attitude. Though I got positive feedback from the crew, I never thought I would win because solo performances don't get as much attention as dance groups.
IGT was a learning experience for me, for the last three-four months. The show has given me confidence. I cannot wait to take my talent across the globe.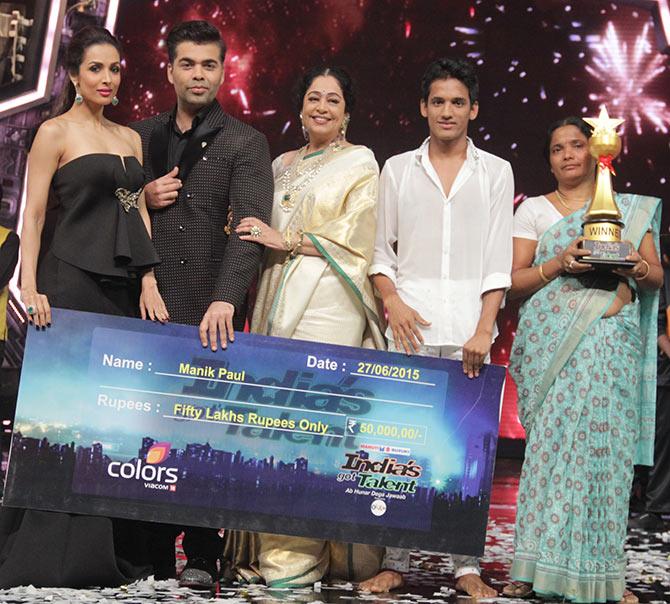 Image: Malaika Arora Khan, Karan Johar, Kirron Kher, Manik Paul and his mother
Who was your toughest competitor?
All the six finalists were extremely talented. I think the X1X group was tough to beat. That is what makes this victory so special for me.
But if I have to choose, I think Yogeshwari Mistry should have won.
What did you think of the judges, Malaika Arora Khan, Kirron Kher and Karan Johar?
The judges were extremely sweet and encouraging. They were honest and gave constructive criticism.
After the third episode, Malaika maam said I deserved to be a finalist.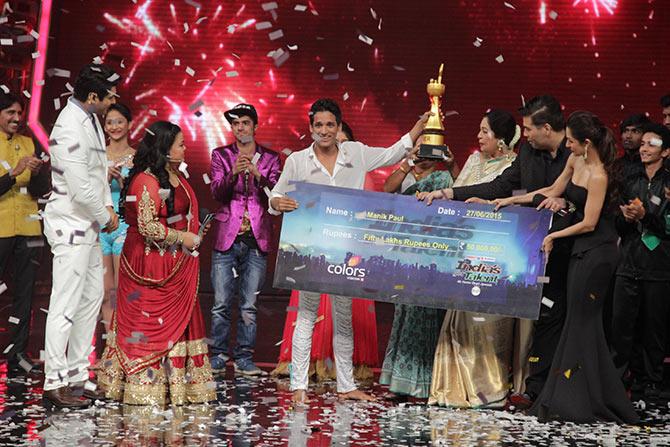 Image: Manik Paul at the grand finale
Your most memorable moment on the show?
Remo D Souza came on the show with Varun Dhawan to promote his film ABCD 2 and was impressed with my talent. He gave me a big hug.
What will you do with your prize money?
I want to buy a house in Mumbai and live with my mother. I have been away from home for two years now, which is a long time. I don't know what I will do with the car, as I don't know how to drive.
How did you land up in Mumbai?
I lost my father in a terrorist attack in Assam's Barpeta Road in 1999. Since then, my mother has brought up my brother and me with her earnings from a tea stall.
I always wanted to join the army. That's why I started training in martial arts and also enrolled myself in other sports.
I went to West Bengal for my education, and was inclined towards dance. I joined a dance group and came to Mumbai for more training.
I was part of a reality show calld Entertainment Ke Liye Kuch Bhi Karega for a couple of episodes.
Later, I got a scholarship for a diploma course in (choreographer) Terrence Lewis' dance academy for contemporary dance. That will be completed after a couple of months.
I am learning Malkambh too.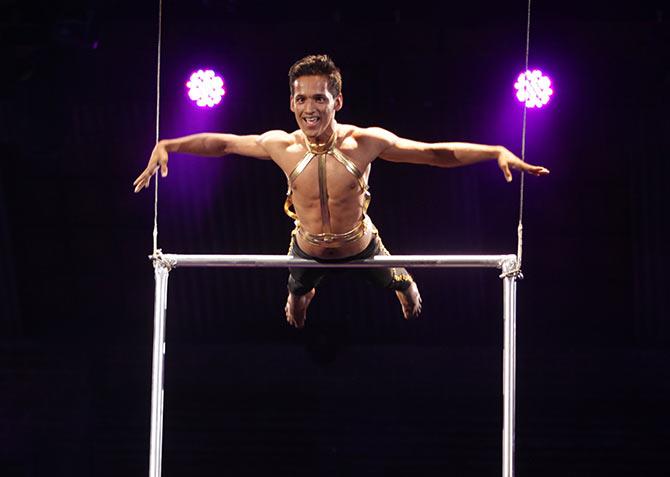 Image: Manik Paul
Do people recognise you on the streets now?
Yes. I cover my face with handkerchief when I travel in a local train.
Since the show is widely watched, people do recognise me. If one person comes, another 10 will follow for pictures and an autograph. I like it and feel like a celebrity but sometimes it gets too much, especially when you are really in a hurry.
What next?
I want to choreograph for films.