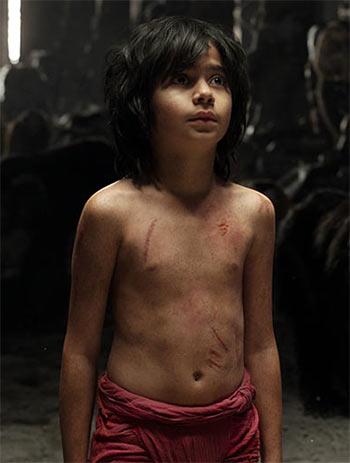 'It's just really cool how I'm going to be one of the Disney stars.'
Jahnavi Patel/ Rediff.com chats with Mowgli when he comes to Mumbai.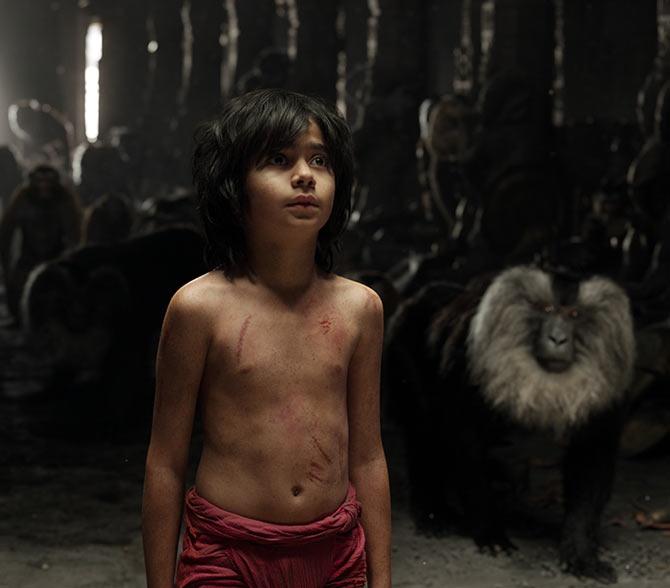 IMAGE: Neel Sethi in The Jungle Book
Tired? We asked 12-year-old Neel Sethi.
"A little bit," he offers bravely.
He appears a tad nervous too. But brushes it off with a nonchalant, manly "not really."
Togged out in jeans and a blue shirt, over a white striped tee, he's charmingly cute, especially when he sings the opening bars of The Bare Necessities.
This visit to India has not followed the usual course for little Neel, who comes often. He normally stays at his maternal grandparents' home in Lokhandwala Complex, north-west Mumbai, plays cricket, eats mangoes and lots of Pani Puris. Instead he's booked in, like a sahib, at The Four Seasons, in south Mumbai and is living it up, no doubt without Pani Puris!
Neel, who plays Mowgli in Jon Favreau's upcoming Jungle Book, was only 10 when the shooting for the film began and didn't really realise how big the movie was.
The little boy was actually in a bhangra class when he got news of the audition. His dad (name not disclosed) promised him a hot dog if he did well at the audition, where he was chosen from 1,000 boys. Net result: He got his dog. Neel earnestly says the hot dog was the highlight of that day for him.
Like so many desis he loves his Indian food -- Pani Puris and Paratha over hot dog, any day!
Neel settles down in his chair in his hotel room to take questions from journalists at the Mumbai press briefing; he is allowed only four hours every day, by US laws, to promote the film. After each interview, his parents, who are sitting at a distance in the same room, congratulate him each time with a 'well done' that brings a wide smile to his face!
As we exit the room, he gets back to the game he's playing on a tab.
You had no fellow cast members, since they rest were all animated characters. So shooting for your parts happened against blue screens. Did you at any point feel irritated, or anxious, being the only living actor?

Not really, because I didn't realise how big the film is. There were puppets and all that helped me.
Jon (director Jon Favreau) actually got the puppets and I would interact with them which would make it a lot easier.

You met Scarlett Johansson (Kaa, the snake), Lupita Nyong'o (Raksha, the mother wolf) and the other actors who did the voiceovers for the film. But you really wanted to meet Idris Elba (Shere Khan, the tiger). Have you met him yet?
No, not yet. But I hope I meet him before the movie releases. It would be really cool.
Tell us something about Jon Favreau.
He is very nice, cool and funny. When I was bobbing -- I do that a lot when I am nervous -- he told me to sit at the edge of my chair and put my feet together so that I can't move my legs.
Were you a good boy on the sets. Or were you a prankster?

I think I was a good boy.
(On second thoughts adds) I hope I was a good boy.
Did they pamper you on the sets?

With a lot of food.
What was your favourite?

Lobster Ravioli.
What are your Indian food favourites?

Pani Puri. Dosa. Lamb Biryani. I love everything.
Do you eat Indian food regularly?

Yes, my mom makes Indian food almost everyday.
What's your favourite?

Paratha, Muli or Gobi ka Paratha.
In sweets, I like Gulab Jamun.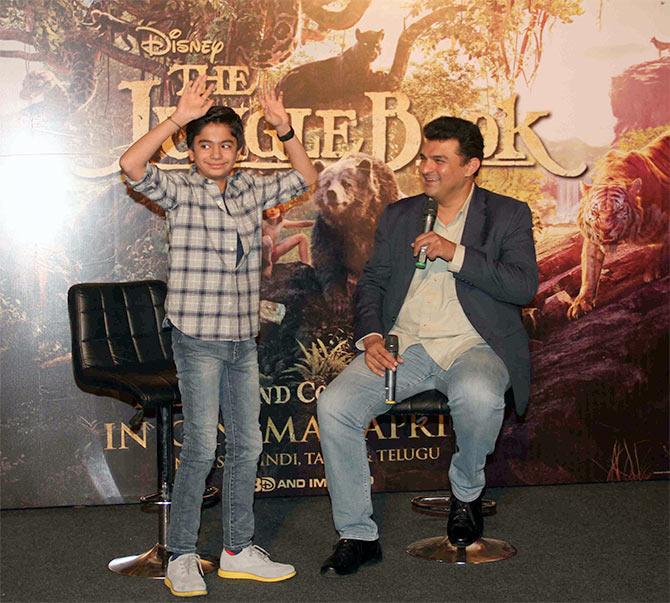 IMAGE: Neel Sethi and Disney CEO Siddharth Roy Kapur at The Jungle Book press conference. Photograph: Pradeep Bandekar
You've trained in parkour (obstacle course navigation) for the filming of Jungle Book. Was that exciting?

It was a lot of fun and very exciting. I got to show my energy by running around and doing stuff like that.
Have you seen the previous Jungle Book movies?

Ya, I saw the classic one, when I heard about the audition. I was like "Oh, this is so cool, let me audition for it."
How excited were you working with Disney?

I was really excited because I watch Disney sometimes. It's just really cool how I'm going to be one of the Disney stars.
Which is your favourite Disney movie?

I like Aladdin and The Jungle Book.
Do you like superheroes?

Yes, Captain America!
Who are you rooting for in Captain America: Civil War?

Captain America and, I guess, Batman. I feel like he's an underdog. I feel he could do something.
Who would you pick between Justice League and Avengers?

I think they're going to do that as a movie. They can fight each other. I feel the DC comics are a lot more overpowering.
Have you watched any of the Marvel movies?

Captain America, The Avengers, Iron Man movies and I've watched one -- actually half -- of the Thor movies. I was on the plane. The entire time I was like: "When are we going to get off?"
Then finally, when you find a movie and in the middle of it, you have to leave the plane.
You are like: "Can we please be for half an hour more on the plane?!"
Which Jungle Book character had a big impact on you?

I had a really good experience with Baloo (the bear), Bill Murray, because we played together and we ate brisket together, which Jon smoked for 13 hours. It was really good. Tasted really (good). It was a very fun time.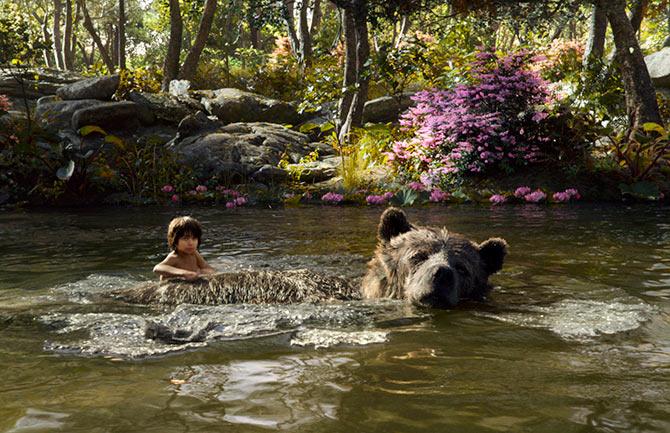 IMAGE: Neel Sethi and Baloo in The Jungle Book
You've visited India six or seven times before. Was it any different this time?

Yes. Usually I stay with my grandparents the whole time. Now I am in a really good hotel with lot of interviews. So it's very different.
Was it different meeting your family also?

No, I still play the normal cricket and normal everything. I like cricket.
What do you think about Bollywood movies? Have you seen any recently?

I want to do some, that'd be cool. I watch some of them. I have seen Talvar which was a long time ago and I liked it.
Do you have any favourite Bollywood actor?

Priyanka Chopra because she's Kaa in the Hindi version and she does Hollywood sometimes.
In Hollywood, it's Chris Evans, Captain America, he is really nice. And Matthew Perry from Friends. I am watching Friends now.
Do you read books?

I don't read so much but I like the Happy Potter books.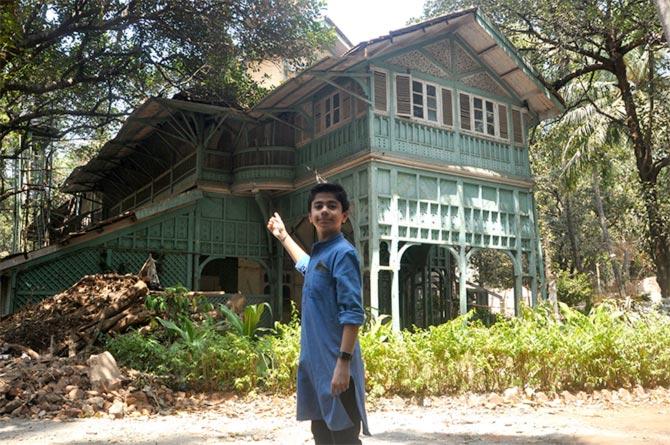 IMAGE: Neel Sethi at Jungle Book author Rudyard Kipling's home in Mumbai
You have also said nothing has changed at home for you. You aren't given any star treatment at home. Especially not from your elder sister. How is your equation with her now? What did she have to say when you got this film?
My parents treat me exactly the same. My sister was with me at that time (of hearing the news) and she actually cracked her computer by mistake. She had her headphones on the computer and she closed it and it cracked. She was like: "Oh my god." She was really excited.
Why did you chop off your hair?

I like it shorter. Long hair just gets into my face. When I am not filming and just running, it pokes in my eyes and it's just so annoying.
What was your biggest distraction while filming?

The make up. It was a little sticky. It was very cold also. I don't like the mud because it dries on you and I can't rub it off and put a new one, as it is in continuity.
Best memory about making this film?

Probably the water tank because that's the realest scene we've done. It's like a good scene with Baloo and we're just singing and I'm drowning.
How did you do the shoot and balance school?

Whenever they were setting up for the next shot, or they were taking a break, I would do school every day, with the school teacher. Three or four hours maximum.
What do your friends think about India?

Most of my friends don't really come here. They haven't been here so they don't know. But I think they'd like it, besides the food, as none of my friends can handle spice. I like spicy food.
If you have to choose between a hot dog and a Muli Paratha or Pani Puri, what would it be?

Muli Paratha and Pani Puri. I like hot dogs but it's just a hot dog, no offence.
What was the most challenging part while filming?

The mud because I used to act like it's a normal thing. But it wasn't. And probably the rain (the part where I'm with Raksha) because it was cold. I couldn't rub it off well because the makeup would come off. It was hard.
Which is your favourite animated character?

Mowgli.
Did your mom or dad help you prepare for this role. Did they give you any advice?

They told me to do whatever I am going to do because we didn't think of this as a big thing. Whatever I did Jon really liked it. So it was fun.
Have your parents seen the original Jungle Book?

Ya, my mom saw it with her dad, when she was younger. She went to the theatre when she was 11 years old. So it was cool. She thinks it's really cool.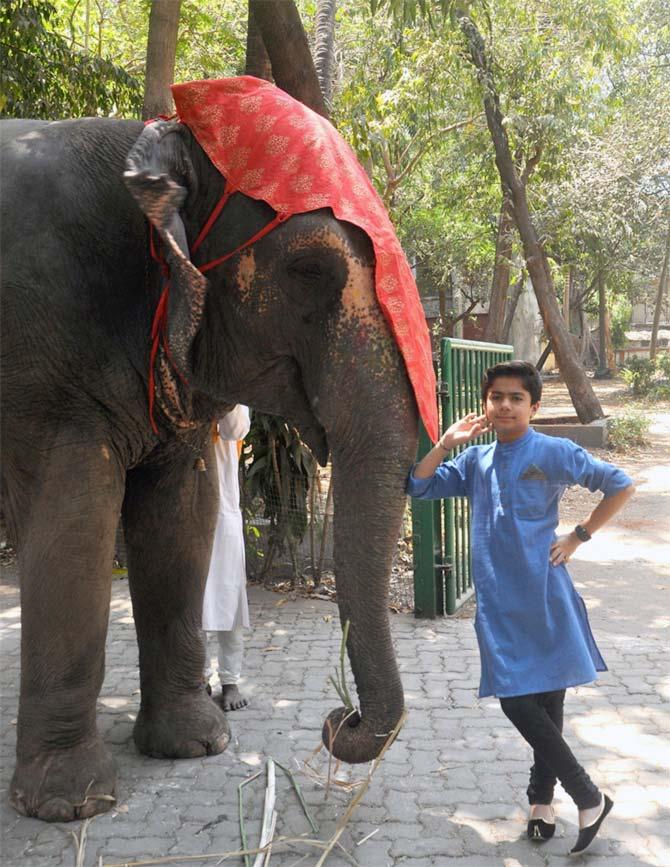 IMAGE: Neel Sethi with an elephant during his India tour.
What are your hobbies?

I love sports -- basketball, baseball, football, everything.
Would you like become an actor when you grow up?

Ya, maybe. It's a lot of fun. I want to do so many things like dentistry, because my parents are dentists. So I want to do that too.
What advice do you have for children who want to get into the movies?

You just need to go with your gut. Whatever you feel, just say it. You need to be dedicated too.
If you had just five words to say about your film, what would they be?

Overwhelming. Different. New. Exciting. Fun.