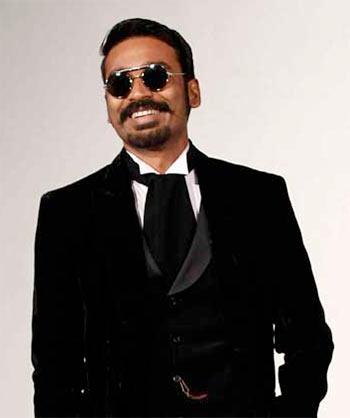 'Kolaveri Di refuses to leave me after four years. I don't know how to get rid of that song. Wherever I go, people request me to sing two lines.'
Dhanush leaves his chartbuster song Kolaveri Di behind, and moves forward with Shamitabh.
The world may know him as the Kolaveri Di guy but Dhanush does not even like the song any more. In fact, he claims he's deleted it from all his playlists!
The lanky actor, a superstar in the South, is getting ready for his second Hindi film release, Shamitabh, co-starring Amitabh Bachchan and debutante Akshara Haasan. It has been directed by R Balki.
Dhanush tells Sonil Dedhia/ Rediff.com why he doesn't get intimidated by actors, and how he is catching up on Hindi.
Shamitabh is about an ego clash between two persons. Has that ever happened to you?
Ego is very unhealthy. I can't afford to have an ego.
But I also believe that talent comes with ego and that is perfectly okay.
There is amazing humour in this film. It's a new concept and will be a refreshing experience for the audience.
Tell us about your experience of working with Amitabh Bachchan.
It's a great honour to share screen space with a legend. I always wanted to work with Amitji.
He treated me equally and made me feel comfortable.
He never interfered in my space or suggested I do things differently. In fact, when he rehearsed for a scene he would ask me 'is that okay with you'? He is one of the most humble and perfect co-stars I have ever worked with.
Did you feel you may be overshadowed by him?
No. The film is equally balanced between my character and Amitji's.
Even if I am overshadowed by Amitji, I would find that a blessing. It was such an adventurous ride to work with him.
The best part about Amitji is that he treats every film as his first film. He takes so much care about every shot, every little detail.
Were you intimidated by him?
No. I'm not intimidated by any actor. I have learnt this from my father. He worked really hard and went through a lot of suffering to feed his children. There were days when we would have just one meal a day.
I am a very secure person. I believe in my directors and leave myself entirely in their hands.
I don't have any expectations from myself. The only expectation that I want to live up to is my director's and the audience's.
It is rumoured that you play a deaf and dumb character in the movie…
I have been given strict instructions not to talk about the script and my role in the film.
Image: Dhanush, Akshara Haasan and Amitabh Bachchan at the Shamitabh music launch. Photograph: Pradeep Bandekar
Akshara Haasan is making her debut in this film. What do you have to say about her?
Akshara has done a very convincing job in Shamitabh. You don't feel it's her debut movie.
How did the Hindi film industry react to you after the success of your first Hindi film, Raanjhanaa?
The success of Raanjhanaa was bigger than we expected. I really didn't know what to do next.
A lot of great scripts came my way but I thought I wasn't good enough for some and for the rest, I felt that they were not good for me.
I had to wait for the right script. Then Balki called me. I am a big fan of his work.
I spoke to him and the minute I hung up, I prayed that this script would come to me. He had not revealed anything about the script or the casting. After I met him, I knew this was going to be my second Hindi film.
Shamitabh is the most challenging film I have done in my career.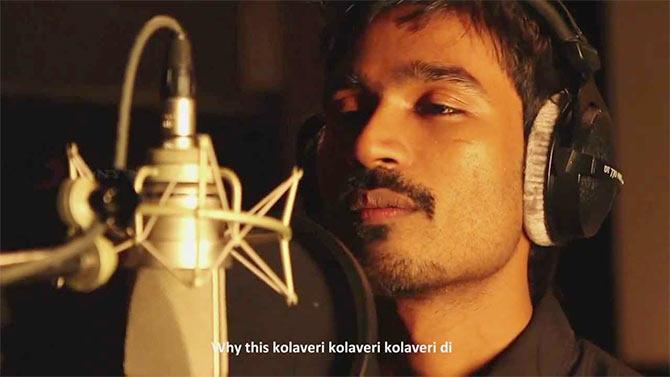 Image: Dhanush singing Kolaveri Di
Are you comfortable conversing in Hindi now?
It was very difficult when I did Raanjhanaa. Today, I find it a lot easier.
I am still learning the language. I try talking to my friends and relatives in Hindi. I speak shamelessly wrong Hindi and they keep correcting me (laughs). I am also planning to take tuitions.
You haven't sung after Kolaveri Di.
I am an actor first and I don't know how to sing.
Kolaveri Di was an accident but I'm happy the accident happened.
It brought me a lot of fame and recognition but I don't think it affected my career in any way.
The song took on a life of its own and went off to another level. It refuses to leave me after four years (laughs).
I don't know how to get rid of that song. Wherever I go, people request me to sing two lines.
Are you tired of being known as the Kolaveri Di guy?
I am totally fed up of Kolaveri Di.
I don't listen to it any more. I have deleted the song from my I-Pod, my computer and my mobile.
Several South action films have been remade in Hindi and of late they haven't done well. Do you see an end to this trend?
I am an actor and don't comment on other films. All I can say is that sometimes a film works and sometimes it doesn't.
Any Hindi film you recently saw and wanted to be in?
I saw PK and I loved it. It was a mindblowing film.
I am a big fan of Rajkumar Hirani and I have seen all his films.
Every time I walk out of the theatre after watching his film, I find life very beautiful and all the problems in my life look really small.
I watched PK in Chennai and you should have seen the reception it got there!
People were clapping throughout the film; they gave it a standing ovation. I saw it twice and both times the reaction was the same.