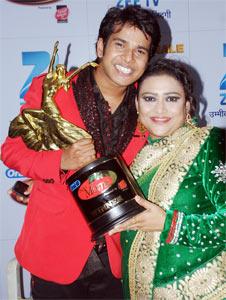 Mithu Choudhary from Kolkata, 34 years old, could never have imagined that her training in Bharatnatyam in her youth would have stood her in such good stead many years later.

On Sunday, September 8, the mother of two beat four other contestants to win the dance reality show DID Super Moms.

Shraddha Shah from Surat, Cecille Rodrigues from Goa, Zoya Khan from Dehradun and Phulwa Khamkar from Mumbai were in the running for the top spot.

Mithu had caught the attention of the judges at the Kolkata audition of the show when she delivered an energetic performance to a catchy Bollywood number. Farah Khan, one of the judges, told her, "Whoever said that being overweight means you cannot dance... you have just proved all of them wrong!"

Mithu lost 12 kilos in the course of the contest. "I could control my eating during the show only because I had to dance for long hours. I have never worked this hard in my life. It was so exhausting that sometimes I used to cry," she said.

"I love to eat good food and I have never gone on a diet in my life. Now since I have lost weight on the show, I will try to maintain it," she says.

It was her mother and her husband who encouraged her to enter the contest. "If it weren't for them, I wouldn't be here," she says.

Though she had learnt Bharatnatyam for five years, she had never performed on stage before making it to the DID stage.
Mithu says when she was selected for the Mumbai round, many thought that she was selected because she was fat and would provide some humour on the show. Now it's respect not ridicule that she commands.
Mithu bonded well with Phulwa, another contestant on the show. "We have really become good friends. Being a choreographer, she encouraged and helped me to perform better than her. She also brought home-cooked food for me.
"I am thrilled that I won the title but I always felt that Phulwa is a deserving contestant and I would have been happy if she had won."
Mithu's two sons aged 12 and 4 managed without their Mom for four months. "The four months were really difficult for me. Hats off to my boys. I can't imagine that they lived alone without me and took care of everything in my absence."
Mithu feels she is an inspiration to many housewives. "Every housewife must go out and do whatever she wants to do because if you do something with a pure heart, it will always give you good results."
The winner was presented the trophy and the prize money of Rs 10 lakh. "I want to give some amount to charity, open my dance school, and teach needy students and mothers for free. I would also like to buy a surprise gift for my mother and husband," says the generous Mithu.
Then she reveals a personal secret. If she could choreograph for any star in Bollywood, it would be for Salman Khan because "he is my first crush and I married my husband only because he looked a little like him then!"
Sadly, Salman did not make an appearance of DID. "My husband must have thanked God that Salman didn't come on the show," Mithu giggles.