'When I was staying in Teen Batti (in south Mumbai), I had one washroom and we were 10 people. Today I have three washrooms and I am the only one using all of them. Can you see the quantum leap that I have taken in life?'
Jackie Shroff gets candid.
Jackie Shroff, who stars in Brothers, claims his passion for the movies hasn't died.
The actor seems to be content in the space that he is in now, even as he hails his colleagues like Anil Kapoor, who is still in the limelight. After all, the measure of success according to him is not how many Hollywood projects he has at hand right now but how much his life has changed from his chawl days in Teen Batti to his present home, a luxurious, sprawling apartment in the posh Bandra Bandstand.
When Sonil Dedhia/Rediff.com met up with the actor in May 2012, he found Jackie in his usual bindaas attitude, talking about his three decades in the film industry.
In a frank and candid conversation, Jackie spoke about his long career, struggling days, his son Tiger, and how his wife Ayesha has always been a support system for him.
Rediff.com recently caught up with the actor again to get a glimpse of the character he will play in the Akshay Kumar-Sidharth Malhotra-starrer Brothers.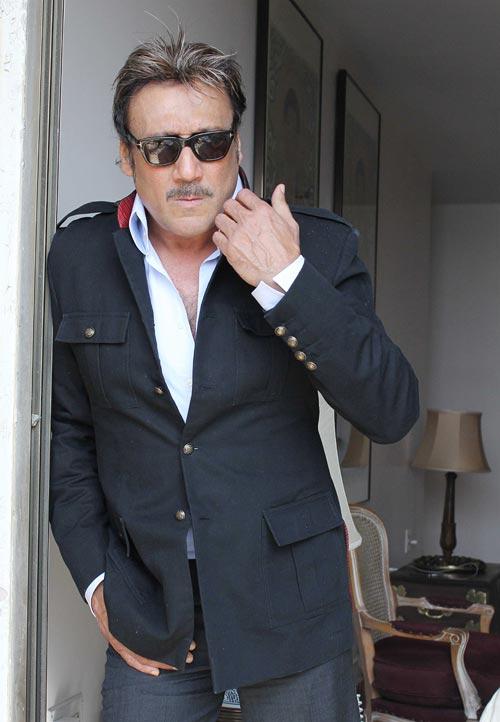 Image: Jackie Shroff. Photograph: Hitesh Harisinghani/Rediff.com
You seem to be in a relaxed mood, promoting your upcoming film, Brothers.
I am enjoying my time doing films.
It all started with Aurangzeb (2013). After that, I did Dhoom 3, where my character was the spine of the film. I also played a negative character in Happy New Year.
Brothers is a film with a lot of heart. Throughout the 30 years of my career in the film industry, I've done several emotional roles. But this is the first movie in which director Karan Malhotra has extracted a lot of emotion from my heart.
In fact, I almost choked in one of the scenes when I got too emotional (laughs).
There are a lot of action sequences in Brothers. You have been a part of many action films. How do you look at today's action sequences?
Action has changed a lot today.
When I started my career, it was really difficult as we didn't have many safety measures. I have injured myself many times. Bahut baar gira hoon main (I have fallen down a lot of times).
Today, technology is available and every person on the set is insured.
My son Tiger is setting a new trend in action. He is doing his stunts without the help of any cables and ropes. He fights in a totally different style.
As a father, do you ever get scared with the kind of stunts your son performs?
I don't think about it.
Tiger has been training to do those stunts for more than two years and I am sure he knows how to take care of himself.
Life is full of uncertainties. You never know when the building in which we are sitting might collapse or if you are travelling by car and someone comes and bashes you car very badly. I can't stress about my son everyday.
I just pray to god and my mother to keep him safe.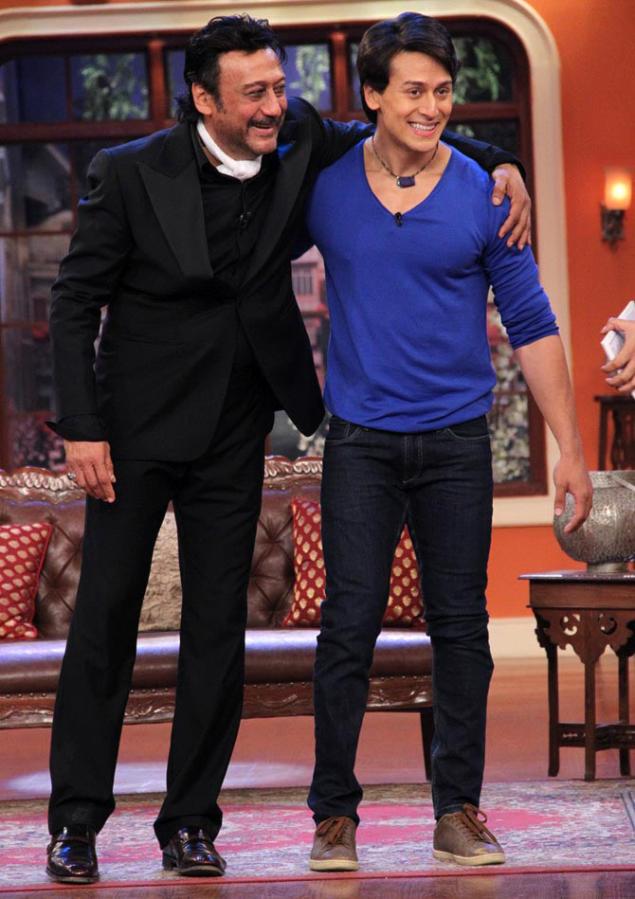 Image: Jackie Shroff with his son Tiger.
Tiger has just done one film (Heropanti) so far. His next release (Baaghi: A rebel for love) is in 2016. Do you think he is taking his career too slow.
I am sure he knows what he is doing. He should do whatever makes him happy.
Our time was different. We would do 20 films in a year but that's not possible today.
Today, actors want to focus on film at a time which is fantastic.
Do you advice him about his career?
I can't give any advice to myself, then how will I give any advice to him (laughs)?
Tiger is a young boy and he has a lot young fans. I have seen a lot of his fans come and tell him to dance on his song Whistle baja (from his film Heropanti).
Today, people know me as Tiger's father rather than Jackie Shroff. 30 saal industry main rehne ke baad, aaj log kehte hai, 'Woh dekh Tiger ka baap (After being in the industry for 30 years, people say, 'Look, Tiger's father').' Isn't it funny (laughs).
But I am sure you must be proud about your son.
Yes absolutely. I am really happy for him.
You have spent three decades in the industry. How has it changed over the years?
There is no sanity left in our lyrics. The lyrics in our songs are dying.
Today we listen to songs like Munni Badnaam and Chikni Chameli. These songs are instant wonders. If a new item number comes, the previous one goes into the dumps. No one likes to remember these songs. We can't do anything about it because the audience likes it.
Today films are collecting Rs 100 crores at the box office very easily. Humare time main golden jubille and silver jubilee hota tha (In our time, there are golden and silver jubilee).
Is it difficult to find original stories in Hindi films today?
Indian cinema has completed 100 years. How many new stories can you bring every time? It's not possible.
There are so many original films that are being made today but that is not possible all the time. Nowadays, it has become so difficult to register a title for the movie because the title already exists or someone has already blocked it.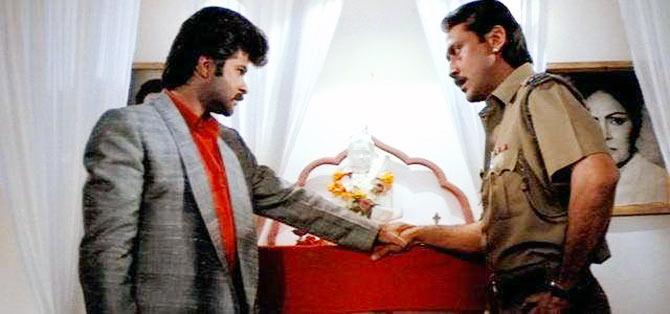 Image: Anil Kapoor and Jackie Shroff in Ram Lakhan
You have had a good relationship with your contemporaries like Anil Kapoor, Govinda and Sanjay Dutt. Are you still in touch with them?
Yes, very much! I also like to spend time with Danny (Denzongpa). We have a lot of things in common. When we meet, we go for long drives and cook amazing food.
Anil (Kapoor) is doing well. He is good at making people laugh. He is doing a lot of Hollywood films. I remember after the release of Slumdog Millionaire, he had called me to say ,'Hollywood pahoch gaya hun Hollywood, koi nahin gaya... main gaya hun, main (I have reached Hollywood. No Indian actor has ever reached here). I'm the best'. Acha lagta hai apne yaar acha kaam karte hai (It feels good when my friends are doing some good work).
Salman Khan is doing really well in his career. I know him since the time he was growing up. Do you know Salman got his first film Biwi Ho Toh Aisi (1988) because of me?
I have constantly been in touch with Sanju Baba (Sajay Dutt). He is an amazing person. Sab apne dost hai bhidu (All of them are my friends).
Do you feel jealous or bad when you see them doing well in their respective careers? What's stopping you?
Tu pagal hai kya (Are you mad)? They are my buddies. As I said earlier, it feels nice when you see them doing good work.
Anil (Kapoor) has opened the doors of Hollywood for all of us here.
I never thought I would become an actor. When I started out, I never thought I would come so far. Acting was not my passion. When I experienced the highs of being an actor, I started liking it and it gradually became my passion.
Don't you get tempted to work in Hollywood?
Woh log mereko bulana chaiye na (Hollywood should offer me films). Anil's role in the film (Mission Impossible: Ghost Protocol) was very small.
If I get something good, then I will do it. I don't want to do a Hollywood film so that I get a tag that Jackie Shroff has worked in a Hollywood film.
I rather do a Tamil lead role (referring to his film Aranya Kandam), which goes on to win a National Award.
Do you regret when you see your contemporaries are still doing well in their careers?
Mereko pagal kutte ne katta hai kya? (Have I been bitten by a mad dog?) (Laughs). I don't regret anything.
When I was staying in Teen Batti (in south Mumbai), I had one washroom and we were 10 people.
Today I have three washrooms and I am the only one using all of them. Can you see the quantum leap that I have taken in life?
I was staying in a chawl which had seven small rooms and we were 28 people staying in it. Today, by God's grace I have sea-facing flat at Bandra.
I have noticed that when you come to attend events or parties, you just walk in like a common man instead of stepping out of a fancy car.
I don't care about all these things. Just because you have given five successful films doesn't make you God.
Many superstars who have come and gone.
There are people who haven't seen glamour. Suddenly when they become famous, they get wings. They fell they are the only ones present. Two bodyguards in the front, two at the back. You are not a Rajesh Khanna or Dev Anand or Amitabh Bachchan.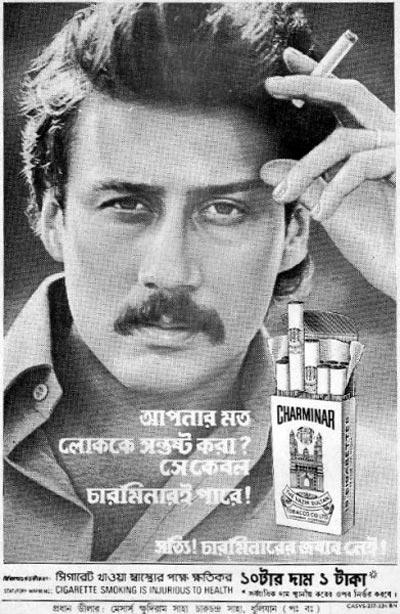 Image:

Jackie Shroff in Charminar advertisment
It is already known that you got your first film when Dev Anand saw you in a print advertisement. How did you get your first advertisement?
I was waiting at a bus stop when someone approached me and asked what I was doing. I told him I was working in a travel agency called Trade Wings at Kala Ghoda, in south Mumbai. He introduced himself as an accountant from an advertising agency and asked me to do modelling and offered me to pay money to get my pictures clicked.
I got very excited. The next day during the lunch break I went to the ad agency.
When was the first time you saw Ayesha?
I haven't told this to anyone but you.
Ayesha was in a bus and I had taken my friend's bike and was returning after I finished my swimming session at Breach Candy club (in South Mumbai). I followed her. When she got down, I introduced myself and she responded by telling me her name. She was going to her friend's place and I used to play pinball opposite her friend's house.
The next day she sent her friend and asked her to tell me that I looked like a hero and I should audition for the lead role of an upcoming television series Ashoka the Great. I borrowed Rs 20 from my mother and sent my pictures to the production office. Role nahi mila but Ayesha mil gayi (I didn't get the role but I got my wife Ayesha) (Smiles).
How has your wife Ayesha supported you all these years?
It's been fantastic. She has been a very strong lady. There were so many things that were written about me. Right from Meenaxi Shesadri to, Dimple Kapadia, Madhuri Dixit and a lot more, I have with some of the top actresses.
Filmmakers used to make me kiss almost every actress and I guess almost all my films had a kissing scene. I was known as a serial kisser. I can say I am the original serial kisser. I remember my first magazine cover was Zeenat Aman where I am kissing her. No actor had done that before. Ayesha she never uttered a word nor she has complained.
Image:

Jackie Shroff with his wife Ayesha Shroff
There were reports of your strained equation with Ayesha?
(Laughs) When the media people don't have anything controversial to write they target your relationship. People have a lot of vivid imagination. Ayesha and I still love each other and trust each other blindly. Ayesha and I laughed this off by saying good news or bad news so let's be in the news.
Talking about good news or bad news you in the news for being gay?
(Laughs) I was reading all this and laughing over it. I remember when this rumours had come out Virender Sehwag had scored his double century and had scored the highest individual runs in One day cricket. People forgot him and were all behind me. There were so many blogs running on my name. It is so funny.
How do you take these rumours?
Just with a pinch of salt. How does it matter? In fact after the gay rumours the husbands started feeling safe if their wives wanted to come out with me (Laughs).
Ayesha and I have so many gay friends who are all creative and artistic in their profession. If I take all these things to my heart I will get a heart attack (Laughs). The day I start bothering about all these, I will quit the industry.
What are your memories of Teen Batti, the place where you grew up?
I still go there whenever I am in South Mumbai. I go to my room where I stayed with my family. We don't own it as my mother sold it off after my brother passed away there and she didn't want any bitter memories. I remember rats used to bite off the edge of my fingers. I have lived a very tough life but I am always grateful to it.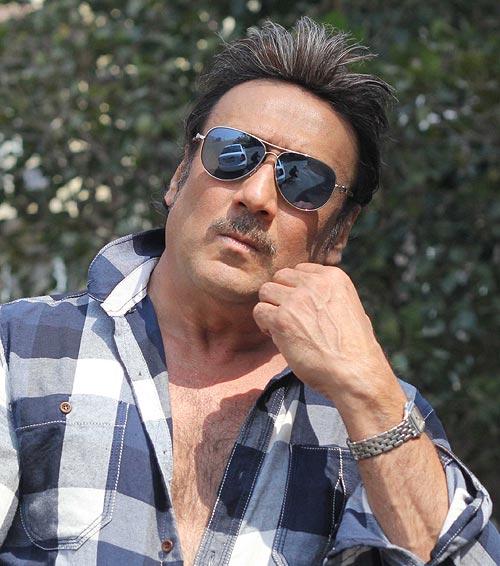 Image: Jackie Shroff. Photograph: Hitesh Harisinghani/Rediff.com
As an actor do you feel you have got your dues?
Kyun, aur bhi milna baaki hai? (Is there anything still remaining) (Laughs loud)
You have to keep yourself fit, maintain your sanity and be disciplined. I rather prefer to lay low, take it easy, enjoy your work and do not blow your own trumpet. If you think some due is left, toh utna bhi milega (you will get it).
More than three decades in the industry. You have had a successful career. Is there anything that you feel you haven't achieved?
I don't think I have achieved anything. Amitabh Bachahan has spent more than five decades and still going strong. He is a huge inspiration.
My mentor Dev Anand loved cinema till his last breath. He was so passionate about films. Even at 88 you could see a child in him who wanted to learn so much.
I am just a kid in front of them. I still have a long way to go.Yeh toh sirf shruvat hai. Abhi toh bahot time baki hai (This is just the start. I have a long way to go) (Laughs).
Lastly, any plans to revive your production company?
No plans.