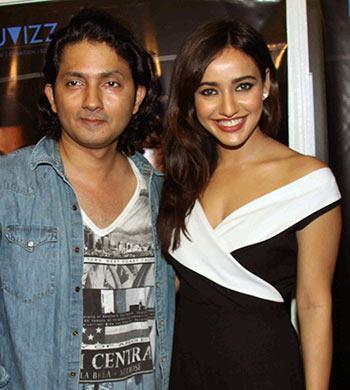 "He is a marriage video maker. We are professional filmmakers and still, we have to give explanation.'
Shirish Kunder lashes out, refutes plagiarism charges.
Shirish Kunder's short film Kriti was recently pulled down from YouTube after charges of plagiarism were levied against it.
Kunder called a press conference in Mumbai to clarify his stand on it. His actor Manoj Bajpayee and lawyer Rizwan Siddiqui accompanied him.
The plagiarism charges were made by Nepali filmmaker Aneel Neupane, who claimed that Kriti was similar to his own short film titled Bob. Kunder accused Neupane of manipulating the flaw on the video sharing platform Vimeo to build his case.
"There is an internet platform where people upload their films," Rizwan explained. "Usually, the time and date when the film is uploaded is mentioned. But there are some sites where you can upload the films now and show that it was shot four ago. This is exactly what has happened with Kriti."
When asked them about the reason for the film being pulled down from YouTube, Rizwan said, "YouTube doesn't play judge. They remove it first and then ask the makers to solve the problem and come to them. We are honest filmmakers. The film was watched by 3 million people. Suddenly there's a claim from someone who isn't from the industry but is just internet savvy."
Manoj Bajpayee claimed he was hurt by this allegation.
"No film of mine has been said to be copied," he said. "The movie's idea was discussed last year on Eid with Shirish, and that was when we decided to do it. Shirish wasn't even going to make a short film. He is full length feature film director. People like me are known for experimental things. it was hurtful because I saw everything happen in front of me and then someone comes and says, 'Aap chor hai' (you are a thief).
"We are being abused on Twitter and Facebook for a short film that is being watched widely," he added. "We have invested so much time and worked hard on it. I feel bad for him as he was being victimised by a crook.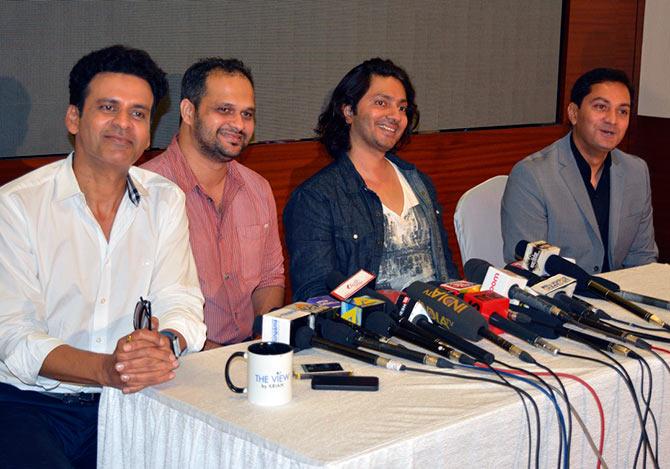 IMAGE: Manoj Bajpayee, Abhayanand Singh, founder of Muvizz.com, Shirish Kunder and lawyer Rizwan Siddique address the Mumbai media.
"We didn't even monetise it," Bajpayee added. "We wanted to try something new and when we did, we are being abused for it. That man (referring to Aneel Neupane) wanted to be famous, and now, his motive is fulfilled."
"He is a marriage video maker. We are professional filmmakers and still, we have to give explanation," Shirish said.
Shirish said there were three types of people that were constantly 'attacking' them.
"First, it's the Nepali citizens. I understand because they are being loyal to their nation. It is natural because they don't know the truth. Second, the trolls. They can also be ignored because that is their work. The third is the media, and I don't know why. Why were they saying its copied? When the film was made public in May, how can I copy it? It's frustrating. I am not even that successful, why is everyone bringing me down?" he asked.
Neupane had recently written on his Facebook page that Kriti was a copy of his short movie Bob and alleged that the Jaan-E-Mann director "practically stole the plot and made it into his film."
Neupane wrote that his film was ready in October 2015 and he uploaded it on Vimeo "as a private video to share it with close friends" before releasing it on YouTube on May 12, this year.
Kunder's film was released online on June 22 with much fan fare where Kangana Ranaut was the special guest. The 18-minute short film also stars Neha Sharma and Radhika Apte and tells the story of a mentally ill person, played by Manoj Bajpayee.
With inputs from PTI