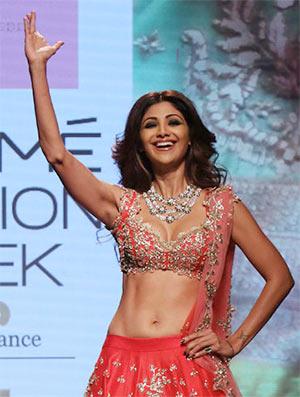 'My friends were so embarrassed (about rumours of trouble in her marriage). I think some of them were having a party and they were scared to call Raj (Kundra) and me.'
'I kept quiet but suddenly I saw it snowballing. So I called up my PR and said, what's happening, you have to stop this!'
Shilpa Shetty gets candid.
Shilpa Shetty, who has had so many hit numbers to her credit, says her four-year-old son Viaan is a 'tapori' dancer. And he's just about to watch his first show on television!
Shilpa is all set to judge Sony Entertainment Television's new reality show called Super Dancer, and she's super proud of it already. She can't get over the talent that some of the young contestants on the show have.
The actress tells Rediff.com contributor Rajul Hegde what it's all about, and also clears the air about the trouble in her marriage.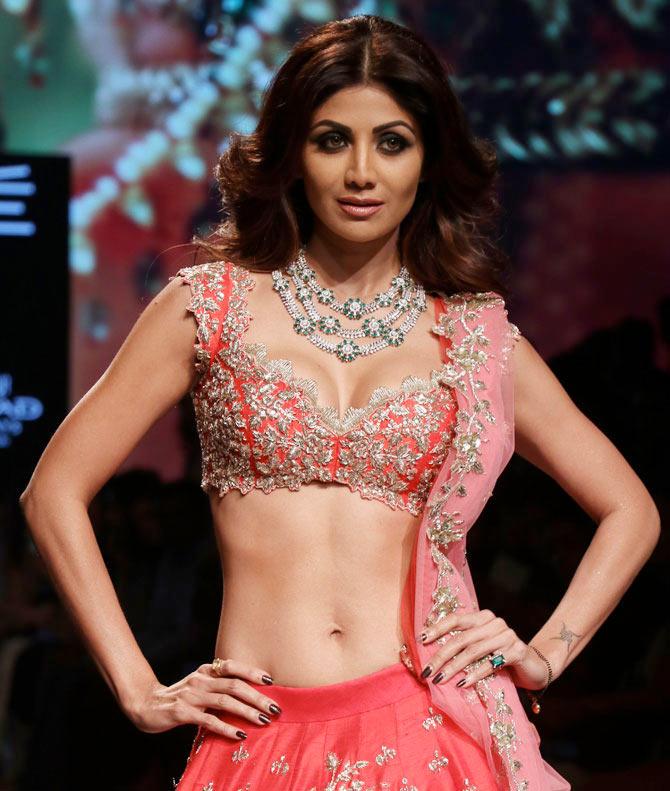 IMAGE: Shilpa Shetty at Lakme Fashion Week Winter/Festive 2016. Photograph: Hitesh Harisinghani/Rediff.com
Will your son watch Super Dancer?
My son doesn't watch television, we don't allow him.
I am a very strict parent.
But I will encourage him to watch this show. This will be his first tryst with television. It's a clean show. We have taken care of the language we have used with the children because sometimes, the content becomes aggressive and you have to monitor what a child watches on TV.
This show will be an introduction to Hindi television for my child.
A while ago, there was news about trouble in your marriage.
Can you believe that? Kya sochkar likhte hai yaar (what do they think and write?)
My friends were so embarrassed. I think some of them were having a party and they were scared to call Raj and me (laughs).
It's part and parcel of being a celebrity. People are bound to write rubbish and I have taken it in my stride. But that was distasteful.
I love my husband, he is my soul mate, touch wood. I'm not one of those who believes that I need to clarify anything, unless it is something that I want to.
I kept quiet but suddenly I saw it snowballing. So I called up my PR and said, what's happening, you have to stop this!
How you handle these rumours?
Pranayam!
I switch off. Otherwise It's not possible to survive.
Raj has a great sense of humour. Actually, it started with him, the nutcase. He said I am working so hard, I am not even going home.
But he has been working on something that has been keeping him up for many nights!


IMAGE: Shilpa with husband Raj Kundra and son Viaan. Photograph: Pradeep Bandekar.
You are an actress, mother and a businesswoman. How do you balance work and home?
It's hard. But when I take one hat off, I wear the next one properly. I give it my 100 percent.
When I am here, I know my son is at a class, so he is entertained. And I know that by 6.30-7 pm, my husband will be home, so he takes duty. Now, he goes to school so it gives me more time to work.
You said recently that you hate the term 'item number.' Why is that?
When you play a part, you are playing the part. You are not an item girl.
And who has coined the word 'item'?
I am not a prude. I am hit songs to my credit, and I am not apologetic about the stuff I have done.
I have done the song Ek Chumma Tu Mujhko Udhar De De (from the 1996 film Chhote Sarkar) jiske upar mujhpar cases chalaye gaye hai (I have got court cases because of this song).
I have done UP Bihar Lootne (from the 1999 film Shool) and Aila Re (from the 2000 film Jung). I am just saying don't use the word 'item'. I am not saying that I had a problem doing those songs. I am here to act and entertain.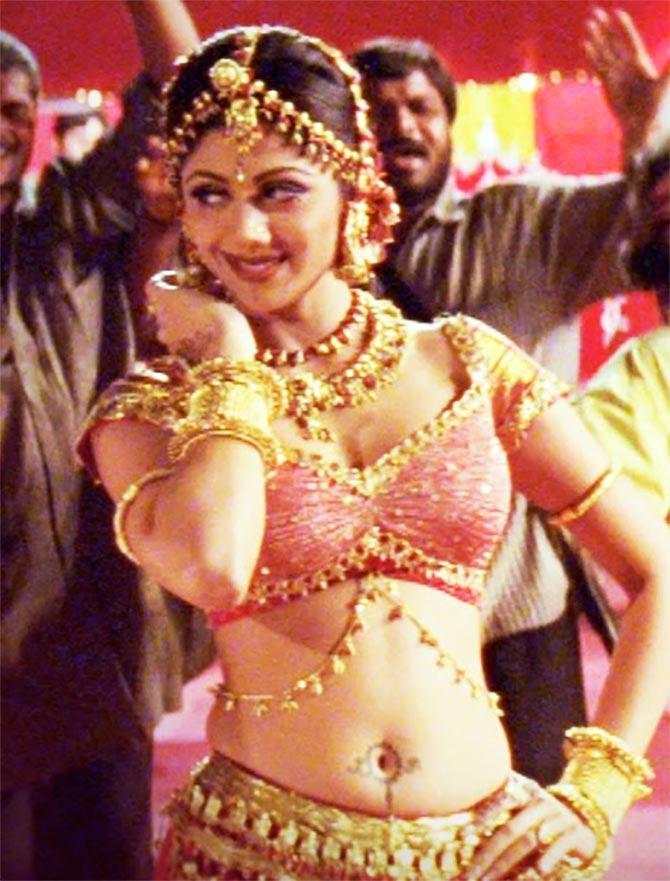 IMAGE: Shilpa Shetty in the song UP Bihar Lootne from Shool
Who is your favourite dancer in Bollywood?
I love Mithunda's (Chakraborty) dance style in Disco Dancer. My all-time favourite is Sridevi.
When can we see you doing a film?
Only the press wants to see me, I wish the makers also felt the same way!
I am not going to produce a movie for myself. The only thing I have produced is my son! He is the best production I have had (laughs loudly).
Do you want to do a film?
Of course! I want to do a film but they have to approach me!
Once an actor, always an actor. That's never going to be taken away.
Today, people think that I am an entrepreneur, a health icon and judging reality shows. But for me, I will always be an actor first. I love this introduction to myself.
I hope someone comes to me with a good role.
It's not that I haven't been offered but I feel that with age, you mature and with experience you kind of know what not to do. All that has been offered to me right now is something I don't want to do.
How do you keep yourself so fit?
Most people take care of themselves only when they have health problems, when they get high cholesterol or diabetes or if they are becoming obese.
I take precautions and make sure that I stay healthy. If you start taking precautions earlier, you can delay the aging process.
It's evident from the promos that the judges -- director Anurag Basu, choreographer Geeta Kapur and you -- have a good equation with one another.
I can't believe that they actually kept the line I said: 'Hum filmwale doosro ko topi pehnaate hai, hum topi pehen nahi sakte' (We actors fool others, we cannot be fooled).
I have said many things like this on the show. I am spontaneous.
I don't think anybody has seen the chemistry between Anurag and me. My last film was with him, Life In A... Metro. He's a fun guy.
Geeta Kapur is also great fun.
We are such a mad panel and the children are sone par suhaga.
The content that we got from them cannot be replicated because they come and say such strange things, and then you get emotional on a different level.
Seventy percent of them are not privileged. They come from Bhilai and Jharkhand, where there are no dance schools.
One child's mother works as a house help. She was crying and telling me that she leaves the house at 6am and doesn't even see her children in the morning. The clothes that the child was wearing that day were given by someone else. She did not have the money to buy that child clothes.
So on many levels during the show, I was a wreck.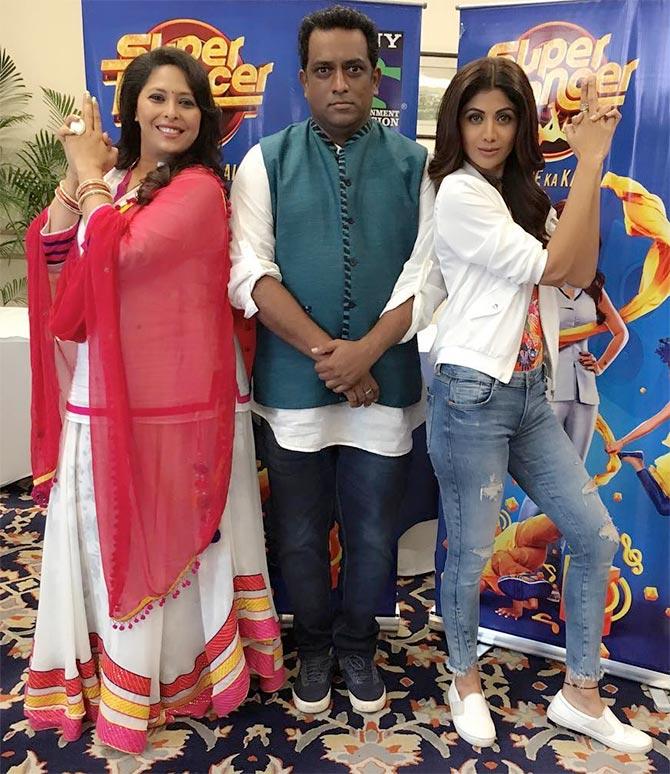 IMAGE: Geeta Kapur, Anurag Basu and Shilpa Shetty Kundra. Photograph: Shilpa Shetty Kundra/Instagram
Aren't you supposed to control your emotions during the show?
I can't be unemotional.
I told them on the first day that they have got a wrong judge, and it's going to be difficult. But they love it because they are making me cry. It's making great TV for them!
I told them that I will need psychiatric help after this show.
We had a child who had Rickets. He was doing stuff that I could not even imagine. Of course, I am going to cry!
There's another child, who is deaf and dumb. He can't even hear the music but he is dancing to that. Won't you cry?
Anurag and Geeta were emotional as well.
I was always sentimental but I have become more emotional after becoming a mother.
Is it hard to judge kids on reality shows?
I have kept emotions aside and judged reality shows with celebs and adults.
But with these kids, I think I'm going to die and go to hell kyunki maine bachche ke dil ko dukhaya hai (because I made a child sad).
But whatever I have done is a job, and I have done it with a clean mind.
There are reports of you doing a fiction show on TV.
I am going to do something very interesting and big in the digital space but I can't tell you yet. I will make an announcement in 50 days.